If you're on the hunt for some everyday kitchen essentials – perhaps to replace something you already own or to add to your collection of must-have cooking tools – this post is full of mini reviews of my favorite and most-used items in my kitchen.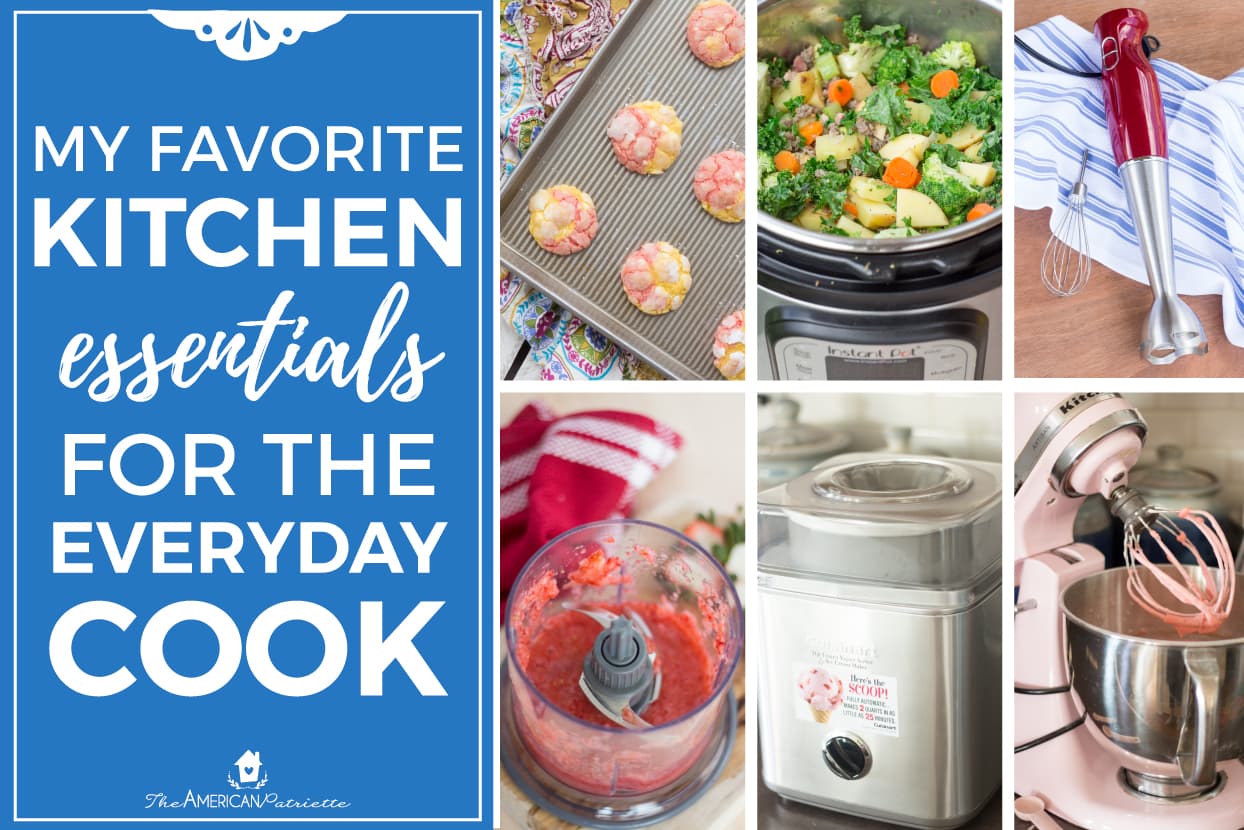 Updated 2021: I originally wrote this post over three years ago, but I just went back through it to make sure all the information on here was still up-to-date. I updated a couple of things, but we still own and use everything on this list religiously!
Hi friend! I get so many questions on the different kitchen items I use and love, and because so many of these items make my life so much easier (and more fun) in the kitchen, I want to share them with you in hopes that they'll help you if you're in need of replacing an item you already have or if you're looking for additional tools to make cooking/baking/food prep easier.
I love to cook and bake, but I'm not a fancy gadget kinda girl. I love things that work well and make my life easier. Think of this post as a bunch of "mini reviews" for everyday kitchen tools from an ordinary gal who spends a lot of time in the kitchen.
Here's how I'm sharing my list:
I'll break down my list by type: 1) Favorite Small Appliances, 2) Favorite Tools for Baking, 3) Favorite Tools for Cooking, and 4) Favorite Items for Food Storage. For each item, I'll tell you for what purpose(s) and how often I use it, why I love it, and if I'm loyal to that particular brand of item.
For some of these, brand really doesn't matter that much – you can find just as great of a product from several other manufacturers. However, for some items, I've found that particular make/model to be amazing, and am thus pretty loyal to that exact item. I'll tell you about it!
We already spend a ton of time in the kitchen cooking and baking for our families and friends – why not make that easier and more fun?! I hope this list of my favorite items is helpful for you!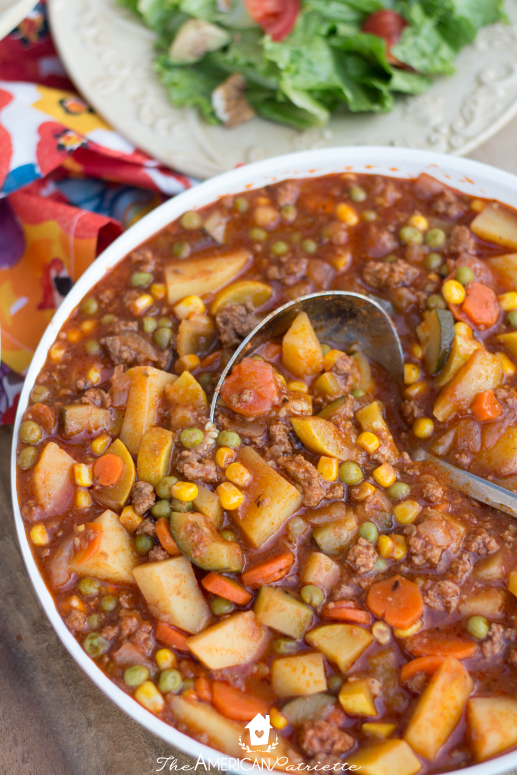 This post contains affiliate links for your convenience. You can read my full disclosure policy here.
Favorite Small Kitchen Appliances
Most of these items make my life much easier when it comes to cooking/baking, and a few others are for pure enjoyment – let's just say they add to quality of life! 🙂 Let's get cookin'!
1. KitchenAid Stand Mixer
My KitchenAid stand mixer is one of my most used (and most loved) kitchen tools. I absolutely adore this item, and it loves me right back with all the yummy treats it helps me make!
What I use it to make: I use my stand mixer almost every time I bake (which is a lot). I use it to make cookies, cakes, brownies, icing (buttercream and cream cheese frosting), and whipped cream. I also use it to mash potatoes.
How often I use it: At least 1-2x per week, sometimes more often than that, especially during the holidays. It's a "slow week" if I've only used it once. I'm so curious how many "miles" I've put on this thing with as many times as that beater has spun around the bowl!
Why I love it: I love to bake, but I wouldn't bake anywhere near as much without this thing. It makes baking SO much easier. While my family certainly has a sweet tooth, I really love to bake for so many other reasons! One, it's a fun creative outlet for me. Two, we really enjoy having people over, and you can't have people over for a meal without having dessert! (It's basically a policy around here.) Three, I bake a lot for other people – I've found it's one of the simplest things I can do to bring some joy into someone else's day.
Brand-loyal for this item? YES. I've had my cute light pink stand mixer for over 10 years, and it's been going strong that entire time. AND, my husband bought it for me refurbished, so there's no telling how old this thing is. Given that I use it so often and it has yet to fail on me, I'm absolutely loyal to this exact brand. This thing has paid for itself time and time again. It greatly reduces time baking, but honestly, it just really increases quality of life. Maybe that sounds bizarre, but seriously, when life is full of challenges, sometimes the simplest act of baking something and giving someone a treat is a great way to spread some love and kindness! You can find the mixer I have, complete with all the attachments (AND a million different color options!!) here.
Here are some of my favorite recipes to make with my KitchenAid: Super Moist Lemon Pudding Cake, Delicious Pistachio Cake, and my absolute favorite brownies of all time.
2. Ninja Food Prep
My Ninja Food Prep has completely replaced my blender, and it essentially replaced my food processor when it broke several years ago. I have yet to get another food processor because my Ninja does everything I need it to do, and we bought it for like $30!
What I use it to make: Smoothies, salsa, any kind of puree, graham cracker crust, and salad dressing. I also use it to chop nuts and to finely chop veggies. It stands in as my blender, food processor, and food chopper. I LOVE THIS THING!
How often I use it: At least 2-3x per week. We use this ALL THE TIME, and it is probably the kitchen tool I most recommend to people, simply because it works so well and it was so inexpensive! We bought this to replace our broken blender about 5 years ago. I had no idea we'd use it as often as we do, but it just works SO well and serves so many different functions in my kitchen.
Why I love it: Super high quality for a super low price, and it serves so many different purposes in my kitchen. I absolutely love my Ninja Food Prep! I could be a walking billboard for it!
Brand-loyal for this item? Totally. I know, shocking! If you're on the hunt for a great blender that also serves as a great food chopper and decent food processor, I'd absolutely recommend it. You can find it – complete with the large blender and the smaller blender/chopper – here.
Here are some things I use my Ninja to make: my restaurant-style salsa (so, so good), strawberry puree for strawberry cake, and graham cracker crust for pies.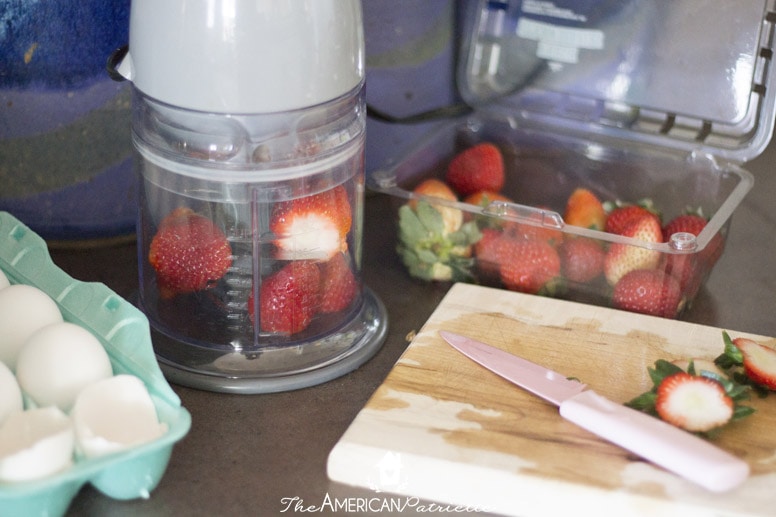 A note on the Ninja: we've now had two Ninja Food Preps – we bought our first one about 8 years ago, but after about 4 years, the blades and the rubber seal on the lid started wearing out, so we replaced it with another one. Fast forward another 4 years, and I'll probably end up replacing the one we have now within the next year because of the rubber seal starting to wear out again. But, I won't even bother looking for another brand – I use this thing multiple times per week and it works SO well, so I'm totally fine with having to pay $30-35 every 4-5 years to replace a tool that I love using so much!
3. Crock Pot/Slow Cooker
Basically one of my best kitchen friends in both hot weather and cold weather months! I use my slow cooker all the time during the cooler weather months to make cozy soups, but I use it often to make meals during the summer, too, just because I don't want to turn my oven on with it already being so hot outside!
What I use it to make: Soups, stews, chilis, taco meat, pot roast, pork roast, shredded chicken, shredded pork, carnitas, and so many other main dishes and side dishes. I've used it for dessert on occasion, but I typically use it for main and side dishes.
How often I use it: During the summer – probably 1-2x per week. During fall and winter – at least 2-3x per week. I especially use it when we're having company, most of the time for the main dish, but sometimes for the side. When we have people over, I typically serve a main dish, at least one side dish, a salad, and dessert. So, because that's at least 4 food items, using the slow cooker for one of them is awesome, that way I can prep part of the meal ahead of time and don't need to be trying to prepare 4 things at once!
Why I love it: I love that I can "set it and forget it" – that I can throw ingredients in the crock pot and let it do the heavy lifting for me. I also love that it enables me to prepare food in advance, and it also just does the absolute best job of cooking meat and making it super tender when I want to pre-cook meats for soups, casseroles, or tacos.
Brand-loyal for this item? Nope, but I'd absolutely recommend one that has a timer. I personally have the CrockPot brand, but I don't think brand on this type of appliance matters too much as long as the product has good reviews. But I would definitely say that it matters if it has a timer, and I'd also get one with a latch lock lid. When my slow cooker eventually peters out, I'll definitely get one with a lid that locks. You can find programmable slow cookers with locking lids here.
Here are some of my favorite slow cooker recipes: No-Prep Enchilada Quinoa Soup, Hearty and Healthy Pumpkin Chili, and Slow Cooker King Ranch Chicken Soup.
4. Instant Pot
With all the chit chat about how awesome the Instant Pot is, I had to go off and join the crowd! I will say, now that I have one, I'm really glad I have it and I use it quite regularly. If nothing else, it's a HUGE time-saver when I'm in a hurry.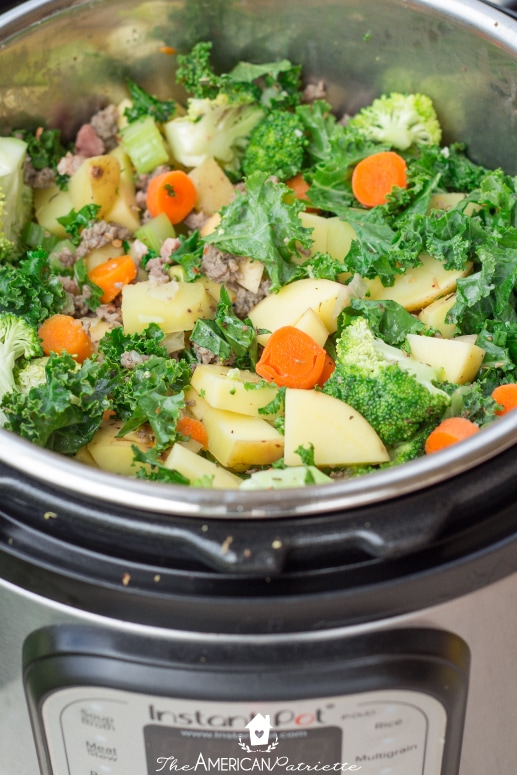 What I use it to make: Soups, stews, chilis, all kinds of meat (I especially use it for this), mashed potatoes, rice, dried beans, and several other main dishes like macaroni and cheese.
How often I use it: Probably 1-2x per week. It hasn't replaced my slow cooker (I just love my slow cooker…I'm such a loyalist!), but it has definitely some cooking chores a lot easier, so I do use it pretty often to help me with part of a meal.
Why I love it: For one, I love that I can throw things in it, set it, and it'll cook food for me relatively quickly. It makes some cooking tasks so much easier, such as cooking rice (it makes AMAZING rice), sometimes cooking pasta, and I will very often use it to cook meat for me while I'm prepping another part of the meal (like if I'm making pizza, I'll have the IP cook the chicken for me so I can prep the other part of the pizza, rather than trying to prep the other pizza ingredients and monitor chicken on the skillet at the same time). I also really love it because you can saute your food in there before you cook it, so unlike the slow cooker, I can saute my ground meat & onions in the Instant Pot, and then throw the remaining ingredients in there to finish off the soup. And, the fact that it just cooks things so quickly…I don't have to wait for potatoes to boil, I don't have to wait for meat to thaw, I don't have to rinse and soak dried beans…I mean, this is a pretty cool machine. I was skeptical, but I'm kind of a convert now.
I'll also say: I love it because it makes transporting food a lot easier than my slow cooker that doesn't have a locking lid. Because the lid on my Instant Pot locks in place, I often use it to make my contribution for our weekly small group potluck meal, because it makes transporting food from my house a lot easier!
Brand-loyal for this item? Yes, but only because I don't have experience with other pressure cookers and SO. MANY. PEOPLE talk about the Instant Pot. So, because recipes are so often written for Instant Pots, and because so many people recommended this exact one (the 6qt, 7 function one), I knew I wanted to stick with what was "certain," if you know what I mean! Here's the exact Instant Pot I have.
Here's my most recent experiment in the Instant Pot: Hearty and Creamy Potato Soup (full of tons of veggies! it's delish!). Also, this AMAZING low-carb "fake potato" & veggie soup is SO good.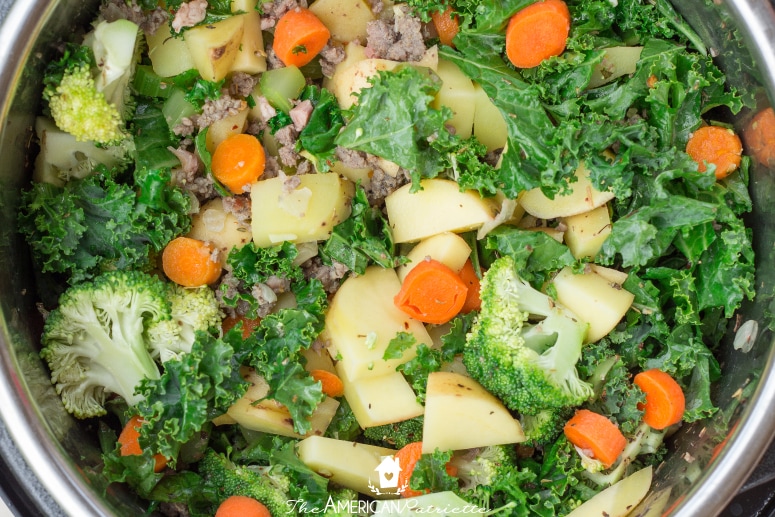 5. Hand Mixer
It might seem excessive to have both a stand mixer and a hand mixer, but if you spend much time in your kitchen, and if you really love to bake, I absolutely think having both is totally worth it.
What I use it to make: Guacamole (believe me – this is the best secret to creamy guacamole!), frosting (both buttercream and cream cheese) – typically when I'm using my stand mixer to simultaneously make something else for the baked good I'm working on, egg salad, ice cream, and sometimes to mix dough for a baked good.
How often I use it: About 2-3x per month.
Why I love it: This is just the best tool for making creamy guacamole, which is definitely a staple around here! We eat a lot of homemade, fresh Tex Mex-inspired foods. I also use this often to make frosting when I'm simultaneously using my stand mixer to make a cake. I can use both appliances at once, so it helps make baking jobs go a lot faster.
Brand-loyal for this item? Not really. I have the same brand as my stand mixer – KitchenAid – and I love that it also comes in pink (!!!), but I think any hand mixer with good reviews would be fine. Here's the hand mixer I have that matches my stand mixer.
Here's my favorite guacamole recipe ever, and I always use my hand mixer to make it!
6. Ice Cream Maker (the modern kind with the freezer bowl)
Everyone with a sweet tooth, especially if you enjoy having company, needs to have an ice cream maker. Life is short. You need one.
What I use it to make: Ice cream. Duh. But, wait, there's more! You can also use it to make sorbet, smoothies, and frozen coffee. But we use it 99.9% of the time for ice cream, and it's awesome.
How often I use it: About 1x per week May through September, and probably anywhere from 1-2x per month the rest of the year.
Why I love it: It's just so fun, and it's served us SO well. We definitely consider this our favorite gift we got for our wedding! More often than not, we use it to make vanilla ice cream to go along with something I've baked such as cake or brownies, but we've done tons of ice cream experiments in here – s'mores ice cream, pie ice cream, chai ice cream, strawberry, root beer, peanut butter, cherry, mango, caramel…a lot! It's really fun to use when people come over – they feel like the homemade ice cream is such a treat, and it really makes for great conversation. Depending on the ice cream recipe you decide to use, it takes like no time to make some…it takes about 20 minutes for this to churn out a batch. It's also been great when we have people over with food sensitivities and dietary restrictions – I've (very easily) made dairy-free ice cream in here using coconut milk (talk about an easy dairy-free dessert!), and it's great to make sorbet when you're having someone come over who is vegan but you still want to provide dessert.
This last summer (2019), we decided to start a little weekly routine whenever we were in town of making ice cream to enjoy with our neighbors on Sundays. We have a turquoise picnic table in our front yard, so for several Sunday evenings, I'd experiment with a new ice cream recipe (I got pretty creative, and it was FUN!), we'd gather with whoever on our street wanted to show up, and just hang out for an hour or two at our table to enjoy ice cream, chit chat, and let kiddos play. It was AMAZING. Talk about an easy, easy way to build community! Just one more reason I love having a fuss-free ice cream maker!
Brand-loyal for this item? We love ours, but there's a newer model out there, so that one might be worth getting. I don't know if I'm so much brand loyal to this as long as the ice cream maker 1) Has really good reviews, 2) Is a modern one that has a freezer bowl (i.e. NO work on your part to churn the ice cream – you pour in the ingredients in the freezer bowl, turn the maker on, and you're done – no adding salt or ice or hand churning anything), and 3) Is at least a 2-quart maker. I wouldn't get one that made batches smaller than 2 quarts. This is the ice cream maker we have and love!
Want some fun homemade ice cream recipes? Try our inventions: Piescream (pie ice cream) and Chaiscream (chai ice cream). So fun. So good.
7. Immersion Blender
If you love soup, especially if you love thick and hearty soup, you need one of these!
What I use it to make: I use this when I'm making certain soups and chilis, and it's also handy when making mashed potatoes.
How often I use it: A couple times per month during the cooler weather months.
Why I love it: I can puree soup right in the pot/slow cooker/Instant Pot without having to ladle out piping hot soup, carefully pour it in a blender, and use the blender to puree part of the soup to thicken it up. In other words, it's a convenience (and partially a safety!) factor. So many soup and chili recipes call for an immersion blender, so I finally got one, and I'm so glad I have it. I've also used it to make mashed potatoes, and it worked like a charm!
Brand-loyal for this item? Not really, but I do love mine! Here are a bunch of inexpensive options that have great reviews.
Here's one of my recipes where the immersion blender makes a big difference: yummy potato & vegetable soup.
Favorite Baking Utensils
Ok, now that we've covered my favorite small appliances, let's move onto my favorite baking tools, equipment, and utensils!
1. USA Pan Bakeware baking sheets
Hands down, these are the absolute best cookie sheets/baking pans/roasting pans in the world. EVER. IN THE WORLD. Not exaggerating.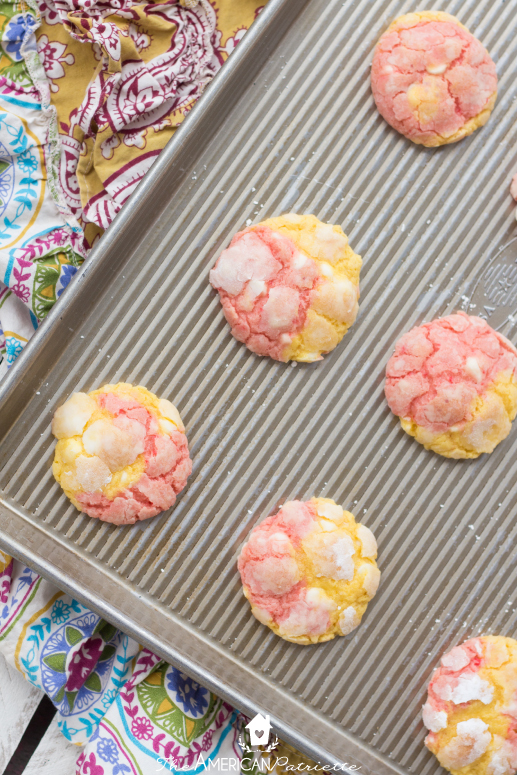 What I use them to make: I use these 100% of the time when I make cookies, but I also use them for other desserts like toffee, truffles, and candied popcorn. I also use them to roast veggies in the oven, to bake bread/biscuits, and to lay out bacon strips and bake those in the oven (for the most evenly-cooked, crispy bacon ever).
How often I use them: Multiple times per week.
Why I love them: I could write a love ballad to my USA Pan Bakeware. You think I'm kidding. These are the BEST baking sheets around, and they're probably the most recommended item I have in my kitchen. Friend, I make A LOT of cookies, and I have yet to have anything stick to these pans. They are incredibly easy to clean, they're super sturdy and don't bend or warp like other pans do (I've had these exact pans for over 10 years now, I often use them multiple times per week, and they're still in amazing condition), and seriously – even the stickiest of food comes right off of these pans. If you're in need of a great cookie sheet or baking pan, GET SOME OF THESE. I have 3 of them – two large ones and a small one – and I couldn't more highly recommend them.
Brand-loyal for this item? 100%. I hope I adequately conveyed my adoration for these pans. They. are. awesome. We have two of these larger baking pans, one of the smaller ones, and I'll eventually have some from the entire collection.
I have about a zillion recipes that call for use of these baking sheets, but here are a few of my favorites: Strawberry lemonade cookies, pistachio chocolate chip Christmas cookies, s'mores toffee, and pumpkin spice toffee.
2. Microplane Zester
I love using a zester to help me add pops of citrus flavor to our food!
What I use it to make: zest from oranges, lemons, and limes, and occasionally to very finely grate Parmesan cheese.
How often I use it: During the summer, a couple of times per week. During the other months of the year, a couple of times per month.
Why I love it: I had a zester for years, and then I had another one randomly show up on my doorstep. I called Amazon to find out what the deal was, and they didn't know, so they told me to keep it since they had no tracking of where it came from or where it was supposed to go. That 2nd zester sat in my utensil drawer for a couple of years – I kept trying to find a home for it, but everyone I asked already had one! One day, my original zester was in the dishwasher and I really needed to use it, so I decided it was time to go ahead and bust out the new one. I've never gone back to using that original. After using that second zester, I realized I was just going to count it as a gift from God – it worked SO well and so smoothly. It functioned far better than my original, and it was much easier to clean! I absolutely love using it to add citrus zest to cakes, frostings, cookies, and bars, and it's also great to spruce up chicken sometimes, too!
Brand-loyal for this item? I am now! I'm sure there are tons of great zesters out there, but because I found this one to be so much better than my first, I'd definitely recommend this one.
Here are some of our faaaaavorite citrus-y dessert recipes where the zest makes all the difference: Super Moist Lemon Pudding Cake, Tangy Lemon Oreo Bars, and Strawberry Limemade Cake.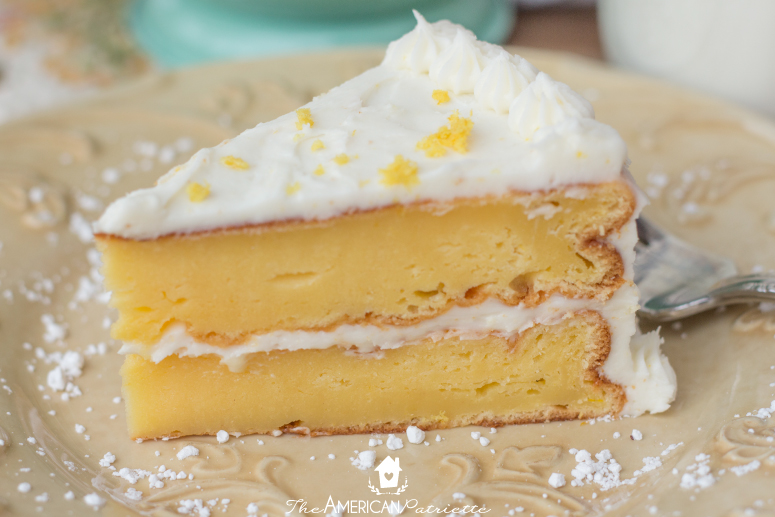 3. Cupcake Pan
This is an awesome no-stick cupcake pan – great for cupcakes, muffins, mini biscuits, and mini quiche!
What I use it to make: Mainly cupcakes, but I'll also use it to make mini cornbread muffins, biscuits, other breakfast muffins, and mini quiche.
How often I use it: Several times per year.
Why I love it: It's sturdy and it's non-stick. That's why I love it. I don't make cupcakes too often, but when I do, I'm always thrilled I have this pan. Since it's sturdy and doesn't bend, it maintains the shape of the cupcakes (or whatever else you're baking in the pan), and since it's non-stick, everything comes out of it really well. I hate it when I bake something and then it gets ruined when trying to get it out of the pan! I've really enjoyed this particular pan.
Brand-loyal for this item? Yep. I need to get a regular-sized cupcake pan in this brand, too! Here's the mini muffin pan we have, and here's the regular sized one I'll eventually get.
Here are some yummy cupcake recipes: apple butter cupcakes and lime basil cupcakes.
Side note: I took pictures of some of these items when my 19-month-old was running around my photo shoot area. Why I thought that'd be a good idea, I don't know. But, this is what happens when she wants to take part: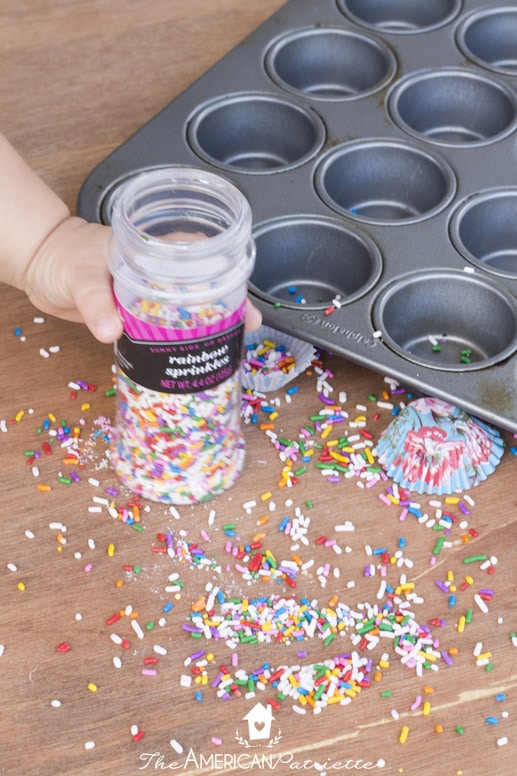 Other Baking Essentials
There are certainly other items in my kitchen I'd consider to be essentials for baking – mixing bowls, spatulas, cake pans, measuring cups, and measuring spoons – but I'm not really loyal to any particular type of those, so I didn't bother to make mention of them! However, I will definitely add to this list when I come across a new "I can't live without this!" kind of baking tool. 🙂
Favorite Cooking Utensils
Now that we've covered my favorite appliances and baking items, let's get to a few of my favorite cooking tools!
1. Cast Iron Skillet
The absolute most-used skillet in our house. Other than for cooking eggs and pancakes we use our cast iron skillet for almost everything on the stove top, as well as to make delicious cornbread and cobbler in the oven.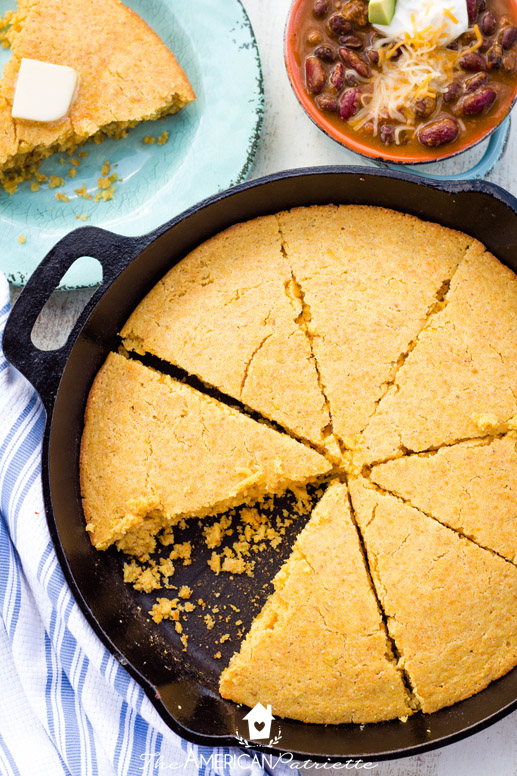 What I use it to make: Pretty much anything on the stove top that requires sauteeing or cooking. We especially love it for cooking any kind of meat, but this thing gets a lot of use in our house.
How often I use it: Several times per week.
Why I love it: It's sturdy, it cooks evenly, you can transfer it from the stove top into the oven, and well, it's kind of old-fashioned and that makes me happy. Cast iron skillets can be intimidating because you don't clean them like you would a standard skillet, but I swear, they're super easy to clean and season! (Believe me, I am all about making things easier for myself in the kitchen, so I wouldn't use this if it were hard to take care of!) This is just the absolute best skillet, especially for meats (porkchops!!), sauteeing veggies, and for making cornbread. YUM.
Brand-loyal for this item? No, I'd just get one that has good reviews! We have a 12″ one – anything bigger wouldn't fit on our stove top, but it's definitely big enough for most of the things I use it to cook. Here's the best-selling one on Amazon – it's just like ours.
Here are some of our favorite dishes we make in the cast iron: Spicy and Creamy Tomato Basil Pasta with Artichokes and Pepperoncinis, Cowboy Soup, and cast iron steaks.
2. Dutch Oven
My Dutch oven serves as a great pot for making soups and chilis, as well as browning meats.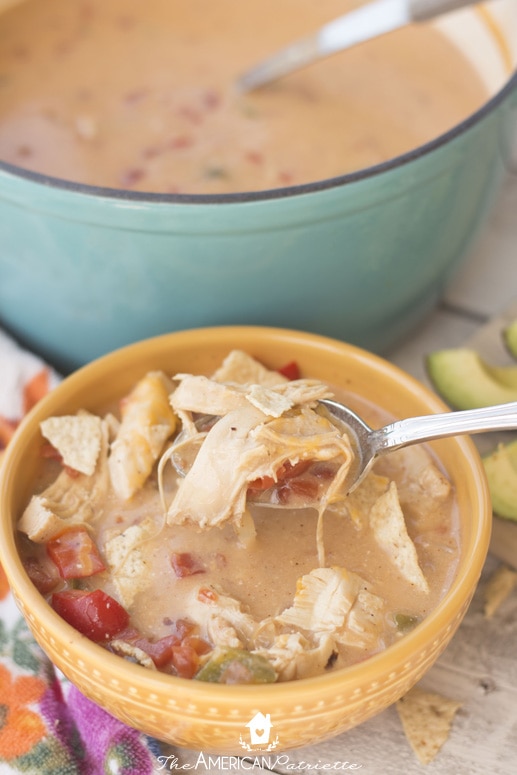 What I use it to make: I almost exclusively use my Dutch oven to make soups and stews on the stove top.
How often I use it: Occasionally during the summer, but several times per month during the cooler weather months.
Why I love it: It's just a great overall pot for soups, stews, chilis, and when you want something deeper than a cast iron skillet for cooking meat. It's a great, sturdy pot, and I use it more than any of my other soup/stock pots now that I have one.
Brand-loyal for this item? No, but I love my Pioneer Woman one because it's so pretty, and I'd definitely recommend an enameled one.
Here are some of our favorite meals I make in my dutch oven: Easy Roasted Red Pepper, Tortellini, Chicken, and Broccoli Soup, Spicy Chipotle Black Bean Soup, and Harvest Soup.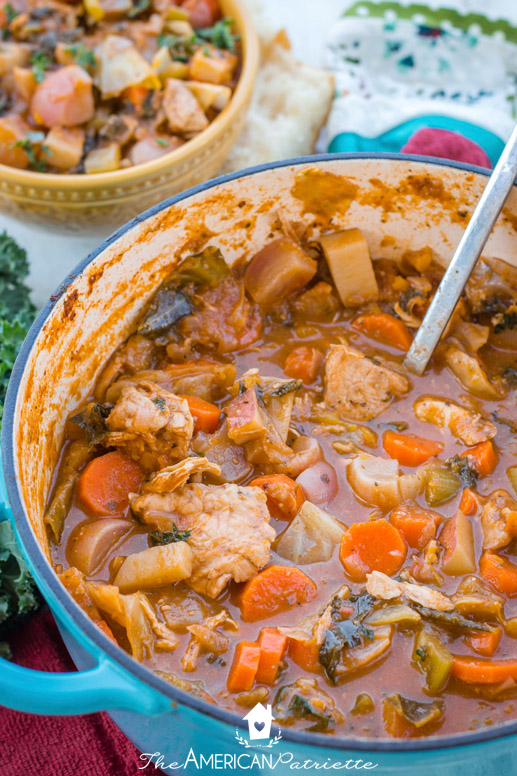 3. Collapsible Strainer
This collapsible strainer is a great way to save space in your kitchen!
What I use it to make: To strain pasta, rinse dried beans, and to wash fruits and veggies.
How often I use it: About 1-2x per week.
Why I love it: It's super sturdy while still being flexible enough to easily collapse. My aunt bought this for me when I got married – it was one of those kitchen items you didn't know you needed until you had one. It was perfect for all those small apartment kitchens my husband and I've had, and it's still a great way to save space today even though we have a house. Our kitchen is bigger than we've had in our apartments, somehow we managed to fill up the cabinets pretty easily.
Brand-loyal for this item? No – any collapsible one with good reviews should be great!
Here's one of our absolute favorite pasta dishes: Protein-Packed Pasta Bake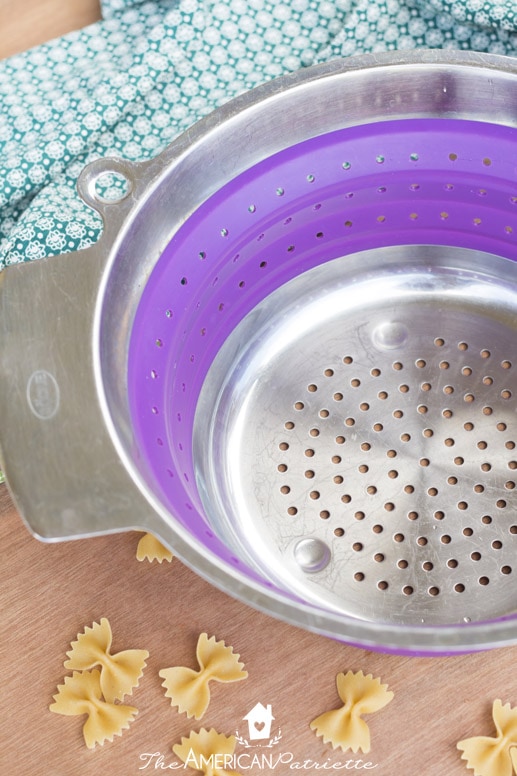 4. Garlic Press
Having a garlic press definitely saves time in the kitchen!
What I use it to make: pressed garlic.
How often I use it: About 1-2x per week.
Why I love it: It just saves me time. The vast majority of dishes I cook call for garlic, so having one of these is so nice! If I'm really short on time, sometimes I'll even throw the garlic clove in the press without peeling it!
Brand-loyal for this item? Nope! Any good quality garlic press will do!
Here are some of the best recipes on my blog that call for garlic: Delicious Gyro Quesadillas, One-Pot Shepherd's Pie Soup, and Healthy and Flavorful Pizza Soup.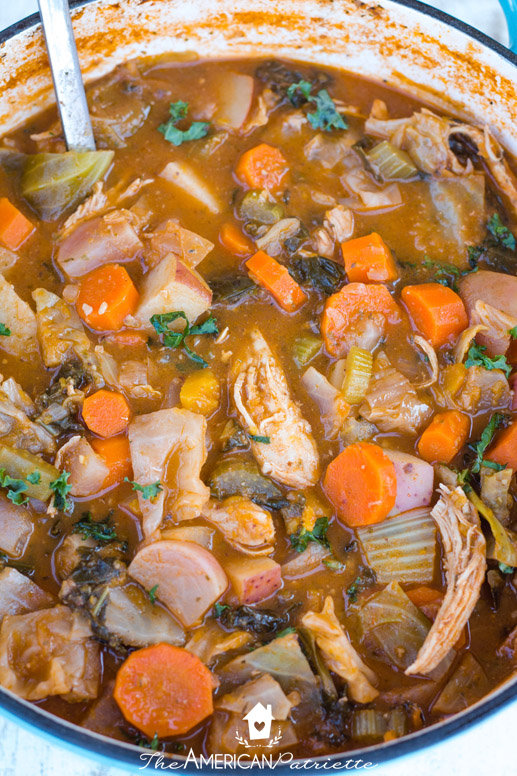 5. Paring Knife
Good knives are crucial to good cooking! This is my favorite paring knife.
What I use it to make: I use this to chop smaller fruits and veggies – anything apple-sized or smaller.
How often I use it: Several times per week.
Why I love it: I mean, I'm not going to lie. I bought this because it was pink. I already had a knife set, but when I saw this as we were registering for wedding gifts many moons ago, I had to get it. However, it's turned out to be an AWESOME knife for the kitchen! Win-win! I absolutely love using this to cut fruits and veggies – it slices so well and it's a super sturdy knife. It comes in lots of colors, too, if you're a lover of color like I am. 🙂
Brand-loyal for this item? Yep! It's a very inexpensive, great-quality knife. Here's the one we have (with several color options).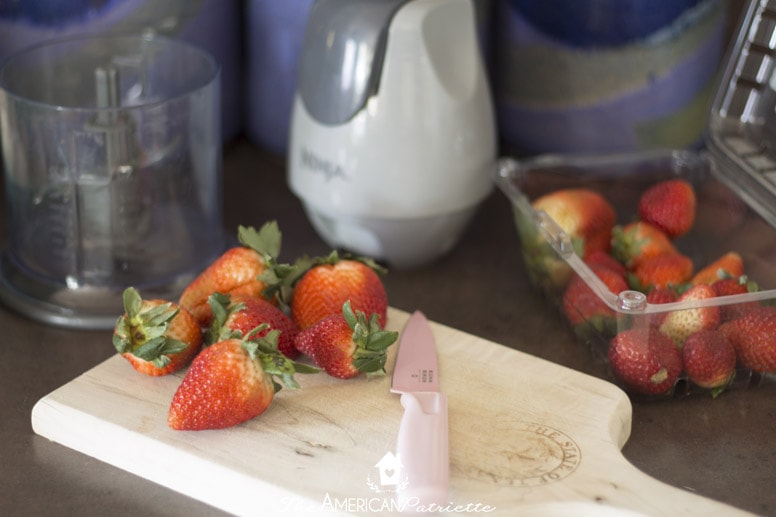 Other Cooking Essentials
Just as with baking, there are several other cooking utensils I use on a regular basis that I couldn't live without, but I'm not particular on brands. Just quality and functionality. In addition to these items, a good knife set is crucial (ours is a great set, but if I could do it all over again, I'd get different ones with thicker blades and wooden handles) – a set that includes large knives, steak knives, paring knives, kitchen shears, and a serrated knife. Also, cutting boards, of course, as well as sets of pots and pans (I'm not loyal to the set we have), and spoons/spatulas for stirring and cooking. I'll keep updating this section if/when we add things to our kitchen collection that I'm totally loving!
Favorite Food Storage Containers
After all that cooking and baking, you've got to have a great place to store that food!
1. Pyrex Dish Set (with lids)
These are definitely some of my most-used items in my kitchen. They are great quality, they're super convenient since you can bake food in the dish and then use the sturdy plastic lid to cover it afterwards, and they allow for stacking.
What I use them to make: I use the pans to make cakes/brownies/sweet breads, as well as casseroles all the time. I use the bowls for storage, especially for storing soups (soups stain plastic so easily…I always use glass!) and anything smelly (like tuna salad or egg salad).
How often I use them: About 1-2x per week.
Why I love them: Great quality, I love that they come with lids (I cannot do cling wrap or foil – for one, they're so inconvenient, and two, you can't stack in the fridge when you use them), and they're just overall great storage for food. I can bake something in one of the dishes, pull it out of the oven and let it cool a bit, and then put a lid on it and easily take it somewhere or store it in our fridge. So simple!
Brand-loyal for this item? Yep, just because I know Pyrex is a very trusted brand. I've had these for several years, and with as often as I use them, I have yet to break or even crack one! I can't find the exact set we have on Amazon, but you can mix and match sets here.
Here are some casserole recipes we love: lazy enchiladas, King Ranch Chicken, and shepherd's pie.
2. Mason Jars (various sizes)
There's a reason people love these so much – we use them all the time! We use our mason jars to make pickles, salad dressings, hold our bacon grease for seasoning our cast iron skillet, store sweet sauces like caramel and chocolate ganache, and more!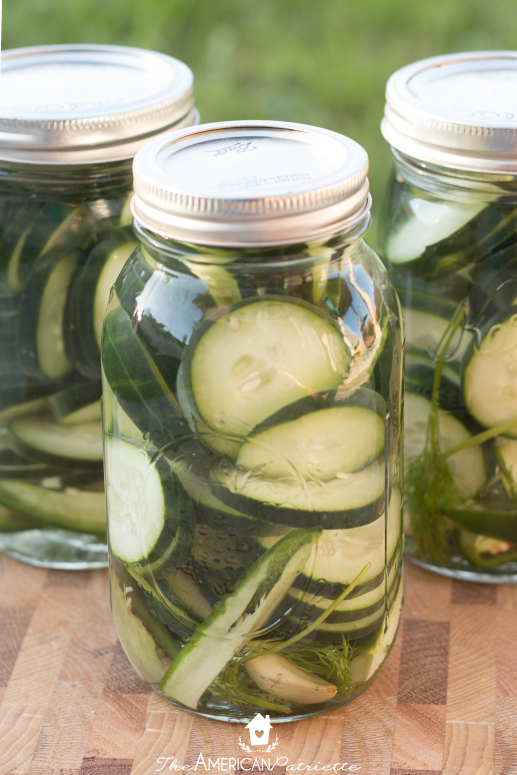 What I use them to make: I use them mainly for storage, but I use them regularly to make our refrigerator pickles, as well as when I'm making my homemade salad dressings – I can put all of the ingredients in the mason jar, put the lid on, and shake everything up together.
How often I use them: Almost every day.
Why I love them: Easy use and easy storage!
Brand-loyal for this item? Nope! I just love having them in different sizes for different purposes. Here are a bunch of different size options.
These are some of the best recipes where mason jars come in handy: homemade caramel sauce, spinach salad with homemade dressing, and spicy refrigerator pickles.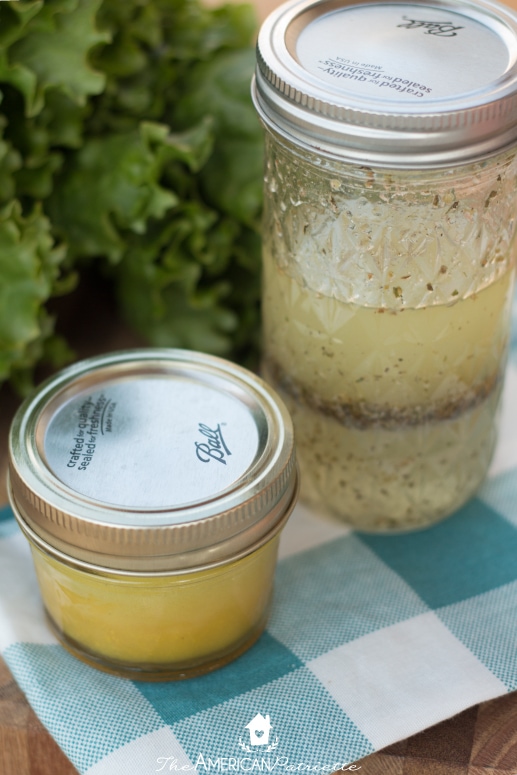 As I mentioned, I'll continue to add to this list if I find another kitchen essential that I find to be a life-saver and/or something that brings some extra joy to cooking or baking! I hope these little reviews were helpful from my kitchen to yours. If you have something in your kitchen that you absolutely love, please be sure to share – as you can tell, I'm a big fan of well-loved kitchen items. 🙂
Want to remember these items for later?! Be sure to save it to your favorite Pinterest board!