No Prep Protein-Packed Green Chile Chicken and Quinoa Enchilada Soup.
It'll take you longer to say it than it'll take you to prep it. AND IT IS DELICIOUS. It is creamy, savory, tangy (if you add some lime juice to it! Mmm-mmm!), and oh-so-filling.
There is just no work involved in making this soup. You'll burn more calories eating this than you will making it! I'm almost sure of it.
You literally empty ingredients into a slow cooker, turn it on high, and there's nothing left to do other than add the quinoa to the slow cooker about 30 minutes before you're ready to eat.
Here are the star ingredients:
You can dice up a fresh onion if you'd like, but if you really want this to be zero work, just use frozen diced onion.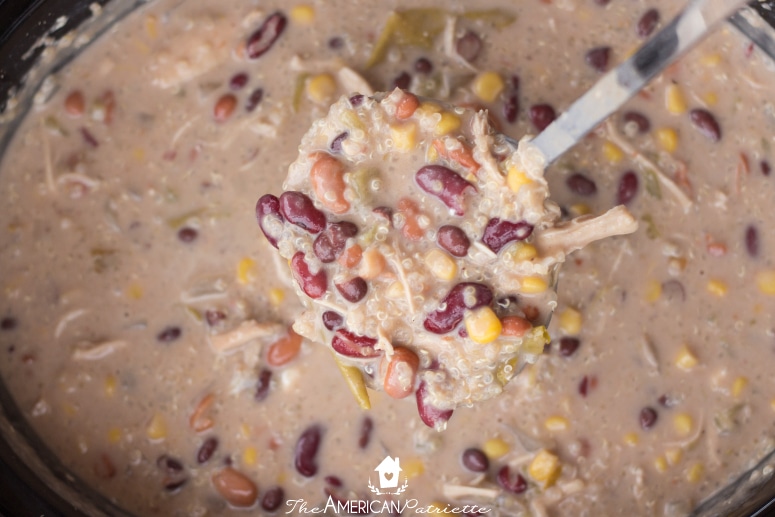 It's so hearty! So much texture, so much flavor, so much protein! Between all the beans, chicken, and quinoa, you've got yourself a protein-packed meal.
Did I mention that it is so tasty?
This soup is perfect for busy weeknights, to have when you're expecting company, or just any time you want to eat something delicious. It'll bring people to your dinner table like no other!
Warm soup. Warm bodies at the table. Warm hearts. Sounds like a perfect way to gather!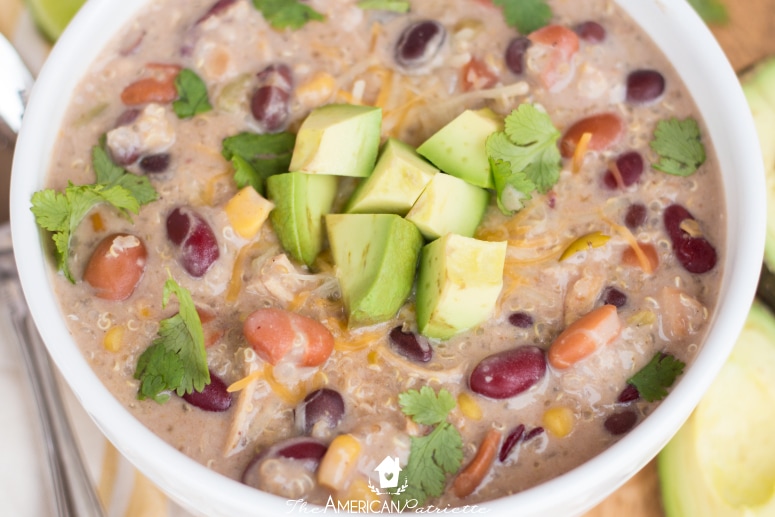 Enjoy eating this with folks 'round your table!
If you're looking for other really simple and delicious soups to make for supper, check out these options:
Easy Roasted Red Pepper, Tortellini, Chicken, and Broccoli Soup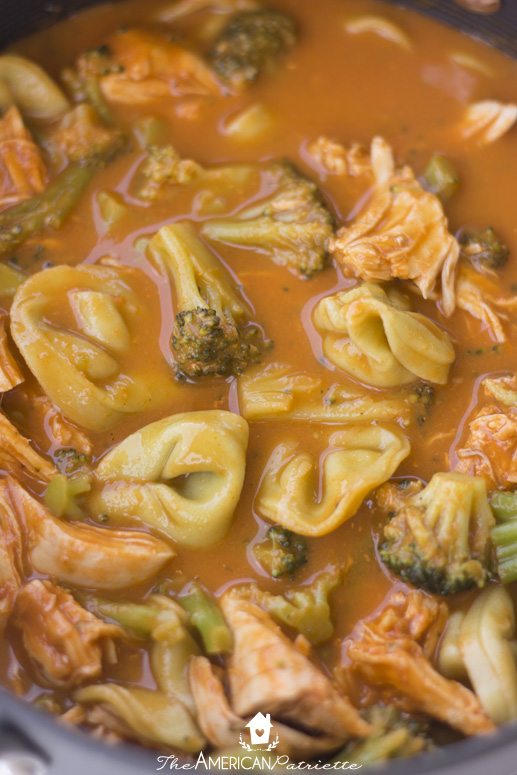 No-Prep Slow Cooker Meatball and Vegetable Soup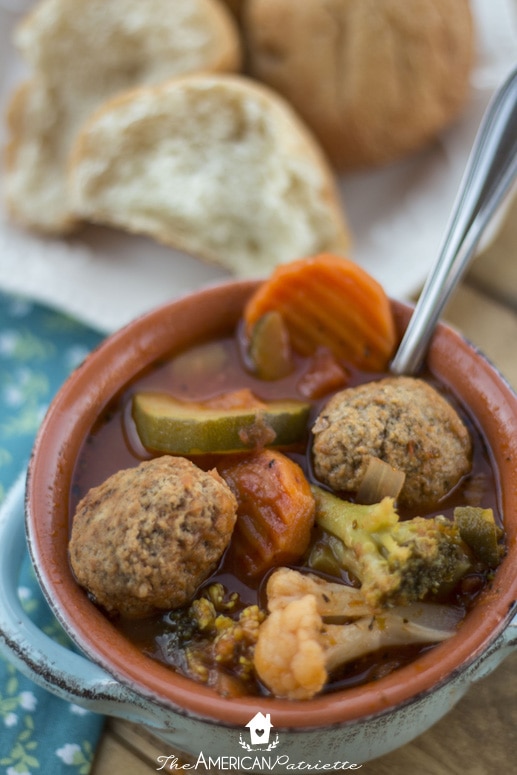 Is your mouth watering yet?! Make sure to save this recipe for later – pin it to your favorite Pinterest board!
Love this recipe idea and want to save it for later?! Be sure to save it to your favorite Pinterest board!
No Prep Protein-Packed Green Chile Chicken and Quinoa Enchilada Soup
Cook Time:
10 hours
30 minutes
Total Time:
10 hours
35 minutes
Ingredients
1 lb raw chicken breast
1 15oz can black beans, drained
1 15oz can pinto beans, drained
1 15oz can kidney beans, drained
1 15oz can corn, drained
1 15oz can green enchilada sauce
1 4oz can green chiles
1 c diced frozen onion*
4 c chicken broth
2 tsp cumin
1 tsp garlic powder
Dashes of salt & pepper (to taste)
1 8oz package light cream cheese, room temperature or warmer (this is important)**
1 c uncooked quinoa
Instructions
Empty everything into the slow cooker except for the cream cheese and quinoa. Gently stir.
Add cream cheese into the slow cooker, cover, and set on high for 6 hours.
After 6 hours (or about 30 minutes before you're ready to eat), quickly shred the chicken inside the slow cooker using two forks, stir the soup (and make sure the cream cheese is fully mixed in with it), add the quinoa, cover, and allow the quinoa to soften. Turn slow cooker off or on warm, depending on how long you're going to wait until you eat.
Top with shredded cheese, avocado, lime juice, and fresh cilantro if you want! Add in some crushed tortilla chips, too!
Notes
*You can use fresh diced onion if you want. Won't affect the taste!

**You definitely don't want to add cold cream cheese to this. If you didn't set it out to bring it up to room temperature before putting the ingredients in the slow cooker, just unwrap the block of cheese, place it in the microwave on a plate, and heat for about 30 seconds or until it's just a little bit warm. If you add it to the ingredients when it's cold, it won't melt correctly - it'll form little lumps in the soup.