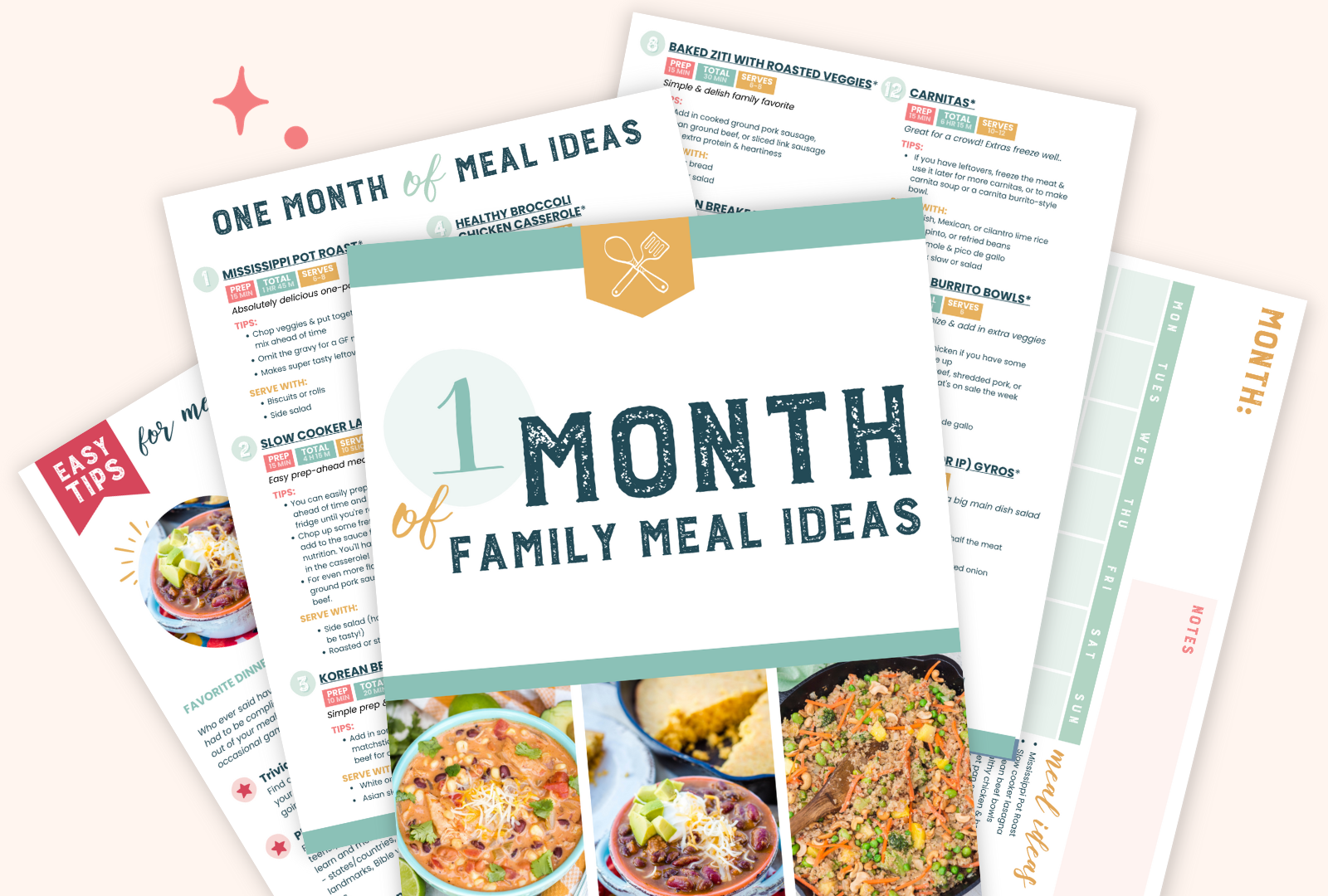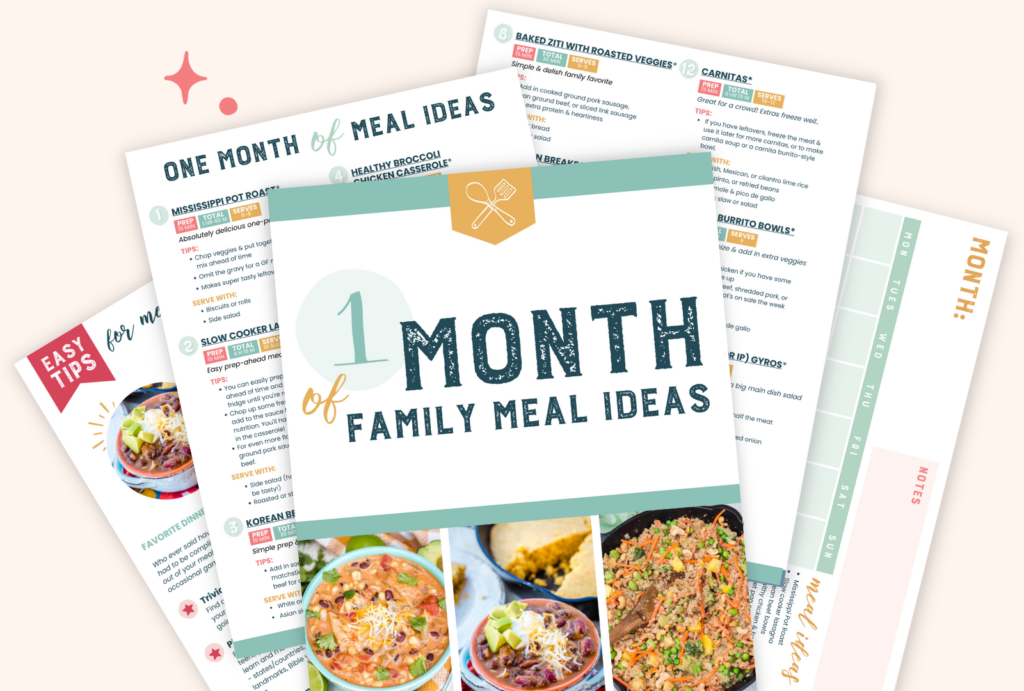 Stuck in a meal planning rut?
Get this FREE month of family-friendly meal ideas!
When this world feels like it can't possibly get any nuttier (and it feels like you can't do a darn thing about it), one of the BEST things we can do is simply share meals 'round our tables.
After all, we feed way more than just bellies when we gather around the table.
The seemingly mundane act of regularly sharing meals with others – of gathering with our own families as often as we can, and then inviting others into the fold – has a far greater impact than we can even imagine.
Here on The American Patriette, I want to help you do just that by making it easier for you to: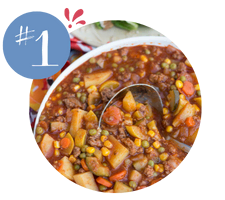 Cook great food!
It's way more fun to cook for & feed people when you've got great recipes. And I've got a whole slew of 'em.
My goal is to provide you with recipes I know you & your people will love, that you're excited to share, that aren't chef-y (one of the biggest compliments I've received from a reader), that are always tasty, and are generally hearty & healthy. Well, except dessert…because life is short, and sometimes your neighbor really needs some cookies. I'm constantly testing & trying new recipes in my kitchen, and I'm over-the-moon excited when I've nailed ones down worth sharing with you!
Plan your meals way more easily.
Look, we all know that meal planning is not your favorite activity every week. (In fact, it might even be your least favorite. I see you!)
We don't want to settle for boring, rote meal planning week after week, but meal planning also seems to take FOREVER when you're trying to incorporate variety, everyone's preferences, and all that you've got going on in a given week. That's exactly why I created Year-Round Yum – to help you EASILY add some FRESH, new meals into your routine…without the headache of planning!
Spend quality time with people around your table.
Whether you're planning a potluck, sitting down for a regular family meal, or inviting the neighbors last-minute to enjoy some ice cream together, I want to help you maximize your table time and help you feel encouraged and equipped to have a table of connection and community.
After years of studying the impact of relationships on society (and then years of building them 'round our dinner table), I truly believe – with every fiber of my being – that the small but intentional act of spending time with people over yummy meals will *lit-er-all-y*…like, actually factually…change the lives of your fam & everyone you invite along the way.
Chances are, you're already cookin' up good food on the regular. You're already loving people well through feeding them. And, you already value time at the table, as challenging as it can be to get everyone to it as often as you'd like.
But, Lord knows we need the reminder that what we're doing really does matter. And goodness gracious, does He ever know that it sure makes it easier for us when we've got good recipes worth sharing & tips and tricks for making it easier to gather!
I can't wait to help you build that connection & community, one bite at a time.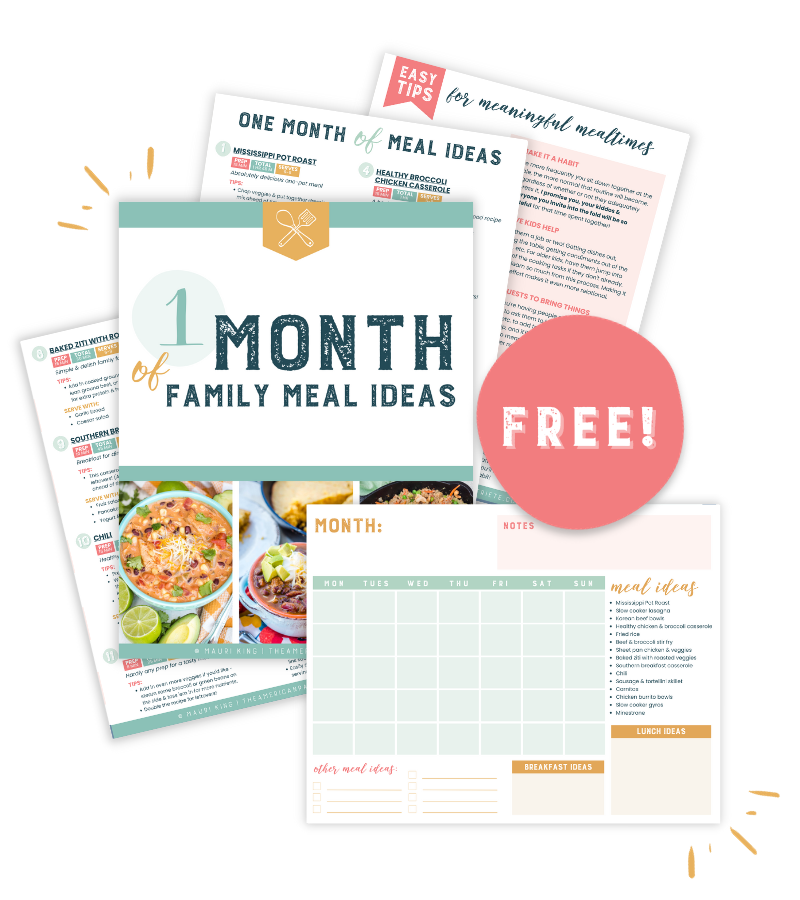 Did you download your FREE Month of Meal Ideas yet?!
What are you waiting for, sister?!