Easy Pumpkin Praline Bundt Cake with Cream Cheese Frosting Glaze
This easy pumpkin praline bundt cake, drizzled with a simple homemade cream cheese frosting glaze, is a perfect dessert for Fall, Thanksgiving, and Christmas gatherings! Such a beautiful, delicious, and outrageously moist cake, great for a crowd!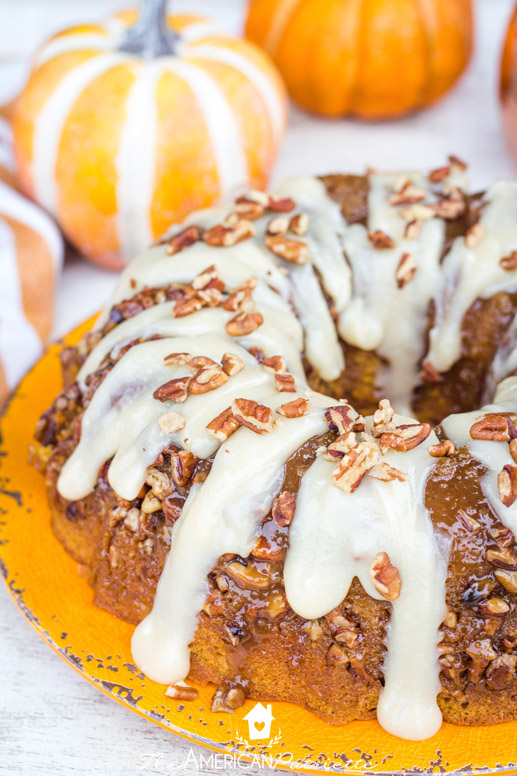 This easy pumpkin praline cake is one of my all-time FAVORITE recipes, and I have a feeling it's about to become one of yours, too!
I don't remember how I came across the original Betty Crocker recipe, but I started making it in college, and I feel like I had to have made it at least 2-3 times each time Fall came around.
This super moist cake became an expected favorite for family gatherings & potlucks with friends! I've made it for several Thanksgiving & Christmas gatherings.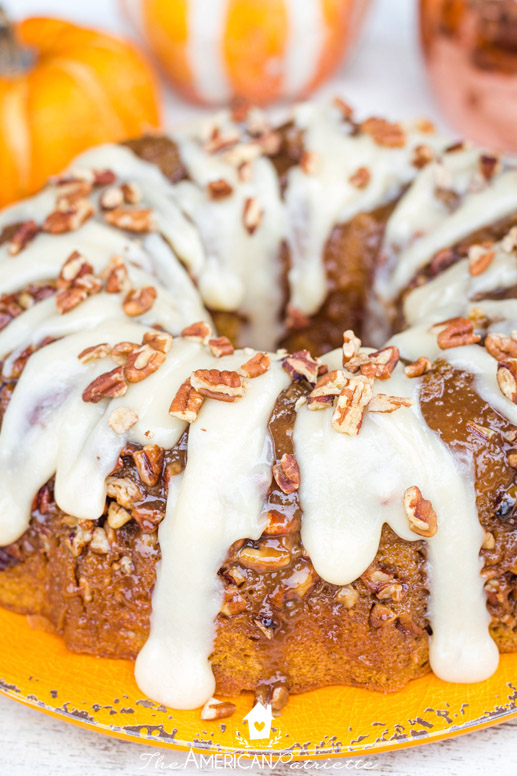 Often times, I like to bake completely from scratch, and other times, if I find an absolutely-don't-mess-with-it-recipe, I'll prepare a semi-homemade cake. In other words, a cake that does use boxed cake mix, but it's doctored up quite a bit to taste completely homemade.
This is one of those cakes, and believe me, I do not want to mess with this recipe!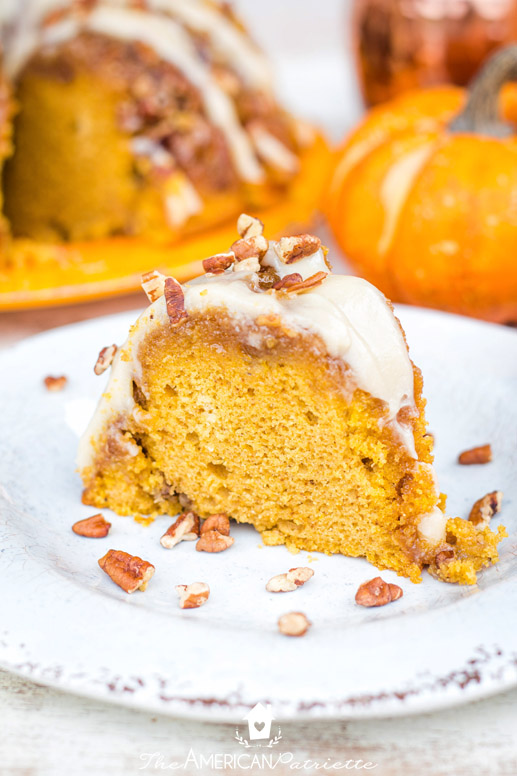 However, just because I didn't want to mess with the recipe, it didn't stop me from messing with how I prepared the recipe.
I used to exclusively make this pumpkin praline cake as a layer cake, but recently, I've been turning so many of my layer cake recipes into bundt cakes…for some reason, they seem to take less time and effort, and bundt cakes travel a lot more easily than layer cakes!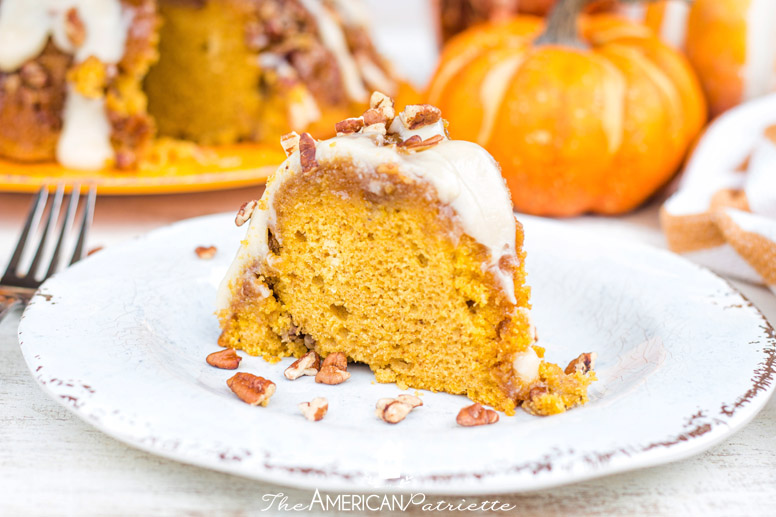 And yet, bundt cakes still look absolutely gorgeous! My sister-in-law thinks bundt cakes look even fancier than layer cakes. I'm still deliberating on what I think. 🙂
Regardless, I've learned if I don't want to lose the beauty of a cake, but I also want to make the prep and transport of it easier, I turn the recipe into a bundt cake.
I wasn't so sure this one would work out because of that delectable praline topping, but friend, I am soooo pleased it did, and I just can't wait for you to have this recipe!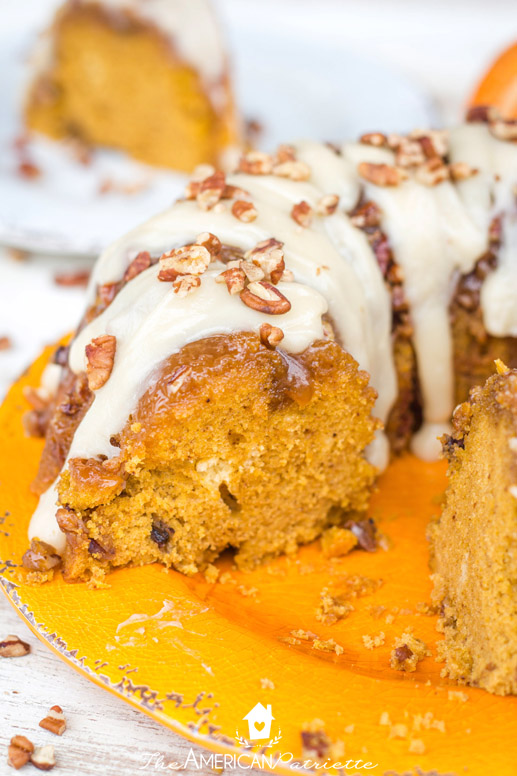 How to make a Pumpkin Praline Bundt Cake
The detailed recipe is at the bottom of the post, but I'll quickly walk you through some of the simple steps of making this cake. Ready?!
Step 1: Prep the praline mixture on the stove top & then pour it into a greased bundt cake pan

Step 2: Pour the prepared pumpkin cake batter on top of the pecan praline mixture

Step 3: Bake in oven at 325 for 45-50 minutes, or until a toothpick comes out clean
You're going to allow the cake to cool for about 20-30 minutes out of the oven (place the bundt cake pan on a cooling rack with the cake still inside the pan), and then remove the cake from the pan onto a cake plate or platter.

Step 4: Prep the easy cream cheese frosting glaze & drizzle over the cake
Since the glaze is warm, you don't need to wait until the cake cools to drizzle it on. Once you take the cake out of the pan, you can just drizzle it right on top.
Sprinkle on some pecans to add a little garnish, and then gobble this thing up!
The incredibly moist and flavorful pumpkin cake is a perfect pair with the sweet and crunchy pecan praline topping. A match made in heaven, I tell ya!
A couple tips for a great pumpkin cake:

If you don't have pumpkin pie spice, no problem! Just mix one up with cinnamon, nutmeg, ginger, and ground cloves.
If you're making this cake more than a day ahead of your gathering, you'll want to store it in the fridge. The pumpkin puree in here makes the cake spoil faster if you leave it on the kitchen counter for too long.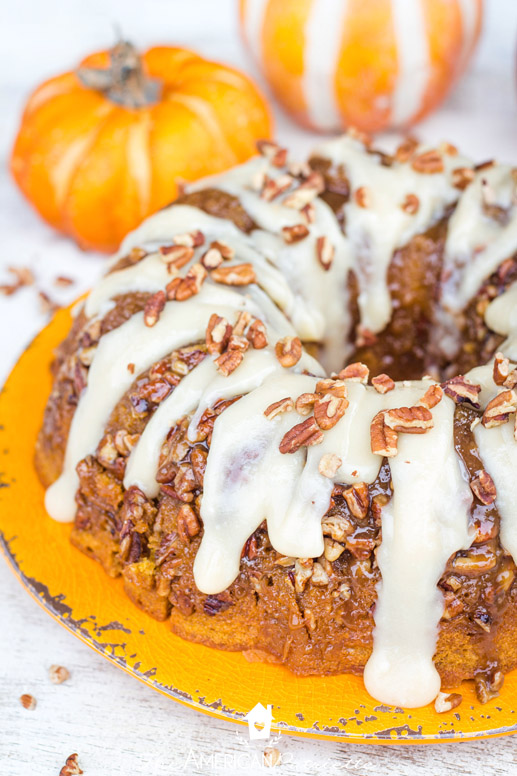 Hope you enjoy this pumpkin praline cake with family and friends this season!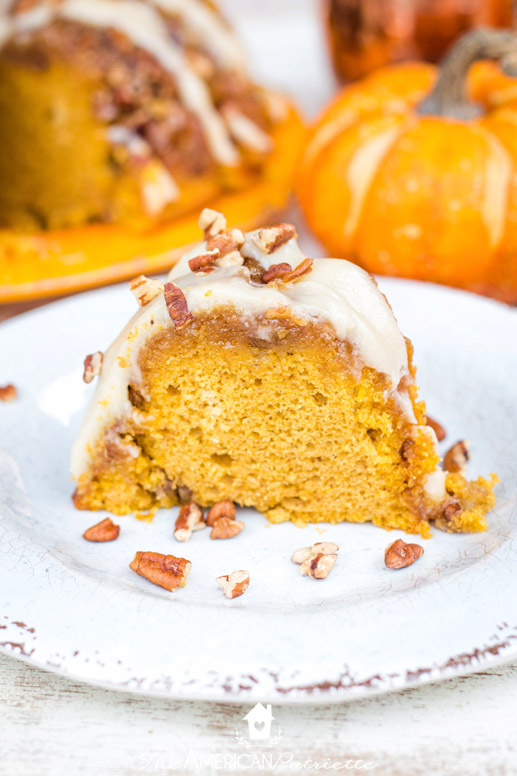 If you love this type of recipe and want more crowd-pleasing treats, head over here to check out some of my very favorite Fall dessert ideas!
And, here are more bundt cake recipes you might LOVE this time of year!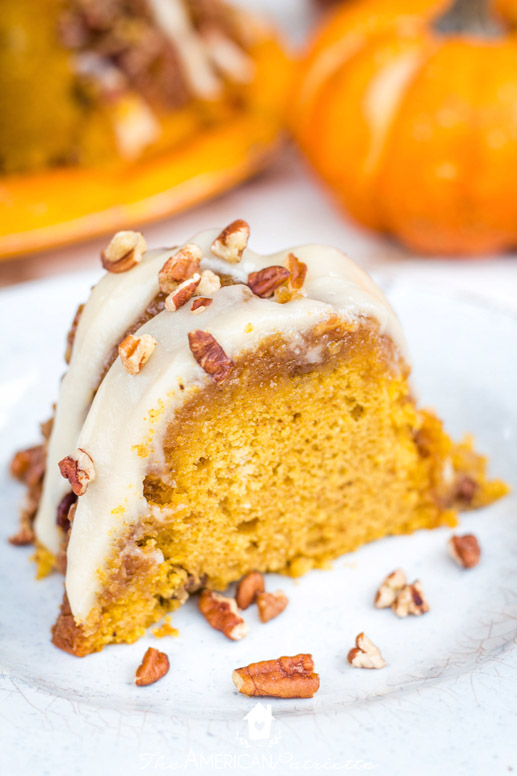 And, to make this cake *extra special,* serve it up with a dollop of homemade whipped cream or scoop of vanilla ice cream! YUM! Your people are going to LOVE this!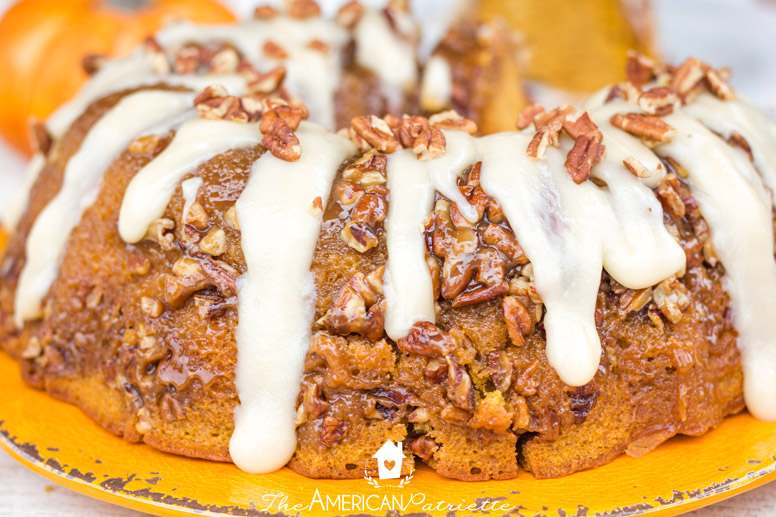 Love this recipe and want to remember it later? Be sure to save it to your favorite Pinterest board!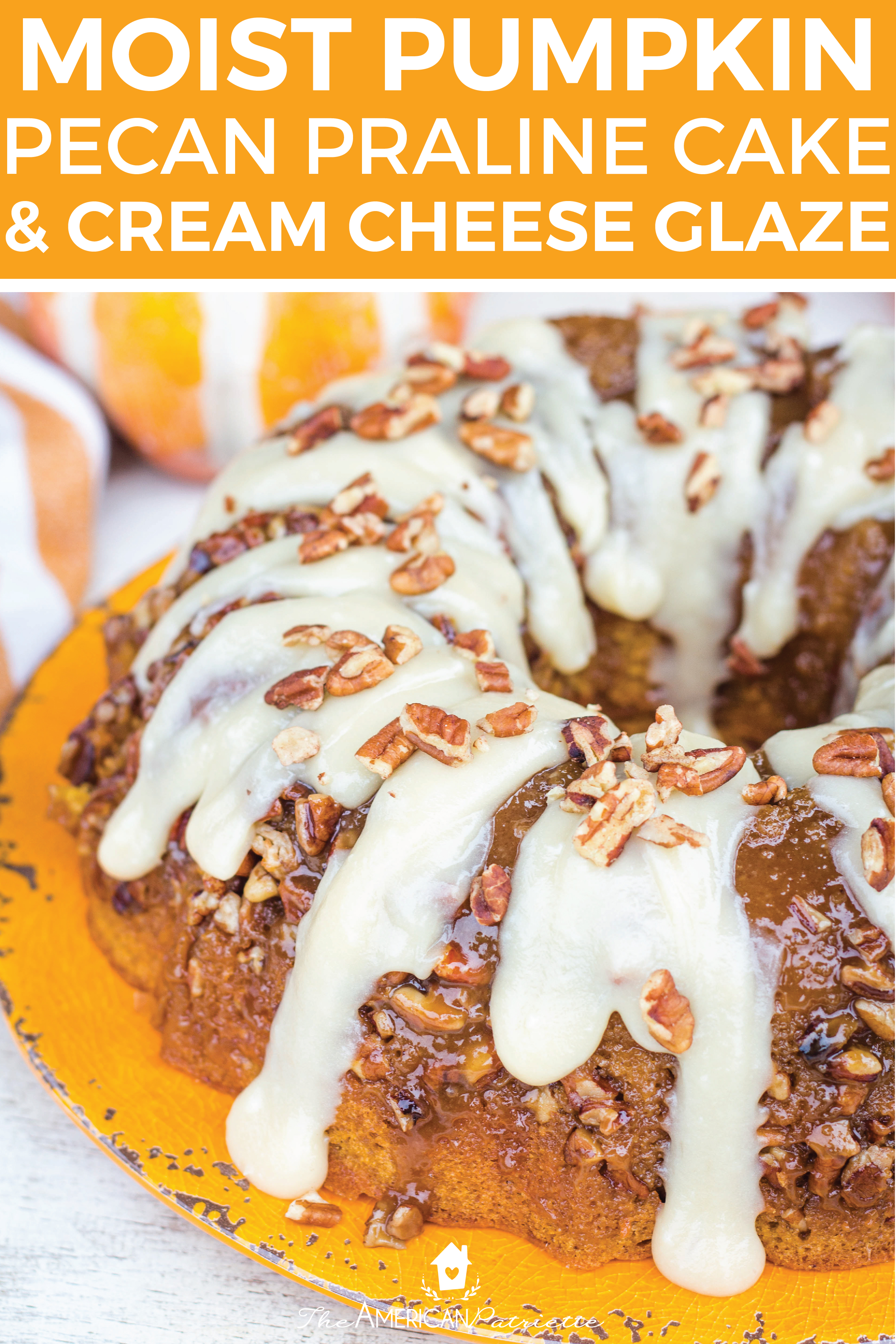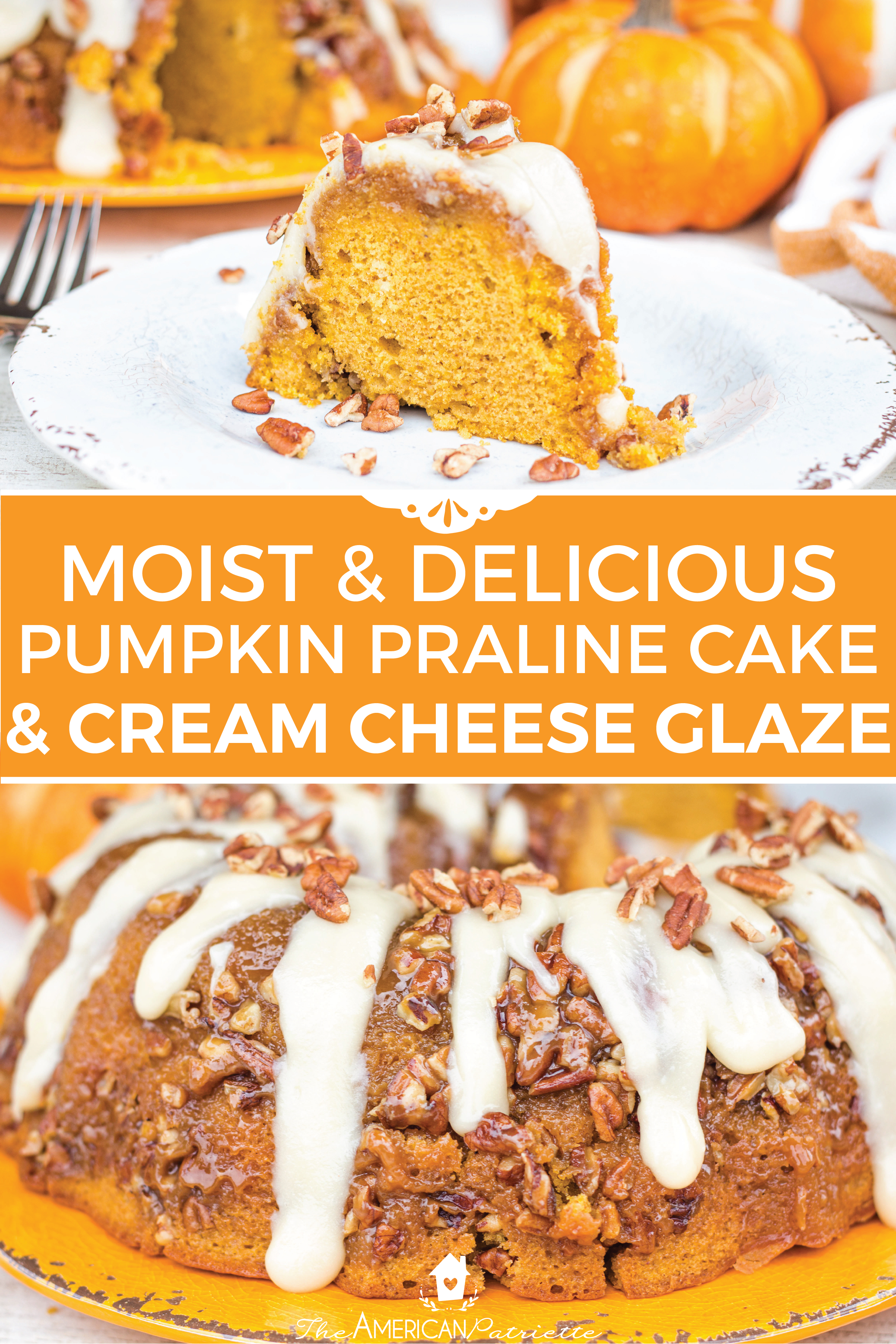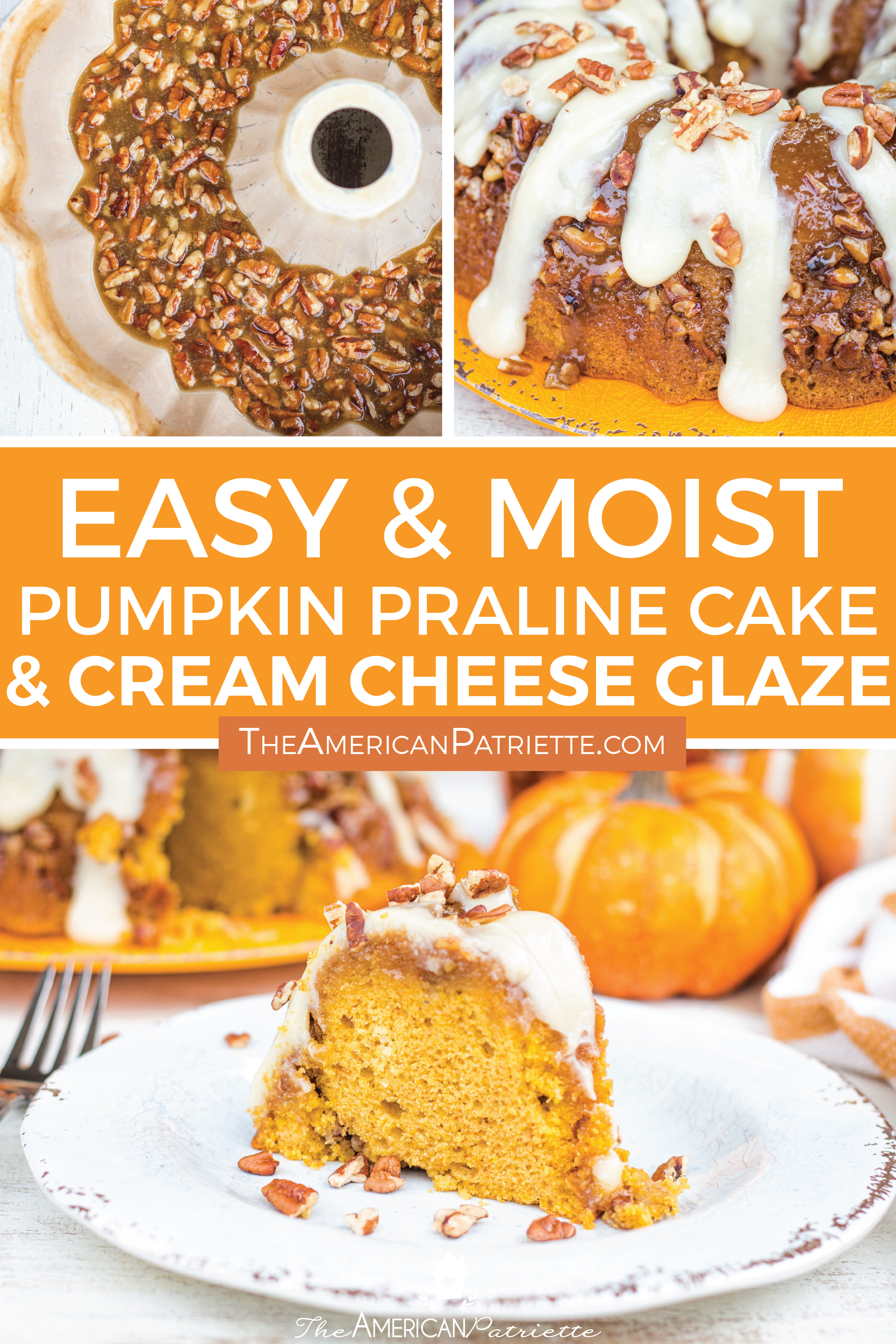 Easy Pumpkin Praline Bundt Cake with Cream Cheese Frosting Glaze
Total Time:
1 hour
5 minutes
This easy (and super moist) pumpkin praline bundt cake with a simple homemade cream cheese frosting glaze is absolutely a crowd-pleasing favorite for Fall, Thanksgiving, and Christmas gatherings!
Ingredients
Pecan Praline Topping
1/2 c unsalted butter
1/4 c whipping cream
1 c light brown sugar
3/4 c chopped pecans
Pumpkin Cake
1 box yellow cake mix
1/3 c vegetable oil
1/2 c water
4 eggs, room temperature
1 c pumpkin puree (not pumpkin pie filling)
1 1/2 tsp pumpkin pie spice
Cream Cheese Frosting Glaze
4 oz cream cheese, softened (at least room temp)*
1/2 stick unsalted butter, softened
1 tsp vanilla
1 c powdered sugar
Instructions
For the pecan praline topping:
Place butter in a saucepan on the stove top over medium heat, and begin melting the butter.
Add the whipping cream and sugar, and continue to stir the mixture on the stove top until the ingredients are fully blended - about 5 minutes or so.
Stir in the chopped pecans, remove from heat, and set the saucepan aside for now.

For the pumpkin cake:
Preheat oven to 325.
Using a stand or a hand mixer, add the yellow cake mix, vegetable oil, and water to the bowl and mix together with the whisk attachment.
Add in eggs, one at a time, mixing between additions, and scraping the sides of the bowl with a spatula to make sure all the ingredients get mixed well together.
Add the pumpkin puree & pumpkin pie spice, and continue to mix the cake batter until it's fully blended together. Set aside.

Pairing the praline topping & cake batter:
Pour the pecan praline mixture into a greased bundt cake pan. If you need to, use a spatula to gently spread the pralines around so they evenly cover the bottom of the pan.
Pour the cake batter across the top of the pralines. It's ok if the pralines separate a bit - this is unavoidable, and it's no big deal!
Place the pan in the preheated oven and bake for 45-50 minutes, or until a toothpick comes out clean from testing the cake.
Remove cake from oven and set on a rack to begin cooling. Cool for about 20-30 minutes, and then remove the cake from the bundt cake pan onto a plate or cake platter.

For the cream cheese frosting glaze:
Add butter to a microwave-safe bowl and microwave for 30 seconds to melt the butter.
Add the room temperature (or warmer - see my notes on why this is important!) cream cheese to the bowl, and microwave again for about 20 seconds.
Stir in powdered sugar and vanilla until the glaze is thoroughly mixed. It should be runny enough to drizzle onto the cake at this point, but if it's not, just zap it in the microwave for an additional 15 seconds or so - just until the glaze is runny enough to drizzle over the cake.
Using a spoon, drizzle the glaze evenly over the cake, and if you wish, top with some extra chopped pecans for garnish.
Allow cake to fully cool before placing a lid/cover over it. You can store the cake on the counter overnight, but if you're storing it for more than a day, keep it in the fridge - the pumpkin in the cake causes it to spoil faster if you don't refrigerate it.

To make this extra special, serve with some homemade whipped cream or vanilla ice cream! YUM!
Notes
*I've learned you really want to bring refrigerated cream cheese up to room temperature (or warmer) before mixing it with other ingredients in order to avoid a lumpy cream cheese mixture.
Here's a quick baking hack: If I forget to set the cream cheese out with enough time to bring it up to room temperature, I just remove the block from the cardboard container, and set it on my oven top while my oven is preheating for the cake. Softens the block up in no time!
Note on storing this cake: because the cake contains the pumpkin puree, you'll want to make sure to store the cake in the refrigerator if you have leftovers or if you're making it well in advance of your gathering. It's fine if you leave it out overnight, you just don't want to leave it sitting out on the kitchen counter for more than a day or so.
Recommended Products
As an Amazon Associate and member of other affiliate programs, I earn from qualifying purchases.