Pumpkin Spice Coffee Crumb Cake
This pumpkin spice coffee crumb cake is a delicious dessert for this time of year! I slightly revised a coffee cake recipe my Aunt Cheryl to give it a seasonal twist. I wanted to make that cake a little more Fall-ish? Fall-esque? Fall-like?
We'll stick with pumpkin-y.
It has just a hint of pumpkin – just enough pumpkin to make you think after the first bite, "Hmm…I think I'm going to need another bite juuuuuust to make sure I taste the pumpkin."
We really don't want to be unsure of those types of questions.
It also has a very simple glaze that makes the cake even more moist. This pumpkin spice coffee crumb cake basically dissolves in your mouth.
Oh, and by the way, it'll take you all of about 5-7 minutes to prep before placing it in the oven. So, if you're needing something delicious but you're short on time, I've got you covered.
You make up the batter and pour half of it in a bundt cake pan…
Sprinkle on half of the pumpkin spice sugar mixture…
Pour on the other half of the batter…
Sprinkle on the rest of the pumpkin spice sugar mixture…
Bake it, and there you have it!
Then you shake together a 3-ingredient glaze, quickly poke some holes in the cake with a toothpick, and then drizzle the glaze all over. It'll seep into those poked holes and make it so moist!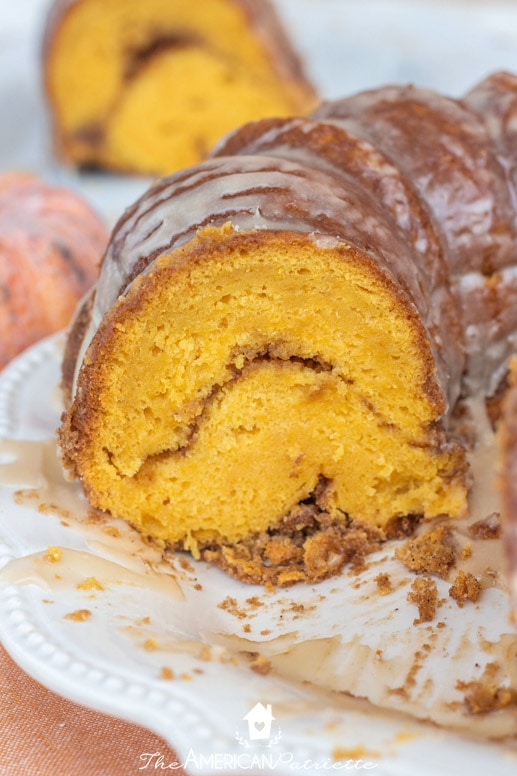 When I've made this cake before (like a zillion times), I've always mixed the glaze together in a bowl. I've never thought to shake it together in a mason jar until this time. Oh my gosh…SO MUCH EASIER.
Yum, yum, yum!
It truly does just melt in your mouth!
Bring some smiles to a gathering this Fall, or round up some people for some smiles around your dinner table to relish in the season.
Smiles, hugs, and jumps for joy are surely to follow consumption of this cake.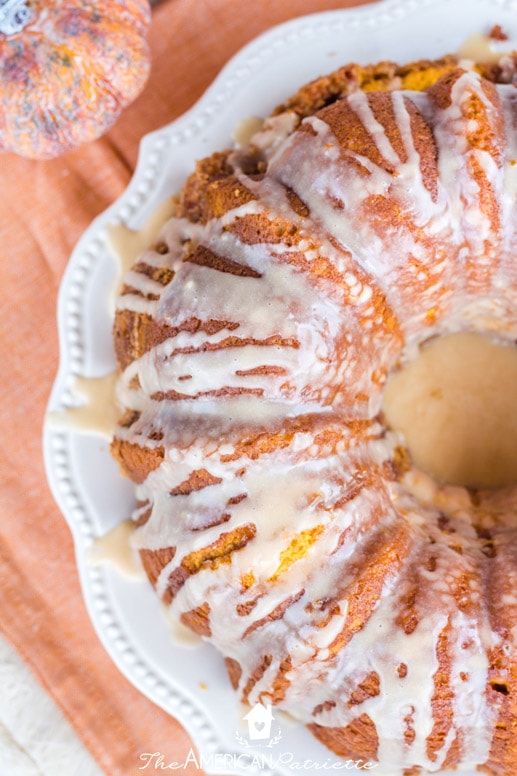 Hope this cake helps you enjoy some great quality time with others!

Pumpkin Spice Coffee Crumb Cake
Ingredients
1 box yellow cake mix
2 3.4oz boxes of instant vanilla pudding
1 c water
1/2 c vegetable oil
1/2 c pumpkin puree
4 eggs
1 c packed brown sugar
1 tbsp pumpkin pie spice*
---------------------------------
For the Glaze:
1 c powdered sugar
2 tbsp milk**
1/2 tsp vanilla extract
Instructions
Preheat oven to 350.
Using a stand or hand mixer, mix together cake mix, pudding mix, water, and oil. Mix in pumpkin.
Add eggs, one at a time, mixing well between additions. Once batter is fully mixed, set it aside.
In a small bowl, stir together brown sugar and pumpkin spice mixture.
Pour half of the cake batter in a greased bundt cake pan.
Sprinkle half of the sugar and spice mixture on the batter in the bundt cake pan.
Evenly pour the remaining batter in the bundt cake pan.
Sprinkle the remaining sugar and spice mixture on the batter in the cake pan.
Place cake pan in oven and bake for 45 minutes (check at 40 minutes with a toothpick - if it comes out clean, go ahead and remove from oven).
After baking, remove from oven and set aside to cool while you make the glaze.
In a mason jar, shake together powdered sugar, milk, and vanilla until sugar is fully dissolved. You can make the glaze by mixing everything together in a bowl, but it'll be a lot faster if you just shake everything together in a mason jar with a lid!
Allow the cake to cool for about 10 minutes, and then carefully remove cake from pan and place on a plate.(You'll want to make sure your plate or platter has a lip all the way around - the glaze is really runny!)
Poke all the way around the cake - up and down the sides and on top - with a toothpick. Pour glaze evenly all over the cake.
Serve cake whenever you're ready to eat it. It's delicious with vanilla ice cream! It also makes great leftovers - you can store it in an airtight container on the counter (or in the fridge if you prefer) for a few days.
Notes
*If you don't have pumpkin spice in your cabinet, you can do a spice mixture of cloves, cinnamon, nutmeg, allspice, and ginger.
**You can use any milk - I've used whole and skim to make the glaze, and I don't know if you can tell much of a difference with either!