The BEST Moist Skillet Cornbread Recipe
Stop looking for your go-to cornbread recipe! This is the BEST moist cast iron skillet cornbread – made with creamed corn and buttermilk, it's incredibly moist, flavorful, and DELICIOUS!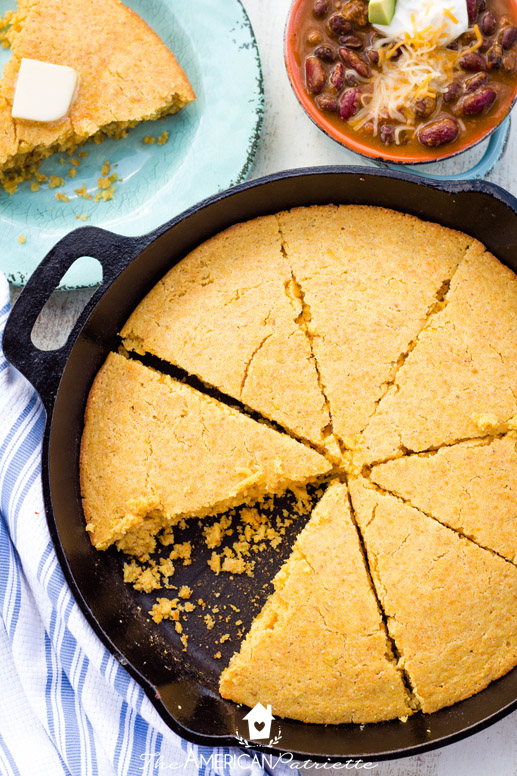 I hate to be bossy, but you really need to stop scouring the internet for your favorite cornbread recipe.
This is it, friends. This sweet, SUPER moist skillet cornbread recipe is going to be your tummy's new best friend, and you're going to bring SO many smiles to your kitchen table when you serve it up!
I think the creamed corn & the buttermilk are the "secret sauces" to this recipe. I got the original cornbread recipe from Can't Stay Out of the Kitchen, but since my husband and I love cooking with our cast iron skillet, like true Texans, I modified the recipe so we could always serve our cornbread in triangle shapes, straight out of the cast iron.
How to make MOIST Cast Iron Skillet Cornbread
I can't wait for you to make this cornbread recipe! Let me walk you through a few of the initial steps for making it:
Step 1: Preheat oven to 350; add 6 tbsp of butter to skillet & place in oven
You're actually knockin' out two steps with one here: you're melting the butter to add to the cornbread batter, and you're also greasing up the skillet so the cornbread slides right on out after you bake it.
Step 2: Mix up the cornbread batter & add the melted butter to the bowl
Mix the cornbread batter (all the ingredients except the butter) in a large mixing bowl.
While I almost always do all of my dough mixing using my KitchenAid Mixer, when I make cornbread, I always just stir the batter with a fork. I've always heard you don't want to over-mix cornbread batter, so as much as I'm not a rule-follower in the kitchen, I don't mess with cornbread rules.
After you've mixed up the cornbread batter, you're going to pour the melted butter from the cast iron into the batter. You can see from the photo below that I swirl the melted butter all around the cast iron, making sure that it creeps up onto the sides (about an inch) so it fully greases the pan. Then, I pour the butter into the mixing bowl and mix up the rest of the batter.

Step 3: Pour the cornbread batter into the cast iron skillet & place on center rack in 350 degree oven
You're going to bake this for 25-30 minutes. Check the bread at 25 minutes – you really don't want to over-bake it. You're going for "just right" so the cornbread stays nice and moist! If a toothpick comes out clean, take it out of the oven & set aside to begin cooling.

Step 4: Allow to cool for a few minutes & serve up with delicious soups, stews, and chilis!
I usually let it sit for about 10 minutes or so before I start to serve it – it needs to cool down just a bit in order for you to cut it without it completely falling apart.


Serve the cornbread with chili (if you haven't already tried this slow cooker pumpkin chili, you are going to LOVE IT) or really, any kind of soup.
I make a LOT of soups when the weather is cooler. We ALWAYS have cornbread with Tex-Mex soups, but I'll make it for other soups/stews too.
Here are some of our favorite hearty & healthy soup recipes:
Easy Fall Chicken & Vegetable Soup
Healthy & Hearty Sausage & Cabbage Soup (SO FLAVORFUL!)
No-Prep Protein-Packed Green Chili, Chicken, & Quinoa Enchilada Soup
You could also just serve this up with some flavorful pinto beans – I know folks make a meal out of beans & cornbread!
Enjoy this amazing cornbread recipe! You and your family are going to love it!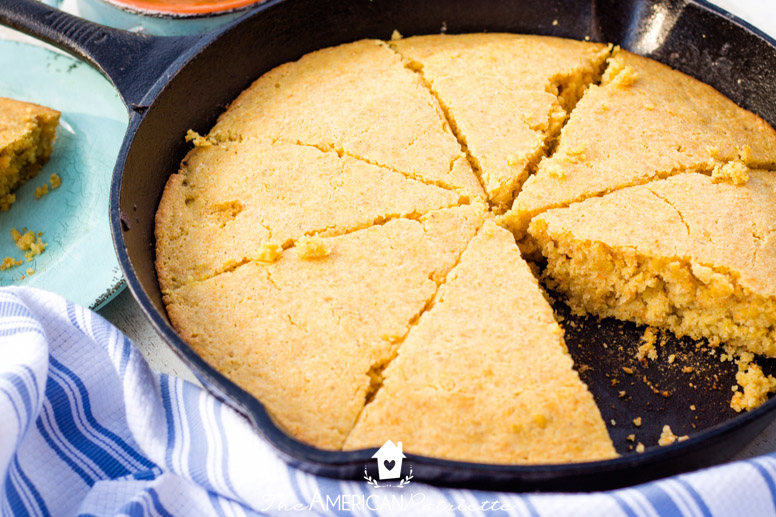 Love this recipe idea and want to remember it later? Be sure to save it to your favorite Pinterest board!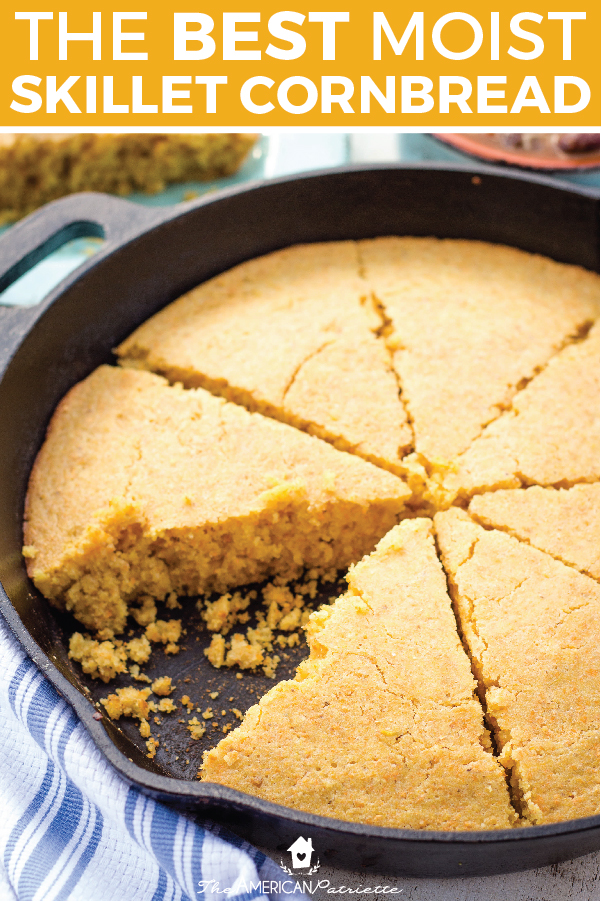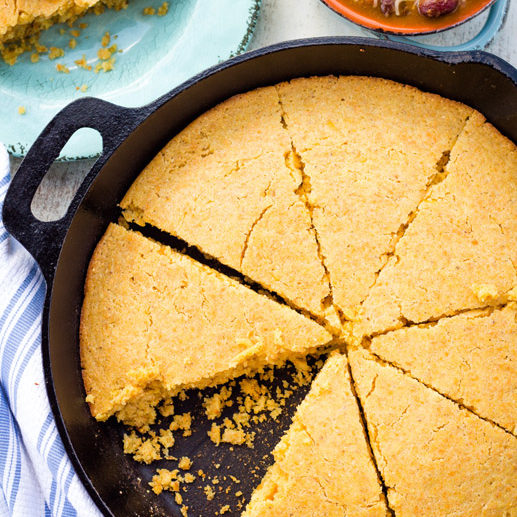 The BEST Moist Skillet Cornbread Recipe
Cook Time:
30 minutes
25 seconds
Total Time:
45 minutes
25 seconds
This is the BEST moist cast iron skillet cornbread - made with creamed corn and buttermilk, it's incredibly moist, flavorful, and DELICIOUS!
Ingredients
6 tbsp butter (not melted)
1 1/4 c unbleached all-purpose flour
1 1/4 cornmeal
1/3 c granulated sugar
1 tsp baking soda
1/2 tsp baking powder
1/2 tsp salt
2 eggs
3/4 c buttermilk*
1 15oz can creamed corn
Instructions
Preheat oven to 350
Place 6 tbsp butter in cast iron skillet. Place skillet in preheated oven and allow the butter to melt - about 5 minutes or so.
In the meantime, mix up the cornbread batter using the rest of the ingredients: add dry ingredients together in a large mixing bowl - just mix together using a fork. Then add in the wet ingredients, again, mixing them in using a fork - the buttermilk, the eggs, and the creamed corn.
Remove the cast iron skillet from the oven. It's heavy, and it's also really hot, so you'll need to wear oven mitts on both hands for this! Gently swirl the melted butter around in the skillet so that the butter goes up and covers the sides of the skillet about an inch up - this is how you're greasing the pan.
Then pour the butter into the mixing bowl, and use the fork to mix it in with the rest of the cornbread batter.
Pour the cornbread batter into the cast iron and place in the oven on the center rack for 25 minutes.
Check the cornbread at 25 minutes with a toothpick - if it comes out clean, go ahead and remove it from the oven. If not, give it a few more minutes and then take it out and set it aside on the stove top or on a hot pad to begin cooling. You do NOT want to over-bake this.
Allow to cool for about 10 minutes before serving. Cut into triangular slices, serve with soup, stew, or chili, and enjoy with family and friends.
Store the remaining cornbread (if you have any left!) in a covered + sealed container in the refrigerator. It's so moist that if you store it on the counter top, it'll mold too quickly! You can store it in the fridge for up to about 3 days. Just reheat in the microwave and enjoy again!
Notes
*I ALWAYS make my own buttermilk for this recipe - I just add aaaaalmost 3/4 of a cup of whole milk to a measuring cup, and then top it off with distilled vinegar. Maybe a little more than a tsp. Let it sit on the counter for a few minutes to curdle. Doesn't take long!
As I mentioned in the directions, you'll want to store any leftovers in the fridge. This cornbread is SO moist, so it won't keep outside of the fridge for very long. However, it's fine for a few days in the fridge! Just reheat in the microwave and enjoy!