Creamy Chicken Enchilada Soup
This is the BEST easy creamy chicken enchilada soup recipe!
I do not make food that doesn't have lots of flavor. I can't handle it. Neither can my taste buds.
Have you ever wondered why they're called "taste buds"? It's because they're buds, friends, if you will, of taste. And believe me, you and your taste buds will be the best of friends when you eat this creamy enchilada soup!
---
Related Post: Delicious Healthy & Hearty Soup Recipes
---
This soup is not very labor-intensive. No, like most soups, you can let your stove top do most of the work – you do a tad bit of work on the front end, but once you assemble the ingredients and set the pot on the stove to simmer, your job is pretty much done! Also, you cook all of the ingredients in one pot, so doing the dishes afterwards isn't labor-intensive either!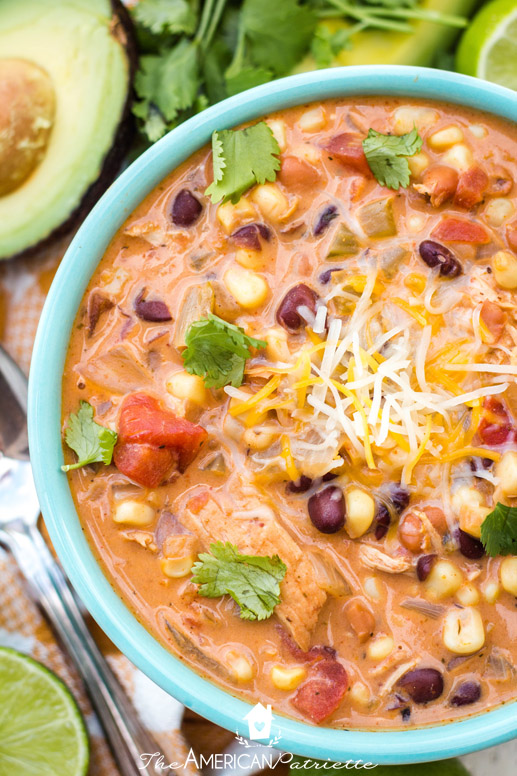 I don't typically serve this soup with cheese on top – it's so creamy that it really doesn't need it. However, this particular bowl of soup in the photo was about to be my husband's lunch, and telling Aaron that a bowl of soup doesn't need cheese on top is kind of like telling a kid he doesn't need cake at his birthday party.
I don't want to be a party pooper.
Serve with cheese on top, or don't! Either way, it's a fiesta of flavor!
Love this recipe idea and want to remember it for later? Be sure to save it to your favorite Pinterest board!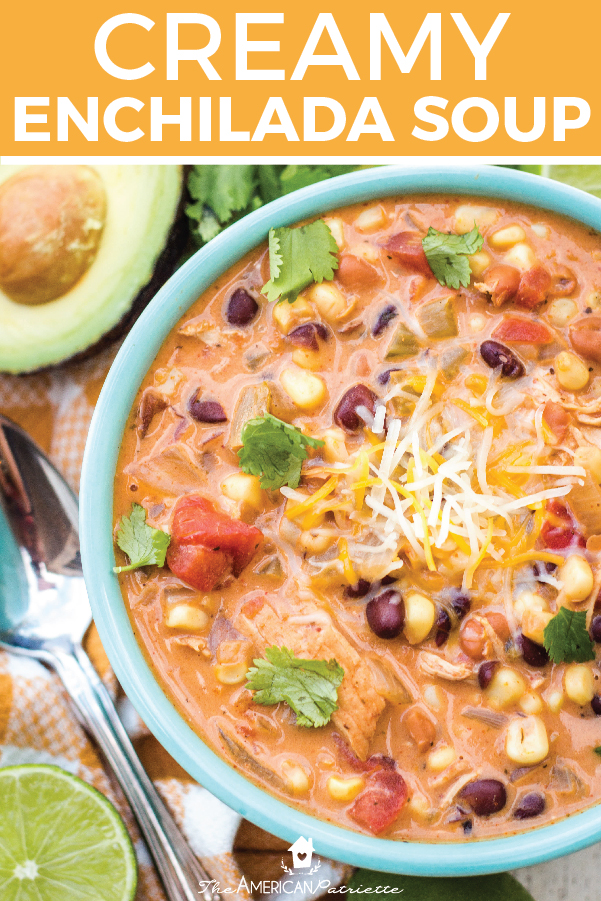 Creamy Dreamy Enchilada Soup
Inactive Time:
1 hour
39 minutes
Total Time:
1 hour
55 minutes
Ingredients
1-2 tbsp olive oil
3 ribs celery, finely chopped
½ sweet or yellow onion, finely chopped
2 tsp cumin
1 tsp chili powder
1 15oz can black beans, rinsed & drained
1 15.25oz can corn, drained
1 15oz can red enchilada sauce
1 15oz can green chili enchilada sauce
1 14.5oz can Italian style diced tomatoes, undrained
1 14.5oz can diced tomatoes with green chilies, undrained
3 14.5oz cans chicken broth
1 lb uncooked chicken breast, cut into bite-sized pieces
1 8oz box of light cream cheese (Neufchatel), room temperature
Instructions
Take out the cream cheese from the fridge so it can begin softening.
Heat olive oil in large soup pot over medium heat. Add celery and onion. Saute until the veggies are soft - about 7-10 minutes.
Add cumin and chili powder to the veggies and stir until they're evenly coated.
Add all of the remaining ingredients with the exception of the cream cheese and bring the soup to a rolling simmer. Reduce heat to medium-low and simmer for 30 minutes or until chicken is fully cooked.
Using two forks, shred the chicken into smaller pieces. You don't need to remove the chicken from the pot to do this - it should be tender enough in the soup to shred.
Cut the cream cheese into cubes and place in soup. Continue to simmer for another 30 minutes, stirring intermittently, or until the cream cheese is completely melted.
Serve and enjoy!
Notes
You may find that you want to allow the soup simmer longer in order to let the flavors meld together. Completely up to you! Also, you don't have to shred the chicken, but I think shredding the chicken helps add a better texture to the soup and it also helps to soak up even more of the soup's flavor.