This hearty and healthy easy Fall chicken & vegetable soup is SUCH a simple and delicious recipe PACKED with tons of flavor! Such a tasty pot of healthy comfort food!
This soup (really, it's more like a thick, hearty, chunky, delightfully delicious stew) is A-MA-ZING. I was making a soup a couple of years ago, and after I had allowed it to simmer for quite some time, it just didn't have the flavor or the, what do they call it? Oomph – it didn't have the oomph that it needed in order to be very exciting to eat.
So, I started throwing in a little bit of this, a lot bit of that, and this is what it turned into: Fall chicken and vegetable soup. Oh my gosh, WOW.
I absolutely love this soup. It is incredibly good for you (look at all the veggies in it!) – lean, tons of protein and vitamins, and the flavor is basically a hug for your taste buds.
Oh, and did I mention? This is a one-pot meal! Can I get a hallelujah?!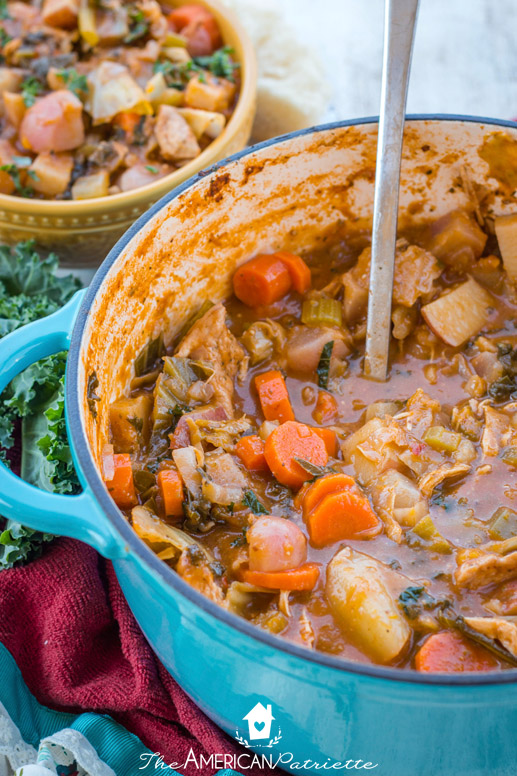 How delicious does this look? Everything is so tender and flavorful – even the kale is tender. You can absolutely eat this soup without cheese on top and make it a clean-eating recipe…
…but we always have cheese on our soup, and I highly recommend it.
I made this soup last week and we gobbled it right up. It'll surely bring some smiles to your kitchen table (and to your cardiologist considering how heart-healthy this thing has to be!), so make this soup, round up the kids and/or the neighbors, and sit around the table to enjoy this delightful I-am-so-excited-it's-finally-below-90-degrees-outside-so-I-can-make-soup recipe!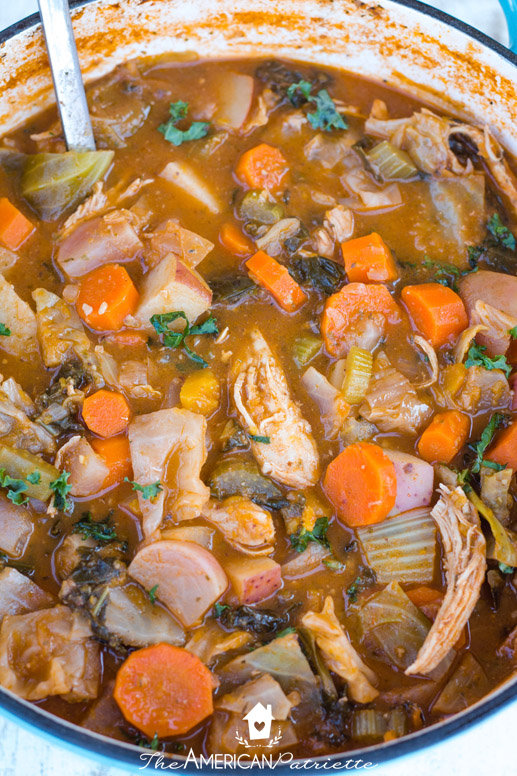 I hope you love this soup as much as we do! As most of the food I prepare, it makes fantastic leftovers, so you can even make it ahead of time and then eat on it with your family throughout the week. I love to cook, but I also love leftovers (and not having to cook some nights)!
If you're looking for more delicious soup/chili recipes for this time of year, go check out some of my faves: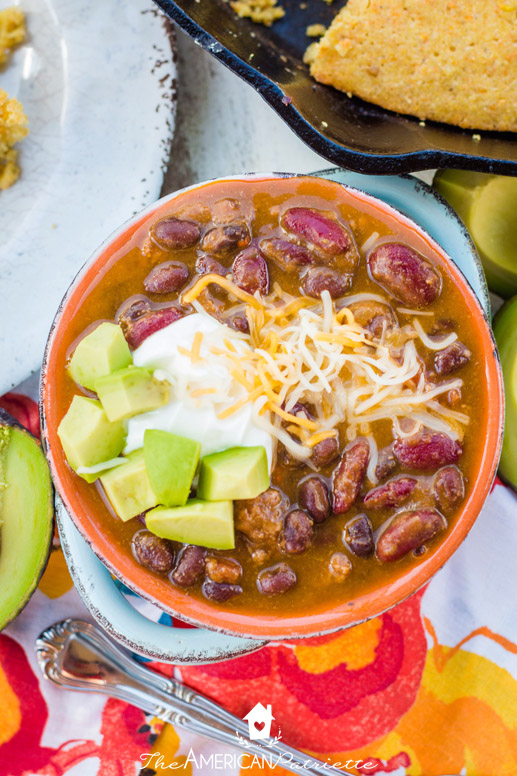 Creamy & Oh-So-Dreamy Enchilada Soup:
Healthy & Hearty Cabbage Soup: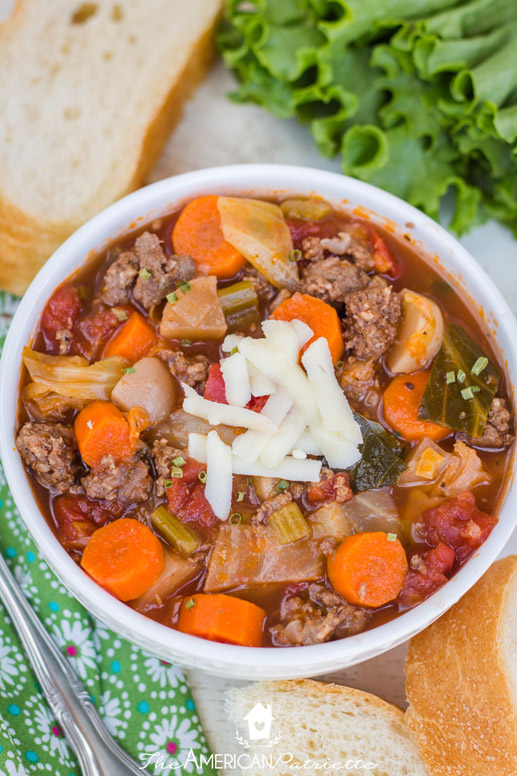 Happy feasting! Hope these recipes help you wrangle up some people you love around the kitchen table!
Love this recipe idea and want to remember it for later? Be sure to save it to your favorite Pinterest board!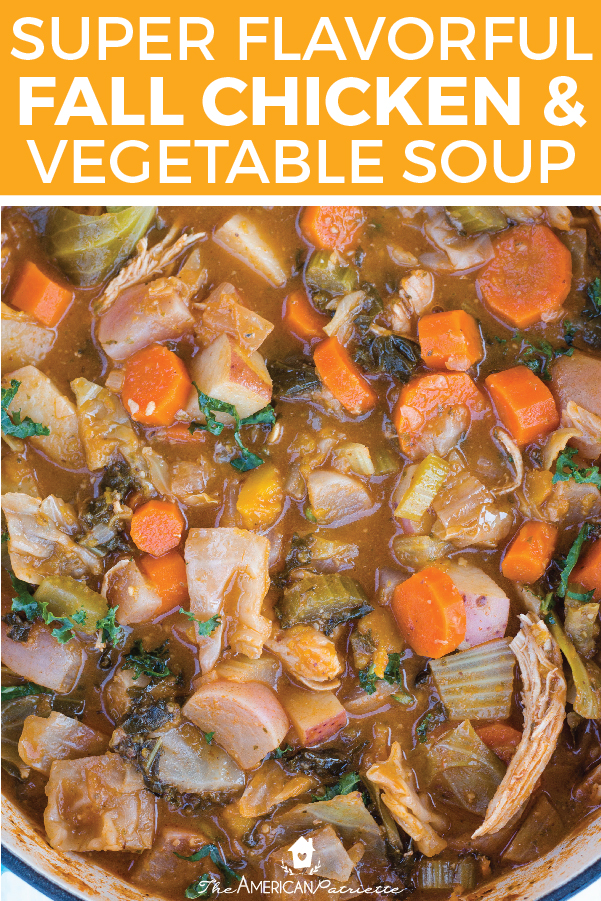 Easy Fall Chicken and Vegetable Soup
Cook Time:
2 hours
10 minutes
Total Time:
2 hours
30 minutes
Healthy, hearty, absolutely delicious, makes fantastic leftovers.
Ingredients
3 tbsp butter
1 yellow or sweet onion, diced
1 c chopped carrots
3 red potatoes, diced
2 turnips, peeled and diced (about 2 c)
1 butternut squash, peeled and diced (about 2.5 c)
5 ribs of celery, diced (about 1 c)
2 c chopped kale
1 lb raw chicken breast, cut into large chunks*
4 c chicken broth
1 6oz can tomato paste
5 tbsp pesto**
Dash of Italian seasoning
Dash of red pepper flakes
Instructions
Melt butter in large soup pot over medium heat. Add onions and saute for about 5 minutes, or until they start getting soft.
Add in all other veggies except for the kale and saute for another 5-10 minutes.
Add remaining ingredients except for the kale and stir.
Add in kale and stir everything together until well-blended.
Turn heat to low-medium on stove top, cover soup pot, and simmer for 1.5 hours, stirring intermittently. You shouldn't need to stir more than once or twice.
After simmering for 1.5 hours, everything should be incredibly tender, including the chicken. With two forks, shred the chicken and then stir everything together before ladling it into bowls.
Serve with shredded cheese if desired!
Notes
*I cut the chicken breast into large chunks - I don't want to put in an entire chicken breast without cutting it because I think it'll cook faster if it's in chunks, but you don't want the pieces too small because it makes the chicken harder to shred once everything's finished cooking.
**You can use store-bought pesto or homemade pesto. I used homemade pesto in this recipe (made with basil leaves, walnuts, cashews, almonds, lemon juice, and a little bit of olive oil), but you can absolutely use store-bought pesto.