This one pot cowboy soup recipe is an easy and healthy dinner recipe, perfect for a delicious and hearty family meal!
I'm not sure how you feel about cold weather, but this one pot cowboy soup will turn you into a cold weather lover after just one bite! This is one of the main soups on my list to make once the temperatures are cold enough that I can actually start wearing a jacket outside!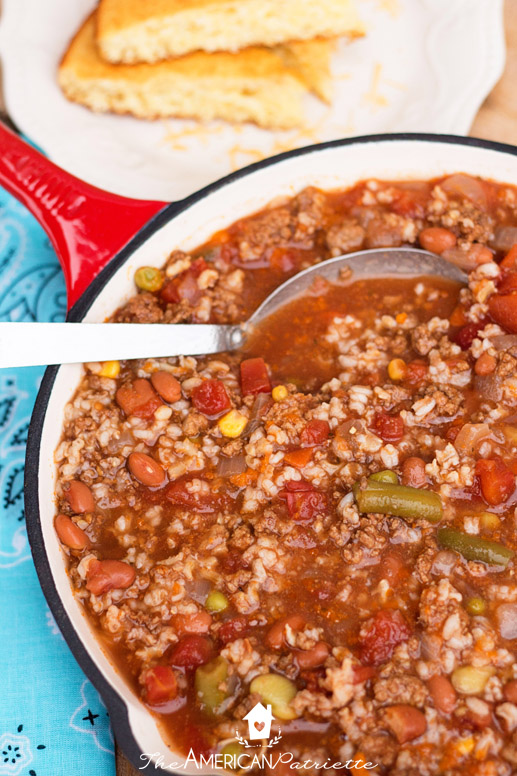 This soup is packed with tons of vegetables but very little chopping (hooray!) – there's only a little bit of prep work involved.
Related Posts: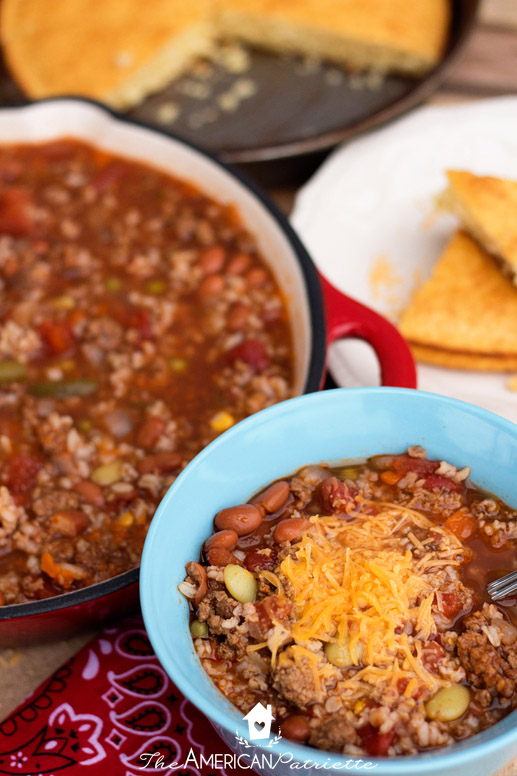 Quick Q&A for making this amazing one-pot soup:
Does this make good leftovers?
YES. Contrary to pasta in soups, the rice does not get mushy over a couple of days. This is fantastic make-ahead soup. It's one of those recipes that might be even tastier the next day!
Can you freeze it?
Yep! I've frozen it before, and it thaws/reheats just fine!
It seems kind of runny as I'm making it. Will it thicken up?
We're on a "yes" roll. YES. It gets much thicker after some time on the stove top. This is a really hearty soup.
Do the frozen veggies in it taste…well, frozen?
Not if you cook this soup long enough. I'm a *huge* advocate for cooking with lots & lots (and lots) of fresh veggies. That's my typical routine. However, I'm not opposed to occasionally using frozen veggies when it doesn't compromise flavor or texture – sometimes in casseroles, but typically just in some soups that simmer for a while.This is one of my go-to recipes that I can make with pretty much just pantry and freezer staples, and it's REALLY easy to throw together. I like having recipes like this I can throw into my meal planning routine! (This roasted red pepper, chicken, tortellini, and broccoli soup – wow, that's a mouthful! – is another one of my favorite hearty & healthy "made from staples you can store in your pantry and freezer" soups.)
Can I add more veggies to this?
Youuuu betcha! If you want to add an additional (maybe + 1/2 another bag of frozen mixed veggies), I don't think it'll compromise much of the rest of the soup. You might need to add slightly more beef broth, but you won't need much.
Can you make this with ground turkey?
I used to make this with 1lb of hamburger meat & 1lb of ground turkey, so YES, you can – don't sub out the hamburger, but you can do 1/2 and 1/2. However, I now just make it with lean ground hamburger – going for the little bit of extra iron! 🙂
Additional tips for Cowboy Soup:
Serve this up with some cornbread – they're a match made in heaven. And, cornbread is also a very cowboy-ish, chuck wagon-esque dish, right? Especially if you make cast iron skillet cornbread. That recipe is tried-and-true, absolute FAVORITE.
You really need to make this in a pretty big soup pot. I made it again the other day for the first time this season, and I had forgotten how much this recipe makes! It's truly a cowboy's helping!
Want it a little spicier? No problem-o! When I made this again last week, I had forgotten to buy a can of plain diced tomatoes on my grocery store trip that week, so I ended up using two cans of diced tomatoes with green chilies because that's what I had in my pantry. It gave it a little extra kick, but not so much so that my kids (currently 4 & 2) couldn't eat it. It's just a little extra spice. If you want it even spicier, add a chopped jalapeno to the ground beef when you're cooking it with the onion.
Serve it with some toppings. Cheddar cheese, avocado slices, and some cilantro add even more flavor & texture to this already-flavorful soup!
I'm really not kidding. You need to serve up cowboy soup with this skillet cornbread.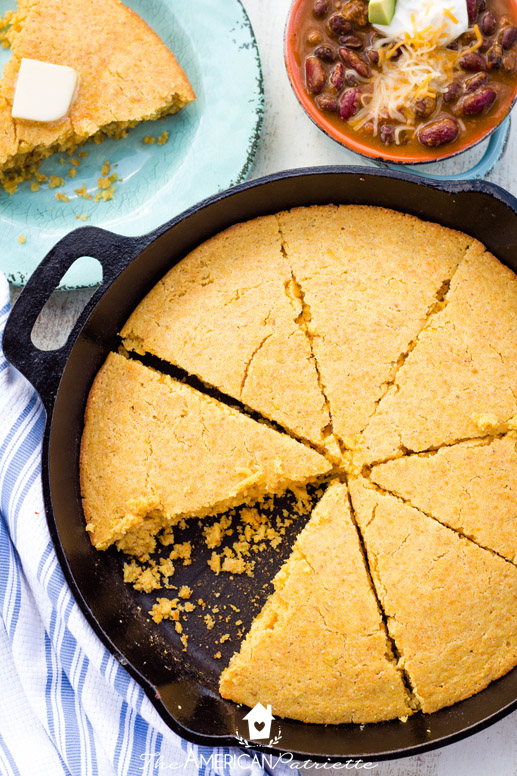 Go enjoy some delicious cozy comfort food with family and friends! This cowboy soup & cornbread are sure to bring smiles 'round your table! 🙂
And by the way, if you being here means you love spending time whippin' up things to eat in your kitchen, check out my absolute favorite everyday kitchen essentials that make my life so much easier when I'm prepping food to share! 🙂
If this sounds delish (friend, it won't disappoint! Your family is going to LOVE it!), make sure to save it to your favorite Pinterest board!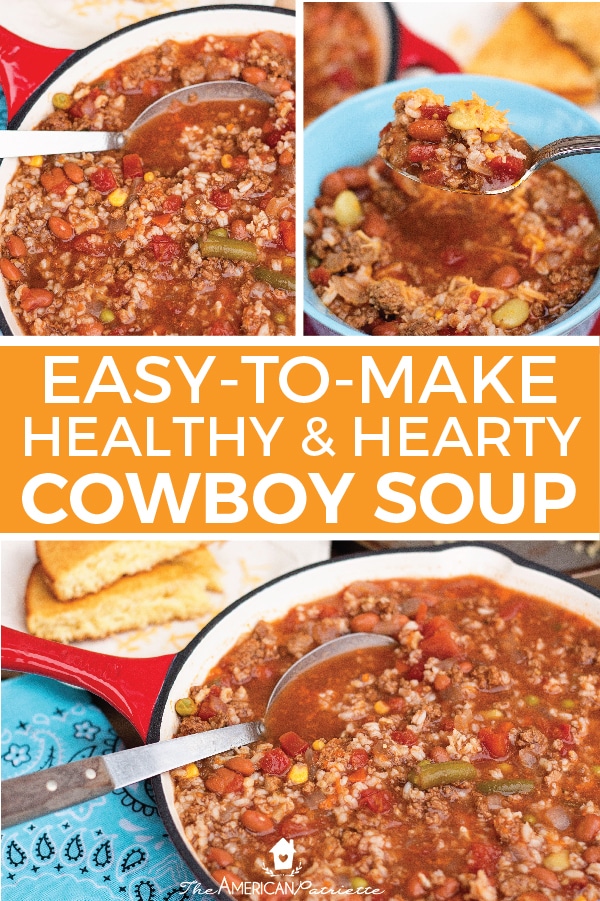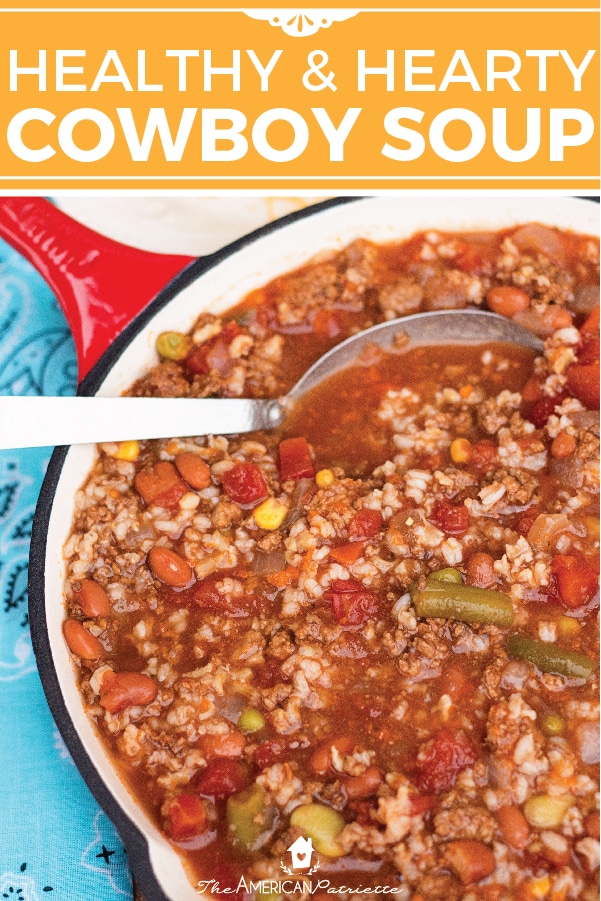 One Pot Cowboy Soup
Total Time:
1 hour
5 minutes
This one pot cowboy soup recipe is an easy and healthy dinner recipe, perfect for a delicious and hearty family meal! Makes DELICIOUS leftovers!
Ingredients
2 lb lean ground beef
1 yellow onion, diced
1 15oz can tomato sauce
1 14.5 oz can diced tomatoes
1 14.5oz can diced tomatoes with green chiles
1 c salsa*
1 15oz can ranch style beans
1 15oz can corn, drained
1 12oz bag frozen mixed veggies
6 c beef broth
1 c brown quick-cooking rice
Instructions
Brown meat in a large soup pot until it's only about halfway pink. Add diced onion and saute until onion & beef are fully cooked.
Add remaining ingredients except the rice, cover, and bring to a soft boil - this will take about 20 minutes.
Reduce heat to a slower simmer and continue to simmer for about 15 minutes.
Add rice, place the cover back on, and continue to simmer for about 10 minutes.
Remove from heat, ladle into bowls, and serve topped with cheddar cheese, sliced avocados, and cilantro, as well as with cornbread!
Enjoy!
Notes
*For the salsa, you can use homemade salsa if you have it, or you can use store-bought chunky salsa. I've made it both ways, and as long as the salsa is yummy, your soup is in good shape! I just always use a salsa that's been made with tomatoes (rather than a salsa with a base of peppers or tomatillos).
Tips:
Serve this cowboy soup with a batch of cornbread! You and your fam will LOVE it!
This makes fantastic leftovers! No, the rice doesn't get too mushy at all after sitting in the soup for a couple of days.
Yes, you can definitely freeze it! It thaws and reheats just fine.
No, the frozen veggies don't taste frozen as long as you simmer it long enough! They get very tender in the soup.
But, you could use fresh veggies if you really want to! I'm a big fan of fresh veggies in almost every dish, but I also like having healthy & hearty dishes in my meal planning routine that I can make directly from staples in my pantry & freezer, and this is one of those recipes!
If you want to, you can sub 1lb of hamburger meat with ground turkey. That's how I used to make the soup, but now I just use 2lbs of lean ground beef.
Recommended Products
As an Amazon Associate and member of other affiliate programs, I earn from qualifying purchases.