Looking for an easy and healthy weeknight dinner recipe?! This easy roasted red pepper, tortellini, chicken, and broccoli soup is absolutely delicious – full of veggies, protein, and flavor!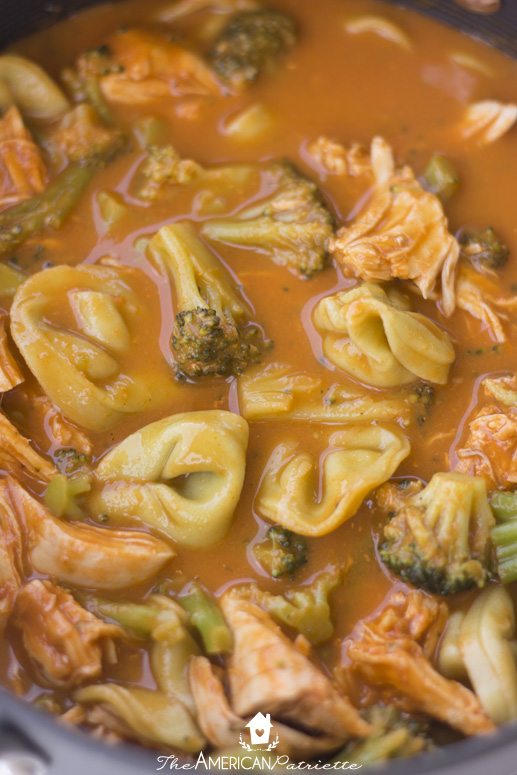 This easy roasted red pepper, tortellini, chicken, and broccoli soup could not get much easier. It is absolutely delicious, and it has become a staple in our house when I don't have much time to cook but need to whip up a hearty and nutritious meal!
And I never want to compromise flavor.
If my cooking had core values, that would be one of them: never, ever, ever compromise flavor.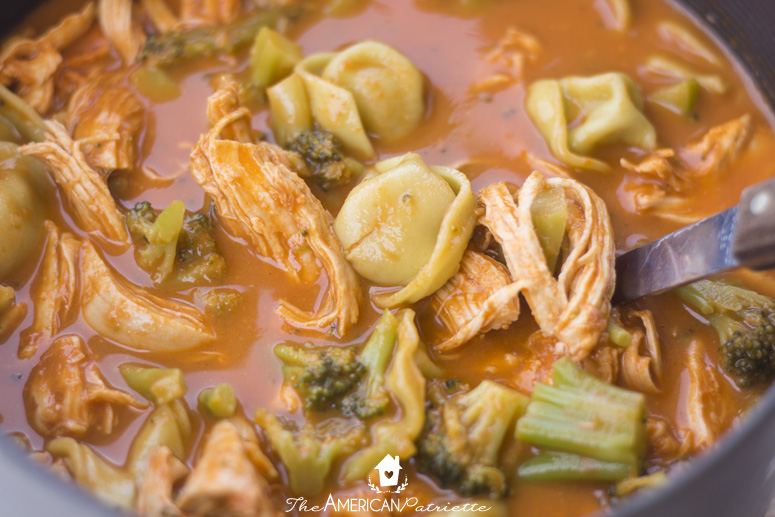 Ever.

You can literally throw this thing together – toss some ingredients in a soup pot, dust off your hands (metaphorically, of course, because this is SO EASY and requires no labor!), and call it, "Supper."
Here are the five things you need: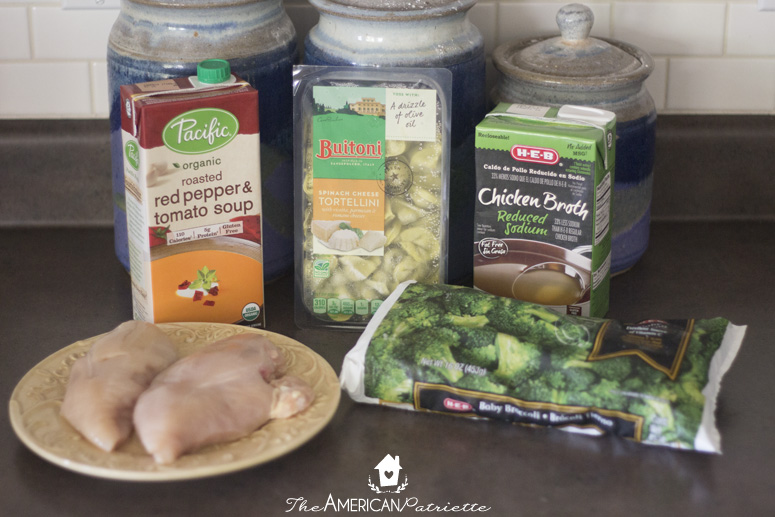 And you make it all in one pot! No prep. One dish. Maximal flavor and heartiness.
I'm pretty sure you call that #winning.
After you make and eat this, I literally think you can say, "Winner, winner, chicken dinner."
And that statement would be 100% factual.
This is a great recipe to have on hand when you need to quickly assemble a family dinner or a meal for some last-minute guests. Getting together around the table is important, and sometimes we need to make that easy on ourselves to make that happen!
Enjoy this yummy soup!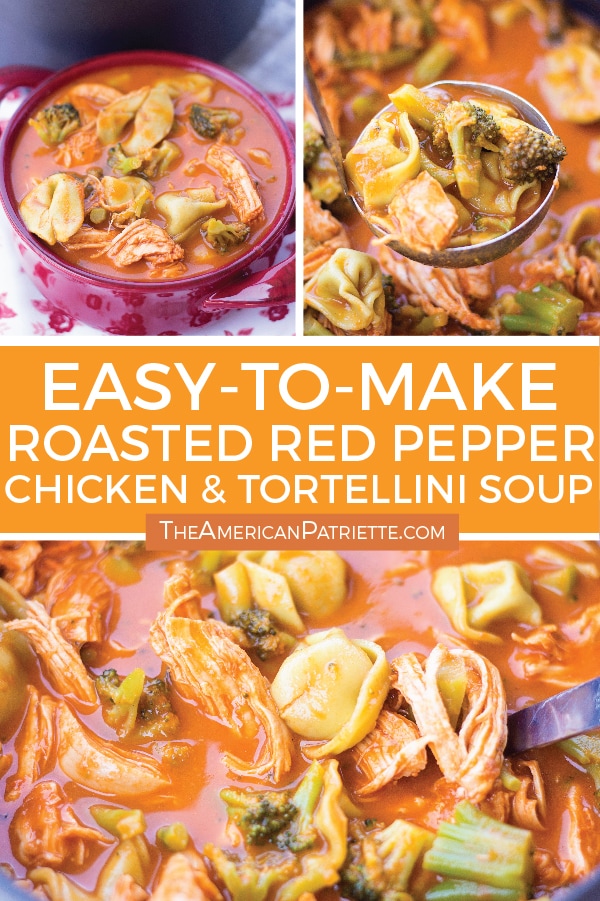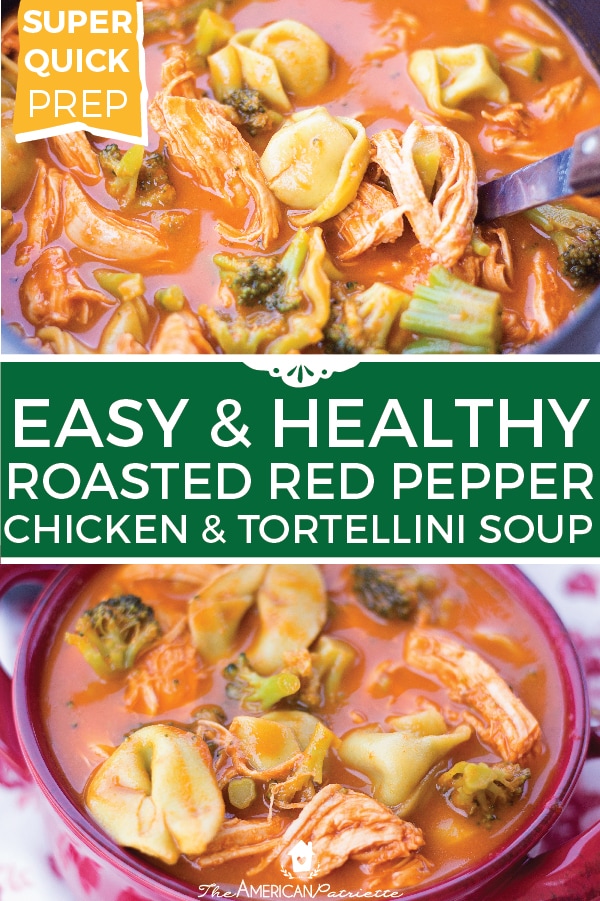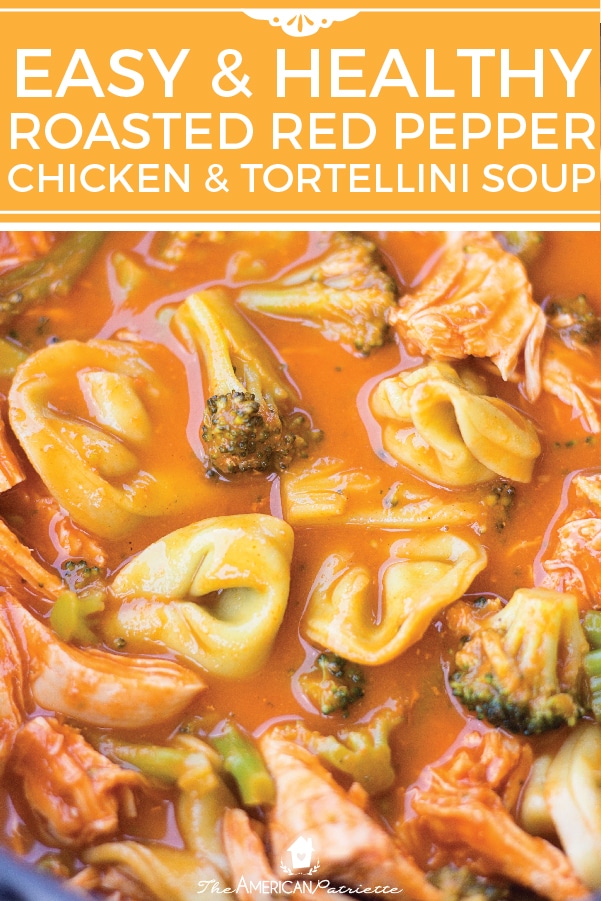 Easy Roasted Red Pepper, Tortellini, Chicken, and Broccoli Soup
Cook Time:
1 hour
55 minutes
Ingredients
4 c chicken broth
32 oz box Pacific Foods Organic Roasted Red Pepper & Tomato Soup
1.5 lb raw chicken breast (about 2 chicken breasts)
9 oz package of uncooked tortellini (any kind will do – cheese, chicken, spinach, etc.)
16 oz bag frozen broccoli
Mozzarella or Parmesan cheese for topping
Instructions
Pour chicken broth and tomato soup into large soup pot. (I pour in the tomato soup first, and then I pour the chicken broth into the tomato soup carton, shake it up, and then pour it out to help get out all of the soup from the carton.)
Add chicken breast, bring liquid to a simmer, reduce heat to medium-low, and cover for 1 hour or until chicken is fully cooked and easy to shred.
Using 2 forks, shred the chicken (I just shred it inside of the pot) into bite-sized pieces.
Stir in tortellini and cook for 7 minutes.
Add frozen broccoli and continue to cook on stove top until broccoli is warm – about 5 minutes.
Serve in bowls and top with Mozzarella or Parmesan cheese.