The BEST EVER Instant Pot Mississippi Pot Roast
This is not only the BEST EVER Instant Pot Mississippi Pot Roast recipe, it's also a much healthier version! Made with out-of-this-world delicious green beans, carrots, and potatoes and with NO packets, you'll feel good about serving up this delicious meal to your family!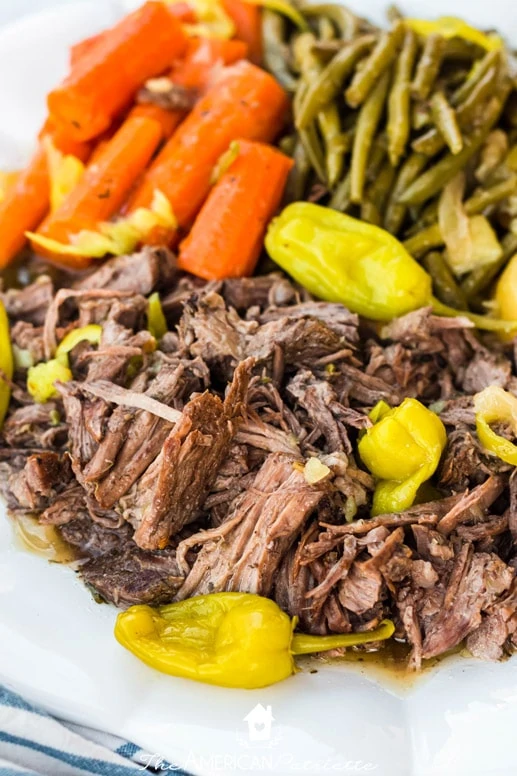 Friends, this is it.
Are you ready for it? Are you officially ready for the BEST Instant Pot Mississippi Pot Roast recipe in the history of all pot roasts?!
Not only is this an incredible roast, the veggies in it have a LOT of flavor. (Yep, so scrumptious, even your kids will gobble them up!)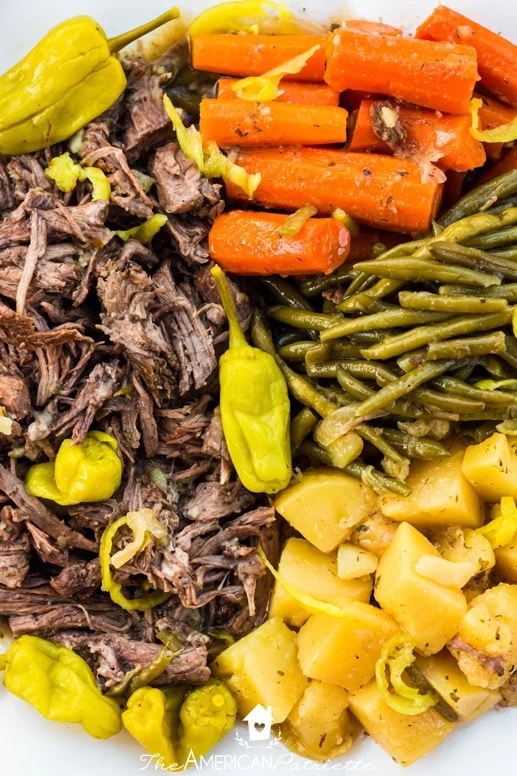 I was absolutely bound and determined to come up with an Instant Pot Mississippi Pot roast recipe that:
Was a little bit better for you (i.e. no packets, more veggies!)
Didn't produce mushy veggies
Was guaranteed to come out perfectly every single time.
And after about 15 iterations and then making this final version about 20 times juuuust to make sure 😉, by George, I think we've got it!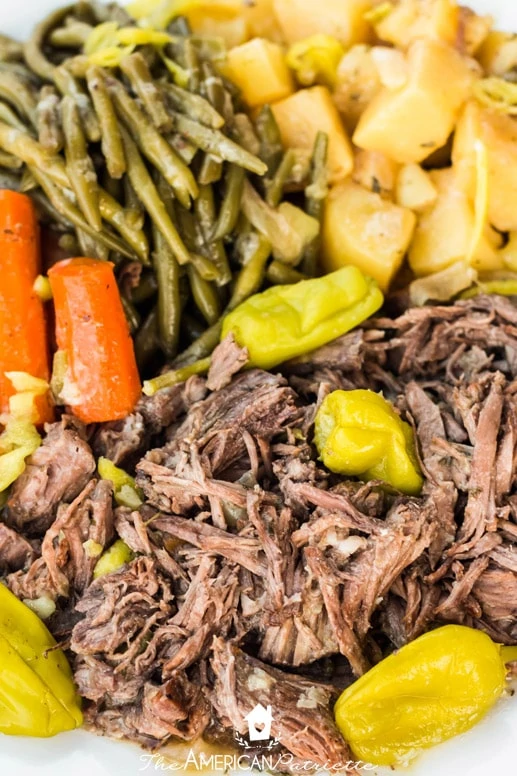 Here's why you'll love this BEST EVER Instant Pot Mississippi Pot Roast:
It's VERY easy to make. Perfect as a make-ahead meal for leftovers. Perfect for busy weeknights. Perfect as a no-fuss delicious dinner to serve up when you have company. Bottom line: it's just downright perfectly easy to make.
It's a healthier version of pot roast. Winner winner chicken beef dinner! Lots of carrots & green beans. And you know, potatoes are an obligatory (and tasty) addition to have with any roast.
No packets. (Again, healthier version of pot roast, my friend!) No preservatives or artificial ingredients in here. Make an outrageously tasty dry ranch dressing mix from simple ingredients you probably already have in your spice cabinet. (And, no need for au jus mix or onion soup mix like some other recipes call for – the flavor in this is FANTASTIC without them!)
It makes fantastic leftovers. Need I say more?
IT IS SO GOOD. Fork tender roast & the perfect complementary veggies. With a chef's kiss, I say "amen and amen!"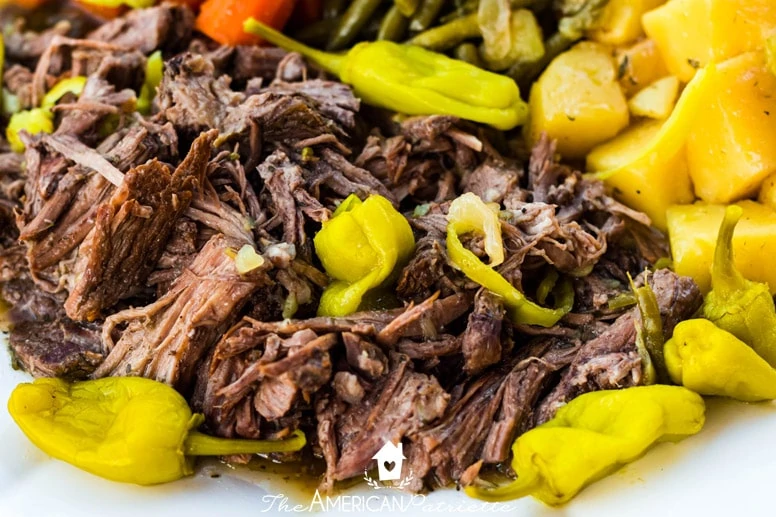 I have a sneaky suspicion this is about to become one of your family's favorite meals.
It's definitely one of our personal favorites, and as much as I don't like to repeat meals too often, I put this one into the 'ole meal rotation a little more regularly. 🙂
Ingredients for Instant Pot Mississippi Pot Roast:
3ish lb beef chuck roast (and make sure to pay attention to the your cut of meat – you don't want chuck shoulder roast…it'll come out way too tough. I learned that lesson the hard way. And, for the size of your roast, just try to get something that's close to 3lbs.)
olive oil, salt, and pepper for searing the sides (up your game and use black pepper from a pepper grinder)
sliced pepperoncini peppers + pepperoncini JUICE (helllloooo flavor!)
beef broth
sliced onions
1/2 stick of unsalted butter (you can use salted if that's all you have, but then you might want to trim down a little bit of salt in the homemade dressing mix)
Spices for homemade ranch dressing mix: salt, pepper, chives, dill weed, minced onion, parsley, onion powder, garlic powder (TRUST ME on this one: it'll take you about 1 extra measly minute to throw this mix together than it would to use a package of ranch dressing mix, and I'm telling you, the flavor is WOW.)
Veggies: carrots, green beans, potatoes
And a bit of flour if you want to make a gravy at the end
How to make the BEST EVER Instant Pot Mississippi Pot Roast
Let me walk you through these easy steps! Cannot wait for you to sink your teeth into this! Follow these directions and it'll come out perfectly the first time AND every time. 🙂
Step 1: Sear the meat on both sides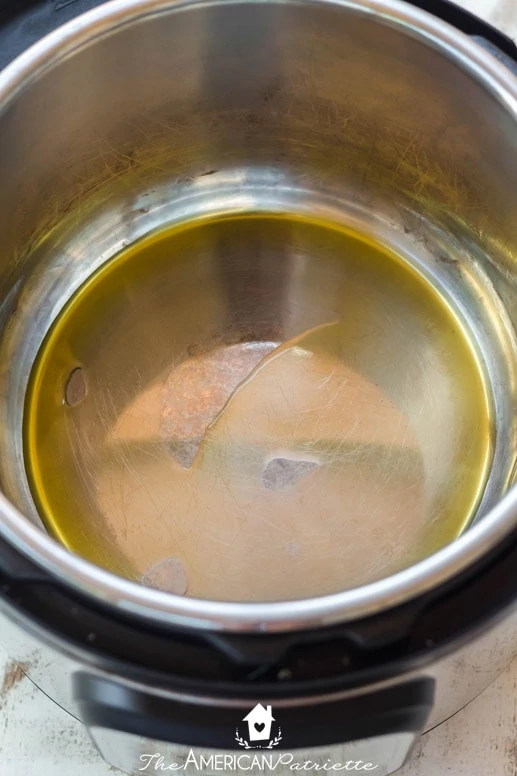 Put your pressure cooker on saute mode (high heat) & add in the olive oil. Let it heat up for a few minutes. While you're waiting for it to heat up, go ahead and sprinkle some salt & pepper on both sides of the boneless chuck roast, and then add it to the pot.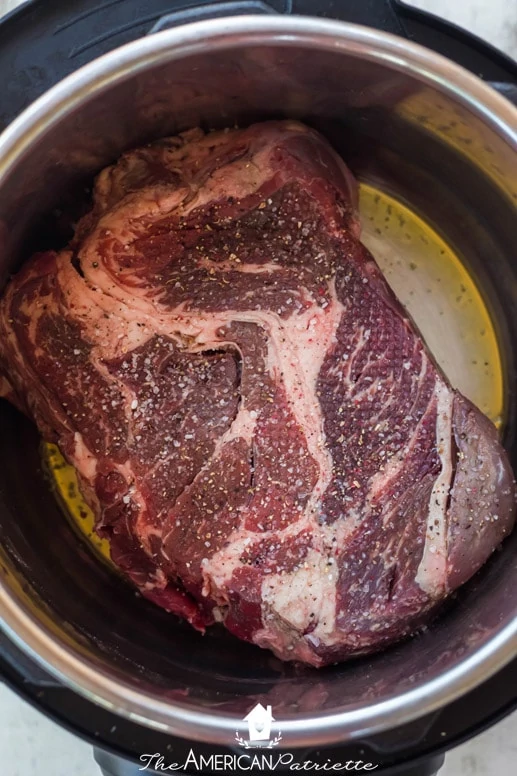 Sear on each side for about 3-4 minutes. You just want to give it a little bit of a caramelized brown on each side.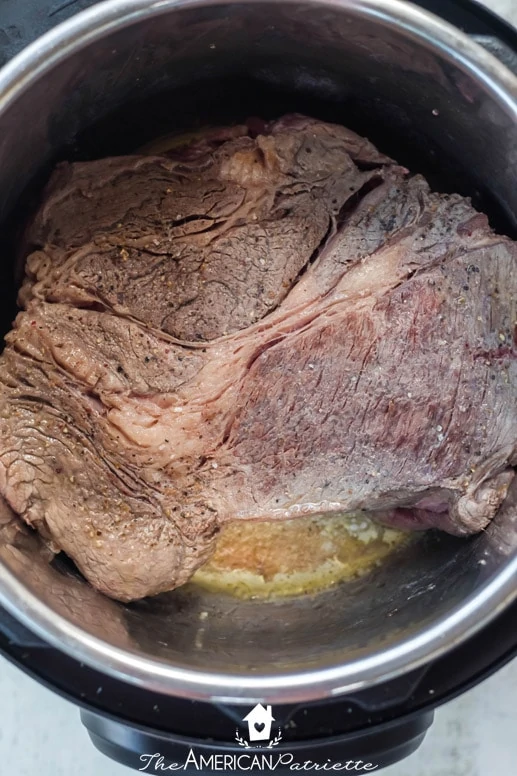 Step 2: Add seasonings, onion, pepperoncinis, half stick of butter, and beef broth

Using sliced vs. whole pepperoncini peppers helps to make this way more flavorful – they get distributed around the roast much more easily, and they're a lot easier to eat than whole pepperoncinis!
AND, no extra step of having to remove stems from pepperoncini peppers. YAY.
Also, the little extra step of mixing together your own ranch vs. using a packet is WORTH. IT.

Sprinkle the seasoning and then place the peppers, onion slices, and half stick of butter on top of the roast.

Pour on the beef broth, seal the lid, and you're ready to go!
Step 3: Cook the roast
Set your Instant Pot to manual high pressure for 55 minutes.
(Note: while the roast is cooking, this is when I usually peel & chop the veggies)

This produces such tender meat. And you can just SEE the flavor, can't you?
Once the timer goes off after 55 minutes, do a manual pressure release of the Instant Pot.
Step 4: Remove the roast from the pot, leave in the juices & everything else, and add the veggies
Quick note on the green beans: these are the ONLY green beans I use for anything these days. I stopped buying fresh ones a couple of years ago once I had some outrageously good green beans at a friend's house, asked her what her secret was, and she pulled a bag of these out of her freezer.
WHAT?!

They're not waxy at all (which I think is the tendency of frozen green beans). I think the fact that they're "extra fine" helps with the texture. I always thought it was a cumbersome job to have to trim the edges off of fresh green beans, so these are just a blessing for my kitchen! They taste great and they're NO work.
If you don't live in Texas and have access to an HEB, just check the freezer at your grocery store for a bag of extra fine green beans, and I'm sure they'll do!

Anyway, moving on: I forgot to include a picture of the carrots & potatoes peeled & cut before I put them in the Instant Pot, but a couple things to note:
I much prefer to use large carrots vs. baby carrots in this recipe. The flavor is much better!
I keep my veggie chunks a little larger, just to prevent them from getting too mushy.
You'll cook the veggies in the Instant Pot for 12 minutes on high pressure, and then do a manual release again.
As the veggies cook, I prep the roast by cutting it into small chunks, which is so easy to do since it's sooo tender. I pick away and discard the fattier parts, and then set aside the roast in a large casserole dish, just have it wait to join the veggies in a bit.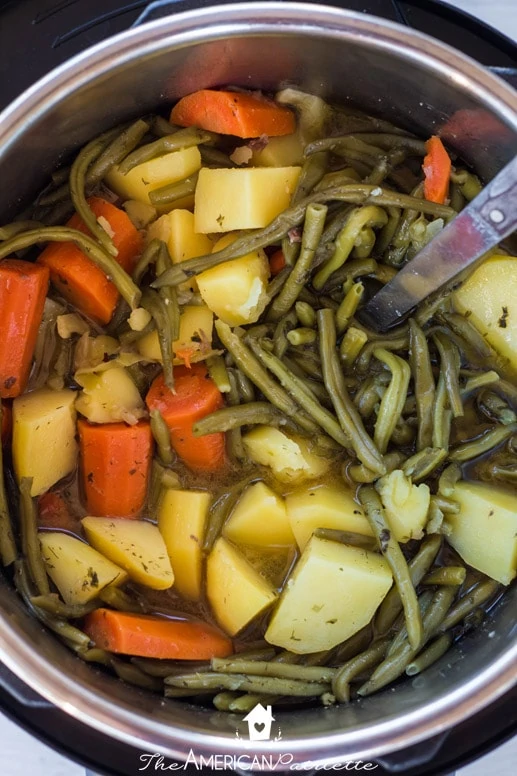 I can't even tell you how good these are!
Step 5: Add the veggies to the roast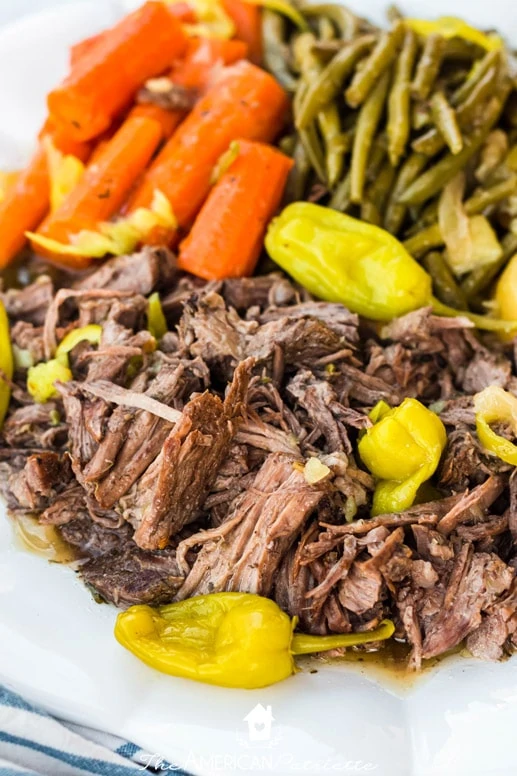 Remove all of the veggies, add them to the roast, and then drizzle on all but about 1.5 cups of the juices (save this for the gravy) from the Instant Pot.
Now, normally, I mix the roast and the veggies all together – chunks of roast + all the veggies = bites with lots of flavor and texture. But, I tried photographing this recipe no fewer than 5 different times, and for whatever reason, all mixed together just didn't look as tasty.
So, separated they are for the sake of prettier pictures, but for your serving purposes, mix 'em up, kind of like so, but with even more mixing of meat & veggies:
I love that the carrots, green beans, and potatoes make this a full one-pot meal! And the little kick that the pepperoncinis give this – YUM.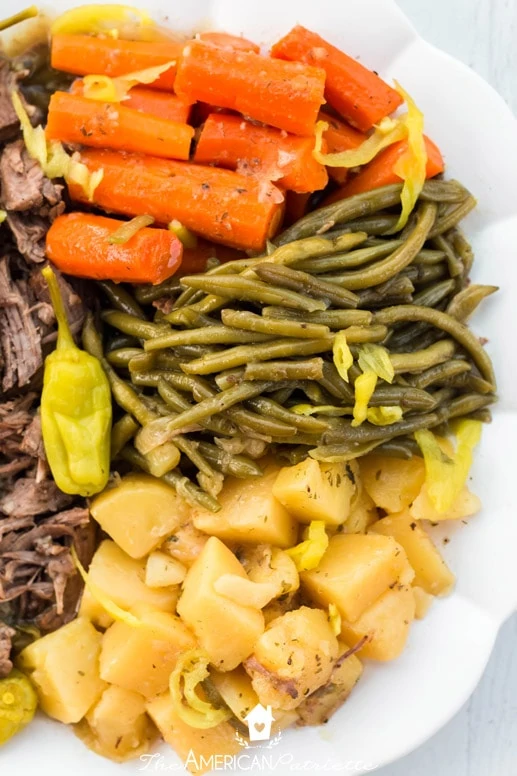 Step 6: Make the gravy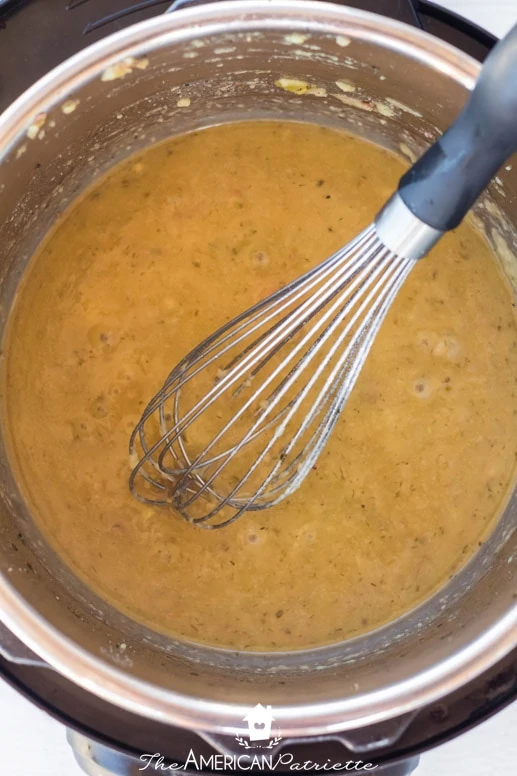 Turn your Instant Pot back onto saute mode – high – let the juice bubble up a bit, and then quickly whisk in about 1/4 c of flour to make the gravy. If your gravy gets clumpy (mine often does), I sometimes run it through a strainer, but often times I just still pour it over everything and it's totally fine!
Enjoy this with your fam & friends around your table! You can store the leftovers in an airtight container in your fridge for a few days – they're perfect for a reheated lunch or supper!

This tender pot roast makes SUCH a delicious dinner!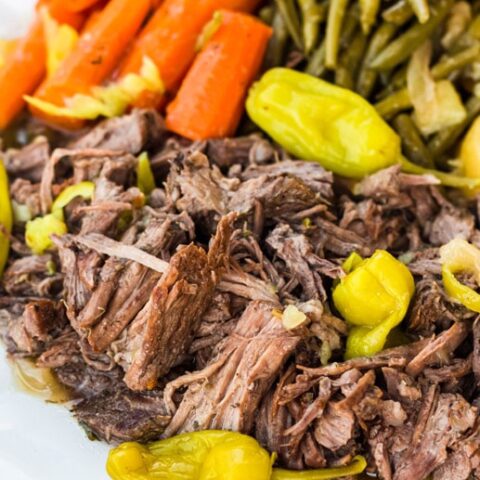 The BEST EVER Instant Pot Mississippi Pot Roast
Cook Time:
1 hour
10 minutes
Additional Time:
20 minutes
Total Time:
1 hour
45 minutes
This is not only the BEST EVER Instant Pot Mississippi Pot Roast recipe, it's also a much healthier version! Made with out-of-this-world delicious green beans, carrots, and potatoes, and with NO packets, you'll feel good about serving up this delicious meal to your family!
Ingredients
For the Roast
Olive oil (about 2 tbsp)
Salt & pepper for seasoning
3 lb chuck roast
½ c sliced pepperoncinis
½ c pepperoncini juice (from the jar of sliced pepperoncinis)
1 onion, diced
½ stick butter
½ c beef broth
Spices for ranch dressing (dried spices)
2 tsp Parsley
½ tsp Dill weed
1 tsp Garlic powder
1 tsp Onion powder
1 tsp Onion flakes
¼ tsp Black pepper
½ tsp Dried chives
½ tsp Salt
Veggies:
5 c peeled & chopped potatoes*
5 c peeled & chopped carrots**
16 oz bag frozen green beans (If you're able, get extra fine ones)***
Gravy (optional, but tasty!):
1/4 c of flour
about 1 1/2 c reserved juices (see instructions)
Instructions
Sprinkle salt & pepper on both sides of roast. Add oil to Instant Pot and turn to sauté mode. Sauté the beef in hot oil for about 3-4 minutes on each side (about 6-8 min total).
While the roast is browning on each side, you can mix together the seasonings in a small bowl & set aside.
Turn off sauté mode. Add onion, pepperoncinis, and pepperoncini juice to the Instant Pot. Sprinkle the ranch seasoning over the top of everything. Add the half stick of butter on top of the beef, and then pour the beef broth.
Cover & cook on high pressure for 55 min. Quick release. (When I put the meat in the IP, I usually get the green beans out of the freezer and allow them to start thawing. This is also when I peel & cut the carrots & potatoes.)
When the roast is done in the Instant Pot, remove it & set aside on a cutting board. Make sure to leave everything else, including all the juices, in the Instant Pot for the veggies.
Add veggies to Instant Pot - potatoes first, carrots, then green beans on top. Cook for 12 minutes on high pressure.
While veggies are cooking, cut meat into bite-sized pieces and remove fat pieces.
Quick release after veggies cook.
Remove veggies, add to chopped meat on a large platter or in a casserole dish, and then pour all but about 1.5c of liquid over the meat + veggies. If you want gravy, you'll want to reserve about 1.5 c of liquid inside of the IP to make it.
Turn the IP onto sauté mode. Whisk in flour, a little bit at a time, to make a gravy. Whisk until it thickens – 30 seconds to a minute – and then pour the gravy over the meat & veggies. (If your gravy gets a little lumpy, you can run it through a strainer - I often do this!)
Serve and ENJOY!
Notes
*I always use golden potatoes, but regular Russet or red potatoes would be fine.
**I would highly recommend using large carrots (vs. baby carrots) - they're more flavorful, and they're also less likely to get mushy
***These are the green beans I always use and they are always very tasty, never rubbery like frozen green beans can be. I think the fact that they're extra fine is what makes the difference. I've never made this with fresh green beans because these frozen ones have been an absolute game-changer in my kitchen (no spending tons of time snapping them & clipping off the ends!), but I'm sure fresh would be fine.
This makes DELICIOUS leftovers. You can store it in the fridge and eat on it for a few days (if it even lasts that long in your house!).
Recommended Products
As an Amazon Associate and member of other affiliate programs, I earn from qualifying purchases.