DELICIOUS Low-Carb Loaded Baked Potato-Style Soup
This absolutely delicious low-carb loaded baked potato-style soup will easily become a family favorite recipe! This keto potato soup with radishes is full of veggies and flavor without all the carbs. Healthy comfort food at its finest!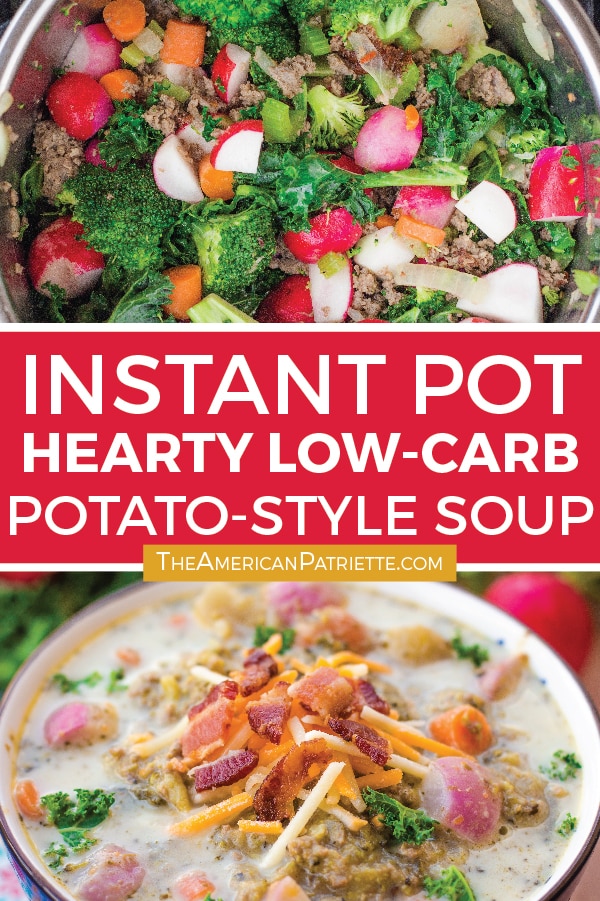 I know, I almost didn't believe it either. Potato soup…but with RADISHES? My cousin and I were exchanging our potato soup recipes that we each make in our Instant Pot (I gave her this potato soup recipe), when she told me that she made hers with radishes.
What in Sam Hill?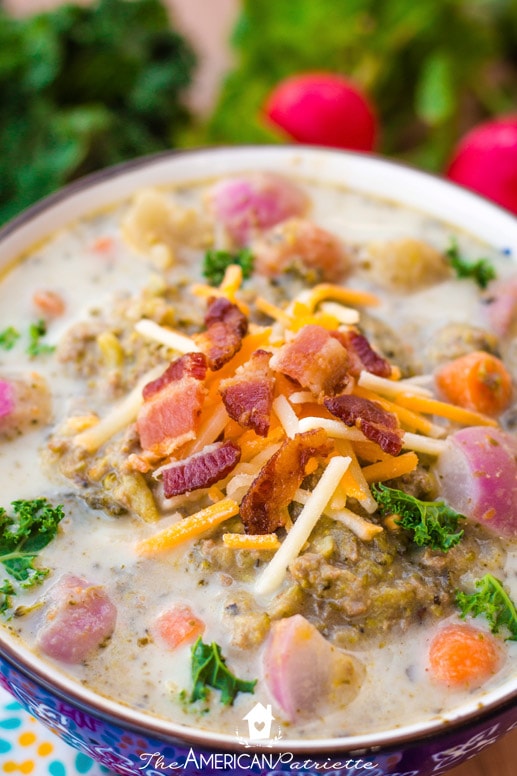 I did not believe her! But, naturally, I took the food dare to try it, and by golley, Kayla, you were right. As much as I love potatoes, and as much as we don't really care to follow a low-carb diet, I figure, if a radish-version of potato soup doesn't compromise on texture, quality, or flavor but it cuts the calories by a LOT, why not?!
So, I adapted my original Instant Pot potato soup – also loaded with veggies and flavor – and switched up just a couple of things for the radish version, and holy moly…
IT. IS. GOOD.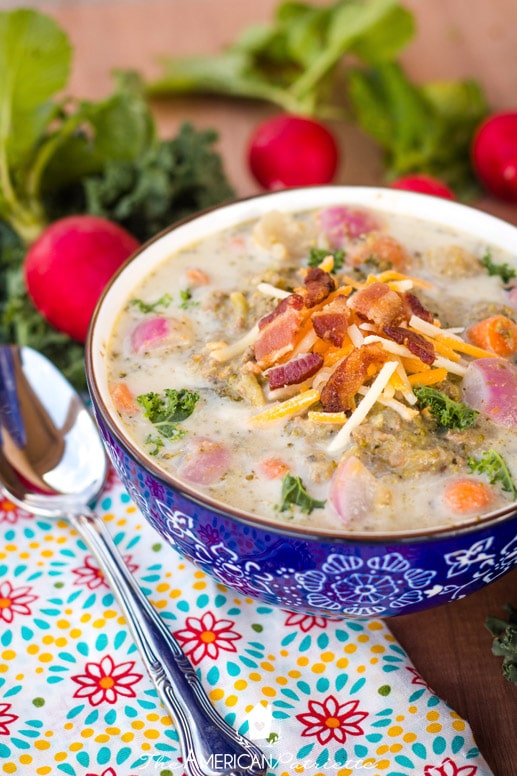 Such a creamy, colorful, flavorful, eat-the-rainbow-of-veggies, hearty kind of soup! And I cannot wait for you to get your hands on this recipe!
For those of us who are suckers for colorful foods, let me just show you how gorgeous this is before you get it going in the Instant Pot: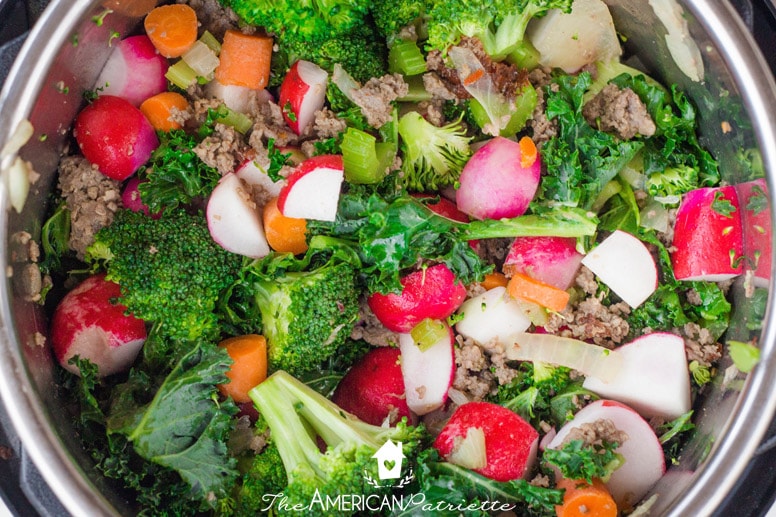 The colors just make your eyes want to jump out and take a bite!
So much hearty nutrition in one bowl!
Go snag this amazing, almost-too-good-to-be-true recipe below, and make it for your family for a perfect easy weeknight dinner or for a Fall Potluck gathering!
It's a winner for sure!
Love this recipe idea and want to remember it for later? Be sure to pin it to your favorite Pinterest board!
DELICIOUS Low-Carb Loaded Baked Potato-Style Soup
Additional Time:
15 minutes
This absolutely delicious low-carb loaded baked potato-style soup will easily become a family favorite recipe! This keto potato soup with radishes is full of veggies and flavor without all the carbs. Healthy comfort food at its finest!
Ingredients
8 strips uncooked bacon
1 lb uncooked light ground pork sausage
1 small yellow onion, diced
3 stalks celery, diced
1 c diced carrots
2 cloves garlic, minced or pressed
6 c chopped radishes (cut each radish into fourths - big hunks of radish are good!)
1 yellow potato, peeled and chopped
1 head broccoli, chopped*
4 c chopped kale
1 tsp thyme
1 tsp oregano
1 tsp parsley
½ tsp salt
½ tsp garlic powder
Dash red chili flakes
4 c chicken broth**
½ c whipping cream
Cheese for topping
Instructions
Preheat oven to 400.
Place strips of raw bacon side-by-side on baking sheet, place in preheated oven, and bake for 15-20 minutes (check at 15 minutes if you like your bacon less crispy). If you aren't using a very non-stick baking sheet like these amazing baking pans, line your sheet with foil before placing the bacon on it.
After bacon is finished cooking, allow it to cool for a few minutes and then chop it up. Reserve half of it to add to the Instant Pot, and reserve half of it for topping after the soup has finished cooking.
Turn your Instant Pot onto saute mode, and add the pork sausage. Cook until it's about halfway brown, and then add the diced onion and continue cooking the sausage until it's fully browned.
Add in the garlic, celery, and carrots, and continue to saute for 2-3 minutes.
Turn Instant Pot off. Add in the radishes, potato, broccoli, kale, seasonings, half of the chopped bacon (about 4 strips), and chicken broth. Lightly stir, place Instant Pot lid and lock in place, make sure the release valve is closed, and turn on to high pressure for 20 minutes.
Once the Instant Pot is finished cooking, do quick release (this will probably take about 3 minutes), and then remove the Instant Pot lid.
Add whipping cream, and then use an immersion blender to do a few QUICK pulses (not too many so you don't liquify the soup) to add some thickness to the soup.
Serve soup in bowls and top with remaining bacon crumbles and shredded cheese.
Enjoy with friends and family around your table!
Notes
*I always forget how much cooked broccoli kiiiinda stinks. However, one of my goals with cooking is to cram as many veggies in one dish as I possibly can. If you DO decide to omit the broccoli, then see this next tip:
**Just use 3 c of chicken broth (instead of 4c) if you omit the broccoli. You don't want the soup to be TOO liquid-y-.
1. Remember to factor in additional time - though the prep time is 20 minutes and the cook time is 20 minutes, it'll take some time for the Instant Pot to get up to pressure - probably about 10ish minutes.
2. You don't have to do the bacon on a baking sheet, but it makes a BIG difference when it comes to texture. It's so evenly cooked and perfectly crisp when you bake it on a baking sheet!
3. You don't HAVE to use an immersion blender (or other blender) in order to make this soup delicious, but I love using mine to add some extra creaminess/thickness to the soup.
4. If you want to make this in a slow cooker, you totally can! Follow the same saute instructions for the sausage/onion/carrots/celery/garlic, except you'll do that sauteeing in a skillet on the stove top instead of in the Instant Pot. Then, add that to the slow cooker, as well as all of the other ingredients (minus the whipping cream), and cook on high for 6 hours. Just like in this recipe, you'll add the whipping cream at the end, do a couple of quick pulses with an immersion blender (if you want to add that thickness/creaminess to the soup), and then serve it topped with bacon and cheese in bowls.
5. This makes AMAZING leftovers!!