Instant Pot Hearty Potato & Vegetable Soup (Rivals Copycat Zuppa Toscana!)
This super tasty, nutritious, full-of-flavor Instant Pot Hearty Potato & Vegetable soup is a delicious take on the copycat Zuppa Toscana recipes. Packed with nutritional value from extra veggies, this soup has great texture, beautiful color, and is so tasty! Easy and cozy soup recipe (that you can also make in the slow cooker – just check out the recipe variation in the notes)!
I have this habit when I cook. I don't follow recipes very well. I like to march to the beat of my own drum. Sometimes that's a good habit, and sometimes it's a bad habit. But, it is what it is.
In this case, I'll call it a good habit! I was experimenting with a copycat version of Olive Garden's Zuppa Toscana a while back. I have this thing about adding more veggies when I'm making soups – they're just so easy to add for some extra nutrition and texture. So, when I was experimenting in my kitchen with this recipe, I added more veggies and just kept tweaking the recipe until I got here, and folks…
…we have arrived.
If you're looking for a great potato soup recipe, I think you'll love this one. It's become one of our absolute favorites, and it finds itself in my cooler-weather meal rotation quite often. Overall, the prep is pretty easy, it makes GREAT leftovers, and it's just so doggone good! The full recipe is at the bottom of the post (including some tips if you want to make this in the slow cooker – totally an option!), but here are some tips for tools and steps in making the soup.
This post contains affiliate links for your convenience. You can read my full disclosure policy here.
Here are the cooking tools you'll need:
Great kitchen knives
Cutting board
Baking pan (that brand is my faaaaavorite!)
6qt Instant Pot (you can also make this tasty soup in a crock pot – see my recipe notes)
Immersion blender (you can use a regular blender, but friend, if you love soups and you don't have an immersion blender – go get one! You'll love it!)
One of the great things about this soup, other than the fact that it's absolutely DELICIOUS and happens to be packed with nutritional value, is that it's pretty easy to prep. Only a few steps! After browning the meat (right in the Instant Pot…the fewer the dishes, the better!) and chopping up all the veggies, you toss everything together, close the lid, and let the IP do the work.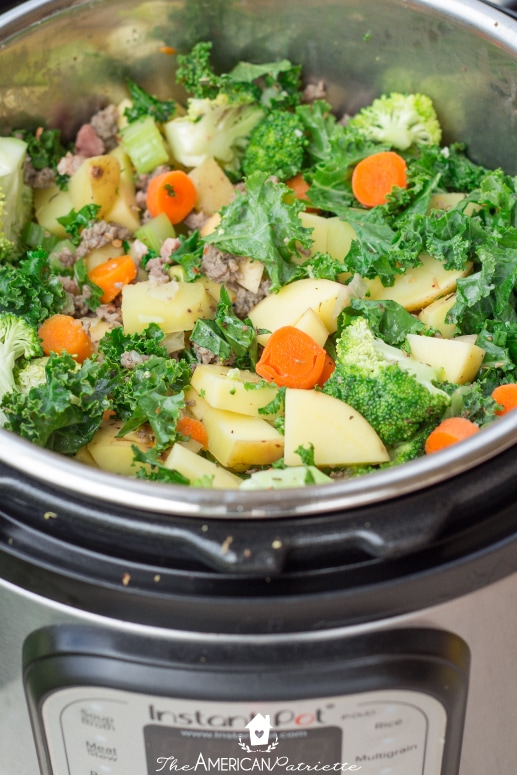 I don't know about you, but I'm a huge fan of colorful foods. The more colorful my meals, the better!
Tip: I will often find find delicious soup recipes, but then add in additional veggies, simply because it's a great way to add a vitamin boost to your meals without changing much of the recipe. Extra veggies often just add flavor, texture, and nutrition. I toss 'em in there when I can.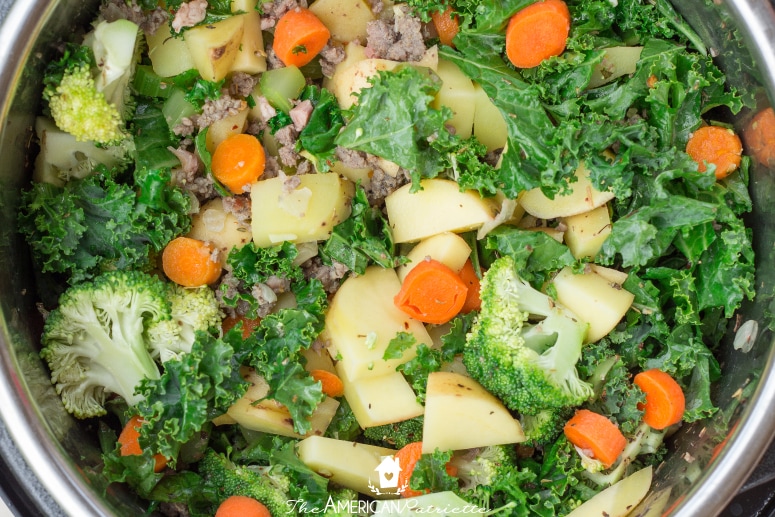 After the soup cooks in the Instant Pot (20 minutes on high pressure), I use my immersion blender to do a couple of quick pulses in the soup to give it some extra thickness and richness. I'm a big fan of hearty soups.
One of my best tips for this recipe is to cook the bacon for the soup on a baking sheet, not in the Instant Pot. Friends, I used to only cook bacon in a skillet. And then, one day, I was introduced to the idea of cooking bacon on a baking sheet in the oven, and I've never turned back.
Especially if you're a fan of crispier bacon, THIS is the best way to go. (And believe me, it's worth it. I rolled my eyeballs the first time I heard about doing this, but seriously. I'm a total convert now.) It also makes for far less clean-up, just because you don't have the same bacon splatters all over your oven and counter from cooking on the stove top.
If you're needing to save on a little time (and you also don't want to wash another dish – the baking pan), you can make the bacon in the IP, but if you want my recommendation, I'm telling you, this is worth it!
And, if you cook the bacon on a baking sheet in the oven, you can reserve some to sprinkle on top of the soup! (Winner winner bacon dinner!)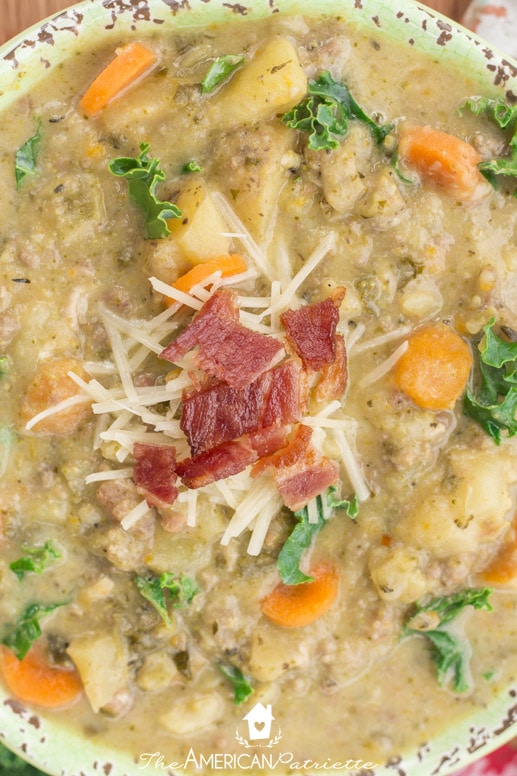 I just love the richness, flavor, texture, color, and coziness of this soup! It has it all. #allthethings
If you're looking for a great potato soup recipe, I think you'll love this one.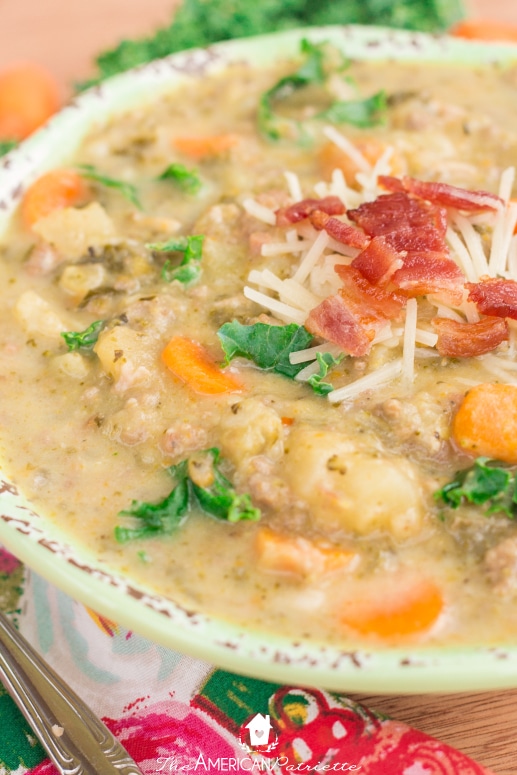 Hope you and everyone you feed loves it, too!
The recipe is below, including some instructions in the notes about how to prepare this if you want to use a slow cooker instead.
Want to remember this recipe for later?! Remember to save it to your favorite Pinterest board!
Instant Pot Hearty Potato & Vegetable Soup (Rivals Copycat Zuppa Toscana!)
This delicious hearty and healthy potato and vegetable soup is full of flavor, texture, and color! Easy soup recipe for any occasion!
Print
Pin
Rate
Ingredients
8

strips uncooked bacon

1

lb

uncooked light ground pork sausage

1

small yellow onion

diced

3

stalks celery

diced

1

c

diced carrots

2

cloves

garlic

minced or pressed

6

c

diced golden potatoes

about 6 whole golden potatoes

1

head broccoli

chopped

4

c

chopped kale

1

tsp

thyme

1

tsp

oregano

1

tsp

parsley

½

tsp

salt

½

tsp

garlic powder

Dash red chili flakes

4

c

chicken broth

½

c

whipping cream

Parmesan cheese for topping
Instructions
Preheat oven to 400.

Place strips of raw bacon on baking sheet, place in preheated oven, and bake for 15-20 minutes (check at 15 minutes if you like your bacon less crispy). If you aren't using a very non-stick baking sheet like the baking pans I talk about in the recipe post, line your sheet with foil before placing the bacon on it.

After bacon is finished cooking, allow it to cool for a few minutes and then chop it up. Reserve half of it to add to the Instant Pot, and reserve half of it for topping.

Turn your Instant Pot onto saute mode, and add the pork sausage. Cook until it's about halfway brown, and then add the diced onion and continue cooking the sausage until it's fully browned.

Add in the garlic, celery, and carrots, and continue to saute for 2-3 minutes.

Turn Instant Pot off. Add in the potatoes, broccoli, kale, seasonings, half of the chopped bacon (about 4 strips), and chicken broth. Lightly stir, place Instant Pot lid and lock in place, make sure the release valve is closed, and turn on to high pressure for 20 minutes.

Once the Instant Pot is finished cooking, do quick release (this will probably take about 3 minutes), and then remove the Instant Pot lid.

Add whipping cream, and then use an immersion blender to do a few QUICK pulses (not too many so you don't liquify the soup) to add some thickness to the soup.

Serve soup in bowls and top with remaining bacon crumbles and shredded Parmesan cheese.

Enjoy with friends and family around your table!
Notes
Remember to factor in additional time - though the prep time is 20 minutes and the cook time is 20 minutes, it'll take some time for the Instant Pot to get up to pressure - probably about 10ish minutes. [br][br]As I mentioned in the recipe post, you don't have to do the bacon on a baking sheet, but it makes a BIG difference when it comes to texture. It's so evenly cooked and perfectly crisp when you bake it on a baking sheet![br][br]You don't HAVE to use an immersion blender (or other blender) in order to make this soup delicious, but I love using mine to add some extra creaminess/thickness to the soup. [br][br]If you want to make this in a slow cooker, you totally can! Follow the same saute instructions for the sausage/onion/carrots/celery/garlic, except you'll do that sauteeing in a skillet on the stove top instead of in the Instant Pot. Then, add that to the slow cooker, as well as all of the other ingredients (minus the whipping cream), and cook on high for 6 hours. Just like in this recipe, you'll add the whipping cream at the end, do a couple of quick pulses with an immersion blender (if you want to add that thickness to the soup), and then serve it topped with bacon and cheese in bowls.