15+ Fun Fall Potluck Theme Ideas + free potluck printables!
If you're looking for some creative and fun Fall or Thanksgiving potluck theme ideas, check out the inspiration below! Be sure to grab my FREE Perfect Potluck Planning Blueprint to help you plan your next potluck!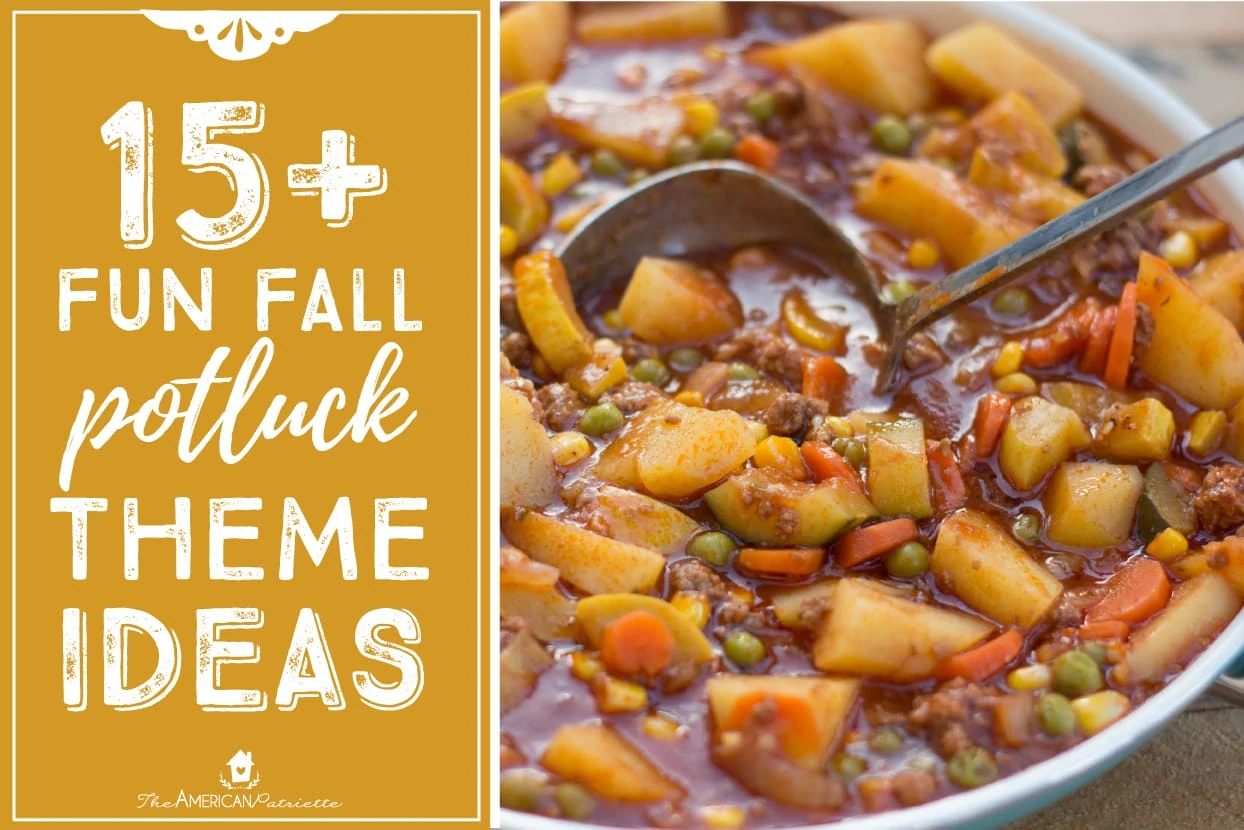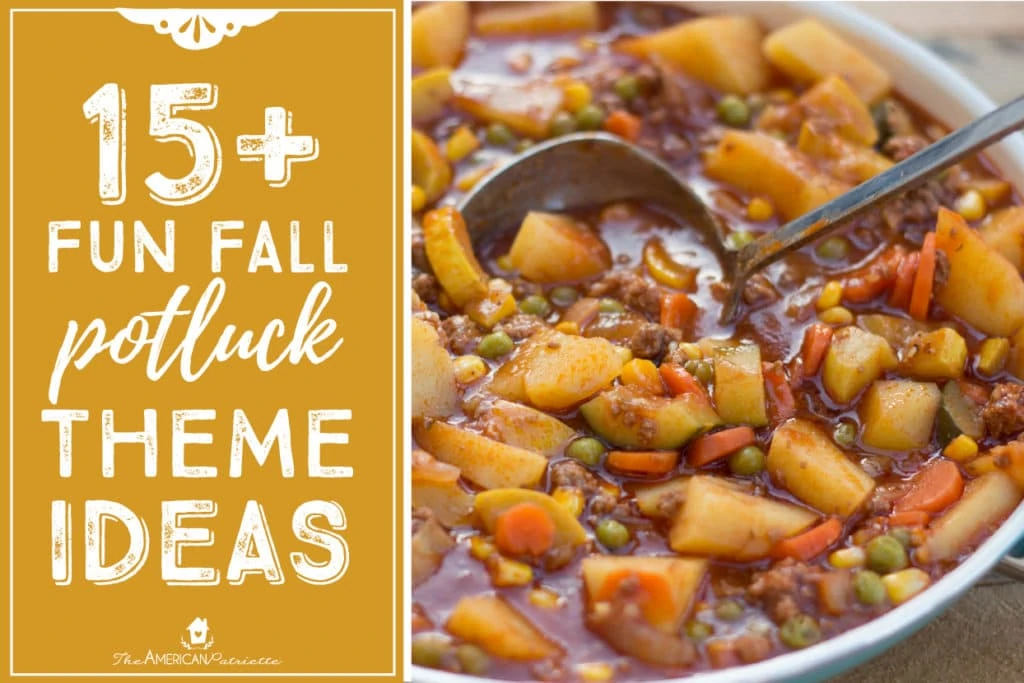 While anytime of year is perfect for a potluck, this always seems to be a particularly good season for food, doesn't it?! I think many of us also tend to have the idea of gathering on our minds this time of year, and since potlucks are one of my absolute favorite ways to gather, I thought I'd share a bunch of fun Fall potluck theme ideas to help you get together with others. Every potluck is far more fun with a theme!
Whether you're getting together for a casual neighborhood potluck, planning a potluck with your coworkers to breakup your work day, hosting a football-watching potluck, or just organizing a fun gathering with family and friends over good food, I hope these creative themes help you enjoy cooking up some yummy food and have fun sharing delicious recipes with others!
After you look through these themes, be sure to grab your FREE PERFECT POTLUCK BLUEPRINT! It includes 5 of my most popular potluck themes PLUS menus to go along with them! And, some super helpful menu planning tips to help you get started!
Fun Fall Potluck Theme Ideas
1. Tailgating Table
Have everyone bring a finger food fit for a tailgate (but you don't have to have a tailgate to enjoy these foods)! You can plan for heartier finger foods like sliders, slow cooker meatballs, and quesadillas for the main dishes, healthier finger foods like caprese skewers, sliced veggies + dip, and salad-on-a-stick for the sides, and desserts such as brownies (these are my favorite!), cookies (yuuum, snickerdoodles!), and candied popcorn to curb your sweet tooth!
2. College-Inspired Cuisine
Speaking of football, have everyone create a dish that reminds them of their favorite college football team. Whether it's food from a popular restaurant in the college town, a dish that all the college locals enjoy, or just a dish that reminds you of that team, have fun brainstorming recipe ideas and sharing that variety of foods with everyone. If I were attending that potluck, I'd definitely bring these Aggie cookies. Whoop! 🙂
3. Pie Night
Who doesn't love pies this time of year?! Have a pie night where all the foods have to be pies – you can get creative. 🙂 Chicken pot pie, veggie pie, quiche (made in a pie pan), and of course, dessert pies like this delicious caramel apple streusel pie.
4. Pumpkin Platter
Have everyone bring a dish that contains pumpkin in it! Yes, even the main dish. If you're stuck on ideas for the main dish, try out this delicious (and healthy!) pumpkin chili – you and your friends will love it! And for dessert, break out of the regular 'ole pumpkin pie mold…try out this pumpkin chai latte cake!
5. Family Favorites
Since "family togetherness" seems to be a (wonderful!) theme especially this time of year, have everyone reminisce on their family gatherings and bring a family-favorite dish…you know, the dish that HAS to show up to every get-together, or a dish that you always looked forward to eating for supper. If it were me, I'd definitely make King Ranch Chicken Casserole, and my husband Aaron would definitely be bringing his favorite cheesy potato casserole. You may find that most of the foods that show up at this potluck will be yellow…cheese-filled dishes happen to be a lot of people's family favorite. 🙂
6. Football Food
Plan all the dishes around foods that remind folks of their favorite professional football team. Although Aaron and I are both native Texans (and loyal to the core to our home state), we tend to be black sheep in this category…he's a huge Washington Redskins fan, and I grew up a loyal Greenbay Packer fan. Have everyone bring a dish that is popular in the area or in the state where their favorite team plays.
7. Pilgrim Plates
Take your potluck back in history to the 1600s and have everyone bring a dish that may have been served at the first Thanksgiving, or, perhaps decide to have everyone prepare their foods using similar cooking methods. This might require a little bit of research, but if you've got a history buff in your potluck group (like my husband!), I bet they'd love the challenge of helping you figure out a menu!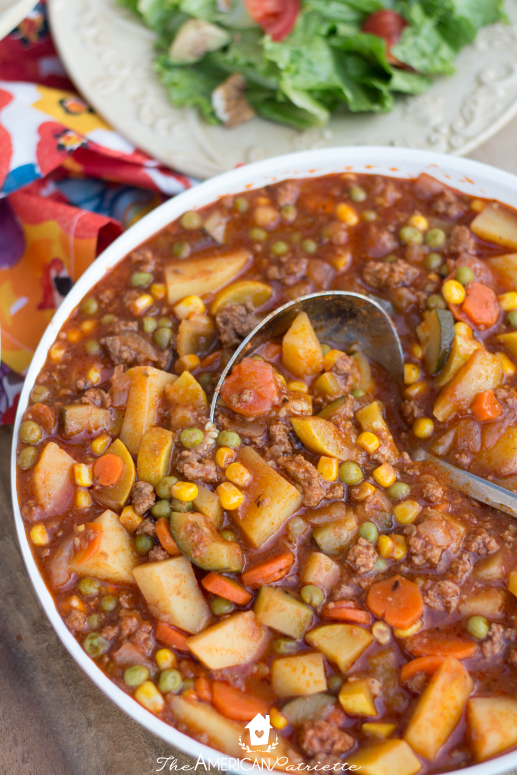 8. Soup Night
Similar to Pie Night, all of the foods have to be soup – including dessert. Some kind of chocolate or caramel fondue can pass as dessert in this category. 🙂 Have a hearty main dish soup like this delicious Cowboy Soup or Harvest Soup, and then have some lighter soups for sides. This would basically be an awesome excuse to have a soup-tasting party with a bunch of different recipes to try!
9. Halloween Favorites
Have a Halloween-style potluck where everyone has to bring foods themed around costumes, pumpkins, etc. Pinterest is full of crazy creative ideas for Halloween! While I'm not into the spooky/scary themes for Halloween, I have to say, the adorable kid-like foods such as the mummy-wrapped hot dogs or the cute cartoon monster cookies are pretty fun. If you're having a costume party, you could have everyone bring a dish related to their costume.
10. Barrel 'O Apples
Just like with pumpkin, there are several sweet and savory dishes that incorporate apples – another yummy flavor of the season! Plan a potluck where all of the dishes have to contain apples in it – pork chops and sauteed apples, a cranberry apple salad with mixed greens, and of course, any apple dessert such as these deeelicious apple butter cupcakes (with pumpkin buttercream!) or these ridiculously easy-to-make apple dumplings.
11. Traditional Thanksgiving Favorites
While this theme seems to be a given, it's so fun to have a Friendsgiving potluck with these types of food! When we hosted our regular weekly potlucks in College Station, even though all of us would find ourselves eating these same foods within a week at our respective families' Thanksgiving gatherings, we loved this theme for our potluck with our friends – it gave us a chance to taste each other's favorite Thanksgiving dishes and try each other's renditions of traditional foods like mashed potatoes, turkey & dressing, and sweet potato casserole.
12. Cookbook Night
Although we all have to eat year-round (I mean, at least I do), this seems to be the time of year when we tend to really celebrate cooking. I find that most of us nowadays often turn to the internet to gather our recipes while our cookbooks gather dust on the shelves. While I've found some amazing recipes online, I know there's a treasure trove of good food waiting to be cooked from my recipe books, and I'm trying to get in a better habit of using them more regularly. For this theme, have everyone grab one of their cookbooks off the shelf, thumb through it, and pick a recipe to make for a potluck. It'll be a fun way to experiment with recipes!
13. Fall Flavors
Think of foods and flavors that traditionally find themselves in the spotlight this time of year – pumpkins, potatoes, apples; cinnamon, nutmeg, cloves, and chili powder. And so many others! Have everyone bring a dish that incorporates some of these fall flavors. Do fun fall spins on traditional recipes – macaroni and cheese made with pumpkin; autumn minestrone made with sweet potatoes instead of white potatoes; a fall vegetable-topped pizza, etc.
14. Slow Cooker Night
Have all of your potluck guests toss some ingredients together, throw them in their slow cookers, and have a big ole Crock Pot Fest. Main dishes, sides, and dessert – all in the slow cooker. Have some extra fun and have someone prepare a slow cooker cider or cocoa to drink along with dessert.
15. Comfort Foods
Traditional comfort foods – who can resist?! Have main dishes of stew, casseroles, or creamy soups, lots of bread for sides, and I think we can all agree that most desserts are pretty comforting. If you're wanting pure comfort, I bet classic apple pie (with a delicious spin on it) will do the trick!
Want some additional recipe ideas?!
If you're wanting more inspiration on delicious fall recipes, check out these posts:
Healthy & Hearty Cozy Soup and Chili Recipes and Delicious Fall Dessert Recipes
Be sure to snag your free Perfect Potluck Blueprint to help you plan your potluck!
Save these ideas for later – pin this to your favorite Pinterest board!