Apple Butter and Caramel Poke Cake – A Delicious & Easy Fall Dessert!
This delicious apple butter and caramel poke cake is an easy and decadent fall dessert recipe. This homemade treat is full of the traditional flavors of autumn, and is a perfect non-pumpkin dessert idea for your Fall and Thanksgiving gatherings!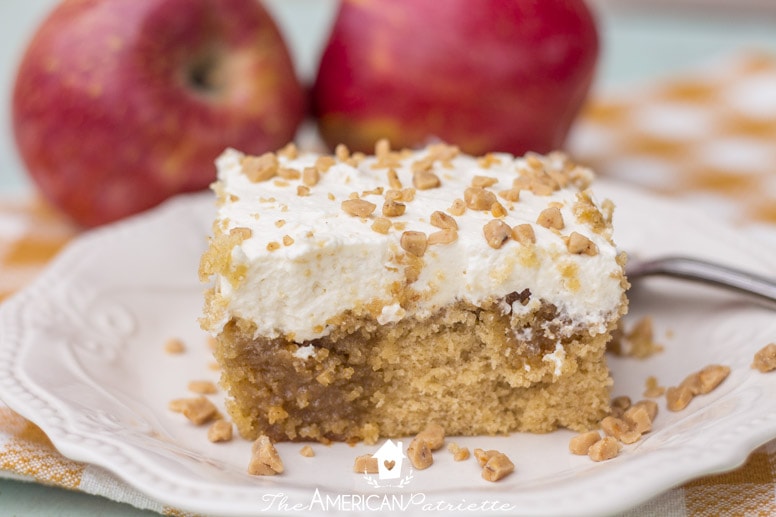 I don't know about you, but I am a big fan of poke cakes. They're so moist, full of flavor and texture, and they're just downright tasty! I also love that they're a hard recipe to ruin, I suppose because "messing it up" is part of actually making the cake since you have to poke holes into it for all of the yummy drizzle to fill.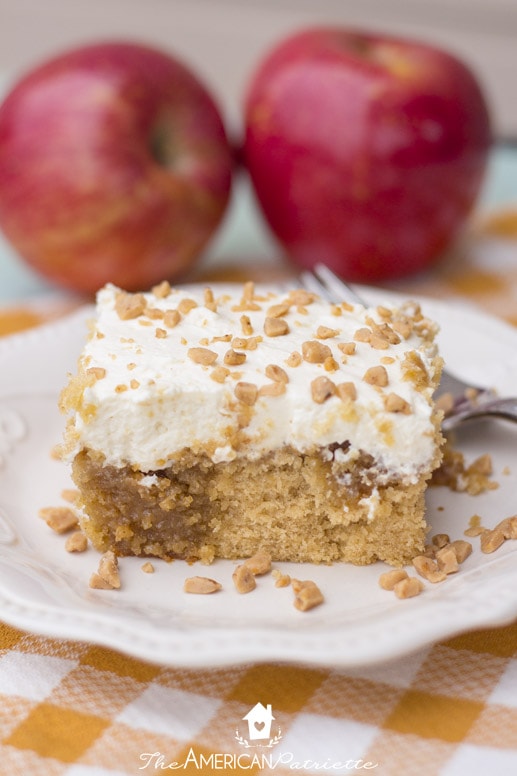 I think I also love them because, once you have a base recipe, you can customize it for any season or occasion…the options are endless! Last Christmas, I experimented with a red velvet chocolate poke cake, and for Valentine's Day, I experimented with a chocolate-covered strawberry poke cake.
I don't want Fall to feel left out! So, naturally I had to come up with a poke cake option that had those traditional autumn flavors! Since I'm such a huge fan of this apple butter cake, and because this homemade caramel sauce is always a hit, especially this time of year, I decided to see if I could merge the two and make a poke cake out of 'em.
Result: Yep. You definitely can, and it. is. good.
Want to make one with me?!

This post contains affiliate links for your convenience. You can read my full disclosure policy here.
Here are the baking tools you'll need:
Stand mixer (or hand mixer) – basically my favorite baking tool ever.
Whisk attachment for both the cake batter and the whipped cream topping
Measuring cups
Measuring spoons
Wooden spoon
Spatula
Small saucepan
Let's get baking! The full recipe is at the bottom of this post, but here are the basic steps you'll follow.
Step 1: Make the apple butter cake batter & bake it
You'll mix up the apple butter cake batter and bake it in your 9×13 pan.

Step 2: Poke holes in the baked cake
After you bake the cake, you'll seemingly mutilate it with a bunch of holes. I always use the end of a wooden spoon for this part – it makes larger holes so you have more room for the drizzle to flow. Make sure you get them all along the edges and all in the middle!

Step 3: Make the homemade caramel sauce and drizzle it over the cake
Friends, the homemade caramel sauce for this recipe literally takes the cake. Or, maybe I should say, "makes the cake." It is SO good! Store-bought caramel sauce doesn't hold a candle to this stuff! It's super easy to make – you stir a few ingredients together in a small saucepan and let them cook together for a few minutes on the stove top. That's it!
Once you've made the caramel sauce (recipe at the bottom of the post), you'll drizzle it all over the warm cake – make sure you pour it evenly so it gets in all the cracks and crevices. No need to let the cake OR the caramel sauce to cool before doing this part.

Step 4: Let the cake cool
Since you don't have to wait for the cake or caramel sauce to cool before pouring the sauce onto the cake, I was going to say that this cake is perfect for impatient people (like me), but then I remembered at this step you have to wait until the cake is fully cool before you can move on.
Womp womp.
I promise, it'll be worth the wait.
So, you'll let the cake completely cool down to at least room temperature. If you're in a hurry, room temperature is fine, but if you make the cake itself ahead of time, I would let it cool on the counter, but then I'd also put it in the fridge to cool down even further.

Step 5: Make the whipped cream frosting
This is where you'll be especially glad you have a stand mixer! Homemade whipped cream is amaaaaazingly delicious, but it's challenging to make if you don't have something else doing the work for you. I literally pour the ingredients – whipped cream, powdered sugar, and vanilla – into my stand mixer with the whisk attachment, turn on my mixer, and walk away.
You have to let it mix together on high speed for at least 4-5 minutes or until you start seeing stiff peaks in the cream. However, you don't want to mix it too long or else the whipped cream will get too stiff. Just make sure you don't get distracted doing other things in the kitchen (I'm very good at this!) – make sure to check your whipped cream after 4ish minutes to see if you've got some fluff going on and before it gets too stiff.

Step 6: Spread the frosting over the cake
Spread the whipped cream frosting all over the cooled poke cake. Easy! If you're not eating the cake soon, go ahead and store it in the fridge until you're ready to serve it. This is cake is delicious when it's cold!

Step 6: Sprinkle toffee bits on top right before you're ready to eat it
Wait until you're closer to serving the cake before you sprinkle the toffee bits on top. If you put them on too soon, they'll sink a little into the frosting. The cake will still taste the exact same, I just think it looks prettier when they sit right on top of the cake! So, sprinkle these bits on maybe within about 30 minutes of serving the cake.

Yuuuum! So much flavor!!

Step 7: Slice it up and enjoy with family & friends!
Cut the cake and serve it out to everyone! You and all who eat this delicious cake with you will love it! Such a yummy fall dessert recipe you can make without pumpkin. I love me some pumpkin, but it's fun to branch out into some other seasonal flavors.


Oh! And before I forget, if you're really into caramel, be sure to ask for a corner piece. That's where allllllll the good stuff is. YUM.

Want to remember this delicious fall recipe for later?! Be sure to save it to your favorite Pinterest board!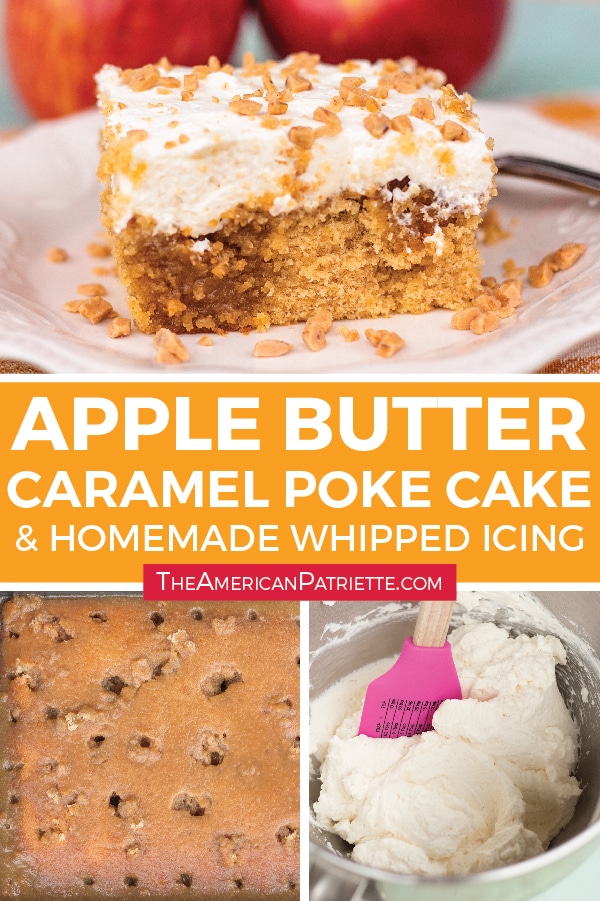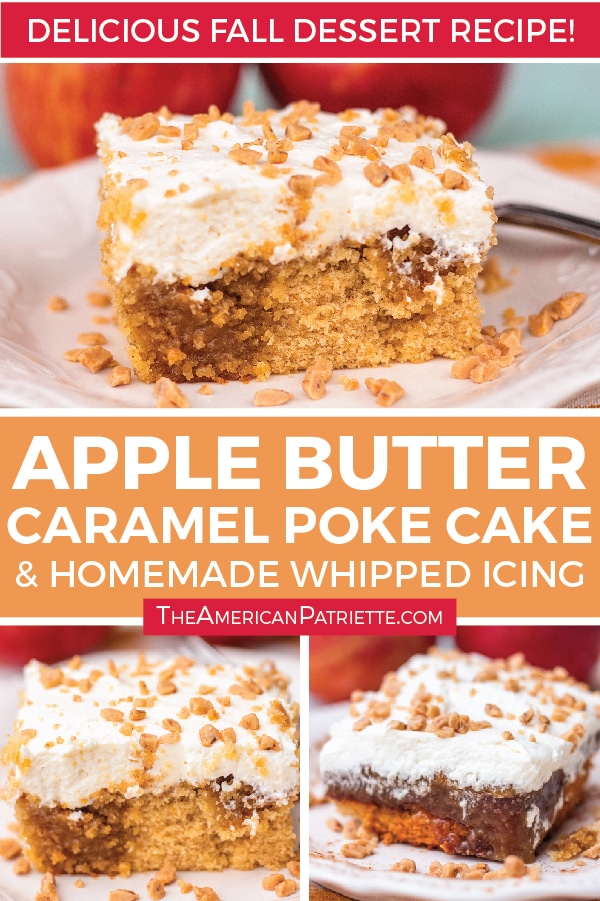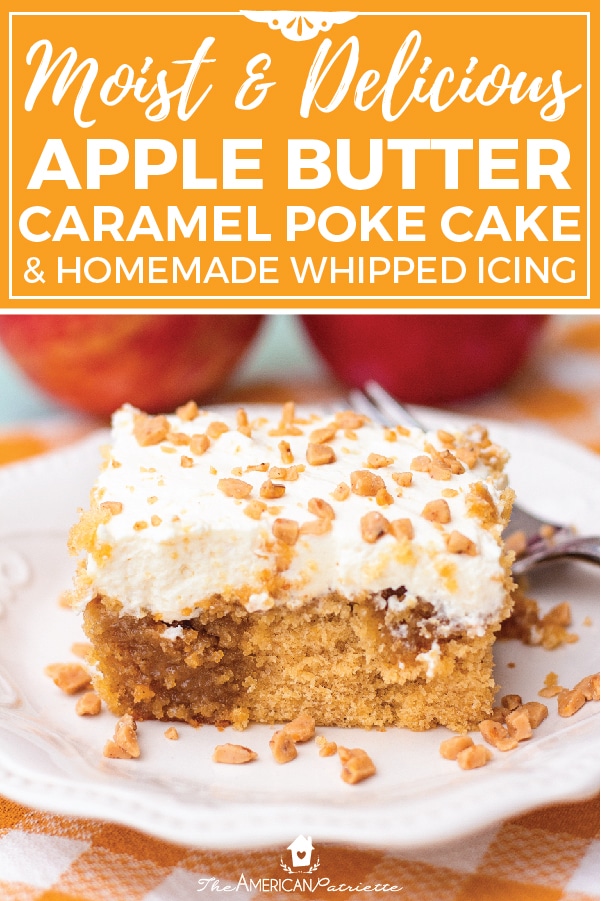 Apple Butter & Caramel Poke Cake - A Delicious Fall Dessert!
Delicious apple butter and caramel poke cake, complete with homemade whipped cream topping and toffee bits. Yummy fall dessert recipe boasting with autumn flavors!
Ingredients
FOR APPLE BUTTER CAKE:
10 tbsp unsalted butter, softened
2 c granulated sugar
3 eggs
2 1/2 c all-purpose flour
1 1/2 tsp baking powder
3/4 tsp salt
1/4 tsp cinnamon
1/2 c whole milk
1 c apple butter (homemade or store-bought - doesn't matter!)
1 1/2 tsp vanilla extract
----------------------------------
FOR CARAMEL SAUCE:
1 stick unsalted butter
1 ½ c packed brown sugar
½ c heavy whipping cream
1 tsp Mexican vanilla (plain vanilla is fine, but Mexican vanilla is the best!)
¼ tsp salt
------------------------------------------
FOR THE WHIPPED TOPPING:
2 c heavy whipping cream
1/3 c powdered sugar
1 tsp vanilla extract
1/2 c toffee bits
Instructions
Preheat oven to 350 degrees.
With a stand or a hand mixer, cream together 10 tbsp softened butter and granulated sugar.
Begin mixing in one egg at a time.
Add flour a bit at a time, mixing between additions (I typically add in about 1/2 c at a time).
Add baking powder, salt, and cinnamon and continue to thoroughly mix. Scrape the sides of the bowl periodically to ensure everything gets blended properly.
Mix in milk, apple butter, and vanilla until the batter is evenly mixed together. Pour batter into a deep greased 9x13" cake pan and bake at 350 for 30-35 minutes. Check cake at 30 minutes with a toothpick - if it comes out clean, remove from oven. If not, give it another 5 minutes of bake time.
(A few minutes before cake comes out of the oven, you can start making the caramel sauce - recipe below).
Remove cake from oven and evenly poke holes across the top (reaching all the way to the bottom of the pan) using the end of a wooden spoon.
----------------------------------------------------------------
TO MAKE CARAMEL SAUCE:
Melt butter in saucepan over medium heat. Add whipping cream and vanilla. Stir.
Add brown sugar and salt and stir until they begin to dissolve. Turn heat down to low and allow sauce to simmer and thicken for about 5 minutes - stir intermittently. Remove from heat and pour evenly over poked cake.
Allow cake to cool down completely to room temperature. If you're not in a hurry, allow the cake to cool in the fridge for a few hours or overnight - this cake is yummy chilled!
------------------------------------------------------------------------
TO MAKE THE WHIPPED CREAM TOPPING:
Once the cake is completely cool, make the whipped topping.
Using your stand or hand mixer, begin whipping 2 c heavy cream with powdered sugar. Continue to mix until stiff peaks form in the cream - this will probably take at least 3-4 minutes.
Add vanilla to whipped cream and blend for another 30 seconds or so. Don't whip the cream for too long or else the frosting will get stiff.
Spread the whipped cream topping across the cooled poke cake. Store in fridge until ready to eat, or serve immediately. Sprinkle toffee bits on cake within 30 minutes of serving - you don't want to put them on too early or else they'll sink into the whipped cream topping.
Enjoy with family and friends!