Easy Purple Sweet Potato Soup
This easy purple sweet potato soup is a delicious and healthy family meal! It's so simple to throw together!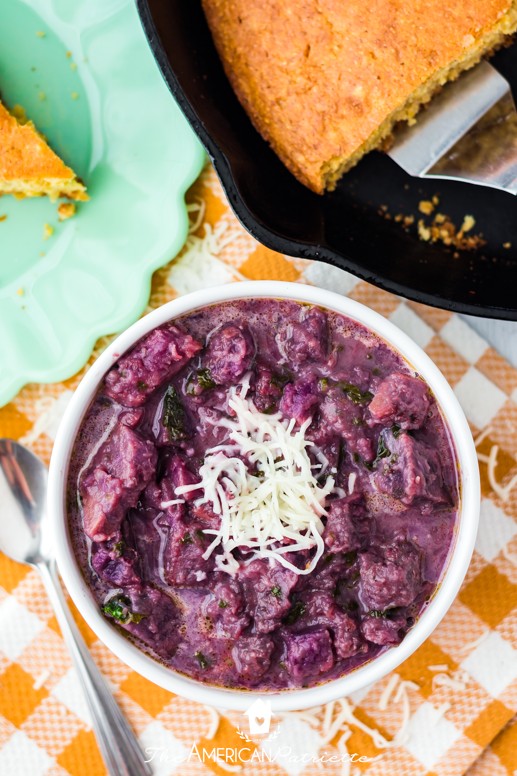 PURPLE sweet potatoes?
Yes, friend, they exist, and they are gorgeous! I discovered them by accident – I was going to make a sweet potato soup, only had these in stock (my grocery store randomly put them in my order), and so I decided to give them a try.
The soup I made with them (this one!) was UNBELIEVABLY GOOD. These purple sweet potatoes taste virtually the same as regular sweet potatoes- they just have a slightly different flavor.
My kids love this soup & love that it's purple, so I just keep making it with the purple yams!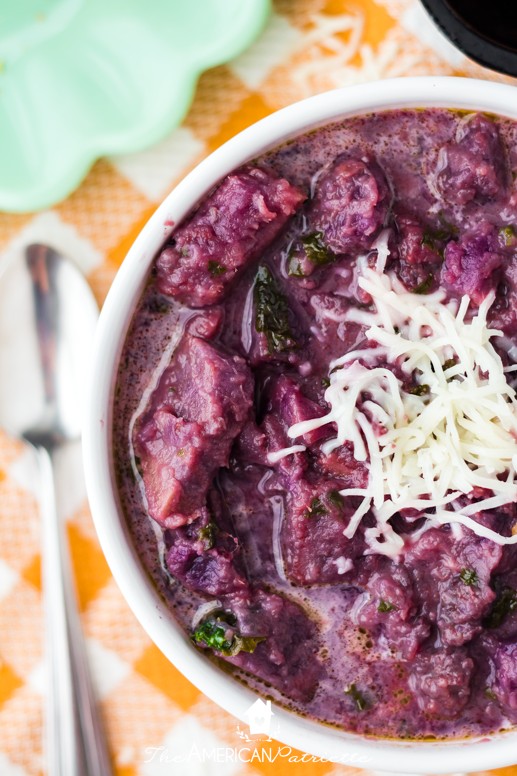 Here's what you'll love about this soup:
This is *absolutely delicious.* So much great flavor in every single bite.
It's packed with nutrition! Purple sweet potatoes are really good for you, and so is that kale. 😄 You don't even taste the kale in the soup. It's just hidden nutrition. 😉
Super, super, super easy to make. About 5-10 minutes worth of chopping some veggies & browning the meat, and the stovetop does the rest of the work! The hands-on time for this soup is minimal.
It makes GREAT leftovers. Just reheat and enjoy. SO GOOD.
You can freeze it! Make a double batch and freeze the other half for a future easy meal.
Ingredients for easy purple sweet potato soup
4 purple sweet potatoes, peeled and diced into chunks. It's hit or miss on whether my grocery store carries these on any given week, so if I can't find them, I just get regular sweet potatoes and they work just fine. You just don't get the pretty purple look, but the taste is almost identical.
1 yellow or sweet onion, diced
1 lb pork sausage – also often known as breakfast sausage. This adds GREAT flavor! I always use my store brand of pork sausage because they have a lighter version, but you can also use regular 'ole delicious Jimmy Dean ground sausage.
chicken broth
chopped kale – easy way to add some extra nutrients to the soup. You'll hardly notice it's there; it wilts well into the soup & absorbs all of the great flavor.
seasonings: salt, garlic powder, onion powder
heavy cream – just a bit to add some richness & creaminess to the soup
Tips for making this soup:
You can very easily double the soup recipe if you need more to feed a crowd. Or, save the other half and freeze for later.
Use an immersion blender if you want the soup to be completely pureed and velvety. I like chunks in the soup, and because the potatoes are so soft after cooking, I realized I could achieve the consistency I want with just using my large ladle to smash down on them after they're done cooking. This helps thicken the soup a little bit without pureeing it too much.
Omit the cream if you need this to be dairy-free. The cream adds some decadence to the soup, but it's delicious without it, too.
Oh! And don't forget to serve this with cornbread! 😁 (I mean, you could serve it with any kind of bread, but we're pretty partial to cornbread!) This skillet cornbread recipe is our FAVE!
Other recipes you might enjoy:
Enjoy with family & friends around your table!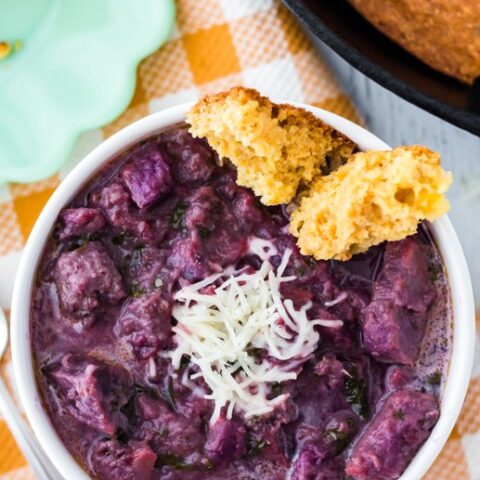 Easy Purple Sweet Potato Soup
Additional Time:
10 minutes
This easy purple sweet potato soup is a delicious and healthy family meal! It's so simple to throw together!
Ingredients
4 purple yams, peeled & diced into large chunks
1 lb pork sausage (also known as breakfast sausage)
1 yellow or sweet onion, diced
2-3 c chopped kale
4 c chicken broth
1 tsp garlic powder
1 tsp onion powder
Salt to taste
1/4 c heavy cream*
Instructions
Brown meat in a soup pot over medium heat. When the sausage is close to fully cooked, add in the diced onions and saute for about 5 minutes - until sausage is no longer pink & onions are fairly soft.
Add in potatoes, kale, broth, and seasonings. Bring to a simmer, and then reduce heat to medium-low, cover, and cook for 30-45 minutes - until potatoes are soft. (Check it at 30 minutes. Even if the potatoes are done, you can continue to allow it to cook on low heat until you're ready to eat it.)
Using a large spoon, smash some of the potatoes to create a thicker soup. The potatoes should be very soft and mash fairly easily. I just do this for about 10-15 seconds. (You can use an immersion blender, but if you want to keep the soup chunky, just give it a couple of pulses.)
Stir in the heavy cream, and then ladle out into bowls alongside some cornbread or biscuits. Enjoy!
Notes
I always use my store brand (H-E-B) light pork sausage, but you can just as easily use Jimmy Dean breakfast sausage. It'll taste great either way! (Just make sure to use pork sausage, NOT ground pork - there's a big difference. 😝)
*If you want to omit the cream & make this dairy-free, no problem! The cream does add a yummy decadence to the soup, but you can leave it out if you need to - the soup will still taste great.
You can easily double the soup recipe to feed a crowd or to save for later. This makes DELICIOUS leftovers!
This freezes well, too! Store in a gallon freezer bag or in a freezer-safe container. Thaw & reheat.