Oh my heavens. This apple crisp pie is DIVINE. It's super easy to make and even easier to devour. And, this recipe is so hard to mess up! Can I get an amen?!
Let's get baking!
Preheat the oven to 350.
You'll start out with making the graham cracker crust. I crush my graham crackers in a food processor, but you can do this by hand (if you dare). Once the consistency is pretty fine, add the softened butter and sugar to the food processor and pulse the ingredients until they're well blended into somewhat of a dough. You can also do this part by hand, it'll just take you a while longer!
Press the graham cracker crust evenly across the bottom and up the sides of a lightly greased pie pan.
Pop the crust in the oven for 8 minutes. While the crust is baking, you can assemble the pie filling.
Peel and chop 3-4 Granny Smith apples and set aside in large mixing bowl. Pour melted butter, lemon juice, and vanilla on apples and stir until they're well-coated. In a separate bowl, mix cinnamon, sugar, and flour (just the part for the apples – we'll get to the topping in a bit). Add dry mixture to apples and toss to coat.
Your graham cracker crust is probably done baking! Pull it out of the oven and set aside to begin cooling.
Pour apple mixture into baked crust (the crust does not have to be completely cooled before you do this).
Now this is where the pie goes from super yummy to outrageously delicious. The topping seals the deal.
Add the flour, sugars, salt, and cold butter to the food processor. Pulse until everything is pretty well mixed, but don't worry about getting a completely consistent dough – it's ok if there are lumps of butter in the topping.
Lumps of butter are always ok.
Pour topping evenly on the apple mixture and place in the oven at 350 for 40-45 minutes.
Fresh out of the oven. Look at that gorgeous, perfectly-bronzed topping!
Do you hear that? It's a chorus of angels singing.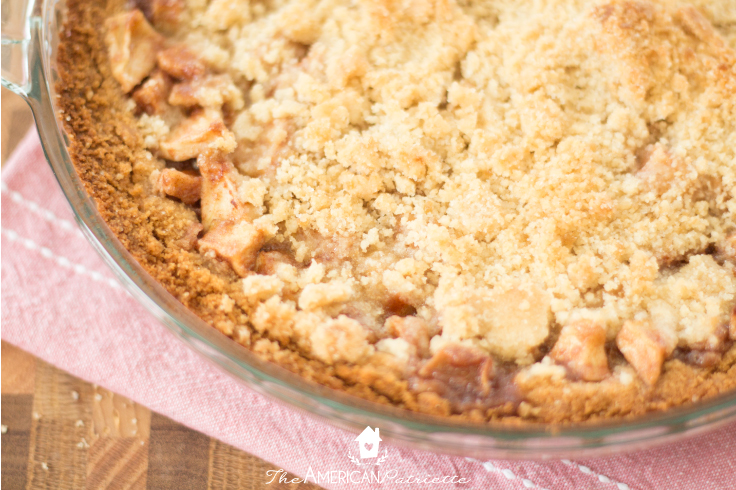 It would be sinful to eat this without vanilla ice cream. Serve with a scoop (or four) and enjoy!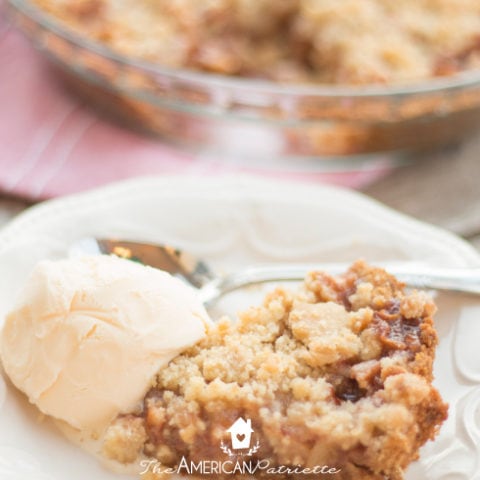 Ingredients
1.5

sleeves honey graham crackers

1

stick of melted butter

2

tbsp

granulated sugar

---------------------------------------

4

c

chopped peeled Granny Smith apples

2

tbsp

melted butter

Juice from ½ lemon

½

tsp

vanilla

1.5

tsp

cinnamon

¼

c

white sugar

2

tbsp

flour

---------------------------------------

½

c

flour

¼

c

white sugar

2

tbsp

brown sugar

½

tsp

salt

4

tbsp

cold butter
Instructions
Preheat oven to 350.

Crush graham crackers in food processor (or by hand, if necessary). Once the graham crackers are a sandy consistency, add 1 stick melted butter and 2 tbsp granulated sugar to food processor and pulse until everything is well blended.

Pour graham cracker mixture into lightly greased pie pan. Press dough evenly on bottom and up the sides of the pan. Place in oven for 8 minutes. (Remove from oven and allow to cool for 5-10 minutes before pouring in apple filling.)

If you haven't already, chop and peel 3-4 Granny Smith apples (enough for 4 cups). Pour 2 tbsp butter, lemon juice from 1/2 a lemon, and 1/2 tsp vanilla on apples and toss until well coated.

In a separate bowl, mix 1.5 tsp cinnamon, 1/4 c granulated sugar, and 2 tbsp flour together. Pour on apples and toss to coat.

Add apples to baked crust.

For the topping, add 1/2 c flour, 1/4 c white sugar, 2 tbsp brown sugar, 1/2 tsp salt, and 4 tbsp cold butter to food processor. Pulse for a few moments and pour evenly on top of apples.

Place in oven at 350 for 40-45 minutes or until the top is a golden brown. Remove from oven and enjoy with vanilla ice cream!