If you're looking for a delicious, easy recipe for a cake this holiday season, this super moist chocolate pistachio Christmas bundt cake is a winner. Topped with chocolate ganache, white chocolate, and Christmas sprinkles, this semi-homemade pudding cake will quickly become a festive holiday favorite!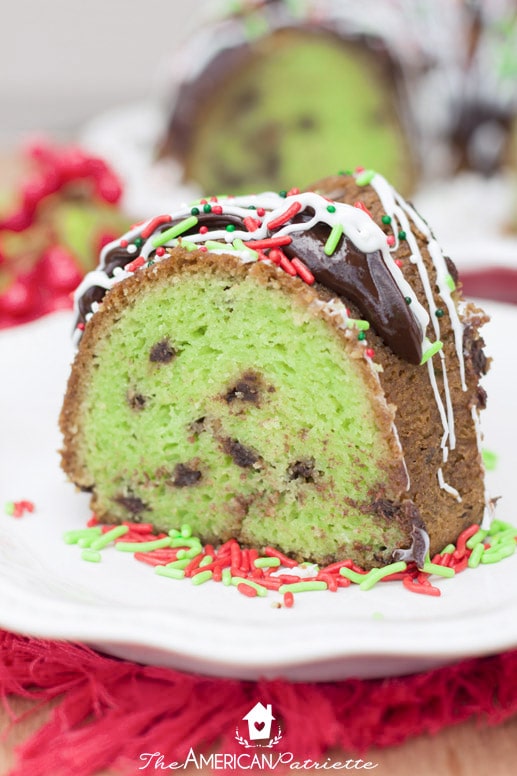 I just can't even tell you how AMAZINGLY delicious this chocolate pistachio bundt cake is! I could really try, but my words wouldn't do it justice. You'll just have to try it for yourself.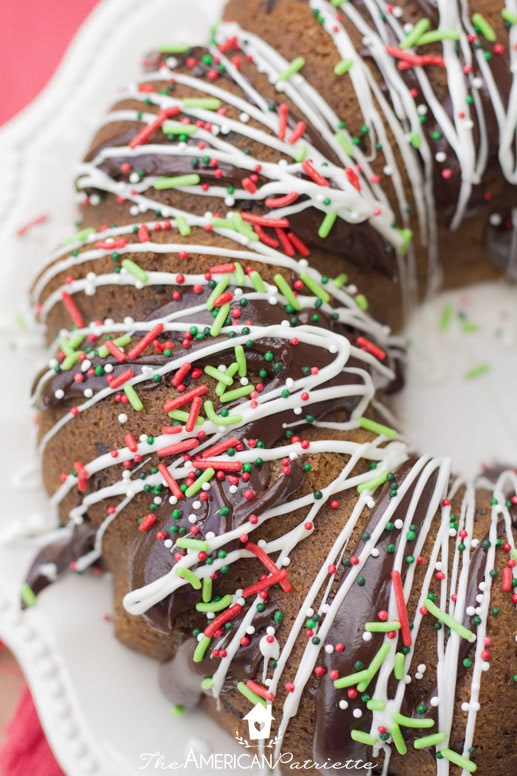 One thing I love about bundt cakes is that they're so easy to "beautify" – no need to spend a lot of time perfectly frosting a cake. A simple drizzle, especially when it's topped with sprinkles, gives some glam to any bundt cake!
The semi-sweet chocolate ganache and white chocolate drizzle are super, super easy to make, and they add some sweetness and richness to an already-delicious cake!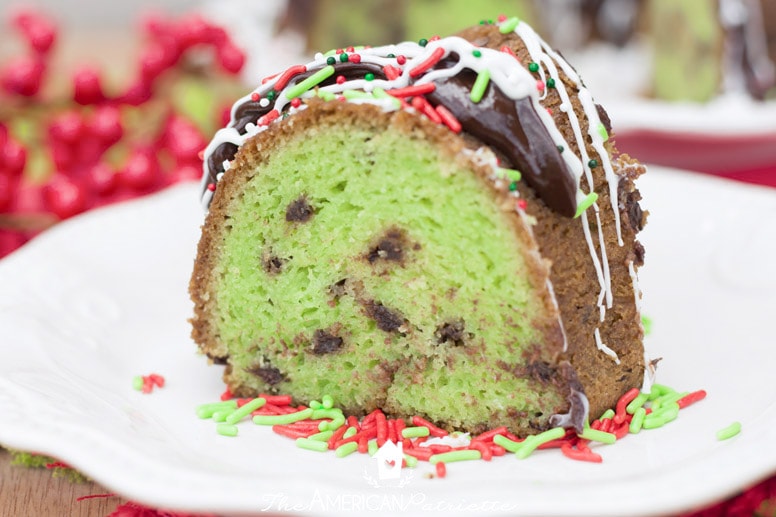 This chocolate chip pistachio cake is absolutely one of our favorites – made with yellow cake mix and pistachio pudding mix, it is SO moist, and you can whip it up in no time. It's definitely a no-fuss recipe! This festive cake is perfect for Christmas potlucks, Christmas parties, and just a fun Christmas dessert for any holiday occasion. You'll bring so much cheer to any gathering with this yummy dessert!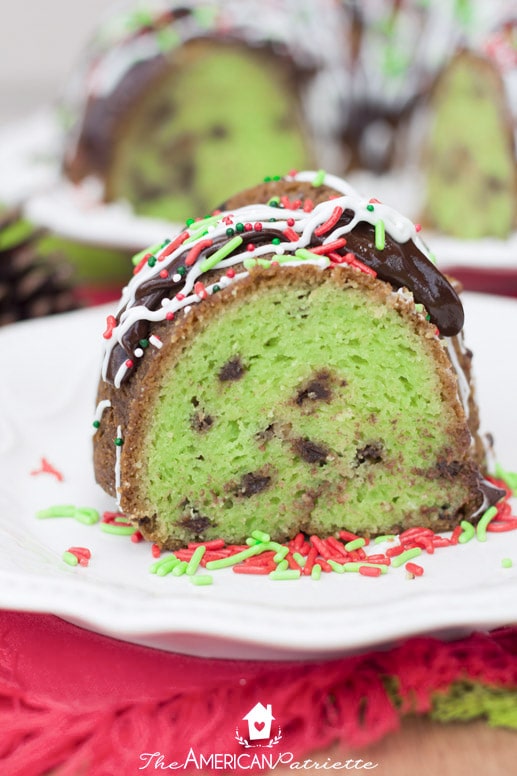 Want to remember this delicious recipe?! Be sure to pin it to your favorite Pinterest board!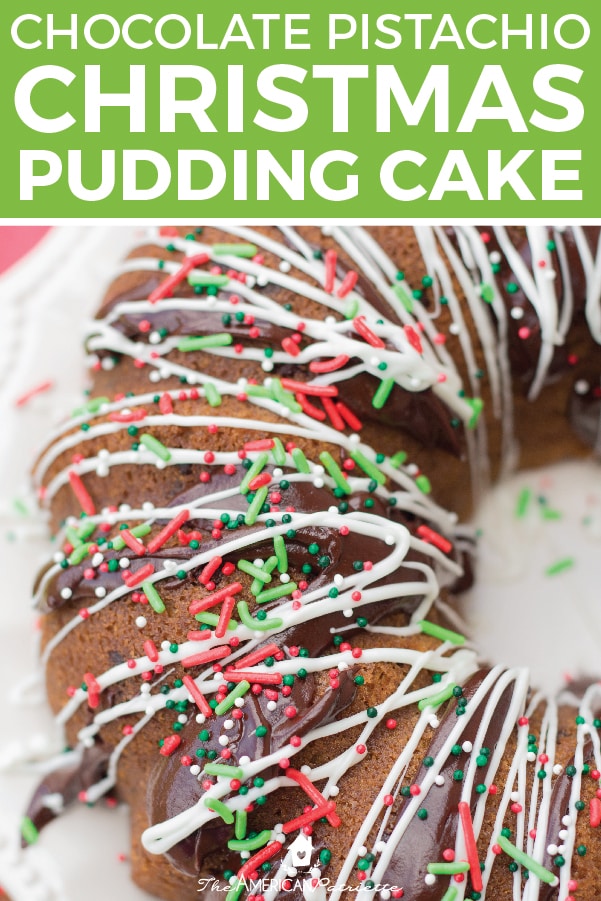 Super Moist Chocolate Pistachio Christmas Bundt Cake
Yield: 12 pieces

Prep Time: 15 minutes

Cook Time: 45 minutes

Total Time: 1 minute
Ingredients
1 box yellow cake mix
2 3.4oz boxes pistachio pudding mix
1 c club soda
1 c vegetable oil
3 eggs
2 c mini semisweet chocolate chips, divided
1/3 c whipping cream
1/4 c white chocolate chips
Christmas sprinkles
Instructions
Preheat oven to 350.
Pour cake mix and pudding mixes into a bowl. Using a stand or a hand mixer, begin mixing the dry ingredients together and slowly blend in the club soda.
Pour in the vegetable oil and continue to mix.
Beat in eggs, one at a time, mixing between additions.
Once the batter is fully mixed, fold in 1 c chocolate chips.
Pour batter into well-greased bundt cake pan and bake in preheated oven for 45 minutes (go ahead and check at 42-43 minutes with a toothpick; if it comes out clean, remove from oven).
While cake is baking, prepare chocolate ganache by pouring whipping cream and remaining 1 c chocolate chips in small saucepan over medium heat. Stir occasionally until chocolate chips are completely melted and you've made a thick chocolate sauce - about 4-5 minutes.
Remove from heat and set aside.
Once cake comes out of the oven, allow to cool for about 10-15 minutes in the cake pan before transferring to a cooling rack.
Once the cake is cool (it doesn't need to be completely cool - it can still be warm), transfer to a cake plate or a platter and drizzle chocolate ganache on top.
To make the white chocolate drizzle, pour white chips into a microwave-safe bowl. Heat for 30 seconds, stir (this is super important!), and then heat for another 30 seconds. If the chips aren't completely melted after the 2nd round in the microwave, stir again, and then place in the microwave for one more 15-30 second round.
Drizzle melted white chocolate onto cake using a fork or by spooning the melted chocolate into a plastic baggie with a hole cut out of the tip.
Add a bunch of Christmas sprinkles!
Serve pieces by themselves or with a scoop of vanilla ice cream and enjoy during the Christmas season!