I used to make lasagna, but now when we have the hankering, I make this casserole instead. With the light pork sausage, fiber-enriched pasta, fresh spinach leaves, light cottage cheese, and light mozzarella cheese, this pasta bake is fairly lean & has tons of fiber and protein! Not to mention it is absolutely delish!
You can customize the flavor a bit by choosing the jar of spaghetti sauce you want to use – I often change it up. Sometimes I use tomato & basil, sometimes I use four cheese, and sometimes I use spicy spaghetti sauce. Any will work!
And, like much of the food I make, this pasta bake makes excellent leftovers. Sometimes I wish I could just cook leftovers because casseroles and soups are even better on day 2 (and 3 and 4)!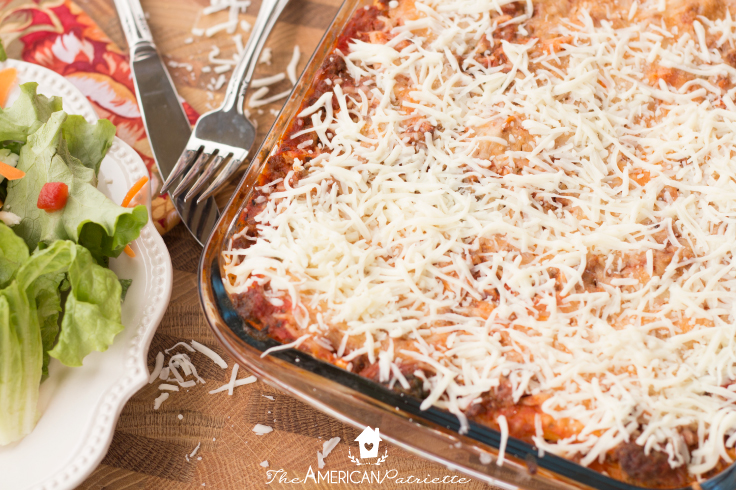 I hope you, your fam, and folks hanging out around your dinner table enjoy this as much as we do!

Protein-Packed Pasta Bake
Ingredients
12oz box of fiber-enriched penne pasta
1 lb lean ground pork sausage
1/2 sweet or yellow onion, chopped
24oz jar of spaghetti sauce (any flavor will do!)
14.5 oz can Italian style diced tomatoes, undrained
3 oz (2 handfuls) fresh spinach leaves
16oz low fat cottage cheese
1 egg
1/3 c grated Parmesean cheese
8 oz light shredded Italian or mozzarella cheese
Instructions
Preheat oven to 350.
Cook pasta according to package directions & drain.
While the pasta's boiling, begin browning meat in large skillet over medium heat. When the meat is halfway done cooking (half brown, half pink), add the diced onion and continue to cook until meat is completely brown and onions are soft - about 10 minutes.
Add spaghetti sauce and tomatoes and allow the sauce to simmer for about 5 minutes.
In the meantime, in a separate bowl, mix together cottage cheese, egg, and Parmesan cheese until they're all fully blended. Set aside.
Add fresh spinach to spaghetti sauce and continue to cook over medium heat, stirring intermittently, until spinach wilts.
Very lightly coat the bottom of a 9x13" baking dish with a small amount (about 1/4 c) of the spaghetti sauce mixture. You just need enough on the bottom to prevent the pasta from sticking.
Evenly spread 1/2 pasta on top of spaghetti sauce layer. Add 1/2 cottage cheese mixture on top of the pasta, 1/2 of the remaining spaghetti sauce mixture on top of the cottage cheese, and 1/2 of the mozzarella cheese on top of the spaghetti sauce layer.
Repeat those same layers (minus the thin spaghetti sauce layer that we did at the beginning) with the remaining ingredients.
Bake in oven for 25-30 minutes.