Delicious Strawberry Limeade Layer Cake
This delicious strawberry limeade layer cake is THE cake you need to make this summer! So moist and delicious, and so fun to share with others!
I really don't need to say much about this delicious strawberry limeade cake…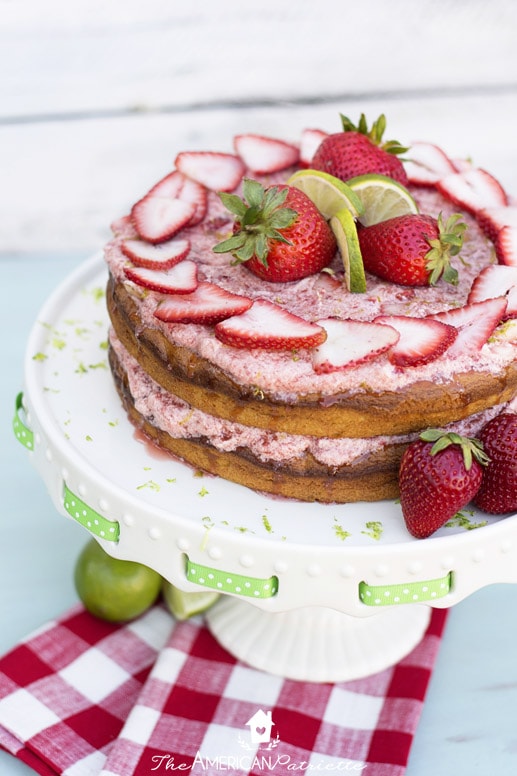 I think it speaks for itself! It says, "Eat me!"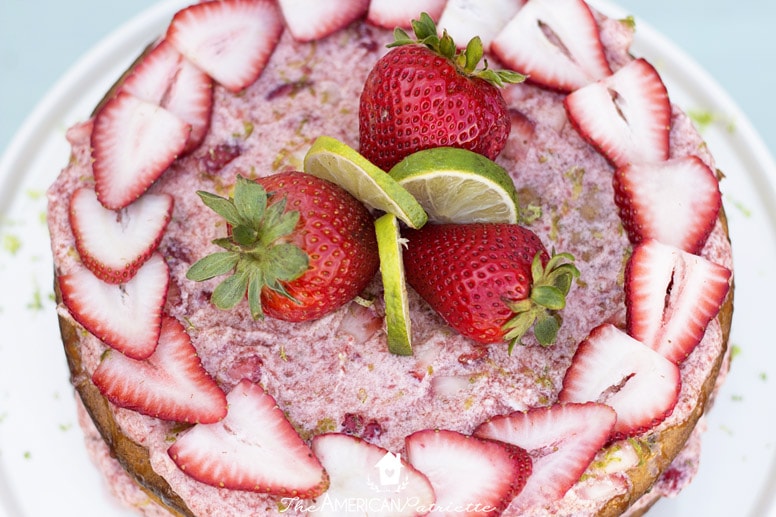 It is absolutely delicious, incredibly moist, so perfectly citrus-y, and well, it's just darn good. Because we love my lemon cake so much, I wanted to see if I could use that recipe as a launching pad to create some other flavor combos. Y'all, this one is a winner.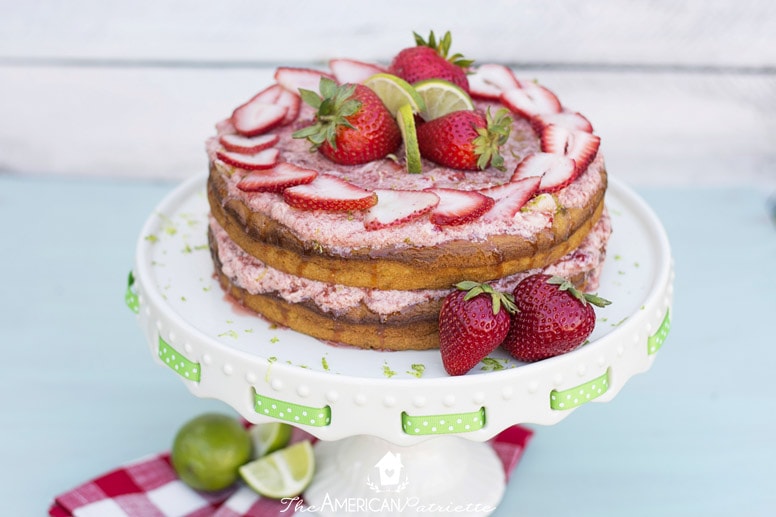 It's just so good! And when you cut into it…
Look how fun! A zesty pop of lime green! A little bit of green food coloring (especially if you use a lime green hue) does the trick.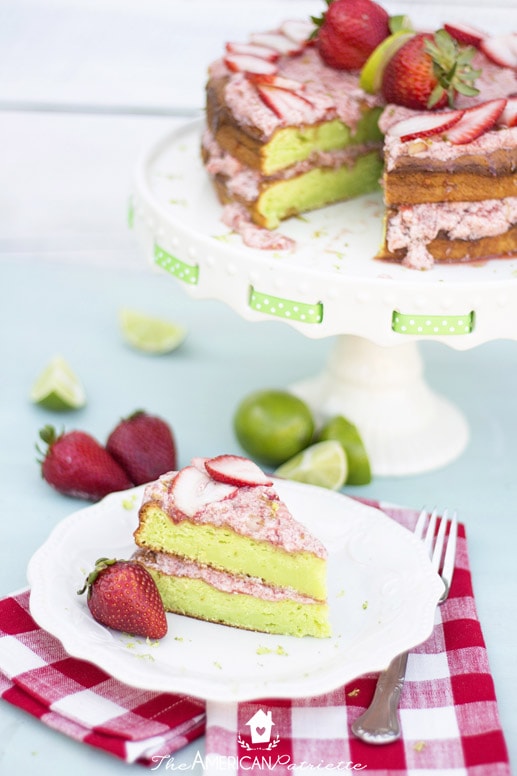 The cake portion is dense and spongey, and the icing is the perfect compliment!
Such a fun cake to serve for a spring or summer get-together! Perfect as a summer birthday cake!
Now go make it & enjoy it with family, friends, and neighbors!
If you're looking for more inspiration, go check out more of my fun summer dessert recipes!

This post contains affiliate links for your convenience. You can read my full disclosure policy here.
Looking for some cute cake pedestals to display it?! Here are some fun options:

Love this recipe idea and want to make sure to remember it later? Pin it to your favorite Pinterest board!
Delicious Strawberry Limeade Cake
Inactive Time:
1 hour
39 minutes
Total Time:
2 hours
10 minutes
This delicious strawberry limeade layer cake is THE cake you need to make this summer! So moist and delicious, and so fun to share with others!
Ingredients
CAKE:
1 box yellow cake mix
5.1 oz box instant or Cook & Serve vanilla pudding
½ c vegetable oil
4 large eggs
½ c whole milk
8 oz sour cream
6 tbsp fresh-squeezed lime juice
Zest from 2 small limes or 1 large lime
Lime green (or regular green) food coloring
________________________________________
ICING:
1 lb fresh strawberries, divided
1 stick unsalted butter, room temperature
1.5 c powdered sugar
1 tsp vanilla
Zest from 1 lime
Instructions
Preheat oven to 350.
Lightly grease 2 round baking pans.
Using a stand or a hand mixer, blend cake mix, pudding mix, and oil together.
Add eggs one at a time, mixing between additions.
Pour in milk and continue to mix.
Add sour cream, lime juice, and zest.
Mix until everything is thoroughly blended together, but DO NOT over mix. Add in food coloring until you're pleased with the shade of green - I think I used about 10 drops of lime green coloring.
Pour cake batter into baking pans and place in oven for 25-30 minutes (check with a toothpick after 25 minutes to see if cakes are done or if they need a little longer in the oven).
Remove cake from oven and set on cooling racks in the baking pans.
Remove cake from baking pans after about 10 minutes and allow to completely cool.
_____________________________________________________________________
For the icing, begin by washing the strawberries and removing the stems.
Place half the strawberries into a blender or food processor and blend until completely pureed. You may need to add a teaspoon or so of water to help them get really smooth.
Pour pureed strawberries into a small sauce pan. Set on stove top on medium heat.
Bring the puree to a boil, stir, and slightly reduce heat. Continue to boil strawberries (stirring every few minutes) until they reduce by at least half - this will take about 15 to 20 minutes. Once the puree has reached the consistency of applesauce, it's ready! Set puree aside to completely cool to room temperature.
In the meantime, finely chop the remaining strawberries and set aside. You're going to add them to the frosting in just a little bit.
Using a stand or a hand mixer, cream butter and powdered sugar together. Add in cooled strawberry puree, vanilla, and lime zest. Gently fold in diced strawberries.
Frost only the tops of each cake - frost the top part of the bottom layer, place the second layer on top, and then frost the top of that one as well. The icing is fairly runny, so I wouldn't recommend trying to frost the sides of the cake, but I don't think it needs it! This icing to cake ratio is perfect, and it looks beautiful without the frosted sides! SEE MY NOTES for an additional tip for frosting the cake.
Garnish with extra lime zest, lime slices, and fresh strawberries! Enjoy!
Notes
Do not frost this cake until a couple of hours before you plan to serve it. Because of the fresh strawberries in the frosting, it gets a bit runny, and the strawberry juice will seep into the cake. It'll taste fine, it just won't have that beautiful lime green glow! For best results, frost the cake, at the most, an hour or two before you plan to serve it so it keeps its fresh look!