Delicious Summer Dessert Recipes for a Crowd
Get some great dessert recipe ideas for summer potlucks, summer birthdays, and summer BBQs! Cookies, sweet treats, cakes, and more, perfect for a crowd!
Looking for a new delicious dessert recipe to make this summer? These are all absolutely delectable, tried-and-true recipes from my kitchen to yours, perfect to enjoy with friends and family during the summertime!
This post contains affiliate links for your convenience. You can read my full disclosure policy here.
Piescream (Homemade Pie Ice Cream)
I took that phrase, "Easy as pie," quite literally and came up with just about the easiest homemade ice cream recipe ever! Homemade Pie Ice Cream, otherwise known as "piescream," is so easy to make, and it's so tasty! It's a fun summer spin on a traditionally Fall dessert.
If you don't already have a modern homemade ice cream maker, let me be the first to tell you: YOU NEED ONE. We absolutely love ours and use it far more than we ever should, especially during the summertime. This is the ice cream maker we have and love, and here's the newer model of it.
Red Velvet Patriotic Ice Cream Sandwiches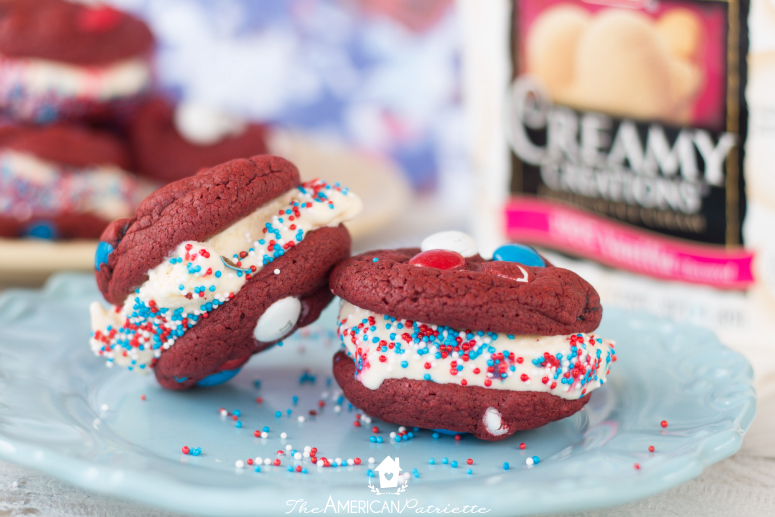 Speaking of ice cream, these red velvet ice cream sandwiches are so good! Perfectly patriotic for 4th of July parties and celebrations, but I'm sure it's no surprise that I'd endorse a patriotic dessert recipe any time of year! 🙂 Make some easy red velvet cake mix cookies, add some patriotic flair, and then stuff 'em with vanilla ice cream. Easy to make and easier to eat!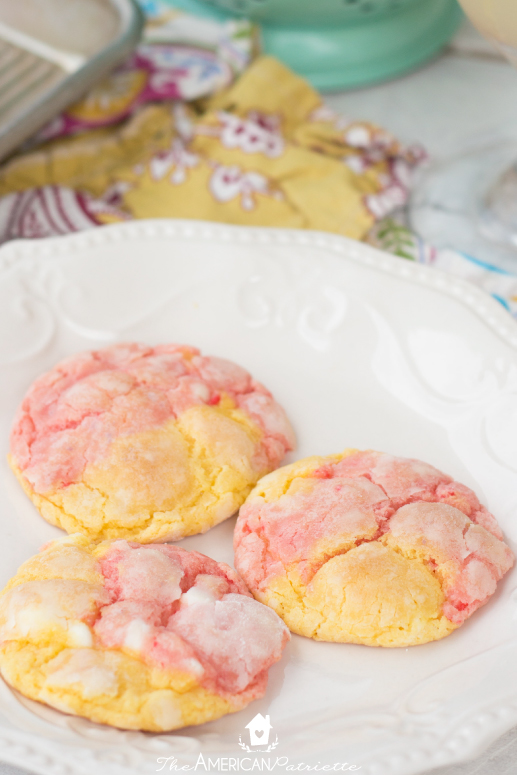 Holy MOLY these things are good. These strawberry lemonade cake mix cookies essentially dissolve in your mouth. These are perfect for potlucks, picnics, and really any summer occasion. I've made them for several different occasions, and not only are they outrageously easy to make, they bring smiles for miles! SO delicious!
It may seem odd to add basil to your cookies, but believe me, these chewy lime basil cookies are out of this world! Plus, because they seem a little odd, they're a perfect conversation piece for when you share them with others. 🙂
Patriotic Cake Mix Lemonade Cookies
Just as with the strawberry lemonade cookies above, these patriotic cake mix lemonade cookies just melt in your mouth! The lemon flavor is really powerful, and the texture of these cookies so so decadent and chewy. Delish!
Is my obsession with lemon dessert becoming more obvious to you yet? Gosh, these tangy lemon Oreo fudge bars are ah-mazing! Who ever said citrus-y desserts had to be light, fluffy, and flavorless? These fudge bars are soooo dense and good!
One of my FAVORITE classic easy desserts, this one is a winner! I know sopapilla cheesecake isn't just a summer dessert, but it seems to go along with a Tex-Mex theme which just seems all-to-appropriate for summertime. Pico de gallo, salsa, guacamole, lime juice…they all make me think of summer. This classic dessert is one I make all year round – it is definitely one of my go-to recipes!
You'll make so many friends if you make this cake and bring it to share with folks! I was inspired by the famous Strawberry Limeade drink from Sonic, so I decided to try to mimic that traditionally summer drink and turn it into a cake! This strawberry limeade cake is an absolute hit!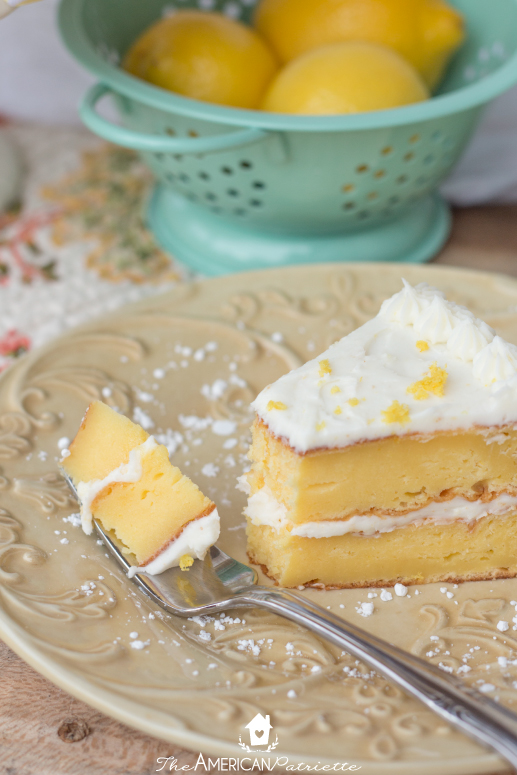 This might be my favorite-ever non-chocolate cake. I can't even tell you how many times I've made this thing. It just brings joy to tastebuds wherever it goes! This incredibly moist lemon pudding cake really is one of the best cakes EVER and it's just perfect for summertime get-togethers and celebrations!
Moist Citrus Pudding Cake with Lime Basil Buttercream Frosting
I came up with this citrus pudding cake recipe after I made my lime basil cookies. I thought, if I can make cookies using lime and basil and those are good, then why not try to turn those flavors into a cake, too?! This citrus pudding cake with the lime basil buttercream frosting is definitely a crowd-pleaser! Don't let anyone turn their nose up at you when they see the fresh basil sprinkled on the cake. They'll take one bit and be totally hooked!
This easy s'mores toffee is so fun to make! The prep work is minimal – about 10 minutes and that's about it. It's a fun and casual summer sweet treat for potlucks, picnics, and gatherings of all types.
Just like the s'mores toffee, this easy s'mores popcorn recipe is a great easy and casual dessert recipe. It's a fun spin on the classic backyard campfire dessert. Candied popcorn is always such a hit when I make it and bring it places. This s'mores popcorn was fun to invent! Your people will love it!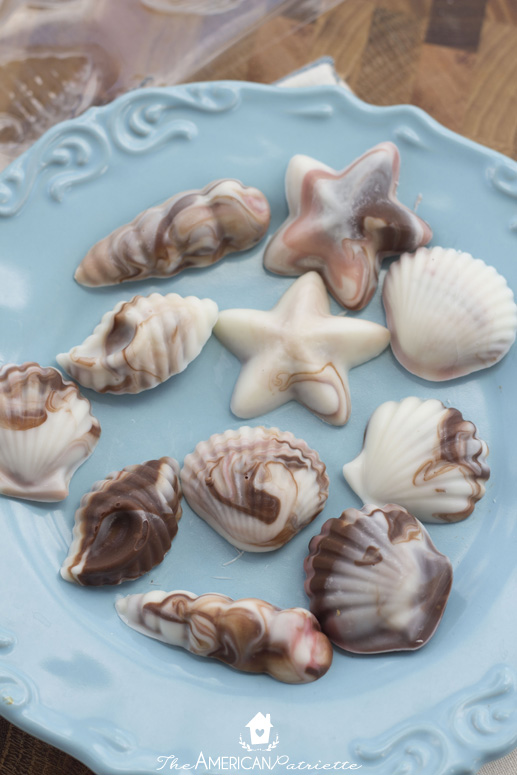 These candy seashells look real, don't they?! And would you believe me if I told you they were VERY simple to make? We're talking almost fool-proof. I love making these candy seashells for beach/nautical-themed parties, and for obvious reasons, they're perfect for summer! Head over here to learn how to make them, and then use them to top off any dessert recipe – brownies, cookies, cakes, or cupcakes. They're a perfect cupcake topper!
Want some really easy summer dessert ideas? Let me send some straight to your inbox! Click the image below and get a printable list of super simple summer meal ideas, including delicious side dishes and dessert ideas!
[thrive_2step id='6130′]
[/thrive_2step]
Love these ideas and want to make sure to save 'em for later? Pin this to your favorite Pinterest board!