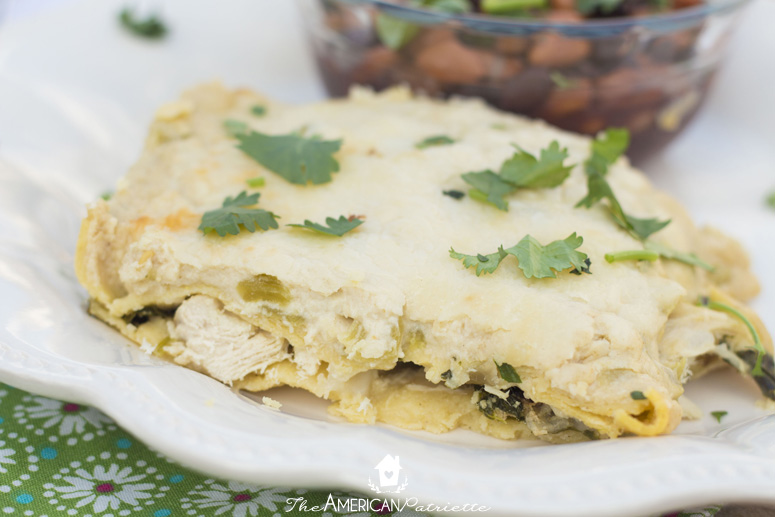 I really love enchiladas, and I also really love kitchen shortcuts, so when you mix the two together, what do you get?! Lazy enchiladas!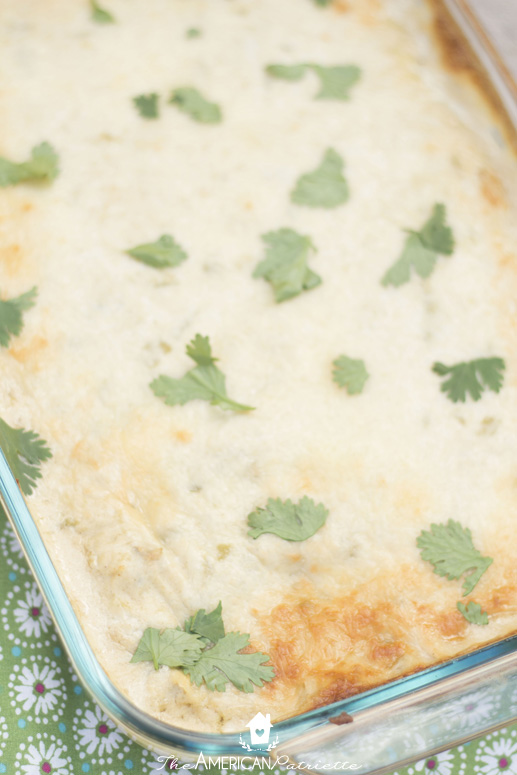 These lazy enchiladas have the exact same great flavor as my green chile, spinach, and chicken enchiladas, but this casserole takes hardly any effort to prepare!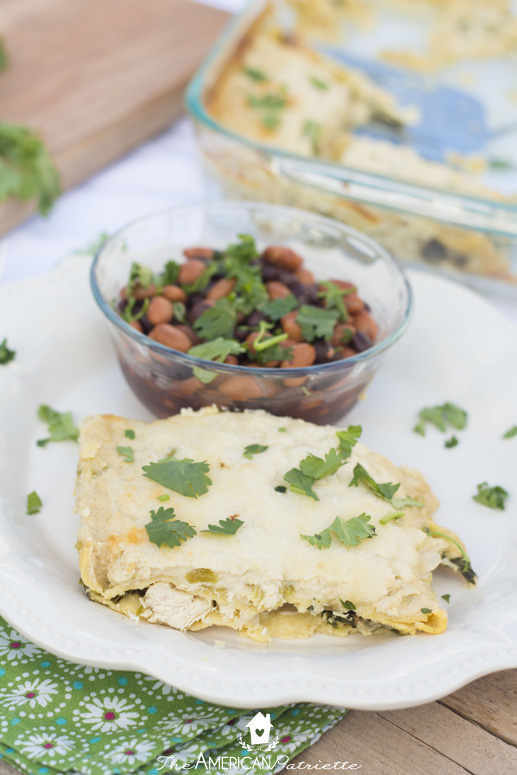 For one, I cook the chicken, onions, and jalapenos in the slow cooker instead of in a skillet. So, basically, they cook themselves. (Again, these are laaaaazy enchiladas!)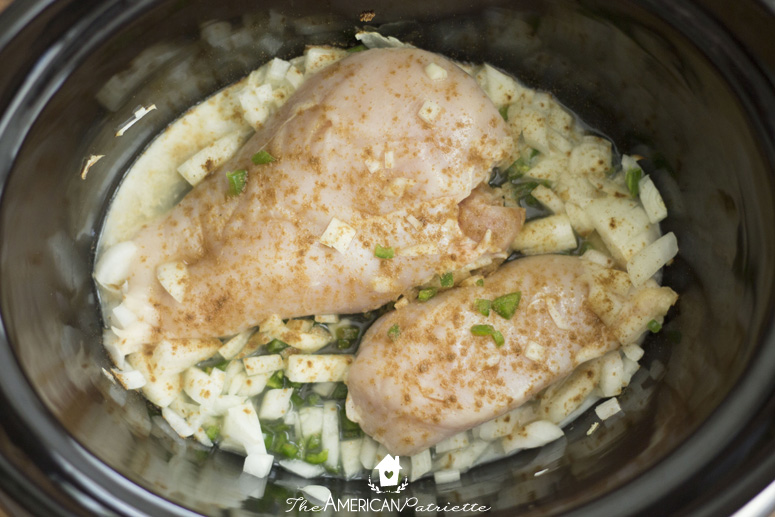 So once the chicken gets cooked & tender and the veggies are soft, you just take a minute to shred the chicken.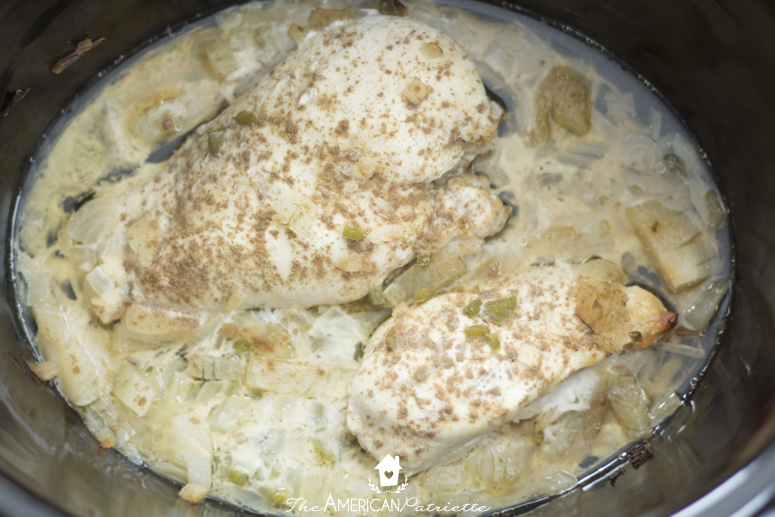 And when the chicken is cooked in the crock pot like this, it takes zero effort to shred that tender chicken! (I very frequently effortlessly cook chicken in the crock pot when I need shredded chicken for a casserole, tacos, salads, etc.)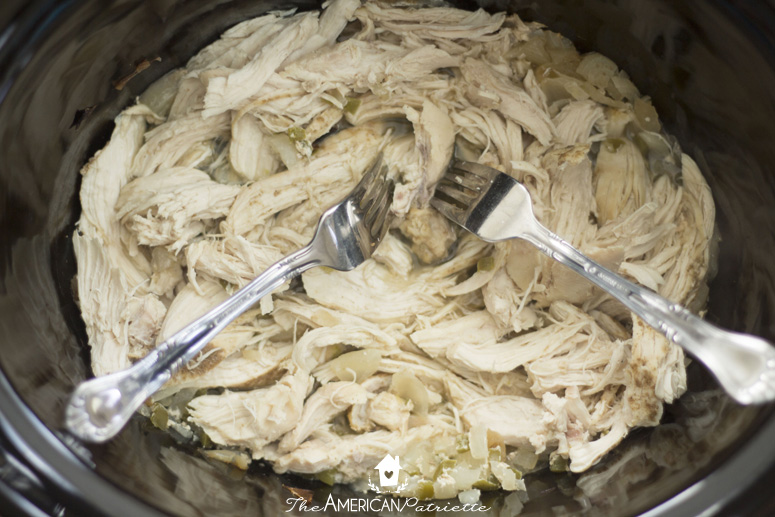 After shredding the chicken, add the spinach and a little more broth, cover the crock pot, and then let the spinach wilt on its own.
Y'all, I'm telling you. I take this title of "lazy enchiladas" seriously.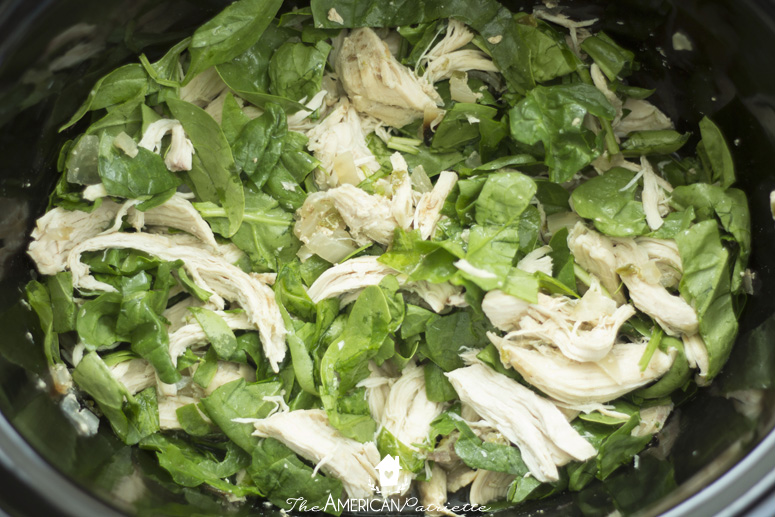 While the spinach wilts itself, you'll prepare the easy white sauce on the stove top, and then you'll throw together the casserole. Torn up tortillas on the bottom, the chicken/spinach mixture on top, sprinkle with cheese…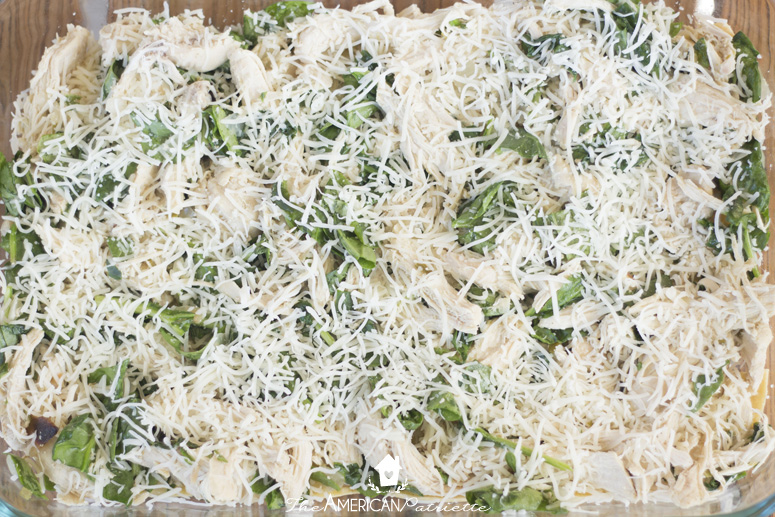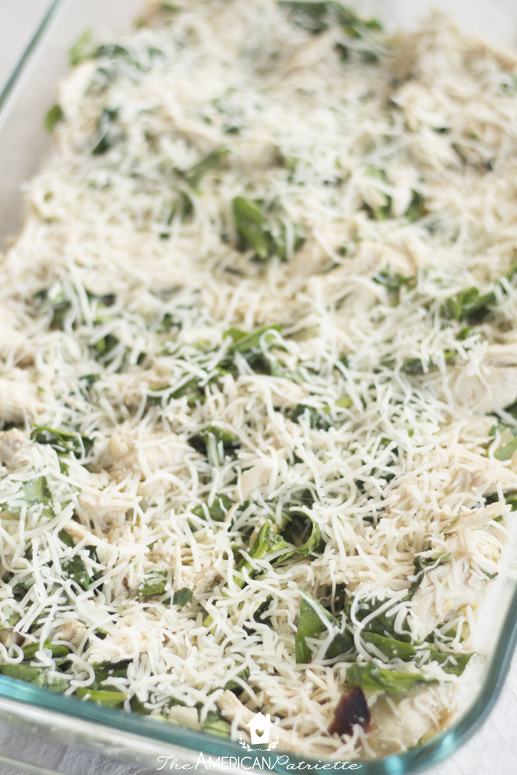 Add another layer of torn tortillas…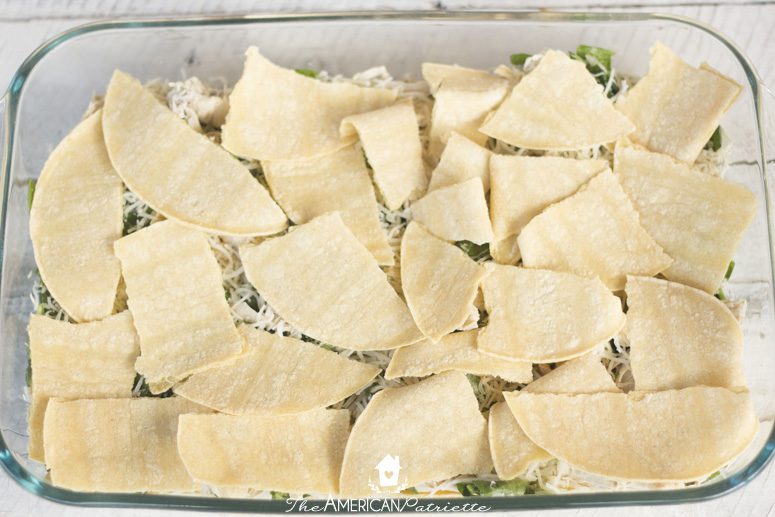 Pour on that delicious creamy chile cheese sauce & sprinkle s'more cheese on there…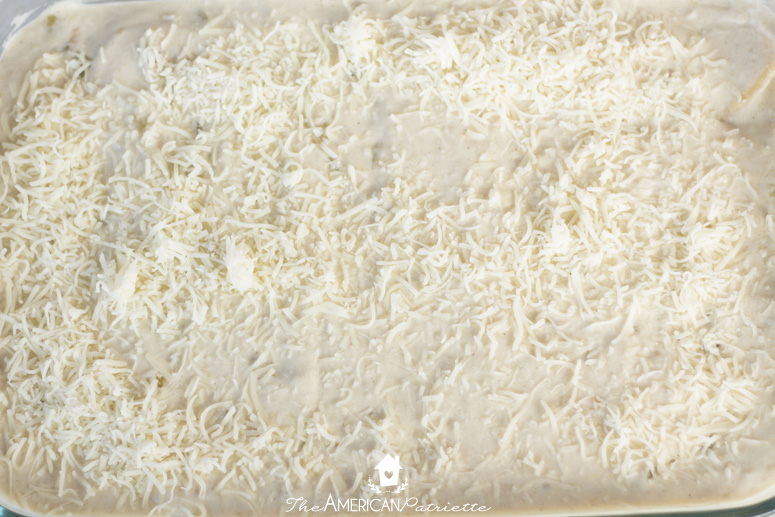 Bake it and then you're done! No stuffing, rolling, and carefully placing enchiladas in a pan. So super easy.
And the flavor is exactly the same: absolutely delicious.
Just let my dog tell you.
Gipper wantingly stares at my food subject every time I take photos. He anxiously awaits for the day that I'll forget something I need for photos, turn around to go inside to grab it, and then leave him for a few moments in solitude to sneakily enjoy that food.
Not today, Gipper, not today.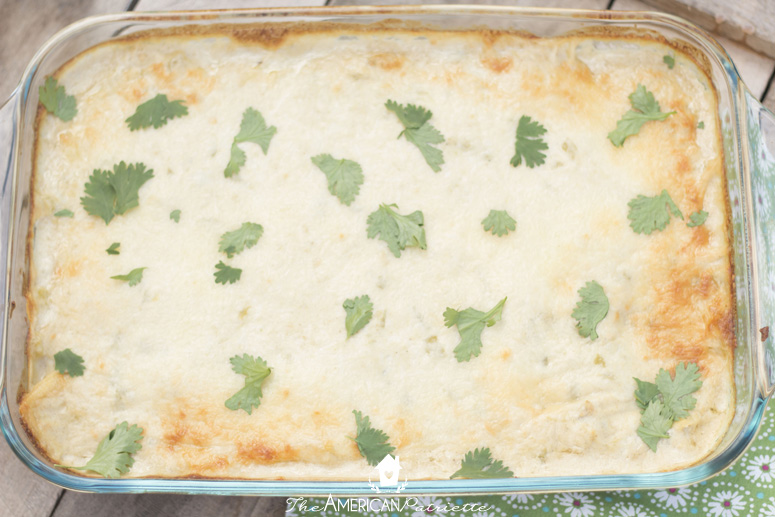 That's it, folks! So easy and delicious!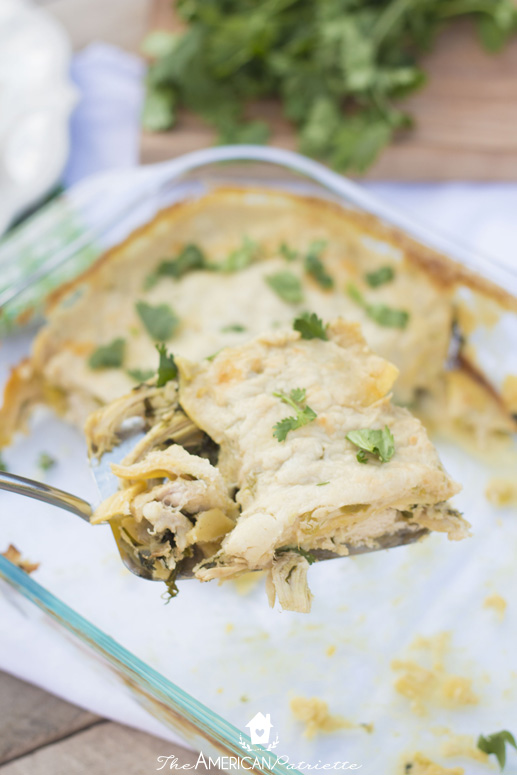 These lazy enchiladas make it super easy to get supper on the table, and because they're so good, they make it super easy to get folks around that table, and you know me and how much I love getting people together at the dinner table. I love that I can be a small fragment of changing the world, right at my very own dinner table. Who would've thought lazy enchiladas could help bring about world peace? 🙂
The recipe is below! Enjoy these with some family & friends! (They also make delicious leftovers!)
Lazy Enchiladas
Inactive Time:
6 hours
36 minutes
Total Time:
7 hours
10 minutes
Ingredients
1.5 lb raw chicken breast (about 2 chicken breasts)
Dash of salt & pepper
2.5 tsp cumin, divided
½ c diced yellow or sweet onion
1 jalapeno pepper, diced with seeds removed
2 c chicken broth, divided
3 c shredded/finely chopped fresh spinach leaves
Juice from ½ lime
3 tbsp butter
3 tbsp flour
1 c plain Greek yogurt
½ c heavy cream
7oz can of green chiles, undrained
1½ c light Monterrey jack cheese, divided
10 corn tortillas
Instructions
Place chicken in slow cooker. Add diced onion and jalapeno to slow cooker. Pour 1/4 c chicken broth over chicken and veggies, and then sprinkle with salt, pepper, and 1/2 tsp cumin. Cover and cook on high for 3 hours (or until chicken is fully cooked and easy to shred using 2 forks).
Once chicken is tender, shred apart in slow cooker using 2 forks. Add chopped spinach leaves to slow cooker, an additional 1/4 c chicken broth, lime juice, and cover. (You're allowing the spinach wilt as you prepare the white cheese sauce for the enchiladas in a saucepan.)
Preheat your oven to 350.
In a large saucepan over medium heat, melt 3 tbsp butter.
Once the butter is completely melted, add 3 tbsp flour and whisk immediately and constantly.
While continuously whisking, slowly add 1½ c chicken broth and continue whisking until all of the lumps of flour dissolve (maybe about a minute).
Add ½ c heavy cream and whisk.
Add 1 c plain Greek yogurt and whisk.
Add 2 tsp cumin and chiles (do not drain the can) and stir creamy mixture until well-blended.
Add ¾ c cheese and stir.
Remove from heat.
Lightly grease a 9x13 casserole dish.
Tear 5 tortillas into smaller pieces and evenly distribute them on the bottom of the casserole dish.
Turn off slow cooker. Spoon out all of the chicken/spinach mixture onto the torn tortilla layer and cover the dish. Sprinkle evenly with 1/2 c cheese.
Tear remaining 5 tortillas and evenly distribute them on top of the chicken layer.
Pour cream sauce on casserole.
Sprinkle the top with the remaining cheese.
Bake for 30 minutes.
Remove from oven, allow to cool for a few minutes, and enjoy!