Apple Butter Cupcakes with Pumpkin Buttercream Frosting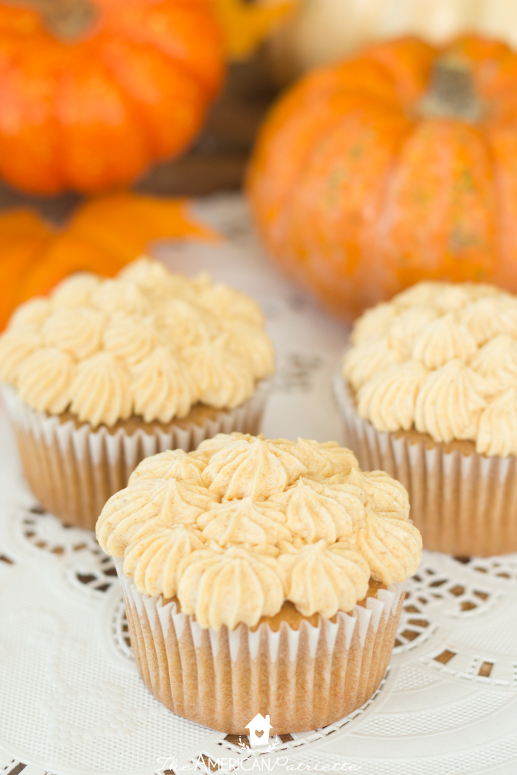 These apple butter cupcakes topped with pumpkin buttercream frosting allow all the flavors of fall to meld together in one bite! They're absolutely delicious, and totally a must-make to enjoy with family and friends this season!
I've made a couple of batches of these in the last couple of weeks, and they always leave a trail of smiles behind.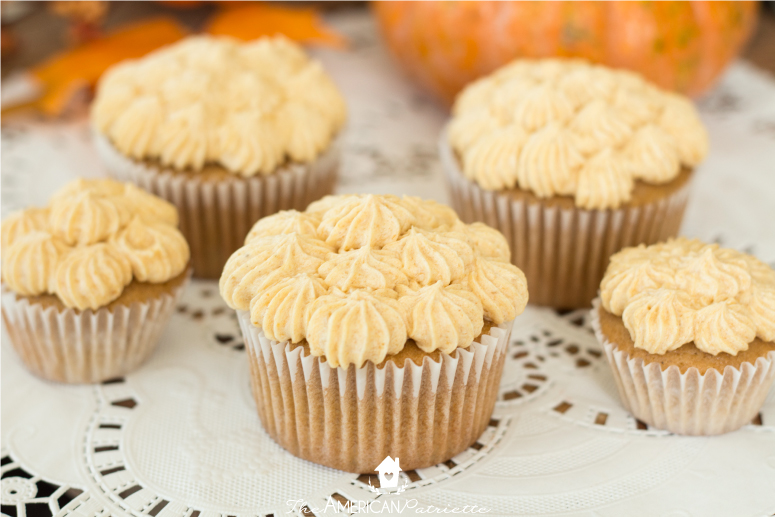 This post contains affiliate links for your convenience. You can read my full disclosure policy here. 
I've made the apple butter cake a number of times from this cookbook that I love (I'm not sure there was ever a more perfect title of a book for me to own) – my friend Reagan gave it to me for my birthday several years ago.
The recipes are wonderful, and it's just a really beautiful cookbook to display. I adapted the cake recipe ever so slightly for these cupcakes, and then instead of using the author's recipe for apple butter frosting (which is absolutely delicious, by the way), I changed it up by creating the pumpkin buttercream to top them off instead. Apple + pumpkin is just too yummy for me to resist, and the icing in this cookbook for the apple butter cake is much better for a whole cake rather than cupcakes (it's thin and runny – doesn't pipe well onto cupcakes). Anyway, I love this cookbook and this apple butter cake!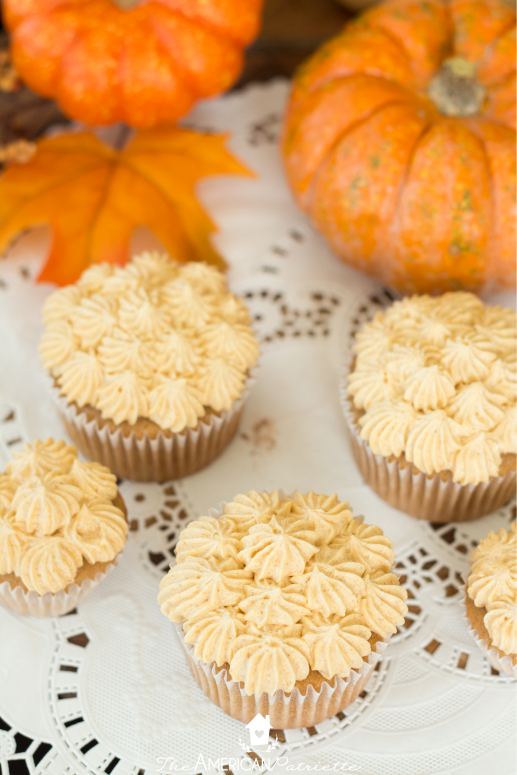 Make these cupcakes for a fun evening at home with your family, to bless a neighbor or bring to a potluck, add them to your Halloween or Thanksgiving menu, provide them for a fall baby or bridal shower you might be throwing…no matter who eats 'em, they'll offer a reminder that fall is here and it's time to slow down and enjoy some sweet moments with others.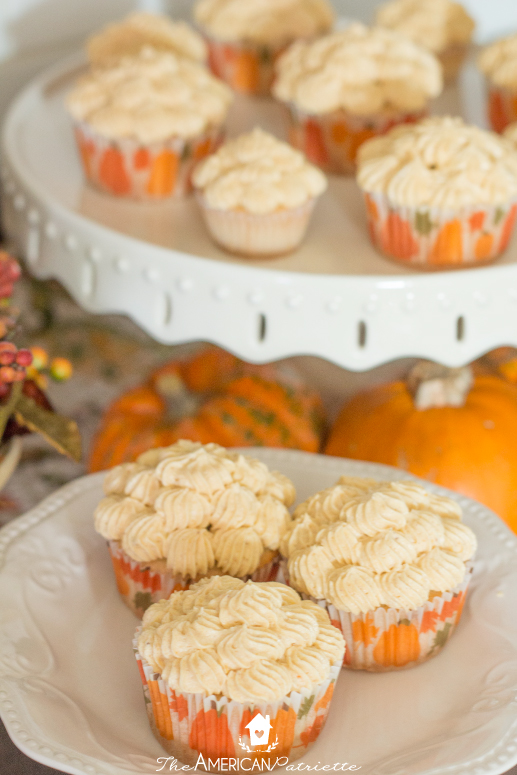 Some deliciously sweet moments.
Yum! Such a delightful way to savor the season! The recipe for the cupcakes & frosting is below, but you can adjust the baking time if you decide you want to turn this recipe into one large cake rather than a bunch of cupcakes.
If you make these cupcakes and want to add a fun embellishment to them, go check out my post on how to make candy fall leaves (SO EASY) to decorate these for a fall-themed get-together!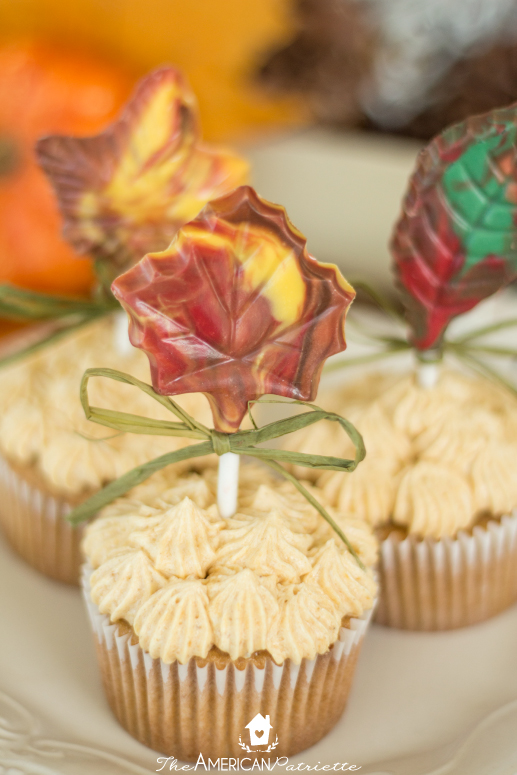 Looking for some great fall supper recipes to have before you top a meal off with these delicious cupcakes? Check out some of my faves – King Ranch Chicken, Cabbage Soup, Shepherd's Pie, Harvest Soup, Creamy Enchilada Soup, Pumpkin Chili, & Savory Spaghetti Sauce! All of these are hearty, nutritious, and flavorful – the PERFECT combination!
What are some of your favorite cooler weather recipes?!
Want to save this yummy recipe?! Be sure to pin it to your favorite Pinterest board!
Apple Butter Cupcakes with Pumpkin Buttercream Frosting
Ingredients
FOR CUPCAKES:
10 tbsp unsalted butter, softened
2 c granulated sugar
3 eggs
2 1/2 c all-purpose flour
1 1/2 tsp baking powder
3/4 tsp salt
1/4 tsp cinnamon
1/2 c milk (don't use skim, but you can use 1%, 2% or whole)
1 c apple butter (homemade or store-bought - doesn't matter!)
1 1/2 tsp vanilla extract
-----------------------------------------------
FOR PUMPKIN BUTTERCREAM:
1 stick unsalted butter, softened
1/3 c unsweetened pumpkin puree
1/2 tsp cinnamon
Dashes of: ginger, allspice, cloves, and nutmeg
2 tbsp shortening
3.5 c powdered sugar
Instructions
INSTRUCTIONS FOR CUPCAKES:
Preheat oven to 350 degrees.
With a stand or a hand mixer, cream together 10 tbsp softened butter and granulated sugar.
Begin mixing in one egg at a time.
Add flour a bit at a time, mixing between additions (I typically add in about 1/2 c at a time).
Add baking powder, salt, and cinnamon and continue to thoroughly mix. Scrape the sides of the bowl periodically to ensure everything gets blended properly.
Mix in milk, apple butter, and vanilla.
Once your batter is well-blended, pour into cupcake liners, leaving just a little bit of room (maybe about 1/4 of an inch) between the top of the batter and the top of the liner.
After you fill all the liners in the cupcake tin, place the cupcake tin on the middle rack and bake according to the size of cupcakes you're making.*
Once the cupcakes are finished baking (toothpick comes out clean from testing the center cupcake), remove them from the baking tin and set them on a cooling rack.
Repeat steps 8-10 with remaining cupcake batter.
Once they're fully cooled, you can top them off with the pumpkin buttercream frosting.
INSTRUCTIONS FOR PUMPKIN BUTTERCREAM FROSTING:
Using a stand or hand mixer, cream together 1 stick softened butter and pumpkin puree. Add in shortening and continue mixing.
Add spices and mix.
Pour in sugar - about 1/2 c at a time - and allow it to cream together with the other ingredients. Once the frosting is smooth with no lumps of sugar, it's ready to frost onto the cupcakes!
Notes
*IMPORTANT: If you're making regular-sized cupcakes (12 cupcakes per cupcake tin), bake them for 22 minutes at 350. If you're making mini-cupcakes (24 cupcakes per cupcake tin), bake them for 18 minutes at 350.

You'll likely get a little more than 24 regular-sized cupcakes or a little more than 48 mini-cupcakes with this batter. The frosting amount will be plenty whether you decide to make regular-sized cupcakes or mini ones!