This easy s'mores toffee, made with graham crackers, a buttery brown sugar mixture, melted chocolate chips, and marshmallows, is a super simple sweet treat for parties and potlucks!
Let's have a chat around the campfire about how good this s'mores toffee is.
Be prepared for a very long conversation.
It is yummy, yummy, yummy in the tummy, tummy, tummy! It's such a fun and easy sweet treat to make and so fun to eat, too!
A fun treat to make with kiddos, and a great snack or dessert to make for potlucks, camp outs, or any kind of casual gathering.
Want to learn how easy it is to make this delicious thang?!
You'll need some graham crackers, butter, brown sugar, salt, vanilla, chocolate chips, and marshmallows (exact quantities are in the recipe at the bottom of the post).
First, line foil-lined baking sheet with 16 graham crackers. You want to fit them snugly together side-by-side on the pan. You know, kind of like they like each other.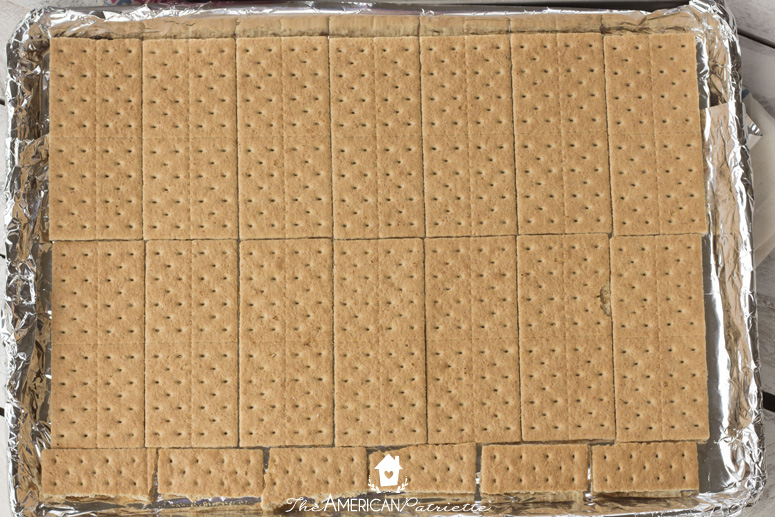 Then you're going to melt some butter and mix it together with brown sugar, salt, and vanilla to make a caramel mixture. This is what's going to make the actual toffee.
Drizzle that caramel sauce all over the crackers.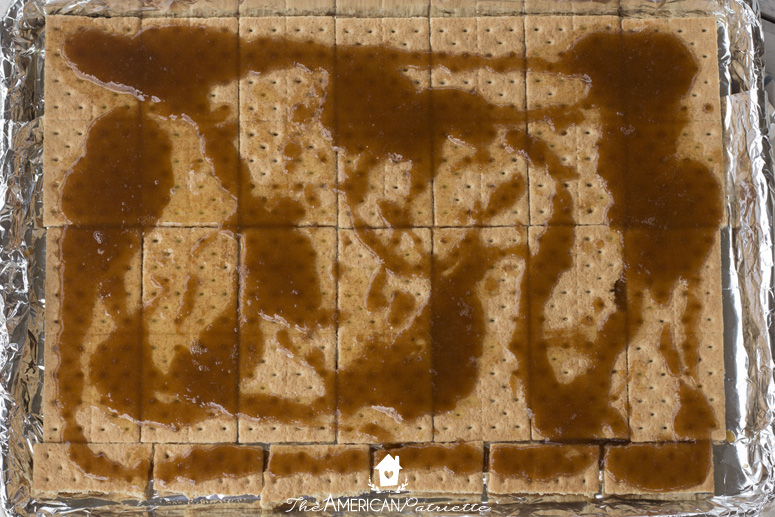 Then spread it all out as evenly as you can with a spatula.
Place the pan in a preheated oven (375 degrees) for 5 minutes.
While the pan is in the oven, place 2 graham crackers in a plastic baggie and crush with a rolling pin or a glass.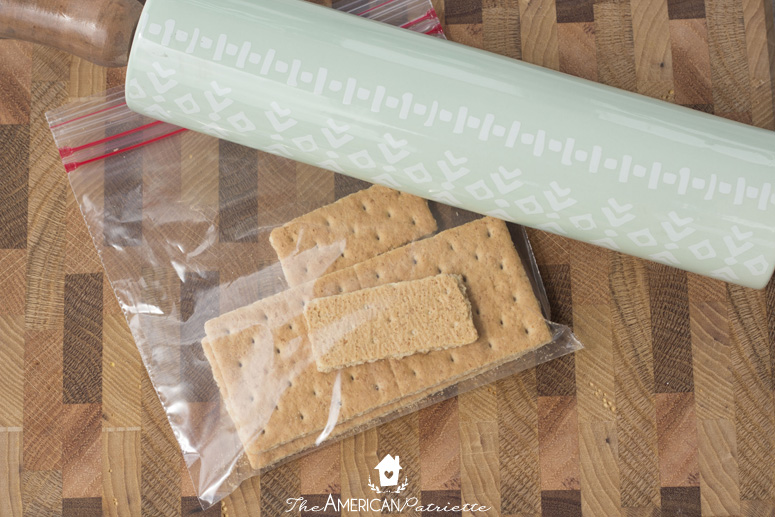 You don't need to finely crush them – it's ok to have some chunks in there. This is going to be for garnish.
This is what your toffee will look like when you pull the pan out of the oven. Mmm mmm! Your house is starting to smell so good!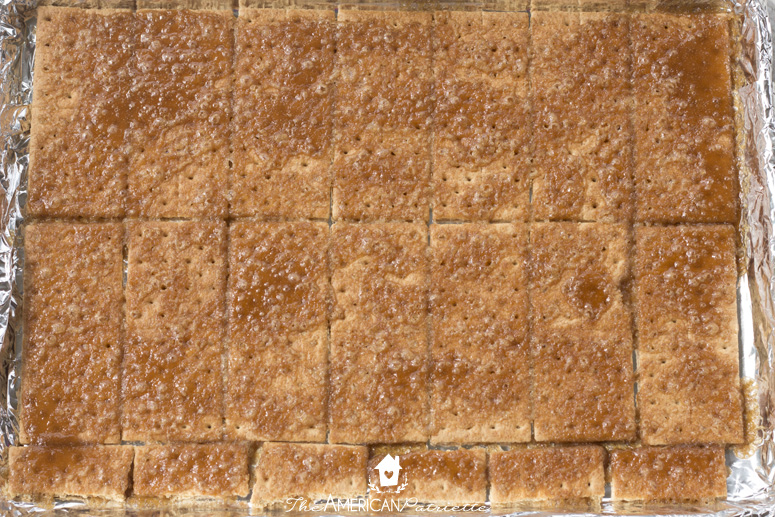 That baked on sweet buttery goodness.
Right after you pull the pan out of the oven, sprinkle chocolate chips on top.
And then toss the pan back in the oven for another minute.
Pull the pan out and spread the melted chocolate chips using a spatula.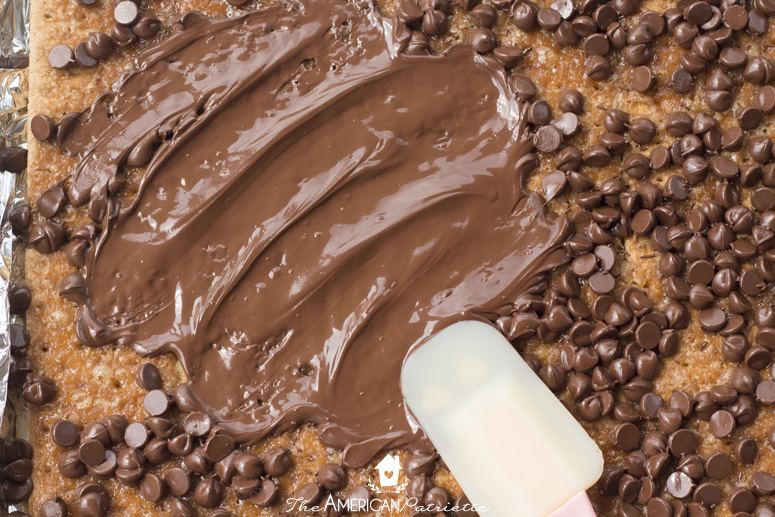 Spread them all out evenly across the crackers.
Then, sprinkle marshmallows evenly on top of the chocolate. I know you're going to want to eat this right now, but just wait a bit!
Pop the pan back into the oven for another minute to let the marshmallows get a little toasty, and then take it back out and sprinkle your graham cracker garnish on top.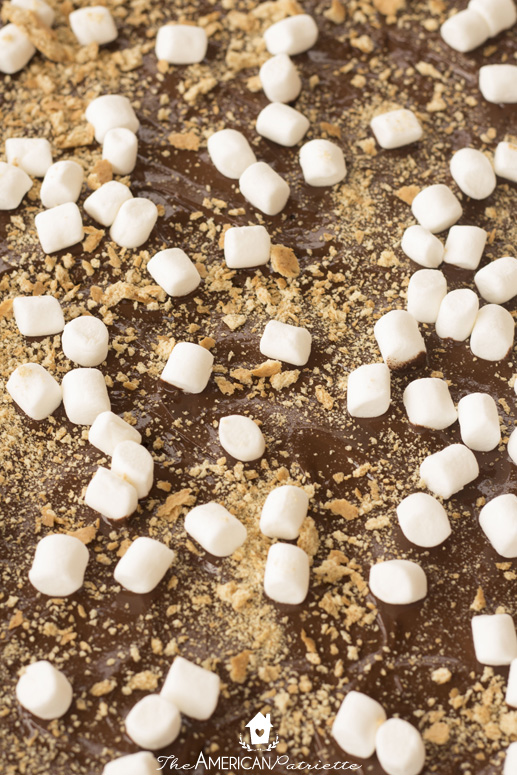 Yum! Look how tasty! Allow the baking pan to fully cool, and then place the pan in the refrigerator for another 30 minutes to an hour to let the chocolate fully set.
Take the pan out of the refrigerator and then begin breaking it apart. No science to it!
What a fun treat!
All that delicious taste for about 10 minutes of work…
Sounds like a good deal to me!
Have fun makin' these and hangin' out with folks to eat 'em!
Want to remember to make this easy peasy treat for your next get-together? Be sure to pin it to your favorite Pinterest board!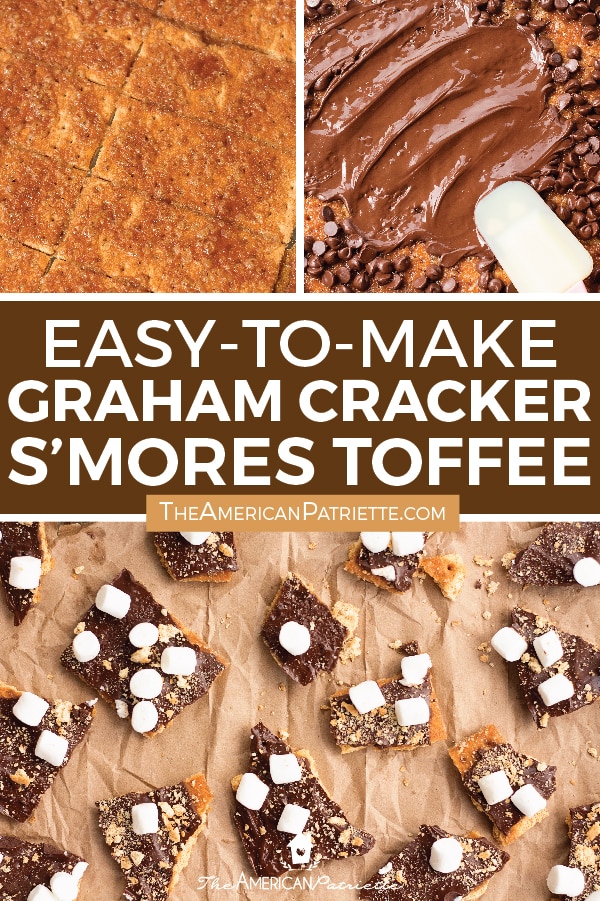 Ingredients
1

c

butter

¾

c

brown sugar

¼

tsp

salt

½

tsp

vanilla

2

sleeves graham crackers

18 graham crackers, divided

1 12

oz

package semi sweet chocolate chips
Instructions
Preheat oven to 375.

Line a large baking sheet with aluminum foil.

Arrange 16 graham crackers on baking sheet touching side-by-side.

In a small sauce pan, heat butter over medium heat. Add sugar and salt and stir for a minute or two or until sugar is dissolving. (You don't need to wait until it fully dissolves.)

Add vanilla to butter mixture and stir.

Drizzle butter mixture over graham crackers and spread evenly with a spatula across crackers. Bake for 5 minutes.

While baking pan is in the oven, place the two remaining graham crackers in a plastic baggie and use a rolling pin (or a glass) to gently crush the graham crackers. Set aside.

Remove baking pan from oven. Sprinkle chocolate chips evenly over layer of graham crackers and bake for an additional minute.

Remove baking pan from oven. Use a spatula to spread melted chocolate chips across surface of crackers. Sprinkle marshmallows evenly on top and bake for one more minute - just enough to get the marshmallows a little toasty.

Remove pan from oven and sprinkle crushed graham crackers from the baggie over the melted chocolate for garnish. Allow pan to cool to room temperature and then place in refrigerator to allow chocolate to completely set.

Break apart into pieces and serve!
Notes
*There's not really a serving allotment with this recipe since it just all depends on how much toffee folks eat! This could easily serve 10-12 people if each person is just having a small portion, but this is an addicting snack, so beware! 🙂