Moist Citrus Pudding Cake with Lime Basil Buttercream Frosting
Oh my stars. This cake – moist citrus pudding cake with lime basil buttercream frosting – is A-MAZ-ING. I absolutely love lime basil cookies and lemon pudding cake (so many of y'all told me how much you loved both of those, too), so I thought I'd experiment with doing a blend of them and y'all. Holy moly. This zesty cake is SO yummy!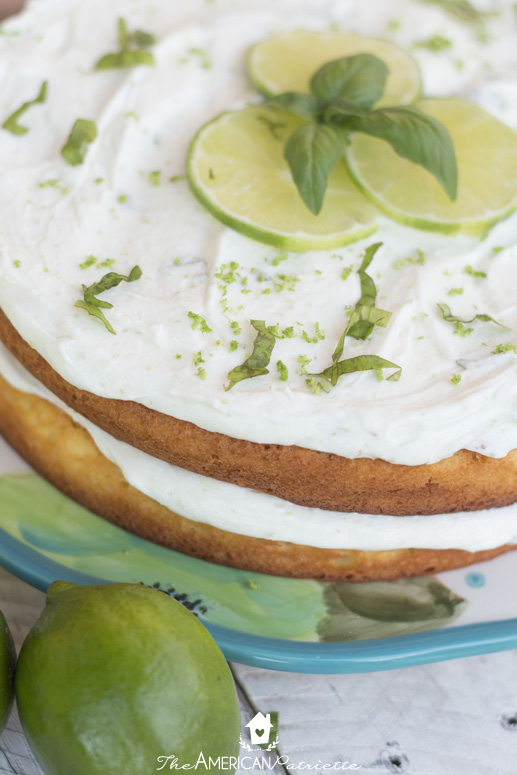 I know. Basil in a cake sounds a bit odd. But don't knock it till you try it. Just like with my lime basil cookies, I'm sure my brother-in-law will ask me if we used lawn clippings to make this cake.
Yep, Aaron mowed the lawn and this cake was a result of it. With a little effort, you, too, can be so resourceful.
We like to live by a yard-to-table food philosophy around here.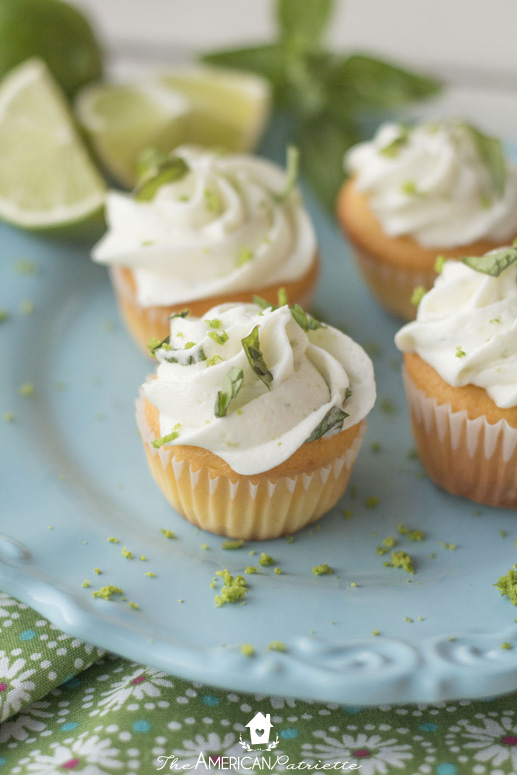 If you'd prefer, you can easily turn these into cupcakes! Look how cute & fun!
Make this cake or these cupcakes for any occasion – a gathering, potluck, party, or just a treat to enjoy to make an evening with some family or friends a little extra special. This yummy cake will get everyone chattin'!
The recipe is at the bottom of the post, but I'll show you – it's super simple to throw together! You just make the cakes, churn the buttercream, add a little flair with some zest on top, and there you have it!
Yes, fresh lawn clippings basil leaves in the frosting makes this just so delightful.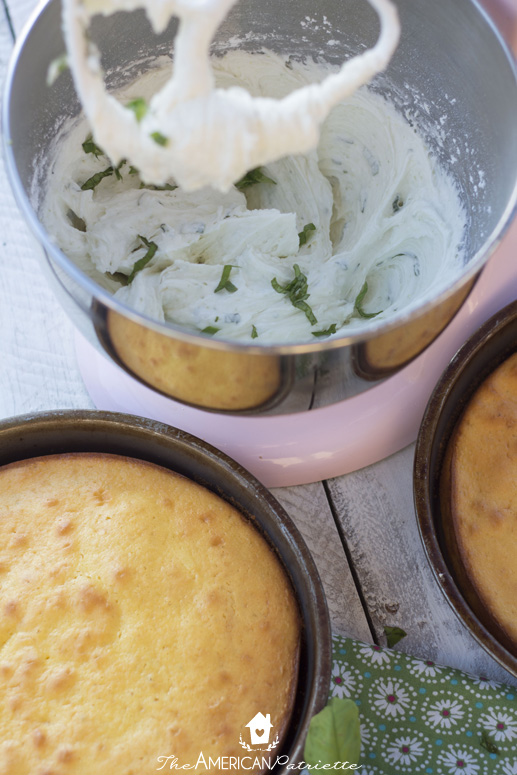 Look how spongy that cake is! It is so dense and delicious!
Goes perfectly with a rich (yet some how light?) lime basil buttercream frosting!
Frost the top of the bottom layer in such a way that some of the frosting will come oozing out the sides when you place the second layer on top.
If you think about it, "oozing" is a very polarizing word. It either sounds delicious (i.e. in the context of dessert, especially chocolate, or in the context of melted cheese) or it sounds absolutely disgusting (basically every other context of that word).
In this context, it's delicious. This cake oozes with flavor! I just can't even begin to tell you.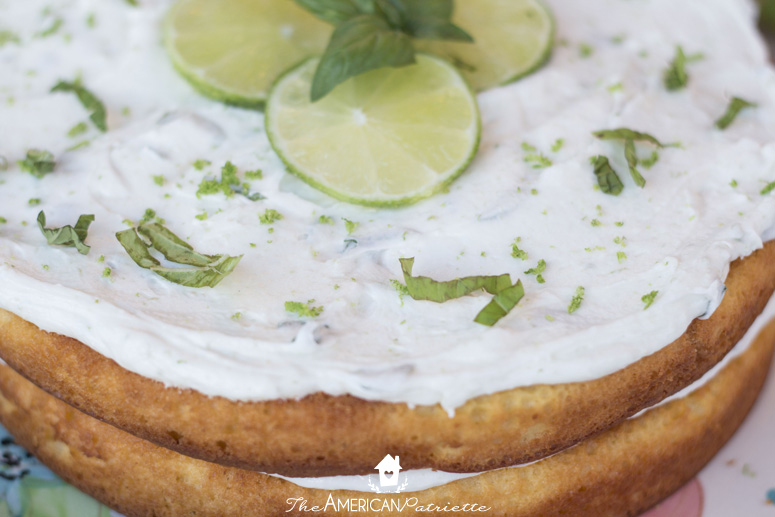 We'd be here all the live long day if I fully described how yummy this cake is.
So just save yourself some time and go make it to taste for yourself.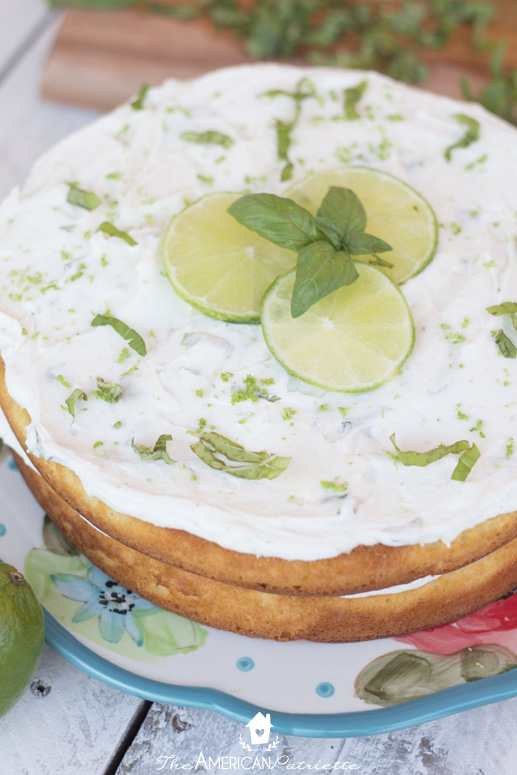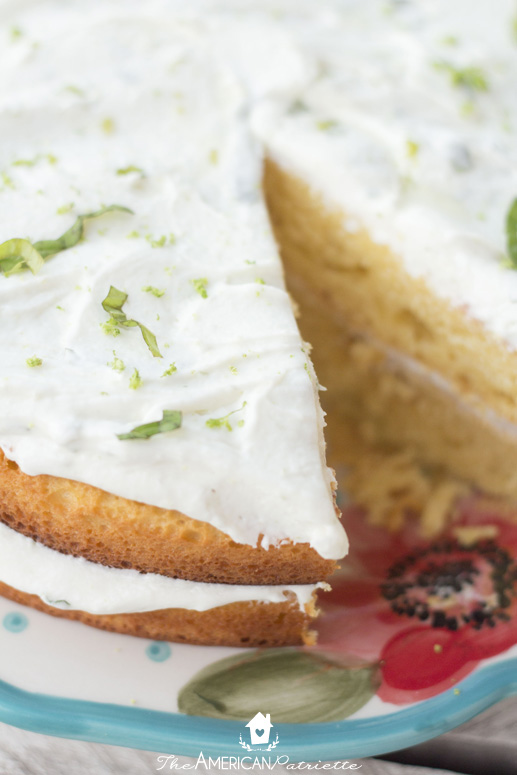 Make these into mini cupcakes for easy sharing! This cake just looks so adorable as cupcakes, too.
You can just SEE all the flavor!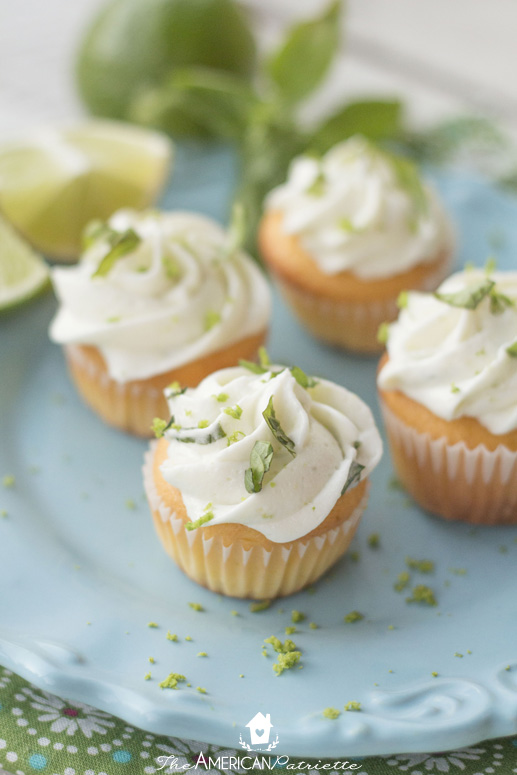 Go mow your lawn and make this moist citrus cake with lime basil buttercream frosting for your friends and family today!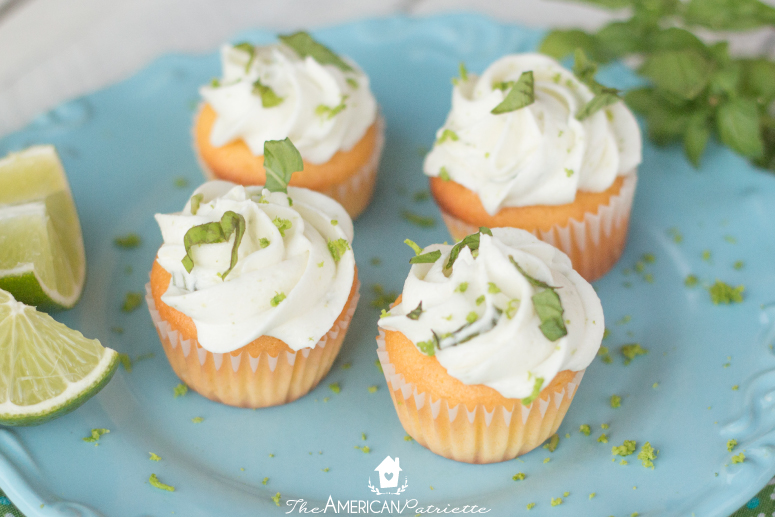 And if this isn't enough to curb your sweet tooth, try these lime basil cookies.
Or my most-very-favorite (flavorite?!) flavorful and moist lemon pudding cake.
Author:
Prep time:
Cook time:
Total time:
Ingredients
1 box yellow cake mix
5.1 oz box instant or Cook & Serve vanilla pudding
½ c vegetable oil
½ c whole milk
4 large eggs
8 oz sour cream
6 tbsp fresh-squeezed lime juice
Zest from 2 limes
________________________________________
ICING:*
1 stick unsalted butter, room temperature
3 c powdered sugar
4 tbsp lime juice
Zest from 2 limes
3 tbsp finely chopped fresh basil leaves
Instructions
Preheat oven to 350.
Lightly grease 2 round baking pans.
Using a stand or a hand mixer, blend cake mix, pudding mix, and oil together.
Pour in milk and continue to mix.
Add eggs one at a time, mixing between additions.
Add sour cream, lime juice, and zest.
Mix until everything is thoroughly blended together, but DO NOT over mix.
Pour cake batter into baking pans and place in oven for 25-30 minutes (check with a toothpick after 25 minutes to see if cakes are done or if they need a little longer in the oven).*
Remove cake from oven and set on cooling racks in the baking pans.
Remove cake from baking pans after about 10 minutes and allow to completely cool on a cooling rack.
For the icing, cream together the butter and powdered sugar. Add lime juice, zest, and basil.
Frost cake, top with lime zest and basil ribbons if desired, and enjoy!