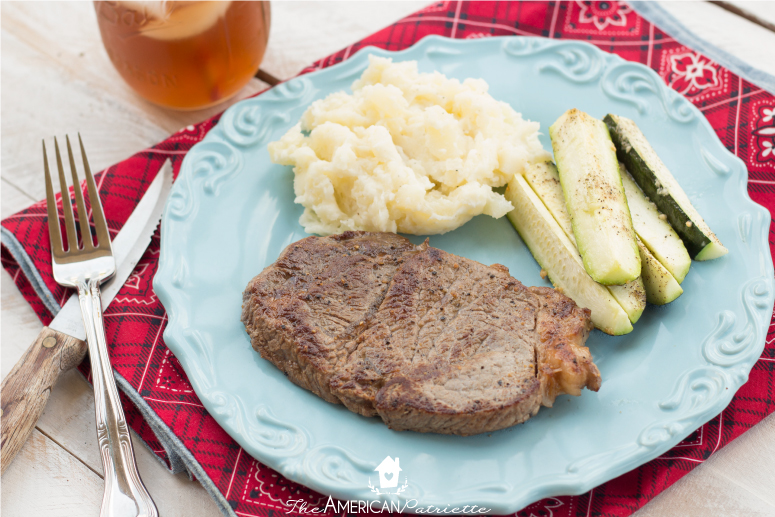 This post contains affiliate links for your convenience. You can read my full disclosure policy here. 
Father's Day is this Sunday, and boy oh boy, do I have the meal for you! Cast iron steaks are some of my husband's favorite food, and he GLADLY helped me prepare this post to share with all of you. (Because it meant he got to cook these steaks and then eat them!)
If Aaron wrote love ballads, I am certain he would have written one to our cast iron skillet by now.
You think I'm kidding.
There's just nothing quite like a cast iron skillet, especially when it comes to cooking any kind of meat. If you're still on the hunt for a good gift for Dad, here's an idea: get him a cast iron. Aaron could cook all the live long day using the cast iron, and well, who am I to argue with that? This is the one we have and it has changed our lives.
And now, if you'll please excuse me while I get a little mushy about dads, and then I'll get back to the recipe.
If you've spent more than about 3 minutes on my blog, you've probably learned pretty quickly that I have a special place in my heart for building up families. I kind of have a thing for home. We all come from one. We are all part of (or can become part of) one. We can all make a difference in one.
Every. last. one of us.
Please understand: I don't idolize families. I don't think that having strong families will change everything. But I DO believe that we can begin changing the world through our families and our homes. And no, that is not an exaggeration.
So, that being said, I want to help you champion and celebrate Dad this weekend. Dads are pretty important fellows in our families and homes. I hope and pray that you can champion and celebrate your dad, but even if that's not an option for you, I hope you can celebrate any dad who is l-i-t-e-r-a-l-l-y changing the world by working so hard to raise, love, and mentor some munchkins. Munchkins who will someday be adults and eventually marry our children, run for office, design and construct our society's buildings, perform surgery, manage people's finances, patent inventions, etc. (You get where I'm going with this.) Yes, our world will someday be run by our toddlers and teenagers.
I know, I'm having a hard time with that, too.
Anyway, Dads, we need you, and I'm so thankful that we get to celebrate YOU and the hard work you do for us this weekend!
Alright, mush fest is over. Onto the recipe!
Aaron used to love to grill steaks.  Now this is the only way he'll prepare a steak.  He still loves his grill, but if it involves steak, it HAS to happen in the cast iron.  It's part of our family mission statement.
These cast iron steaks come out looking, smelling, and tasting just like you'd get at a nice steakhouse.
We credit our dear friend Travis for sharing this recipe.  It is super simple.  Travis literally told Aaron the recipe as they carpooled to work, Aaron took mental notes, and a week later repeated the recipe from memory.  Just a few ingredients and a few simple steps!
Start with thick-cut steaks.  You want them at least one inch thick.  These are sirloin (we're on a budget!), but you could buy NY strip, t-bone, ribeye, whatever.  The thickness is key.
Before you do anything, place your cast iron skillet in the oven and heat it to 400 degrees.  Let your oven and cast iron heat up while you prepare the meat for cooking. Go ahead and turn a burner on  your stove up to high heat as well.  You'll use both the stove and oven for these steaks.
Here are four raw steaks in all their glory.
Sprinkle salt and pepper on each side of the steak to taste.  We like to grind fresh peppercorns instead of using already ground pepper.  The slightly larger peppercorn flakes seem to bring a bit more flavor than the typical shaker variety.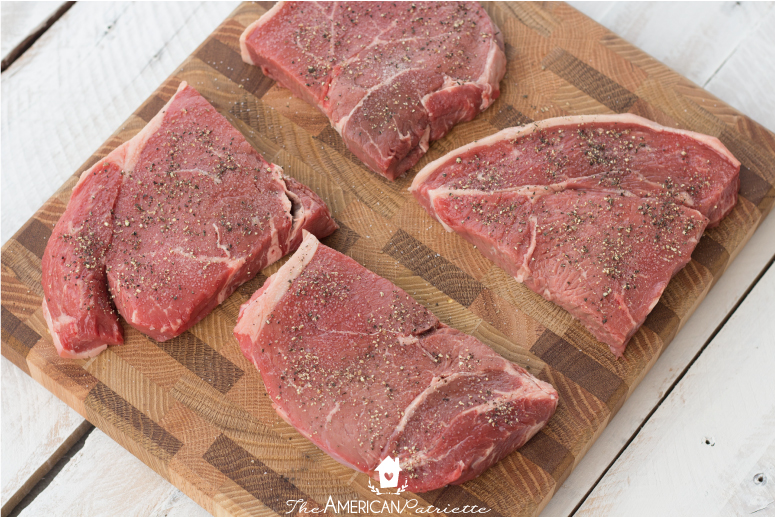 *IMPORTANT* This step is key to prevent smoking out your kitchen and having the fire department show up at your door.  You'll want to coat each side of the steaks with a cooking oil, but the type of oil you use is important.  You'll want an oil with a high smoke point.  Conventional oils like canola or olive oil have low smoke points, so they really produce a lot of smoke when your skillet is hot. We used safflower oil, but grapeseed, peanut, or sunflower oil are good options.
Pour about a quarter-sized dollop of oil onto each steak and spread the oil around with a basting brush.  Repeat with the other side of each steak.
For the record, that's Aaron's hand, not mine. Just saying.
Your steaks should then have a nice oil glaze on them.  This oil coating will help prevent the meat from sticking to the skillet and will produce a delicious, caramelized sear on your meat.
Pull your 400 degree cast iron from the oven and place on the piping hot burner.  High heat is critical to getting a good sear on your steaks.
Place your steaks in the skillet and set your timer for 1 minute and 30 seconds.
After 90 seconds have passed, flip each steak.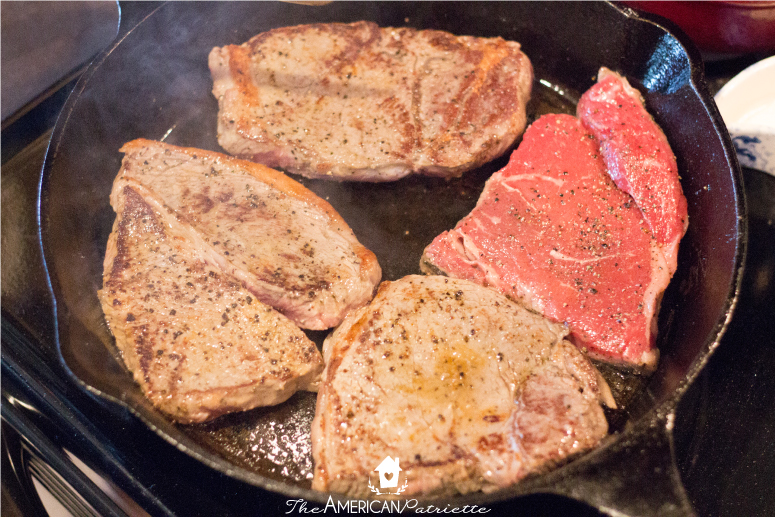 Reset your timer for another 1 minute and 30 seconds to allow the other side to sear.
After the second side has seared for 90 seconds, flip each steak one more time…
…and add a pat of butter on each steak.
If you like your steaks rare, you're done (but not well done)! I'm sorry, that was an awful pun. Stick with me.
If you want them cooked a little longer, immediately place the skillet and steaks in the 400 degree oven.  For medium steaks, cook in the oven for an additional 2 minutes.  For medium-well, cook in the oven for 3-4 minutes, and for steaks that are well done, leave in the oven for 5-7 minutes.
We left ours in the oven for 2 minutes – and voila!
From everything I've been told, this may be the most important step in cooking meats: remove the steaks from heat, tent with foil, and let the meat sit for about 5 minutes before serving.  This allows the juices to spread throughout the steak.  While cooking, all the remaining juices were confined to the very center of the steak.  By letting the meat rest before serving, the juices travel, allowing you to enjoy tender, juicy meat throughout, rather than tough, dry meat on the edges.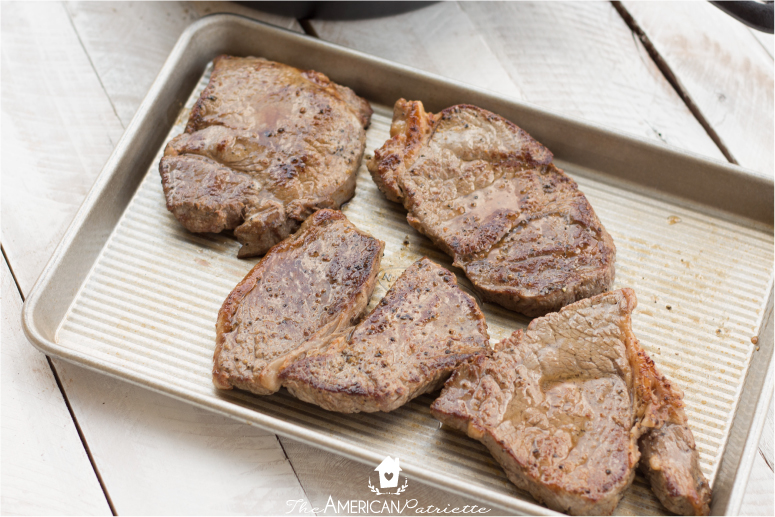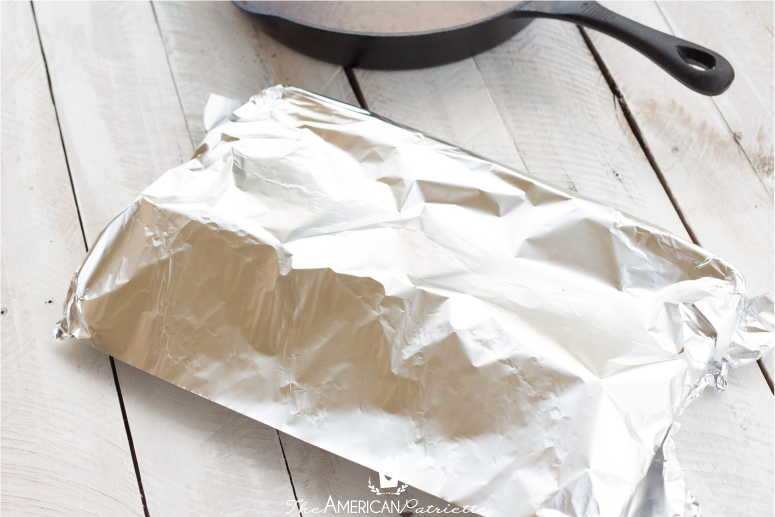 Serve! This is what Aaron would coin "perfectly pink" middles: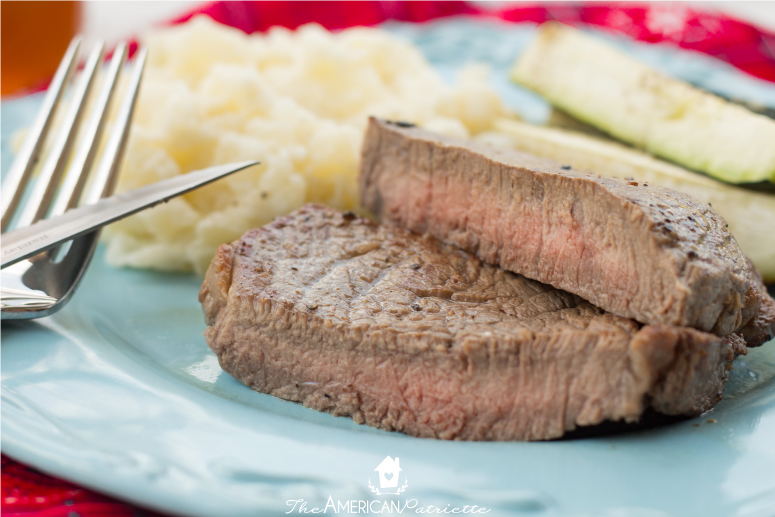 For all you non-recipe-direction-followers like myself, you have to convince yourself to stick with this method. It's proven itself time and time again at our house.
And by time and time again, I mean like 5 times. Aaron's a teacher. I'm a work-at-home mom. You do the math on the amount of steaks we probably eat in a year.
You'll make your Papa SO happy with these steaks! Looking for some sides to go along with these beauts for your Father's Day celebration? Cheesy potato casserole is, by far, one of our most favorites, and we're pretty in love with this salad, too.
And if your dad is anything like my dad, he's all about snacks. We can't do a darn thing to keep my dad out of chip bags when he comes to visit, so what do we do about it?
Make dip.
Make any of these for Father's Day, and you'll get more hugs than you can count! Salsa, guacamole, or creamy-beany-cheesy-guaca-salsa.
Oh, and don't worry, I've got your back on dessert ideas, too. Sopapilla cheesecake, apple crisp pie, and apple dumplings will top off any meal!
Seriously, I hope and pray you have a wonderful Father's Day celebrating your dad and any other dads out there who are doing some hard work raising kiddos to be the next generation!
Dad, I love you and all you've done for me (and continue to do – whew, decades later and I still keep you in business). Aaron, I love you and all you do for Elizabeth! To my uncles, grandpas, cousins, and dear friends who are dads – y'all are awesome and make this world a better place.

Cast Iron Steaks - Just In Time for Father's Day!
Steakhouse-style juicy, seared, savory steaks.
Ingredients
4 1-inch thick steaks
salt
pepper
8 tsp safflower oil*, divided
1 1/2 tbsp butter, cut evenly to make 4 pats
Instructions
Heat cast iron skillet to 400 degrees in oven
Turn burner on stove to high heat
Coat each side of your steaks with salt and pepper
Pour about 1 tsp of safflower oil on each side of steaks. Spread with basting brush
Remove cast iron skillet from 400 degree oven and place on hot burner. (Leave oven on.)
Place four steaks in cast iron skillet. Let sear for 1 minute and 30 seconds
Flip each steak and let other side sear for another 1 minute and 30 seconds
Flip each steak one more time, and place pat of butter on top of each steak
At this point, If you want your steaks rare, you are finished cooking. Otherwise, place the skillet with steaks back into the 400 degree oven for: 2 minutes for medium steaks; 3-4 minutes for medium-well steaks; or 5-7 minutes for well-done steaks.
Remove steaks from heat and place on platter
Tent with foil
Let sit for 5 minutes covered with foil before serving
Notes
* Any oil with a smoke point over 400 degrees is fine. This will help prevent smoking out your kitchen when searing the steaks. Safflower oil has among the highest smoke points of common oils and is easy to find in large grocery stores. Avoid olive or canola oil.