Homemade Spicy Refrigerator Pickles
These pickles. Oh my.
They might change your life, and they'll definitely change the life of your sandwiches. Sometimes I make a sandwich just so I can have these pickles on it.
We started making them a couple of years ago after our annual trip to Wisconsin to visit my mom's side of the family. My Uncle Dave shared this recipe with us, and we cannot beat it! These are the real dill.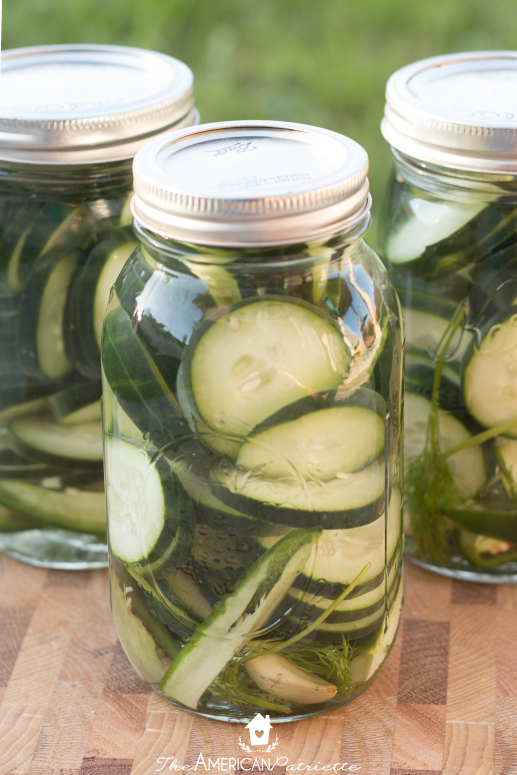 The recipe is below, but I'll just tell you – they're very easy to make! I can't even tell you how many people have eaten these pickles at our house and then requested the recipe. We use a variation of this recipe, and then add the jalapenos to give them some zing.
Once you assemble the jars full of the ingredients, be sure to leave the jars in the fridge for at least 4-5 days before eating them to allow the cucumbers to actually pickle and soak up all of the flavor.
And, just FYI, these are not jarred pickles that you can store on pantry shelves. You have to store them in the refrigerator!
I hope you love them as much as we do! We are such pickle snobs now – it is so hard to eat a regular store-bought pickle after having these!
Homemade Spicy Refrigerator Pickles
The perfect blend of tangy and spicy!
Print
Pin
Rate
Servings:
3
1qt mason jars
Ingredients
7

cups

water

2 1/2

c

distilled white vinegar

2

tbsp

salt

2

tbsp

sugar

3

jalapenos

9

sprigs of dill

6

cloves

of garlic

3

large cucumbers

you do not need the pickling kind
Instructions
Pour water, vinegar, salt, and sugar in large pot on stove top.

Give the liquid a few stirs and then bring to a boil over medium heat.

Once the liquid boils, stir it until the salt and sugar dissolve (this should not take but a few seconds!). Remove from heat and set aside.

Remove the stem from each jalapeno. Slice each jalapeno longways into fourths. Don't remove the seeds! Place each jalapeno (four slices) into each mason jar.

Peel each clove of garlic. Place two cloves (whole) into each mason jar.

Place 3 sprigs of dill into each mason jar.

Slice cucumbers (you can see from the pictures that I do not slice mine very thin) and distribute evenly into each mason jar.

Wait until vinegar and water mixture is at room temperature to pour into the jars. Fill the jars to the very top with the liquid and twist on the lid.

Place in refrigerator for *at least* 4-5 days before consuming! They need time to pickle and to soak up all that flavor in the fridge! They'll still be slightly crunchy, but they'll have a ton of flavor!