These Christmas tree-shaped chocolate chip pistachio cookies are a fun and festive holiday treat! Perfect for homemade Santa cookies or to bring to Christmas parties!
These adorable chocolate chip pistachio Christmas tree cookies are perfect for the holidays and perfect for Santa! 🙂
They're easy to make and so fun to share! (And they're kinda fun to eat, too…)
The recipe is at the bottom of this page, but I'll walk you through the process step-by-step of how I make them. I wish you could come hang out in my kitchen with me! We could have so much fun baking together! And you could have so much fun washing all my dishes! 😉
Dishes after baking are the worst. Especially in my kitchen. I have a special gift of being able to use and dirty up every single dish I possibly can for each recipe I make.
This post contains affiliate links for your convenience. You can read my full disclosure policy here.
Ok, let's go dirty up our first dish! After you make the chocolate chip pistachio cookie dough, you'll spread it all out on a non-stick baking sheet. Make sure you use a baking sheet that has a rim since the dough will expand as it bakes. (By the way, in case you're wondering, I use these baking sheets for ALL of my cookies. I've been using them for years and you'd never know it by looking at them – they stay SO CLEAN. I am OBSESSED with them. They're especially great for when I make cut-out cookies like these because the cookies just lift right off the pan. I LOVE THEM.)
Spread the dough out as evenly as possible, and then sprinkle some powdered sugar on top.
Use the bottom of the measuring cup you used to sprinkle the powdered sugar and lightly press in the sugar to the dough.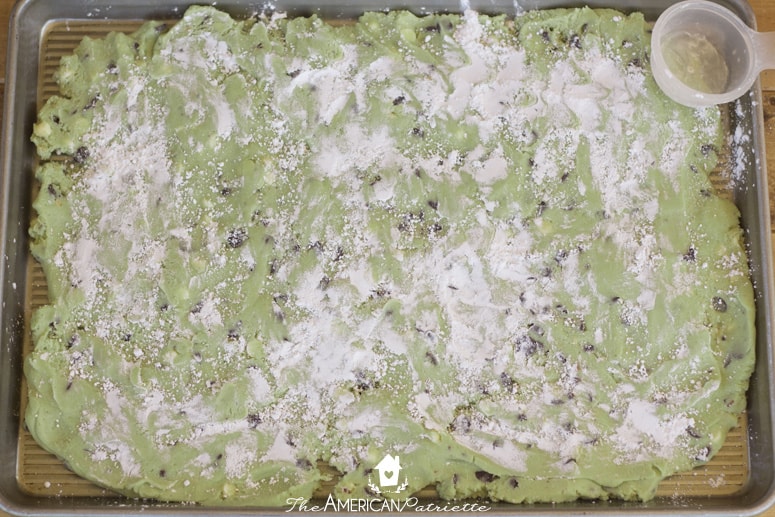 Next, sprinkle mini M&Ms onto the dough. (I bet Christmas-colored M&Ms would be super cute for this!)
And then use the measuring cup to lightly press in the M&Ms into the dough.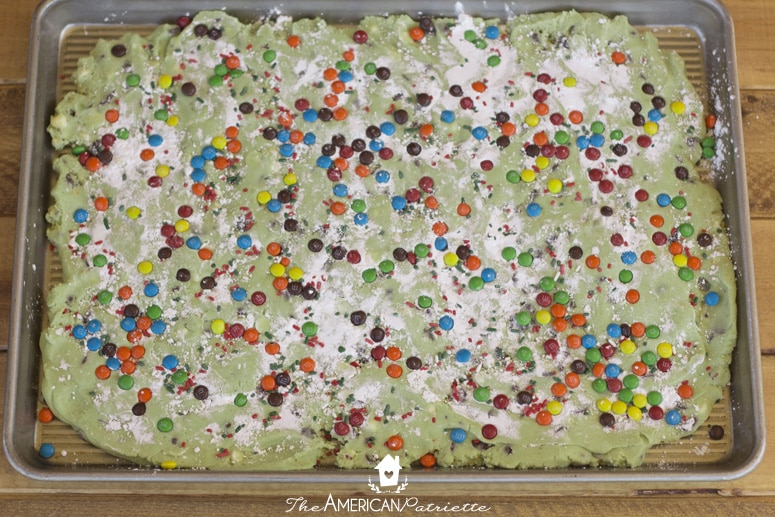 Next, bake the cookie dough for 10-12 minutes at 350. You want the edges and the top of the dough to have a kiss of gold. See?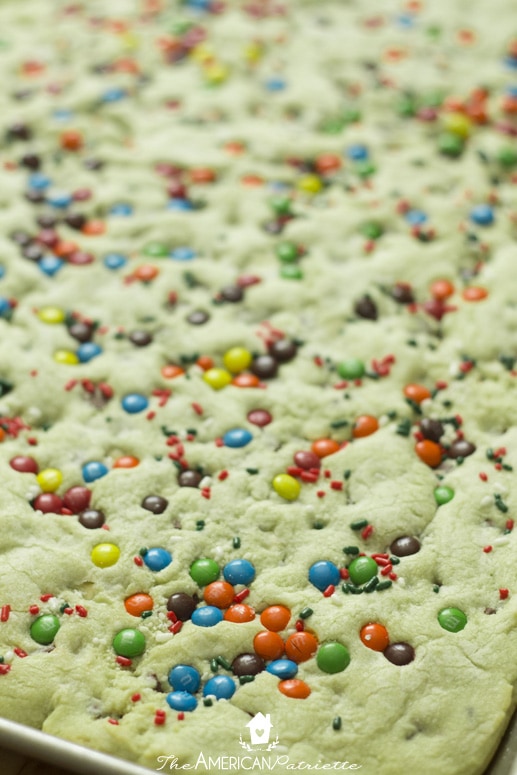 Allow the pan to cool for about 5-10 minutes, and then get out your Christmas tree cookie cutter and begin cutting out the trees.
I make shaped cookies like this all the time, and I don't usually ever have an issue getting the perfect shape from the cutter straight from the pan to the cooling rack. (Probably because my non-stick pans are just so awesome! Y'all, I'm telling you. They're a lifesaver when it comes to baking cookies!)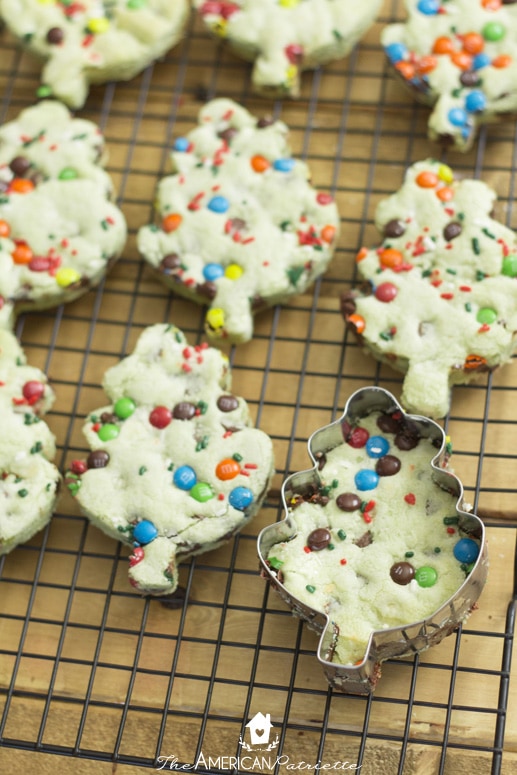 Once you cut out all of the cookies and place them on the cooling rack, allow them to cool down to room temperature. This shouldn't take too long.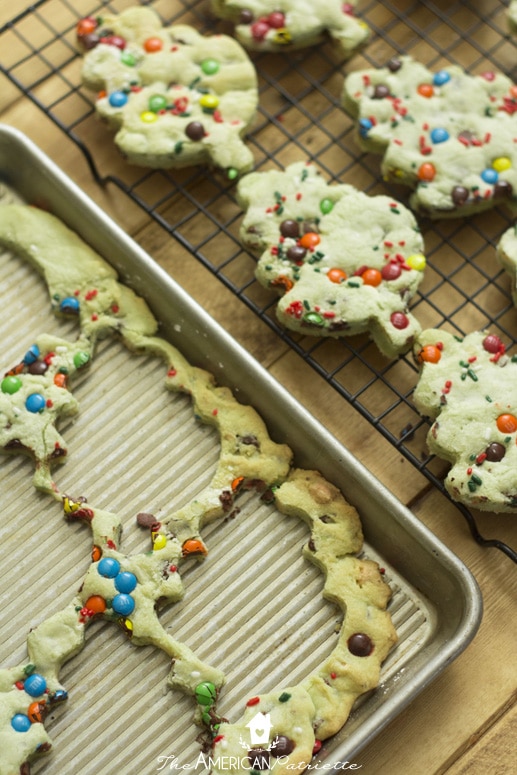 While you're waiting for them to cool, you can snack on the in-betweens. In-betweens are pretty much our favorite part of making shaped cookies. My husband and I (and all of our friends who are familiar with "in-betweens") love them. Remember, since they're not actually a cookie, they don't have any calories…
Ok, once the cookies are cool, melt some chocolate chips (about 1/3 of a cup) in a microwave-safe bowl. To do this, you'll pour the chocolate chips into the bowl, microwave it for about 45 seconds, stir, microwave it again for another 45 seconds, stir again, and then your chips should be fully melted. If not, give 'em one more round in the microwave. But, it is CRUCIAL that you don't microwave longer than about 45 seconds AND that you stir them in between. You'll end up with clumpy chocolate chips if you don't do that.
Then start dipping your little tree stumps into the melted chocolate chips and set the cookies on a pan with wax paper.
After you've filled up a cookie sheet with the tree stumps dipped in chocolate, place the cookie sheet in the fridge for about 5-10 minutes to allow the chocolate to harden and set. Doesn't take long!
Now let's make the stars! You might be able to find star sprinkles for this, but the ones I found weren't big enough. They looked a little goofy on the cookie, so I decided to go this route. It takes a little more time – about 10 minutes – but it's very easy. You'll get some yellow candy melts (you can find these at Walmart, Michaels, and Hobby Lobby), a star candy mold (you should be able to find this at Hobby Lobby), and another microwave-safe bowl.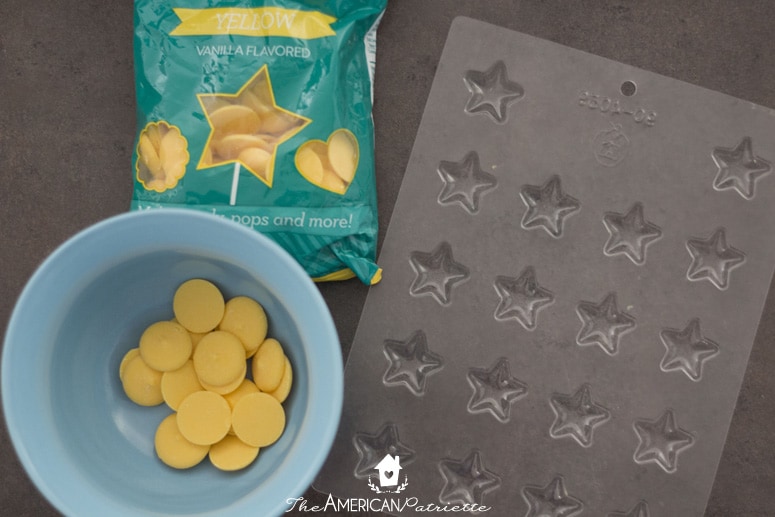 You'll melt the candy melts the same way you did the chocolate chips – 45 seconds in the microwave, stir, 45 more seconds in the microwave, stir, and then one more round if they're not fully melted. Once they're melted, scoop up some of the melted candy and begin filling your star candy mold. Once you fill it up with however many stars you want to make (make some extras in case some of the stars break as you're placing them on the trees), place the tray in the freezer for about 5-10 minutes or until the stars fully harden. Again, this doesn't take long. They'll pop right out of the tray once they're hard.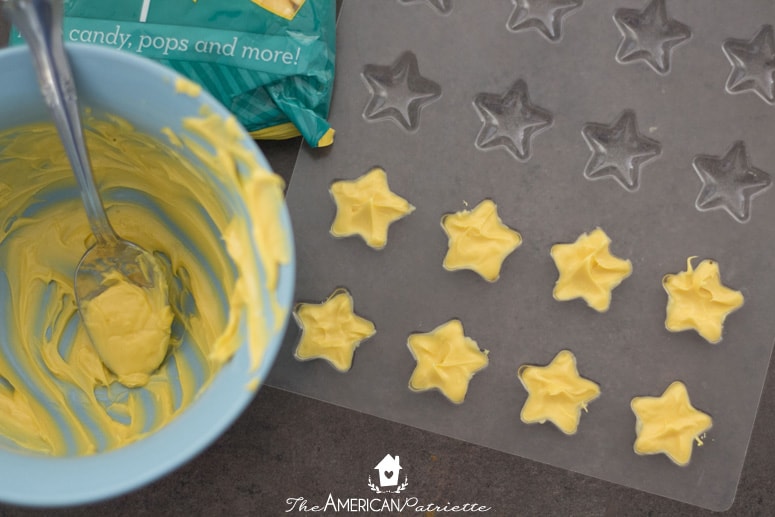 Once you've made your stars, you can start placing them on your trees!
Spoon out a tiny dollop of the yellow melted candy on the top of each tree.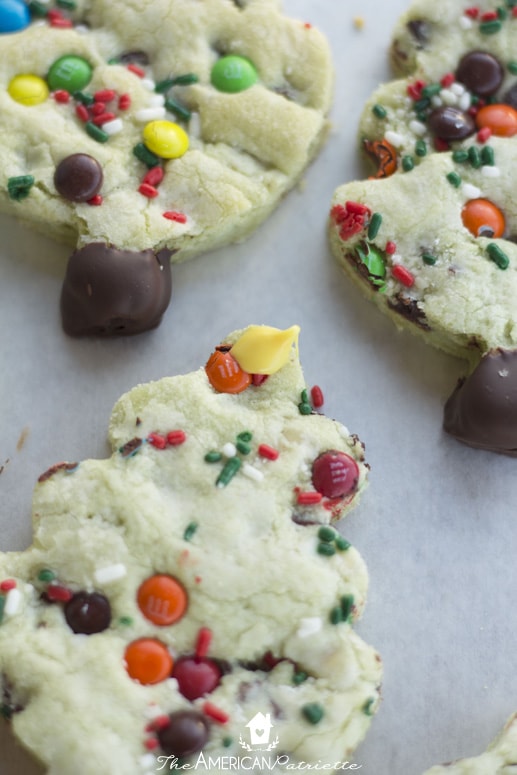 You can do a few at a time, but I would say just do up to 5 at a time – you don't want the candy to harden on the tree before you get a chance to stick on the star.
Then gently place the star on the melted yellow candy dot. Look how cute!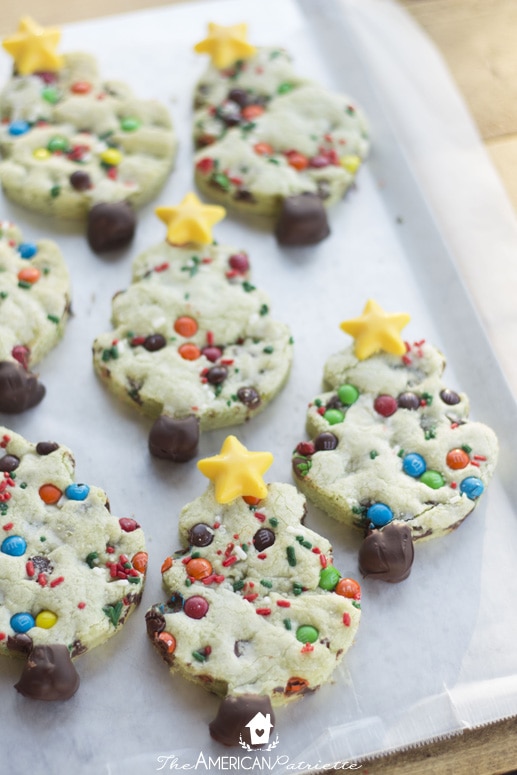 Once you finish up placing all of the stars, you're finished! Your cookies are ready for a cute plate or tray, and they're really ready for some mouths to eat them!
Though it takes a few steps to make them, these Christmas tree cookies are really so easy to make and they're just so darn festive!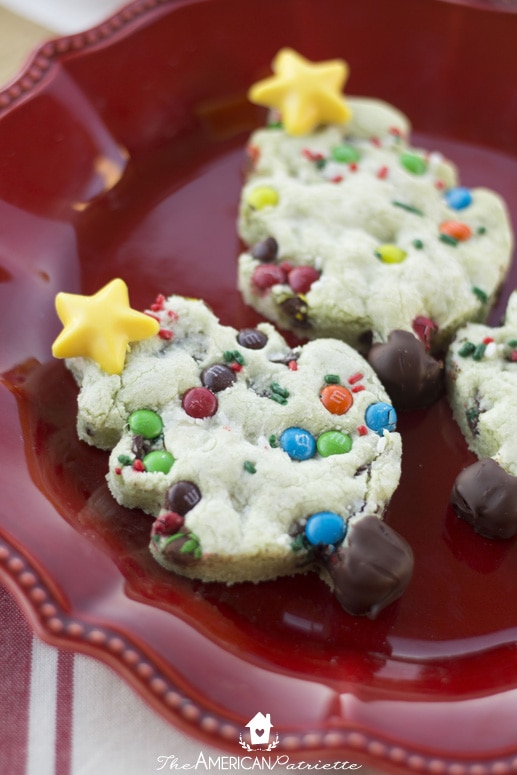 Have fun making these for Christmas gatherings (and maybe for Santa!). I guarantee you you'll gather up some smiles wherever you bring these. 🙂
Here's the recipe. I've been making these for years because Aaron loves pistachio so much! I originally used this recipe and then modified it a bit over the years. These have become some of Aaron's favorites. 🙂
Love this recipe idea and want to remember it later? Be sure to save it to your favorite Pinterest board!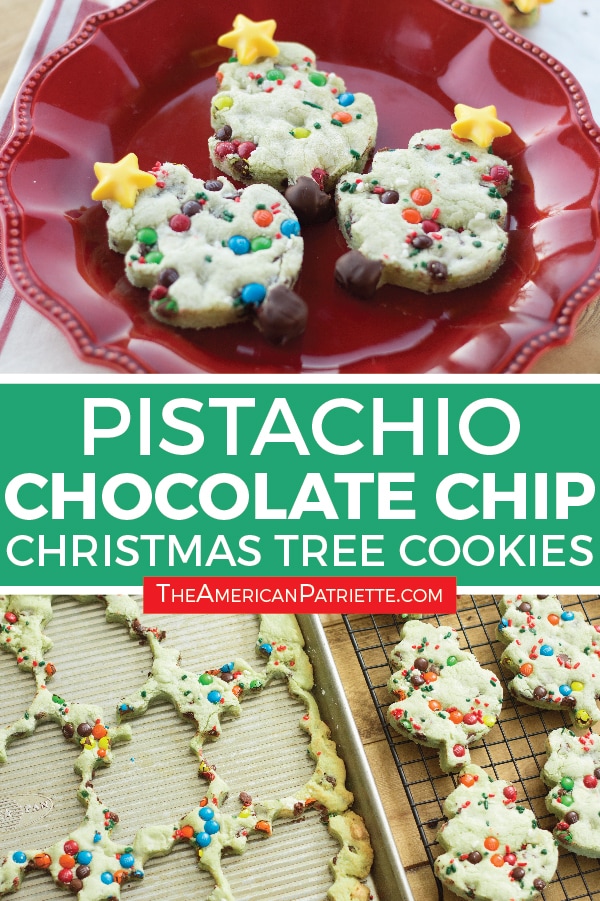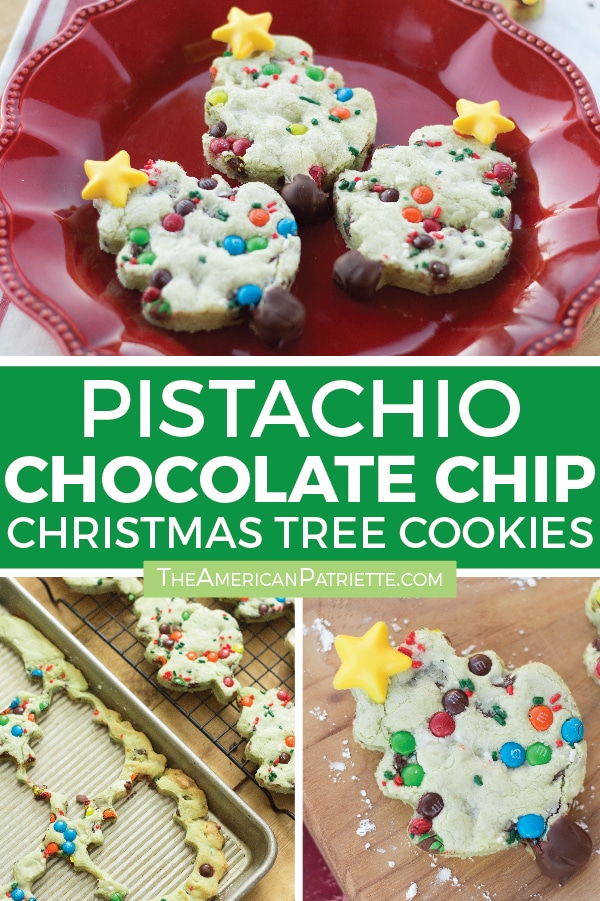 Chocolate Chip Pistachio Christmas Tree Cookies (Perfect for Santa!)
Yield: About 12-14 cookies

Prep Time: 45 minutes

Cook Time: 10 minutes

Total Time: 55 minutes
Ingredients
1 c unsalted butter, softened
1 c granulated sugar
1 3.4 oz box pistachio pudding mix
2 eggs
1 tsp vanilla extract
3 1/4 c flour
2 tsp baking powder
1 tsp salt
2 tbsp milk
2 c semisweet or milk chocolate chips
1/4 c powdered sugar
1 c mini M&Ms*
-------------------------------------
For the stars and the tree trunks:
1/3 c semisweet or milk chocolate chips
1/3 c yellow candy melts
The amount of cookies this recipe produces depends on the size of the Christmas tree cookie cutter you use. I typically get about 12-14 cookies using mine.
Instructions
Preheat the oven to 350.
Using a stand or a hand mixer, cream together butter, granulated sugar, and pudding mix.
Add eggs one at a time, beating between additions.
Mix in vanilla.
Mix in flour a bit at a time, and then add in the baking powder, salt, and milk. Blend together until dough is fully mixed.
Add a few drops of green food coloring (if desired) to the dough if you want to make it a more vibrant shade of green.
Fold in 2 c chocolate chips into the dough.
Scoop dough onto large non-stick cookie sheet (make sure the cookie sheet you're using has a bit of a rim) and try to spread the dough evenly across the pan using your hands or a spatula. Don't worry about getting the dough all the way to the edge of the pan - it will expand as it bakes.
Sprinkle powdered sugar evenly across the dough. Use the measuring cup to pat it into the dough.
Sprinkle the M&Ms on top of the dough, and again, use the measuring cup to gently press the M&Ms into the dough.
Bake in preheated oven for 10-12 minutes or until the dough is slightly golden on the edges and a little bit on top. (You don't want to over-bake the dough, but you also don't want it too under-cooked because you'll have difficulties cutting out the cookies into the tree shapes)
Remove the pan from the oven and allow to cool for about 5-10 minutes before cutting out the tree shapes.
Once the pan has cooled for a few minutes, use your Christmas tree-shaped cookie cutter and begin cutting the tree shapes out of the dough and placing the cookies onto a cooling rack. Try to cut the shapes as close together as possible in order to get the most out of the baked cookie dough.
Once you've cut out as many tree shapes as you can, allow them to cool down to room temperature on the cooling rack.
After the cookies are cool, microwave the remaining chocolate chips (1/3 c) in a microwave safe bowl for 45 seconds. Stir, and heat again for another 45 seconds. If chips aren't fully melted, do this process one more time. Make SURE to stir between microwave sessions.
Gently begin to dip the tree trunk portion of each cooking into the melted chocolate chips and place on a baking sheet lined with wax paper.
After you've dipped each tree trunk in the melted chocolate, place the baking sheet with the cookies in the refrigerator for 5-10 minutes to allow the chocolate to harden and set.
In the meantime, melt the yellow candy melts the same way you melted the chocolate chips - 45 seconds in the microwave, stir, 45 more seconds, stir, and if necessary, 45 more seconds in the microwave.
Scoop out melted yellow candy into star candy molds to create the stars. Once you've filled all of the star candy molds you're wanting to make, place the candy mold in the freezer for 5-10 minutes to allow the candy to harden. Once it hardens, the candy stars should pop right out of the mold.
Use the leftover melted candy from the bowl and place a small dot (a little larger than pea-size) onto the top of the tree, and then place a candy star on top. Do this for each cookie tree.
You're finished! Now place all of the cookies on a festive platter or plate and serve!
Notes
*You can use regular mini M&Ms, but the Christmas-colored ones would be fun, too! Either way, they'll look like ornaments on the cookie tree. 🙂