Easy Pumpkin Spice Praline Saltine Cracker Toffee
This easy pumpkin spice praline saltine cracker toffee is soooo simple to make and is absolutely delicious! A perfect sweet treat for fall!
Are you ready for a super fun fall-themed sweet treat?! Wahoo! This pumpkin spice praline saltine cracker toffee is SO good, and it's so fun to make! I remember when my mom and I first learned about saltine cracker toffee several years ago – it blew our minds! Toffee…with crackers? Weird. Yet so delicious.
The lover of variety and seasons that I am, I love to experiment with different variations of the same kind of recipe in the kitchen, especially if I can make something that corresponds to a particular time of year. (I set out to make similar s'mores toffee for summertime a while back – after a couple of kitchen experiments, I came up with this variation – so fun to share!)
Several months ago, I decided I was going to experiment with a pumpkin spice version of this saltine toffee, and friends. Here it is. In all its glory. I'm so excited to share it with you – it's such a fun recipe, and it's so perfect for sharing with others!
This post contains affiliate links for your convenience. You can read my full disclosure policy here.
Wanna learn how to make it?! The full recipe is at the bottom of this page, but I'll visually walk you through the main steps here.
How to make Easy Pumpkin Spice Praline Saltine Cracker Toffee
First, if you're not using one of these USA Bakeware Pans (y'all, I just cannot shout praises for these pans loud enough…THEY ARE AMAZING and the only baking sheets I use!), line a rimmed cookie sheet with foil, and then spread out the saltines evenly across the pan.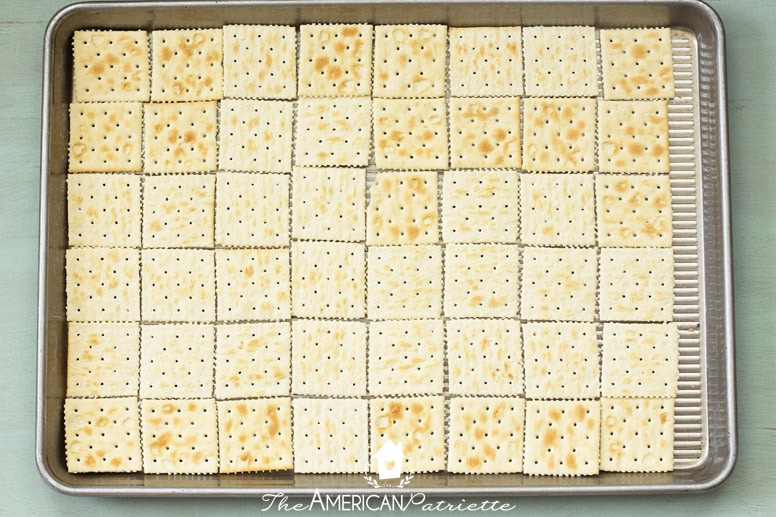 You'll melt butter, brown sugar, and pumpkin pie spice in a saucepan on the stove top until it forms a bubbly caramel mixture, and then you'll pour that caramel mixture all over the saltines.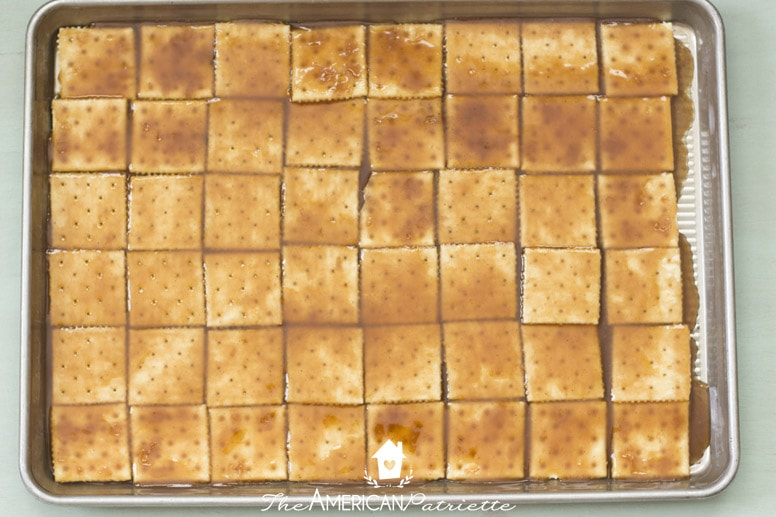 Yuuuum! This is going to be so good!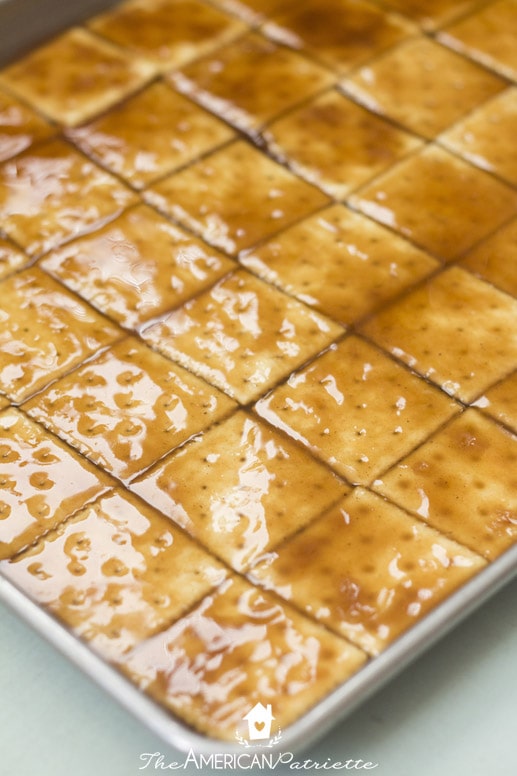 You only bake the saltines for 5 minutes in a 400 degree oven. The caramel will melt right on into the crackers.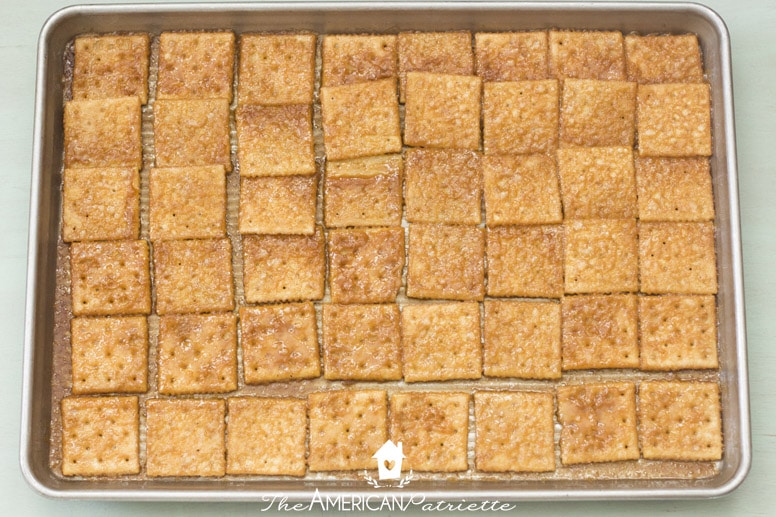 Then you pour white chocolate chips all over the top and let them melt. If you're impatient like I am, you can place the pan back in the oven for one minute to melt the chips faster.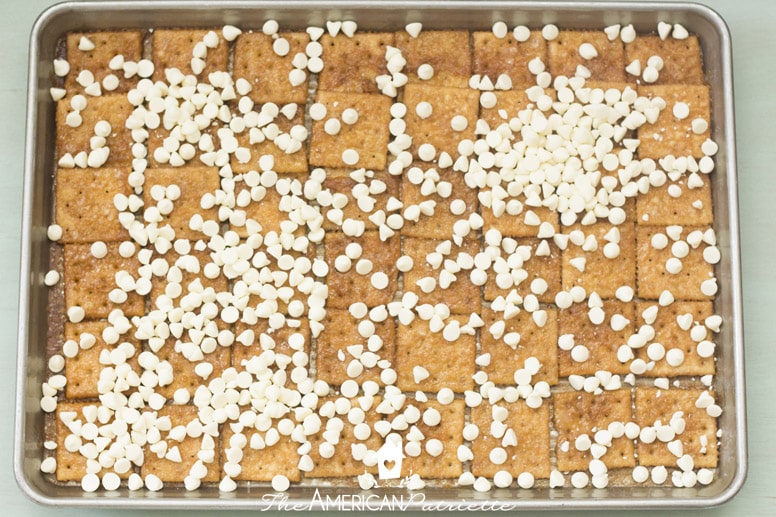 Then you spread out the melted white chocolate using a spatula.
And sprinkle on the chopped pecans and more pumpkin pie spice.
Allow the pan to cool enough that you can place it in the fridge to really let the toffee set. I put it in the fridge for about 10-15 minutes, or until the saltines are chilly to the touch.
Remove from fridge, and then break apart. Should be super easy!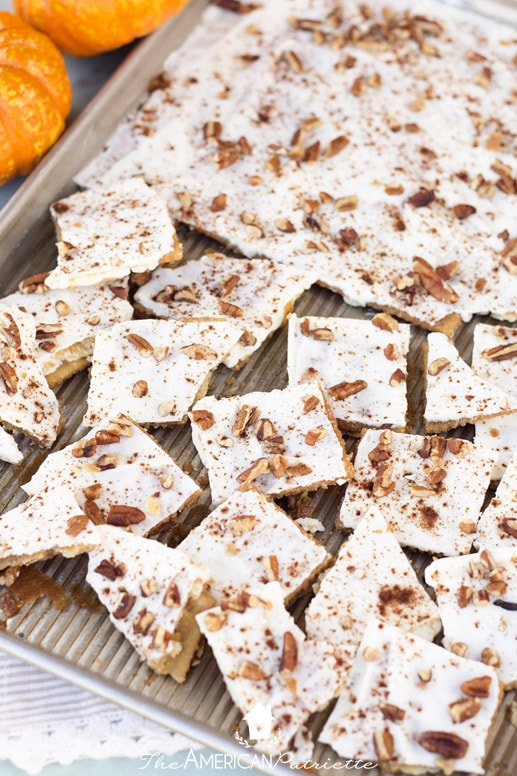 Then serve 'em up for everyone to enjoy!
These are perfect for a fall-themed potluck, to package up and give as treats to friends, family, neighbors, or coworkers, to bring to a Thanksgiving meal, or just to have as a fun seasonal sweet treat for any kind of gathering!
Such a fun-to-make and fun-to-eat pumpkin-y treat!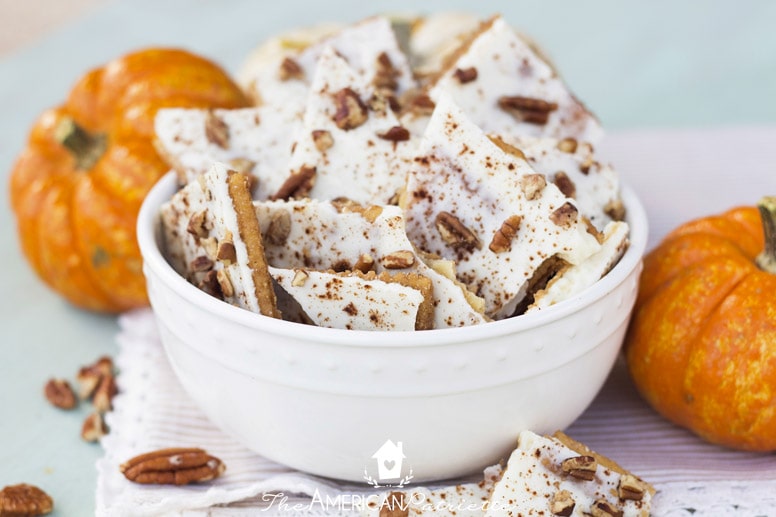 Have fun making this and enjoying it with others!
Want more delicious fall-themed dessert ideas?! Head over here to check out this list of some of our absolute favorites!
Love this recipe and want to save it to remember later?! Be sure to pin this to your favorite Pinterest board!
Easy Pumpkin Spice Praline Saltine Cracker Toffee
Additional Time:
45 minutes
Saltine crackers topped with an easy homemade spiced caramel sauce, white chocolate, pumpkin spice, and pecans - a delicious sweet treat for Fall!
Ingredients
2 sticks unsalted butter
1 c brown sugar
2 tsp pumpkin pie spice, divided
1.5 sleeves of saltine crackers (40 crackers)
3 c white chocolate chips (1.5 12oz bags)
1/2 c chopped pecans
Instructions
Preheat oven to 400.
Place butter in small saucepan on stove top over medium heat and allow it to melt.
Stir in sugar and bring to a low boil for about 3-4 minutes to allow caramel mixture to thicken, stirring regularly. Stir in 1 tsp of the pumpkin pie spice.
While the caramel mixture is thickening, line a rimmed cookie sheet with foil (unless you use the awesome non-stick baking pans I use, and in which case, no foil needed!!), and lay out saltine crackers in rows on the cookie sheet.
Stir the caramel mixture again, remove from heat, and pour it evenly over the saltines, using a spatula to spread it out to cover the crackers completely.
Place cookie sheet in preheated oven for 5 minutes.
Remove from oven and set pan on a hot pad. Sprinkle white chocolate chips over top of the hot saltines. You can either let the pan sit there for 5-10 minutes until the white chocolate chips completely soften on the hot saltines, or if you're impatient like I am and are ready to gobble up this toffee, you can place the pan back in the oven for a minute to melt the white chocolate.
Remove pan from oven and use a spatula to evenly spread the melted chips across the saltines.
After you've covered the saltines with the melted chips, evenly sprinkle the chopped pecans and remaining tsp of pumpkin pie spice over the top.
Allow pan to cool on a hot pad for 10-15 minutes (or until it's cool enough to set in the fridge), and then place in refrigerator for at least 30 minutes - until the toffee is chilly to the touch and completely set.
Remove from fridge and begin breaking apart. Place on platter or in serving bowl and enjoy with others!