Chocolate-Covered Strawberry Cake: just in time for Valentine's Day!
Or, just in time for any occasion that calls for a delicious dessert.
I am a huge fan of poke cakes – they are so moist, flavorful, and tasty! This is a fun & simple take on fancy chocolate-covered strawberries. This cake is so easy to make, and it's just so delightfully delish!
I made three versions of this cake in the span of a week before we officially decided which one I wanted to share with you on here.
Y'all, that is a lot of strawberry cake. My husband didn't complain too much. I think we found a winner, though! Let me talk you through how to make it!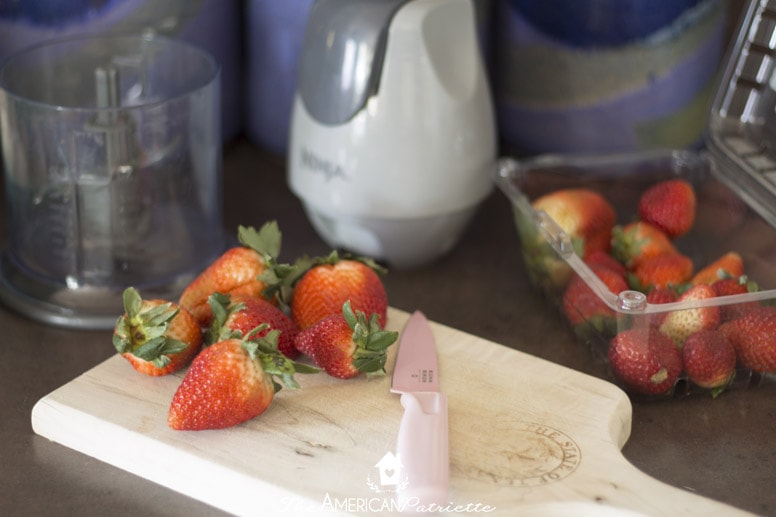 This post contains affiliate links for your convenience. You can read my full disclosure policy here. 
First, you'll take some fresh strawberries and put them in a blender or a food processor. I always use my Ninja for stuff like this, and I LOVE IT. My big 'ole fancy food processor broke a while back, and I've been too thrifty to replace it. My Ninja saves the day regularly. I use it several times a week, and y'all, I have no idea why people get the really expensive versions of the Ninja – you know, the ones that cost hundreds of dollars. This is the one I have – it is extremely inexpensive and incredibly powerful! I use it all. the. time.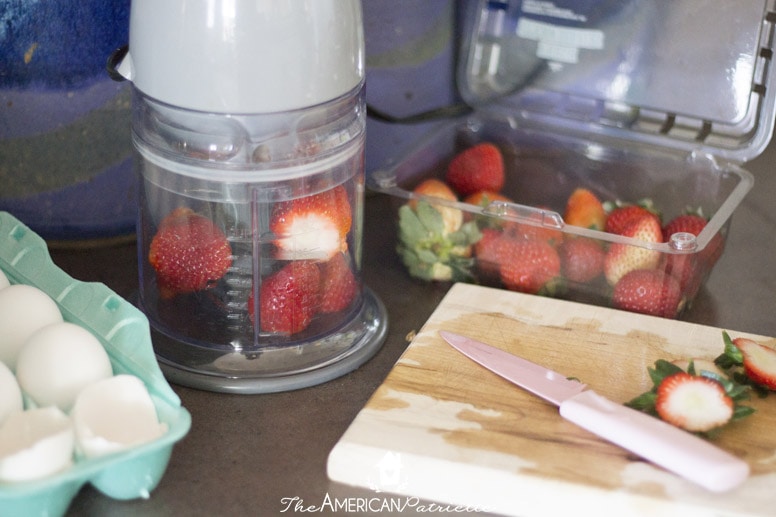 After you've pureed the strawberries, set them aside for now.
Next, you'll mix together the cake ingredients. Don't you just love it when your cake batter matches your KitchenAid mixer?! I played around with different recipes for the strawberry cake, and this is the one I settled on. It got really good reviews, and it was very simple to make. It was our favorite out of all the ones I tried!
I'd just like to point out that you can see my reflection in the mixing bowl as I'm taking this picture. I'm wearing my regular baking attire: grubby clothes and athletic shoes. Baking is somewhat of a sport around here. I don't take it lightly.
After you've mixed the batter, pour it into a 9×13 baking dish, preferably one that has some depth to it. The cake + the whipped topping makes for a fairly tall dessert.
Place it in the oven at 350 for about 35 minutes. Check the cake with a toothpick, and if it doesn't come out clean, put it back in the oven for a few minutes.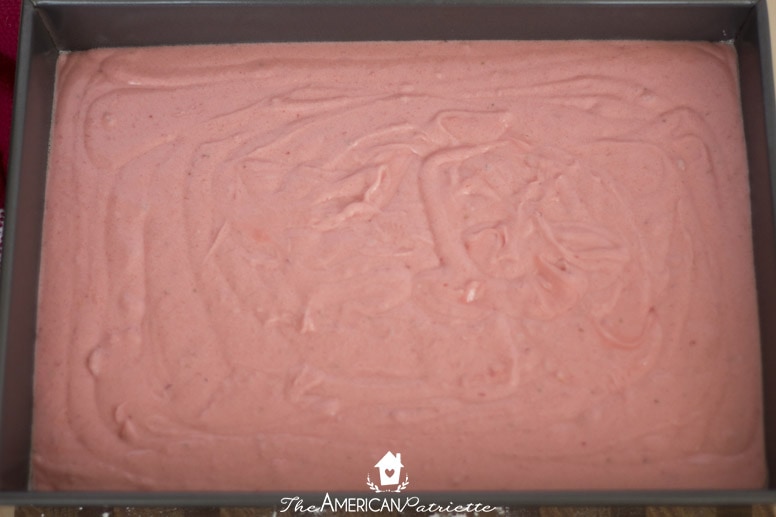 Remove the cake from the oven…
…and use the end of a wooden spoon to poke holes all around the top of the cake. Make sure you poke holes near the edges so that yummy chocolate sauce can run everywhere in every nook and cranny!
I usually make this while I'm baking the cake in the oven. You pour a can of sweetened condensed milk and some chocolate chips into a saucepan, set it on the stove top over medium heat, and stir every minute or two until the chips are completely melted.
Once the chips are melted and you have a smooth chocolate sauce, you'll pour it all over the cake.
Lightly spread it out with a spatula so it evenly covers the cake.
Then you'll set the cake aside and allow it to cool for about 20 minutes.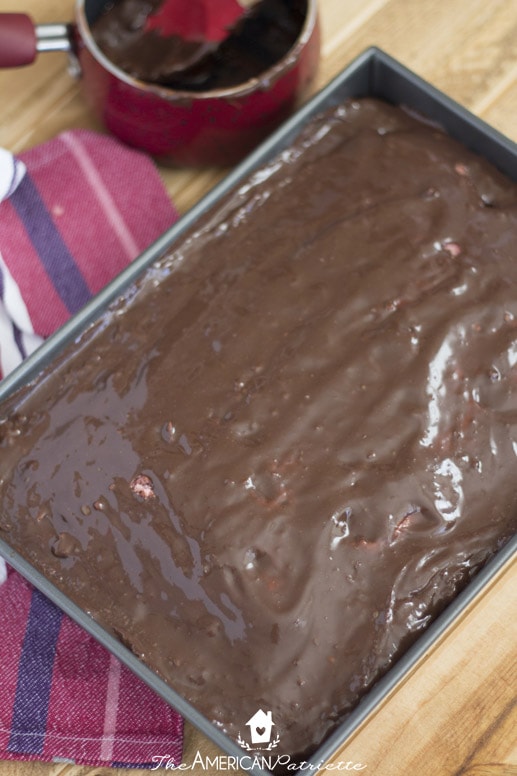 During those 20 minutes, go ahead and chop up the remaining fresh strawberries.
You'll spread them evenly across the top of the cake, and then set the cake aside until it is fully cooled – at least to room temperature. It needs to be at least room temperature, if not cooler, before you add the whipped topping.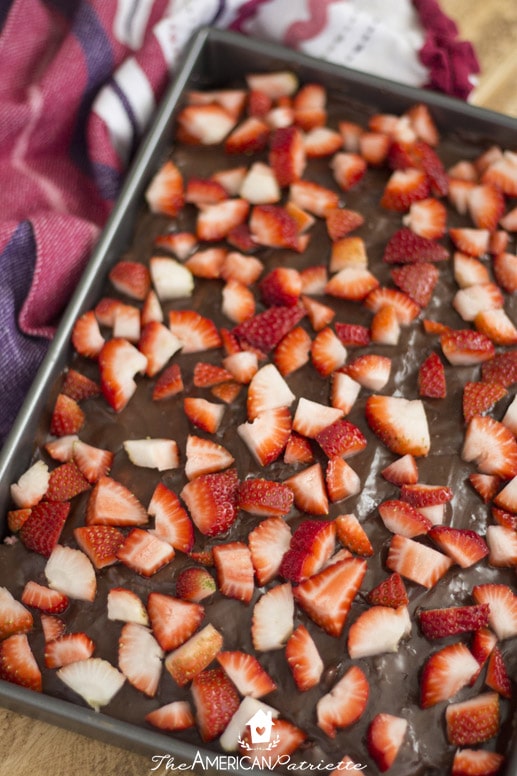 While the cake is cooling (or after it cools), you'll make the whipped topping. I love making fresh whipped cream – it is SO good! If you make the whipped topping while the cake is still cooling, just store the topping in your fridge until the cake is ready for it. Once the cake is fully cooled, spread the whipped topping across the top and add the remaining chocolate chips.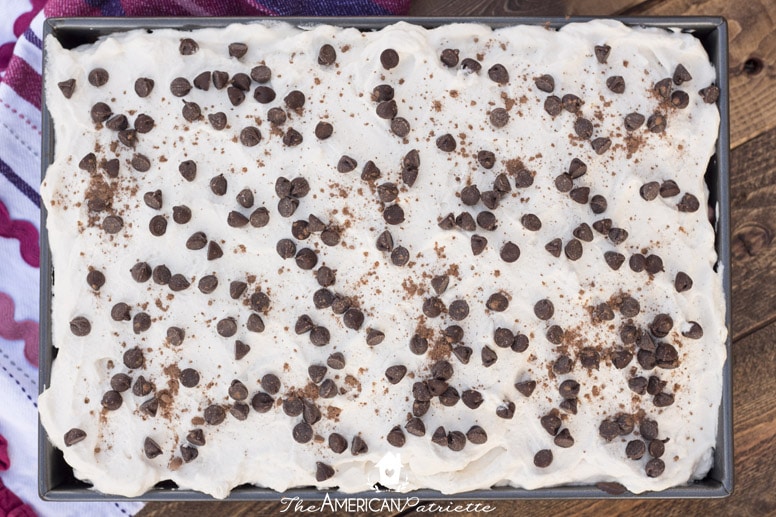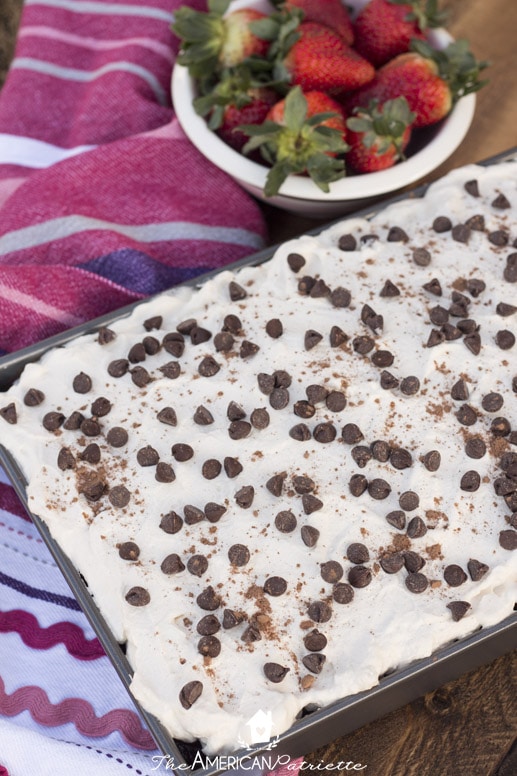 Cut cake into slices and top each piece with a fresh strawberry if you want! It's a messy cake, but it sure is good!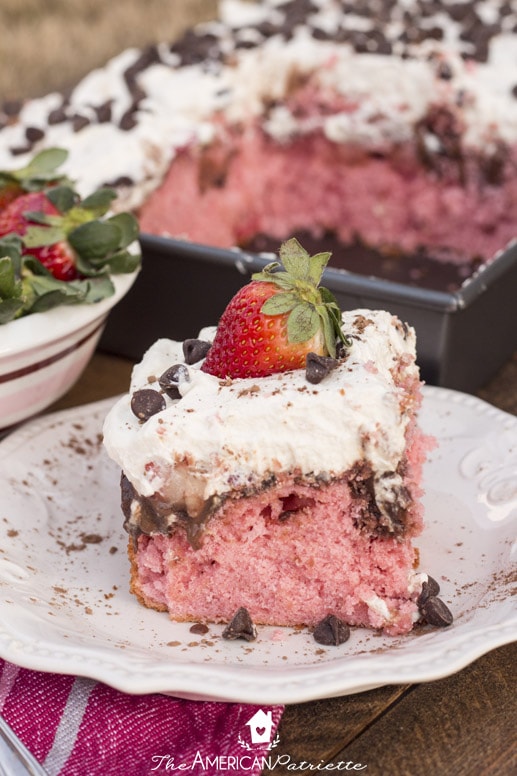 Such a perfect treat for Valentine's Day, or just to make as a treat for gathering around the table together.
It's fun to serve dessert. For one, I have a huge sweet tooth, but in a more meaningful way, dessert keeps people lingering at the table together, and that's pretty sweet.
Yum! Look at that delicious mess! 🙂
Go show some folks you love 'em and make 'em this cake!
Gather 'round and enjoy it together!
Want more Valentine-themed sweet treat ideas?! Check out my strawberry cake mix heart-shaped cookies & strawberry Nutella puppy chow! 🙂
Chocolate-Covered Strawberry Cake
Ingredients
FOR THE CAKE:
2 c fresh strawberries, divided*
1 18.5oz box white cake mix
1 box strawberry jello
1 c vegetable oil
1/2 c milk
4 eggs
FOR THE CHOCOLATE SAUCE:
1.5 c milk chocolate chips, divided
1 14oz can sweetened condensed milk
FOR THE WHIPPED TOPPING:
2 c heavy whipping cream
1/3 c powdered sugar
1 tsp vanilla extract
2 tsp unsweetened cocoa powder
Instructions
Preheat oven to 350.
Wash strawberries and remove stems. Place about 1.5 cups fresh strawberries in a food processor or blender and blend until strawberries are fully pureed. (Depending on the machine you use, you might need to add a tsp or two of water to help get a smooth puree. I don't have to add water when I use my Ninja to puree the berries.)
Set aside remaining 1/2 c fresh strawberries & strawberry puree.
Empty cake mix and jello mix into a mixing bowl. Using a stand or a hand mixer, blend cake mix and jello together while slowly adding in the vegetable oil.
Pour in milk and continue to mix batter.
Add eggs one at a time, mixing between additions.
Mix in the strawberry puree, and pour into a greased 9x13 baking dish.**
Bake in oven for 35-40 minutes. Check cake at 35 minutes with a toothpick. If it comes out clean, go ahead and remove the cake from the oven. If not, give the cake a few more minutes of bake time.
In the meantime, pour sweetened condensed milk and 1 c chocolate chips in a small sauce pan.
Place sauce pan over medium heat on stove top. Stir every minute or two until the chocolate chips are completely melted. Remove from heat and set aside.
Remove baking dish from oven. Using the end of a wooden spoon, poke holes evenly throughout the top of the cake.
Pour melted chocolate chips + sweetened condensed milk mixture evenly over top of cake. Lightly spread with a spatula to get into all of the crevices and edges of cake.
Set cake aside to cool for about 20 minutes.
While the cake is beginning to cool, chop remaining fresh strawberries into small pieces to sprinkle on top of the cake. Once the cake has cooled for about 20 minutes outside of the oven, sprinkle chopped strawberries evenly across the cake. Set cake aside to continue cooling for at least another hour or so before you add the whipped topping.
Using your stand or hand mixer, begin whipping 2 c heavy cream with powdered sugar. Continue to mix until stiff peaks form in the cream - this will probably take at least 3-4 minutes.
Add vanilla and cocoa to whipped cream and blend for another 30 seconds or so until the cocoa is fully mixed with the cream.
(If the cake isn't fully cooled by the time you're finished making the whipped topping, store topping in the fridge until ready to spread on the cake.)
Once cake is fully cooled,*** spread the whipped cream topping across the cake. Sprinkle the remaining chocolate chips evenly across the cake and refrigerate cake until ready to eat.
Slice and serve, perhaps with a fresh strawberry on each piece of cake!
Notes
*If you want to top each slice of cake with a fresh strawberry, you'll want to get more than 2 c of fresh strawberries. This cake serves 12-15, so get that many additional strawberries if you want to serve them on top of each slice.
**If you can, use a deeper baking dish than a regular 9x13 casserole pan. I have a deep metal 9x13 pan that I always use when I make my poke cakes. The whipped topping makes this cake fairly tall.
***You MUST make sure this cake is fully cooled before adding the whipped topping. If the cake is still warm, the whipped topping will melt and run all over the cake. I'm sure it'll still taste good, but it won't be very pretty. 🙂