Long gone are the days of slaving over the counter to peel off the plastic wrappers of zillions of caramel squares in order to make a caramel sauce to drizzle over your desserts! Whew!
This recipe is adapted from the Pioneer Woman's easy caramel sauce (so, so yummy). I love that making this sauce takes way less time than peeling those pesky wrappers, and let me tell you folks, it tastes way better than melted caramel squares.
You can use this to drizzle over so many desserts (or in desserts that call for caramel as part of the recipe), like this one: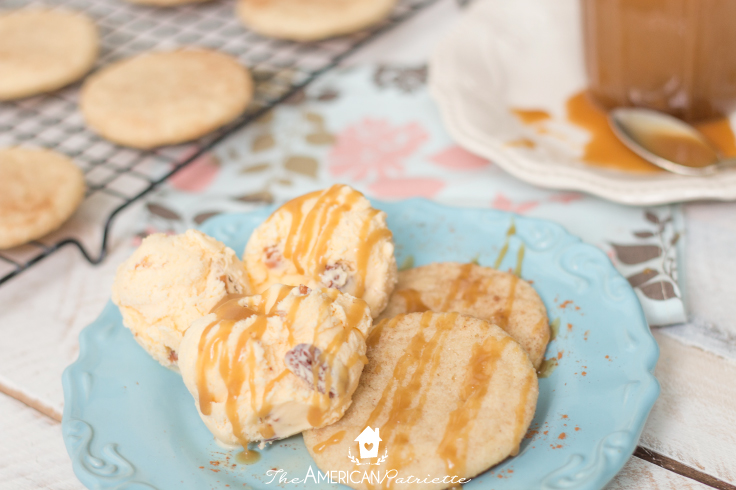 YUM.
Jazz up plain ice cream, use it as a topping for pies and cobblers, serve it as a dipping sauce for shortbread cookies, add it to brownies…the options are endless!
Check out the recipe below and claim victory over your time in the kitchen. Victory has never tasted so sweet. Literally.
Homemade Caramel Sauce
Super sweet. Decadent. And Easy!
Ingredients
1 stick unsalted butter
1 ½ c packed brown sugar
½ c heavy whipping cream
1 tsp Mexican vanilla (plain vanilla is fine, but Mexican vanilla is the best!)
¼ tsp salt
Instructions
Melt butter in saucepan over medium heat. Add whipping cream and vanilla. Stir.
Add brown sugar and salt and stir until they begin to dissolve. Turn heat down to low and allow sauce to simmer and thicken for about 5 minutes - stir intermittently. Remove from heat. Serve immediately with dessert or wait for sauce to cool before transferring it into a container.
Notes
You can serve this right away, but it also keeps in the fridge for a long time! I store our sauce in a mason jar in the refrigerator. You can just pop the jar in the microwave and reheat it any time you're ready to use more!