The BEST Chewy Strawberry Lemonade Cake Mix Cookies
hese are the absolute BEST chewy strawberry lemonade cake mix cookies…EVER! If you're looking for a super easy recipe to make for a crowd, these chewy cookies are perfect for you!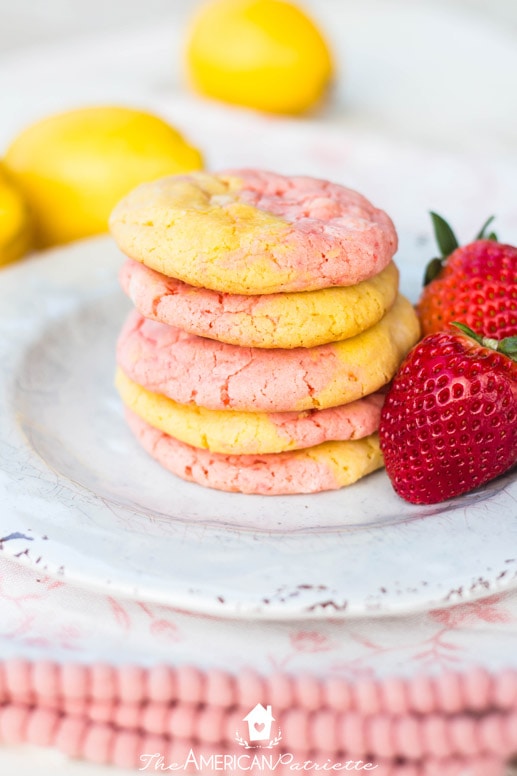 These strawberry lemonade cake mix cookies are a hybrid of cookies I've made millions of times. I make strawberry cake mix cookies & lemonade cake mix cookies a lot, and I realized those two would make a great combo.
And indeed I was right! These are delicious! Was there ever such a tasty combination?!
I don't think I've ever eaten a more perfectly chewy cookie. This recipe is. the. BEST.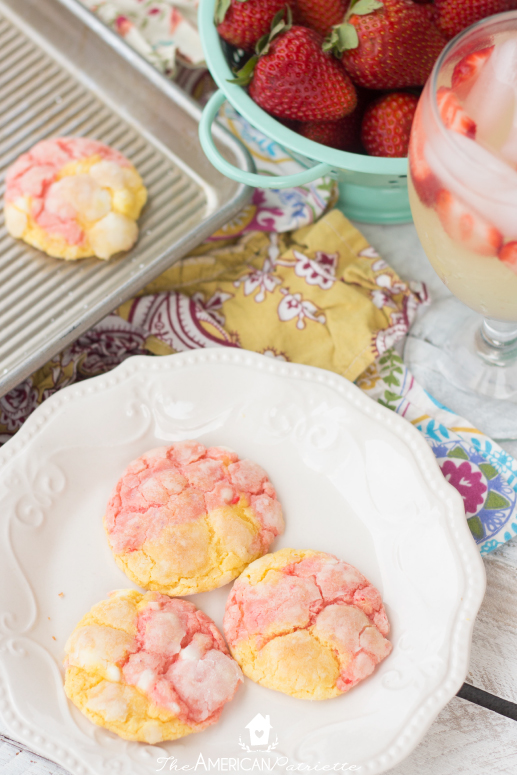 The full recipe is at the bottom, but you can see the simple steps below for how to assemble them!
How to Make
Chewy Strawberry Lemonade Cake Mix Cookies
You'll only need a few basic kitchen tools:
Yay! Let's get started!
Step 1: Make the strawberry cookie dough & the lemon cookie dough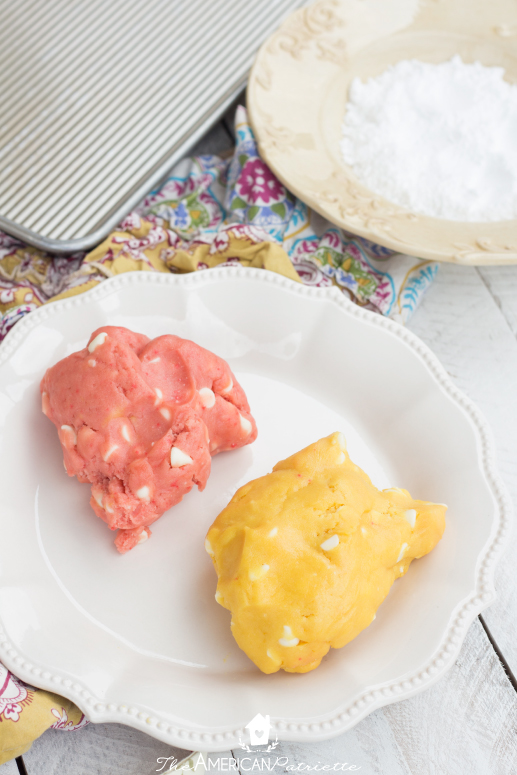 This process is super easy – just 3 ingredients each plus white chocolate chips. Make one dough in your mixer, put it into another bowl, and then whip up the next dough. Now you're ready for the next step!
Step 2: Grab a pinch of each and gently roll them together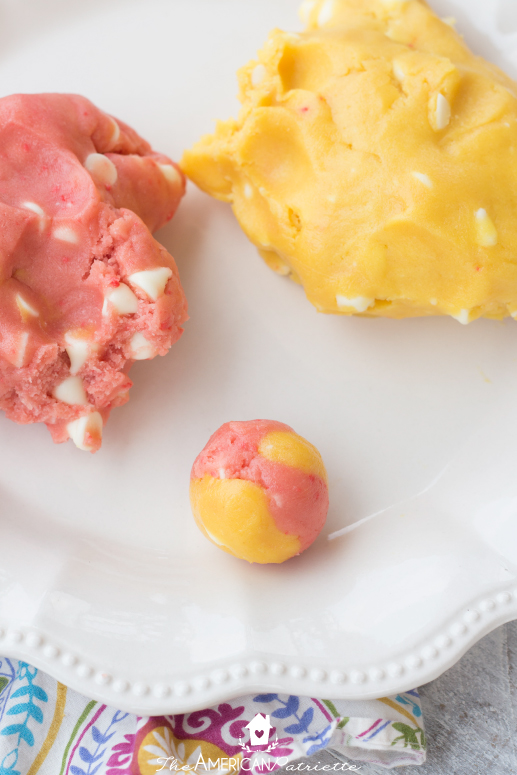 I do this gently just so the colors don't mix together too much. I like giving them that marbled look so you can see both colors.
Step 3: Gently roll the dough ball in powdered sugar until it's fully coated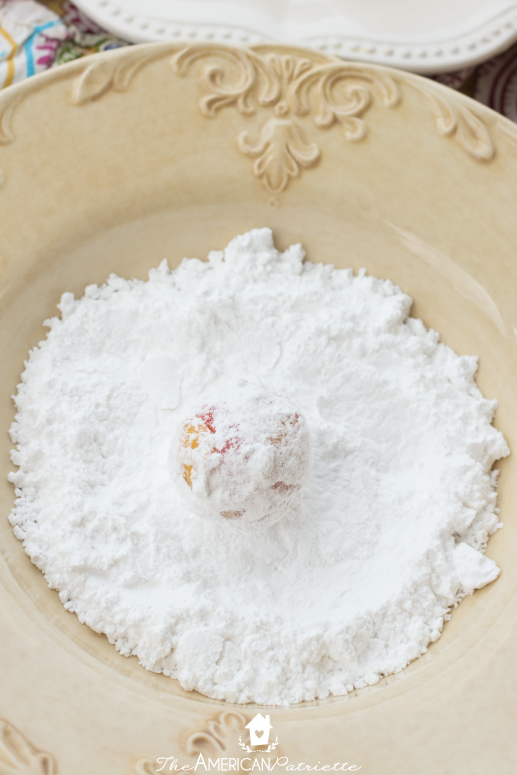 And then roll the dough ball in your hand to get rid of the excess sugar before placing on a cookie sheet.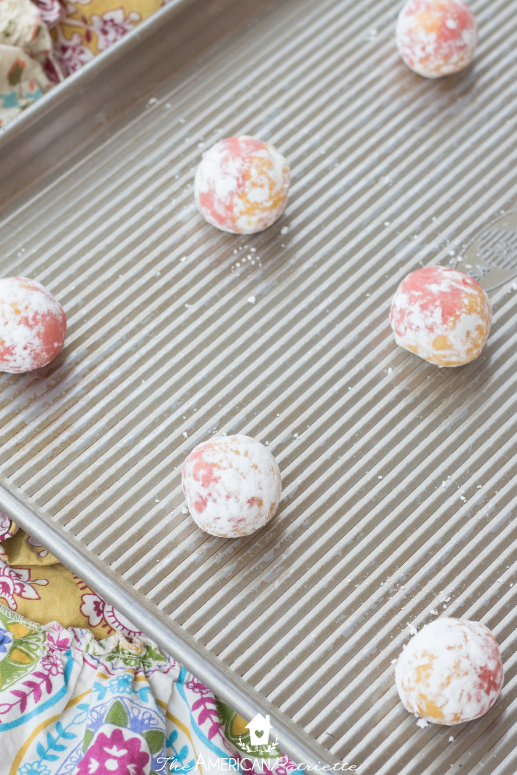 Step 4: Place dough balls on baking sheet
Fill up your cookie sheet with 12 cookie dough balls.
I'm telling you, one of my shout-from-the-rooftop secrets to getting chewy cookies EVERY time is using these USA Pan baking sheets. I've used a zillion different kinds of baking pans, and I now exclusively use these. They are INCREDIBLE – they bake so evenly and I get chewy cookies every time!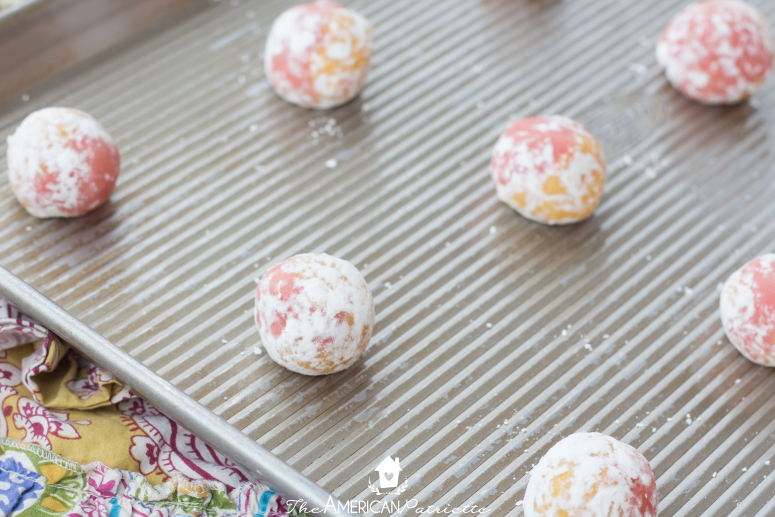 Step 5: Bake in a 350 degree oven for 8 minutes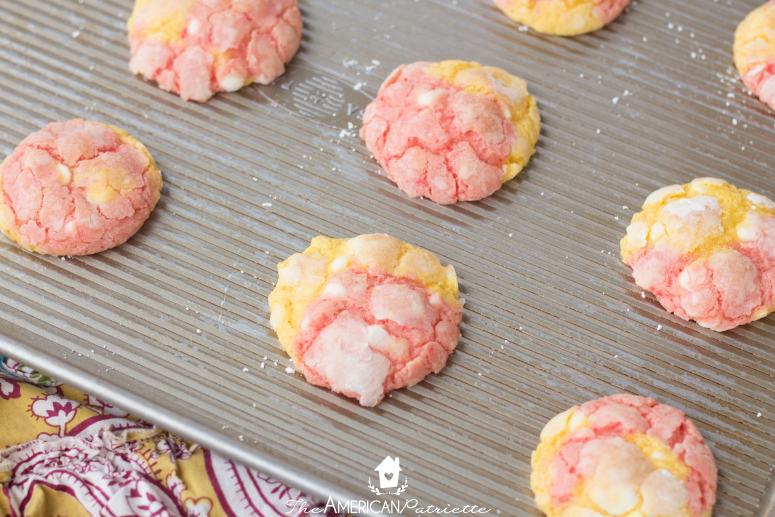 Take 'em out and get to work on the next pan!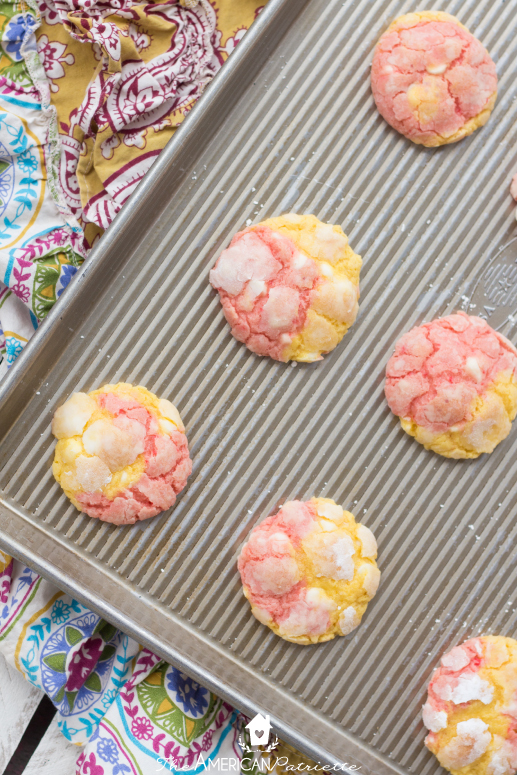 I am not exaggerating when I tell you, these are seriously some of the absolute best cookies you'll ever eat. They are some of my go-tos…I make them often, and every single time I'm just so surprised at how good they are.
You can just see how chewy they are, can't you?!
Step 6: Enjoy with others!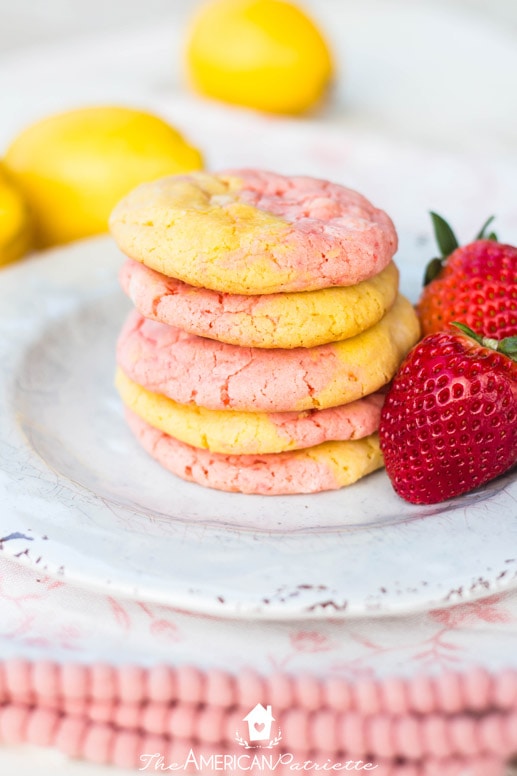 That's it! Now go enjoy 'em with people you love!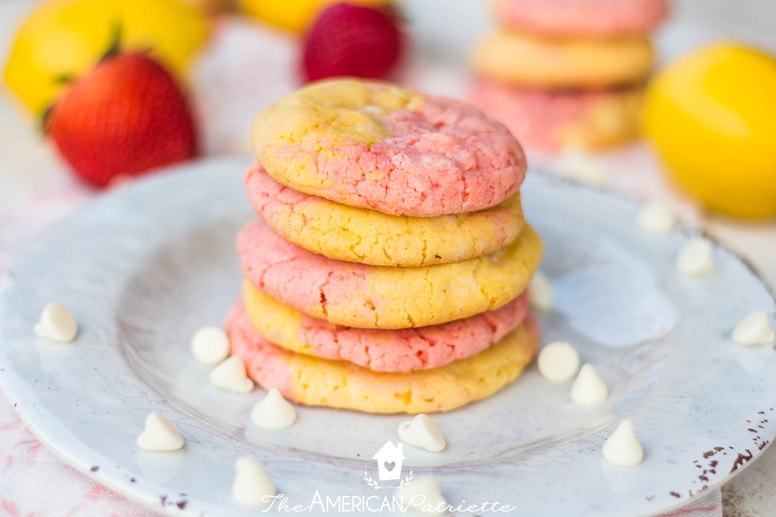 These cookies couldn't be much simpler to make, and believe me, they're even simpler to devour.
And bonus! They're also pretty!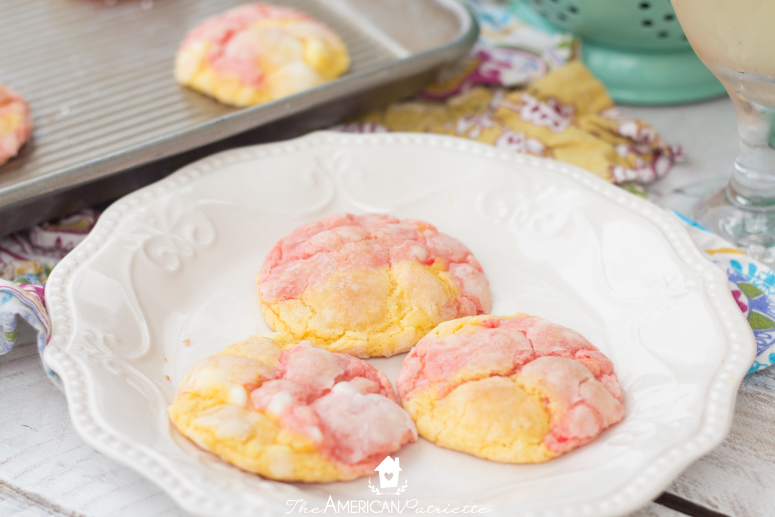 They'll liven up any platter you have!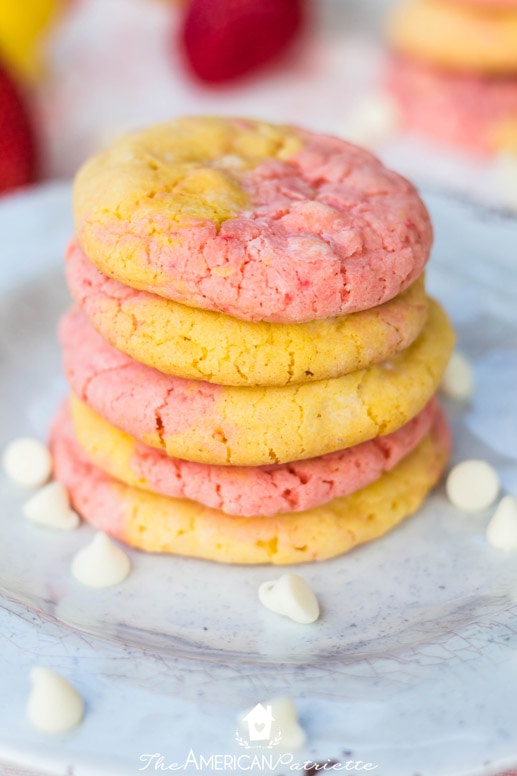 Love this recipe idea and want to remember it later? Be sure to save it to your favorite Pinterest board!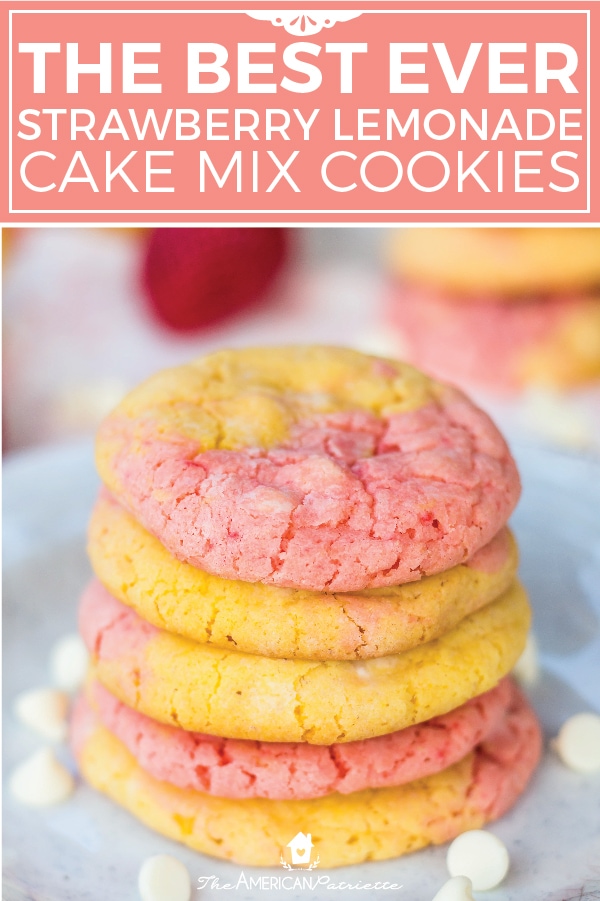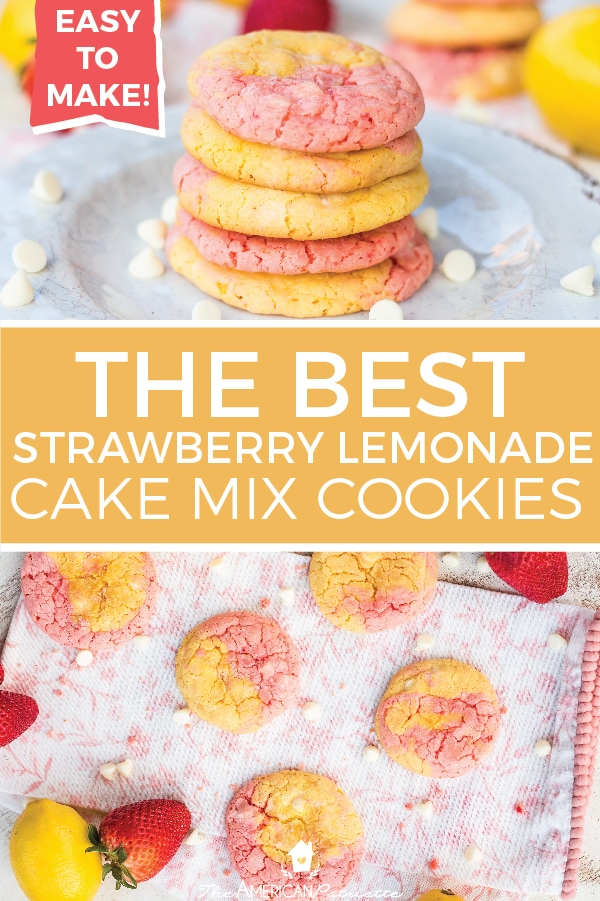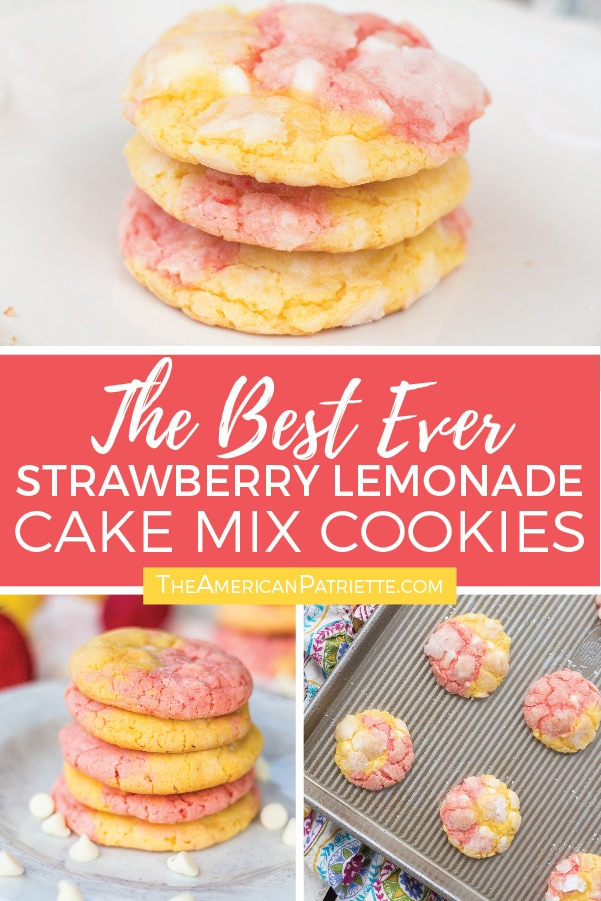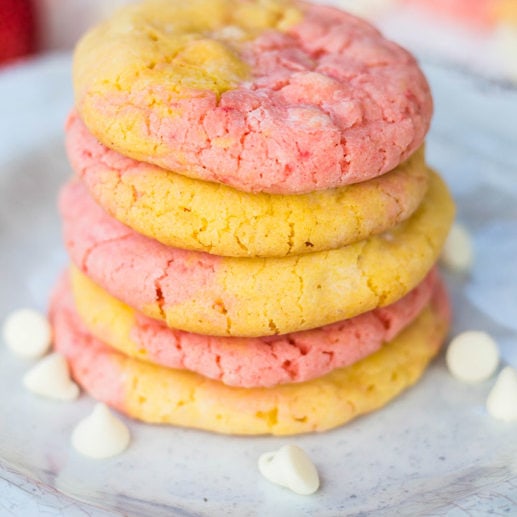 Strawberry Lemonade Cake Mix Cookies
These are the absolute BEST chewy strawberry lemonade cake mix cookies...EVER! Just three ingredients plus chocolate chips, this super easy recipe will become one of your family favorites!
Print
Pin
Rate
Servings:
4
dozen cookies
Ingredients
1

box strawberry cake mix

1

box lemon cake mix

2

sticks unsalted butter

softened

4

eggs

2

c

white chocolate chips

1/2

c

powdered sugar
Instructions
Preheat oven to 350.

Using a stand or a hand mixer, cream together strawberry cake mix and 1 stick of butter.

Add 2 eggs one at a time, mixing between additions.

Once dough is thoroughly mixed, fold in 1 cup white chocolate chips.

Set dough aside in another bowl.

Repeat steps 2-4 using the lemon cake mix.

Pour powdered sugar in a shallow bowl.

Once you've made both sets of cookie dough, pinch off a little of the strawberry and a little of the lemon, press them together and roll them to make a marbled ball of dough.

Roll dough ball in powdered sugar until it's evenly coated.

Place the ball of dough in your hand and roll it around a couple of times to get rid of excess sugar.

Place dough ball on cookie sheet.

Repeat steps 8-11 until you fill your cookie sheet with 12 cookie dough balls.

Bake for 8 minutes, remove from oven, and allow to set for a few minutes before transferring them to a cooling rack.

Continue making cookies until you run out of dough!