This healthy and flavorful pizza soup recipe is a perfect simple & healthy meal for weeknight dinners, cozy dinner parties, or fall potlucks!
Yum, yum, yum I love this soup! Healthy and flavorful pizza soup – SO GOOD, and so simple to make.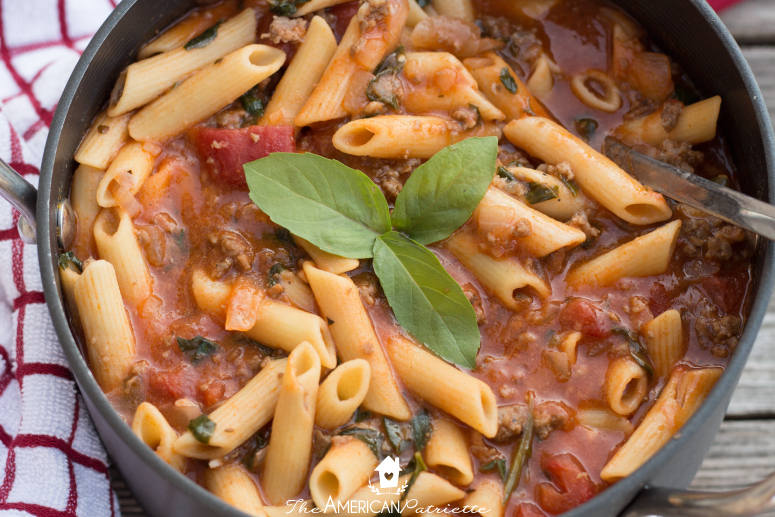 This soup requires little effort but it has BIG flavor! It'll woo your family to the dinner table in a heartbeat!
I started making this soup (which I originally called Lasagna Soup, but I really think Pizza Soup is more appropriate…semantics…) several years ago and have been tweaking the recipe just about every time I've made it since then.
But I think this is the one.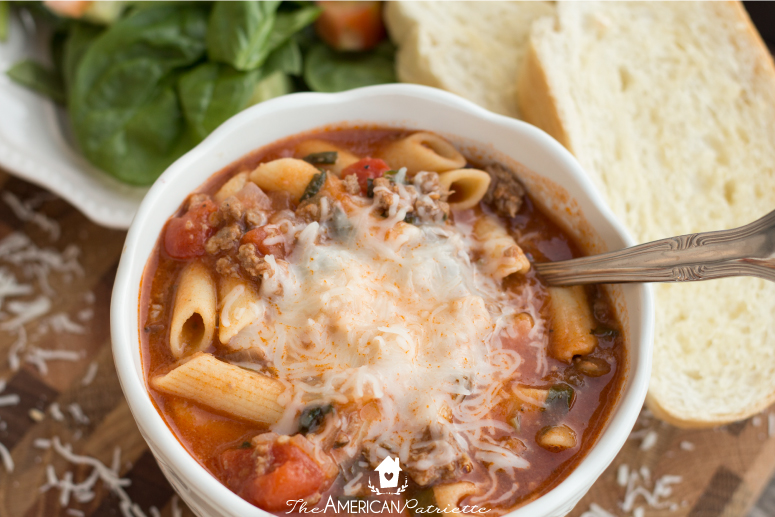 I don't think I originally used fresh basil, and my oh my, that makes a huge difference in flavor!
This recipe is great for a crowd – great for pleasing picky eaters, and because it's so easy to make, you can easily double or triple the recipe without any extra legwork other than browning some additional meat and opening a few extra cans.
But it's also great for just a cozy night in and to have enough as leftovers for a few meals! It's also absolutely delicious for dipping garlic bread:
Add this to your cool weather recipe list! It's a keeper for sure!
Want some other cozy soup recipe ideas? Be sure to check out this list of delicious soups!
Want to remember this delicious recipe for later?! Be sure to pin it to your favorite Pinterest board!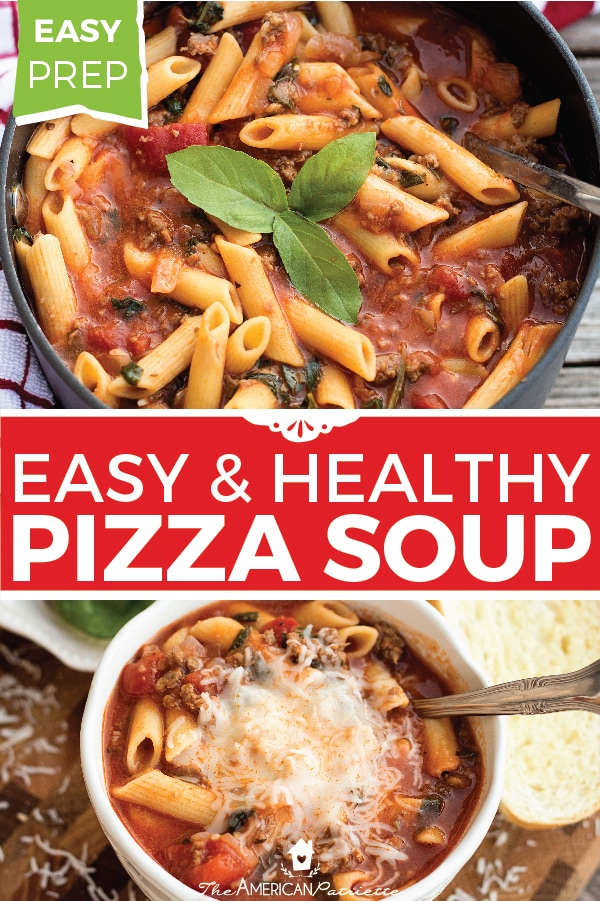 Healthy and Flavorful Pizza Soup
Ingredients
1 lb light pork sausage
1 yellow sweet onion, finely diced
3 cloves garlic, minced
32 oz chicken broth (2ish cans)
1 can beef broth
1 15oz can tomato sauce
1 14.5 oz can Italian style diced tomatoes
1 12oz box fiber enriched penne pasta
¼ c finely chopped fresh basil
3 c finely chopped fresh spinach
Instructions
Cook pork sausage in large soup pot over medium heat. When it's about halfway done cooking, add onion and cook until onion is fairly soft – about 7 minutes.
Add garlic and saute an additional 2-3 minutes.
Pour in chicken broth, tomato sauce, and tomatoes. Bring to a boil.
Add penne pasta and basil and reduce heat to medium. Simmer until the pasta is tender, about 20-25 minutes. (You do not want to overcook the pasta since it'll be sitting in the soup – it'll eventually get mushy if you allow it to simmer for too long!)
Add spinach and allow to cook for 3-5 more minutes or until spinach is fully wilted.
Serve immediately with shredded Mozzarella cheese!
Notes
***If you want to make this soup ahead of time and then freeze it, I would do steps 1-3, then freeze that portion of the soup (and if you want, you can freeze the spinach, too – just set aside the 3 cups of fresh spinach in a plastic baggie and place it in the freezer). Then when you're ready to cook it, thaw the soup, bring it to a boil in the sauce pan, and then add the pasta and simmer until it's tender. Add the frozen spinach to the soup and allow it to cook, probably 5-7 minutes or until it's wilted (it'll thaw very quickly in the soup, so you really don't need to cook it much longer than the 3-5 minutes if you were cooking the fresh spinach right away).