Delicious Gyro Quesadillas
These qyro quesadillas are easily one of our new favorite meals. A fun take on a Greek classic, this is such a delicious dinner (or lunch!) recipe that your family and friends will absolutely love!
I made gyros for the first time using these slow cooker chicken gyro & tzatziki sauce recipes from The Recipe Critic. We fell in love with gyros after this – SUCH good recipes!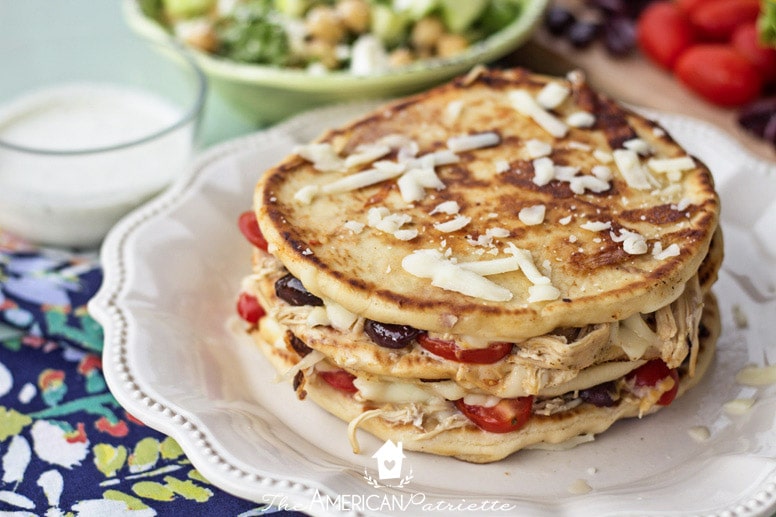 I'm all about experimenting with twists and spins on recipes, so I decided one day it'd be super fun to see if we could turn gyros into quesadillas. We're big fans of Tex Mex…
They turned out SO well. I've made them about a zillion times in the last several months. They've been such a fun addition to our summer menus!
This blog post contains affiliate links for your convenience. You can read my full disclosure policy here.
You first make the gyro chicken in the slow cooker. This is super easy – you just throw in some ingredients, turn the slow cooker on high for 3-4 hours, and then the chicken falls apart when you begin shredding it with two forks. Super moist, tender, and flavorful!
Once you've prepped the meat, you whip up the quesadillas in a large skillet (I almost exclusively use my large cast iron skillet for sauteeing and cooking on my stovetop!).
Going along with the Tex Mex quesadilla theme, I thought it made sense to serve these with my rendition of Greek pico, which turned into more of a salad, but it's the perfect side dish for these! Fresh, crunchy, and tasty!
The gyro quesadillas aren't complete without the homemade tzatziki sauce. SO GOOD.
I made the tzatziki sauce by pouring all of the ingredients for the sauce into my little Ninja Food Prep. This is one of my absolute favorite (and frequently used) kitchen tools. Love it! All you do is pour in the sauce ingredients, pulse a couple of times, and voila! All done!
Makes for an amazing dipping sauce!
Here are the kitchen tools I used to make this recipe:
Doesn't this sound delicious!? Save this gyro quesadilla recipe to your favorite Pinterest board!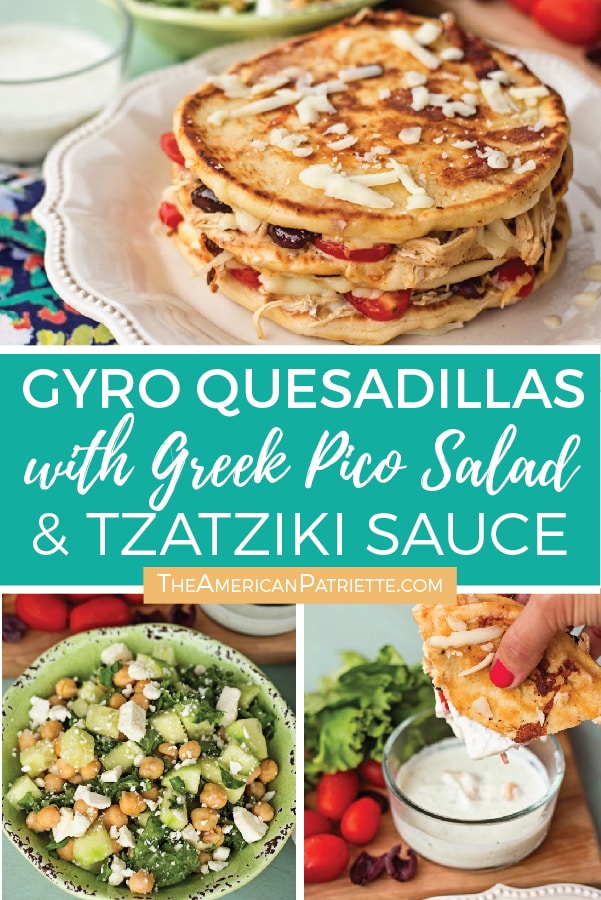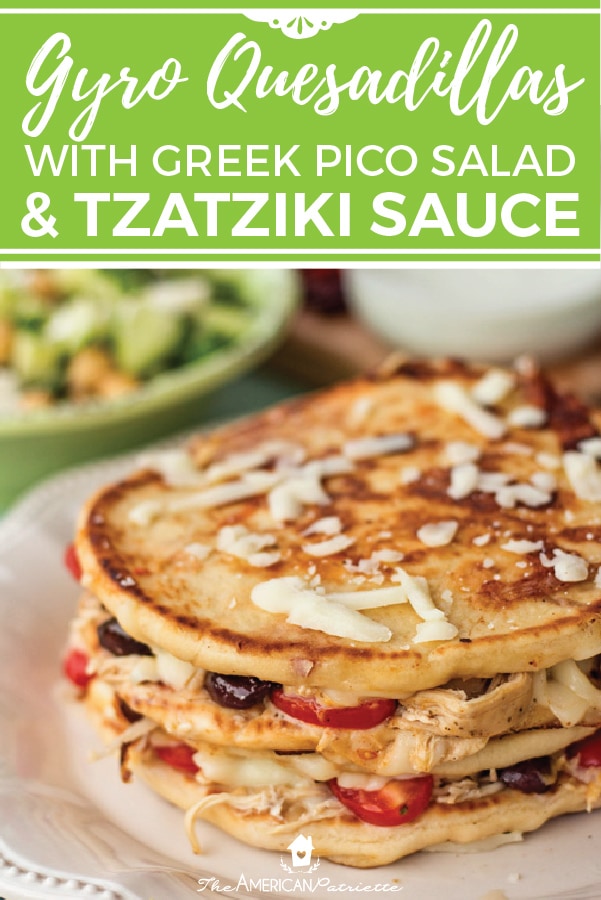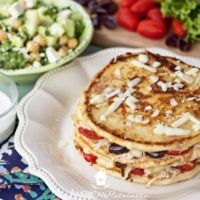 Delicious Gyro Quesadillas
Delicious gyro quesadillas with a homemade Greek pico salad and homemade tzatziki sauce - a delicious, fresh meal, perfect for summer family dinners!
Print
Pin
Rate
Ingredients
FOR THE SLOW COOKER CHICKEN:

2

lb

boneless

skinless chicken breast

1

onion

diced

2

cloves

garlic

pressed or minced

1

tsp

oregano leaves

1/2

tsp

salt

1/2

tsp

ground pepper

3

tbsp

olive oil

1

tbsp

red wine vinegar

Juice from 1/2 lemon

1/3

c

water

FOR THE QUESADILLAS:

2

tbsp

olive oil

8

pieces

of round Pita bread

8

tbsp

hummus

2

c

shredded Mozarella cheese

1

c

chopped Kalamata olives

1

c

sliced grape or cherry tomatoes

FOR THE TZATZIKI SAUCE:

1

c

plain Greek yogurt

1/2

cucumber

chopped

1

clove

garlic

1/2

tbsp

white wine vinegar

1/2

tsp

dried dill weed

1/2

tsp

dried oregano leaves

Dash of salt and pepper

Juice from 1/2 medium lemon

1

tbsp

olive oil

FOR THE GREEK PICO SALAD:

15

oz

can garbanzo beans

drained

2

c

chopped Romaine lettuce

rinsed

1

cucumber

peeled and diced

1/2

c

crumbed Feta cheese

Juice from 1 lemon
Instructions
Add all of the ingredients for the chicken gyro recipe to a slow cooker. Cook on high for 3-4 hours, or until chicken is fully cooked and easily shreds apart. Use two forks to finely shred the chicken, and leave in the slow cooker.

Toss Greek pico salad ingredients together and set aside.

Add all ingredients for the homemade tzatziki sauce into a blender or food processor and pulse a couple of times until cucumber is finely chopped. Pour into a small bowl and set in fridge until you're ready to serve the quesadillas. This is going to be a delicious dipping sauce for the quesadillas!

Ok, let's get started on the quesadillas! After the chicken is completely cooked and shredded, place large skillet on stove top over medium heat and drizzle in some olive oil. Spread olive oil with spatula to cover the skillet.

Spread 1 tbsp hummus on one side of a slice of pita bread. Place the pita bread on the skillet with the hummus side up. Sprinkle some Mozarella cheese on top, and then evenly spread some olives, sliced tomatoes, and shredded chicken. Cook on skillet for 4-5 minutes, or until cheese is melting. Sprinkle more cheese on top of the shredded chicken, spread another tbsp of hummus on another slice of pita bread, and place the hummus side down on top of the quesadilla mixture. Flip the quesadilla to cook on the other side. Remove from heat and set aside once cheese is melted on both sides. Repeat for remaining quesadillas.

Slice quesadillas into fourths and serve with Greek pico salad and tzatziki dipping sauce. Enjoy with family and friends around your table!