Incredibly Moist and Delicious Lemon Pudding Cake (The Best Lemon Cake EVER)
Stop looking for the best lemon cake recipe ever. You've found it! This incredibly moist and delicious lemon pudding cake with homemade lemon buttercream frosting is outrageously good and will easily become one of your family favorites!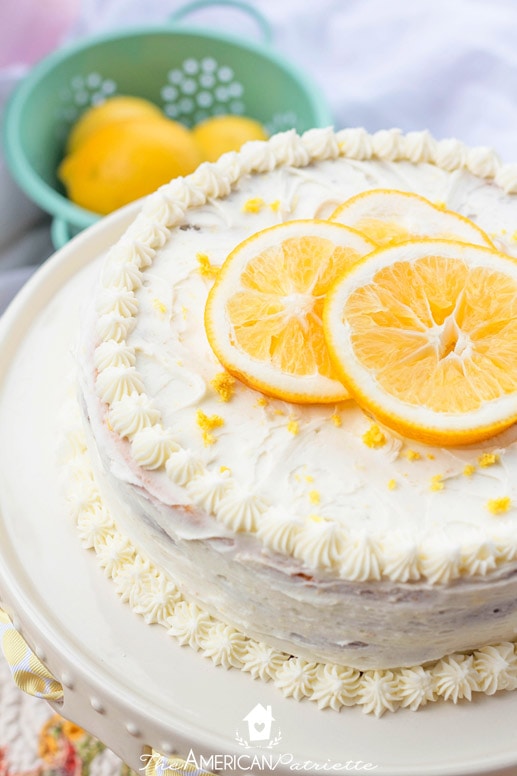 This is seriously THE best lemon cake ever.
I know that's a pretty bold claim to make, but I stand by it. You and everyone you make it for is going to LOVE IT!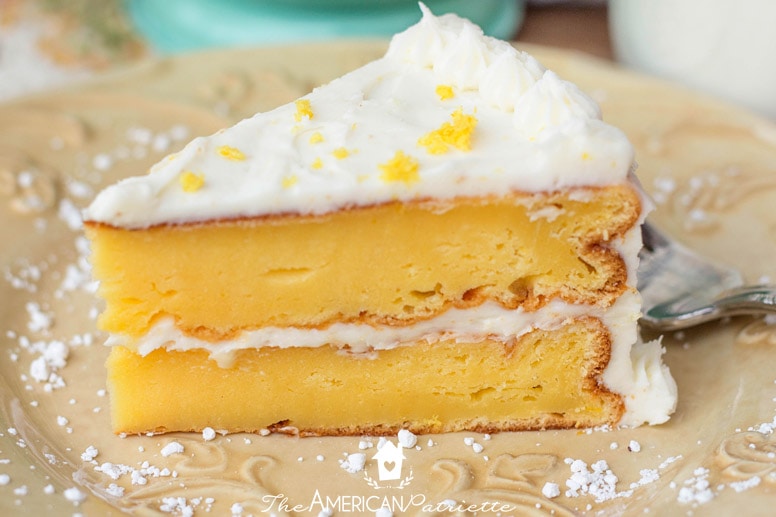 I got this lemon pudding cake recipe from my Aunt Cheryl (the kitchen genius who inevitably passes on tons of recipes that become my favorite). She made it for Easter a couple of years ago, and I'm pretty sure after every bite I thought, "This is the best non-chocolate cake I have ever eaten."
I've made it several times since then, and I will say, everyone who has eaten it has absolutely raved about it.
I bet they all go back and get another piece when no one is looking.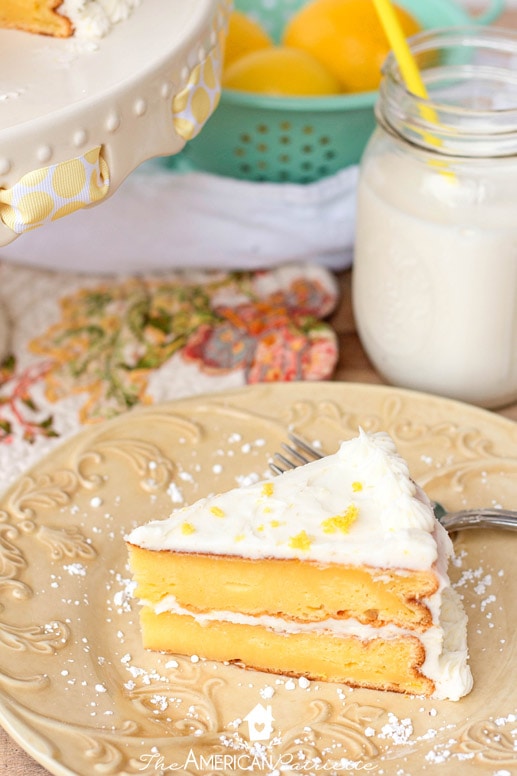 Something about the pudding makes it incredibly moist and dense, and the fresh lemon juice and zest…gosh. So good.
Want to come hang out with me in my kitchen while I walk you through the simple steps of making this cake!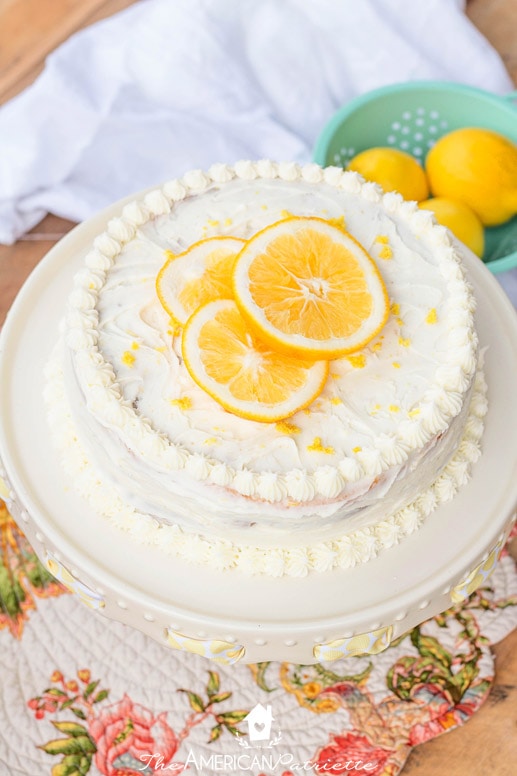 This post contains affiliate links for your convenience. You can read my full disclosure policy here.
How to Make the Best Ever Lemon Cake & Lemon Buttercream Frosting
We'll get started with the basics of what you need on your kitchen counter to get started, and then I'll walk you through some of the recipe steps. This is going to be fun!
Yay! Let's get started! Here's a basic walk-through of this yummy cake recipe.
Step 1: Make the cake batter & bake in round pans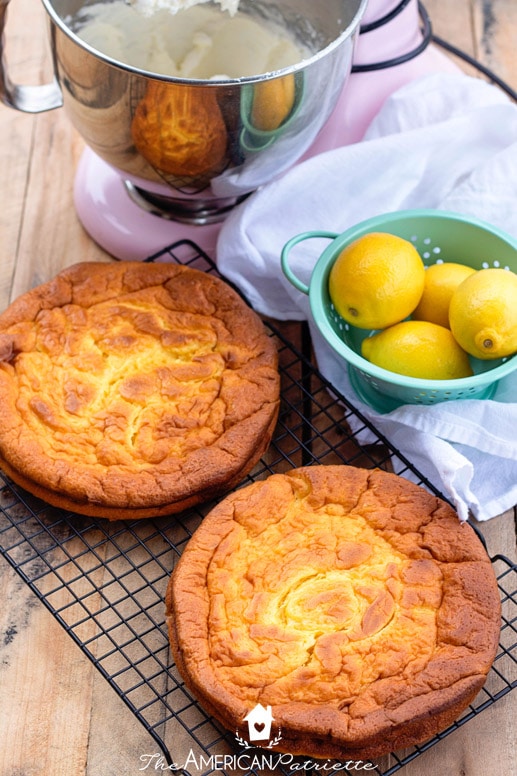 It looks a little funny coming out of the oven, but the frosting pretties it right up!
Step 2: Whip up the lemon buttercream frosting and spread on top of cooled cakes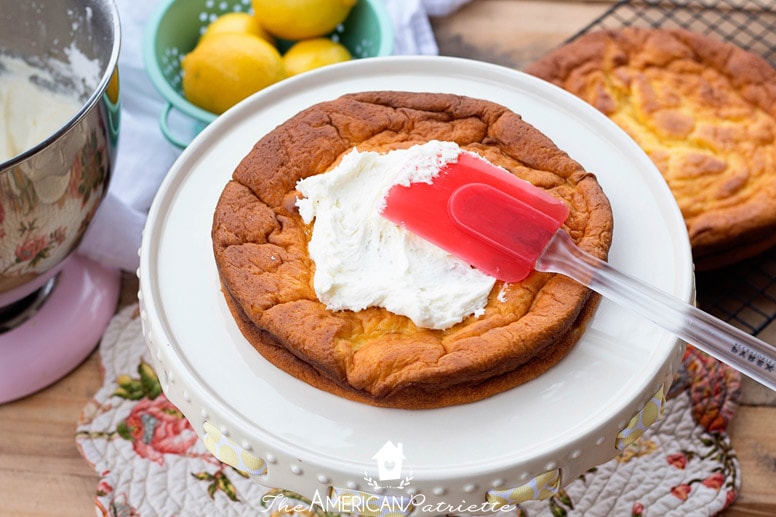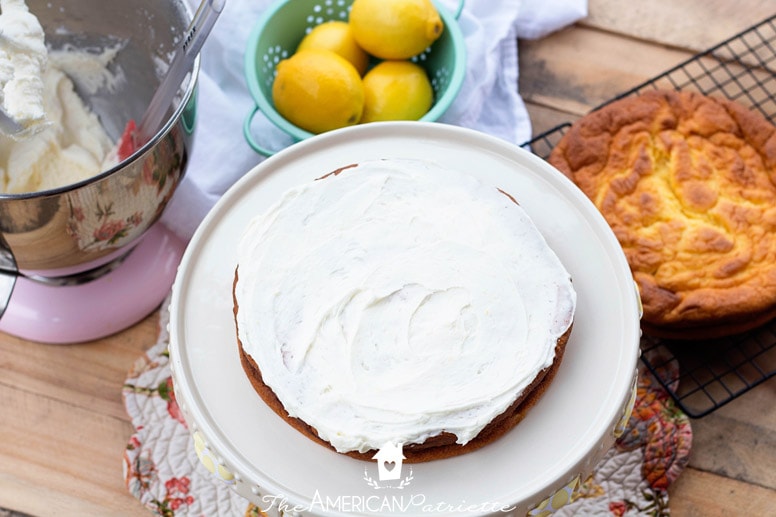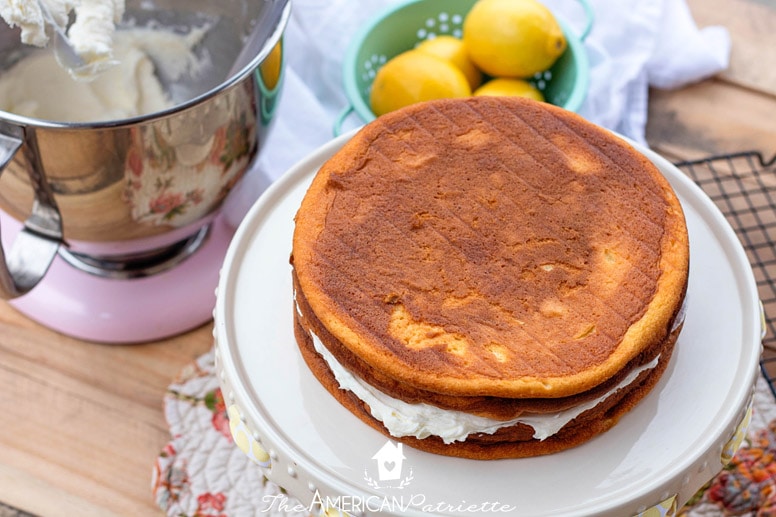 The cake is absolutely divine, but the icing.
Oh my.
It truly does "take the cake."
I know, I'm really talking up a big game with this cake. I can't help it!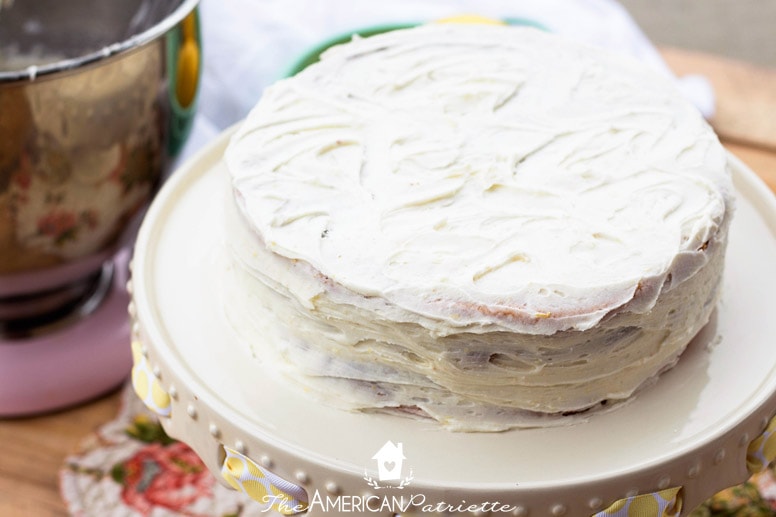 Step 3: Pipe the edges if you want to give it a little decorative flair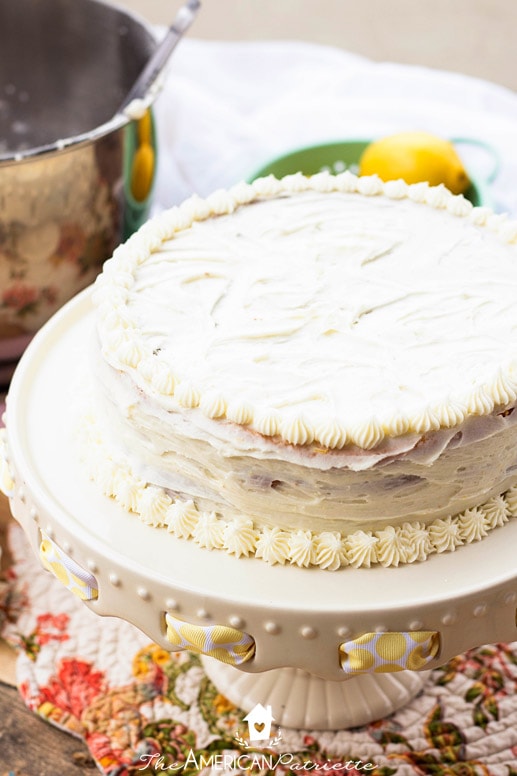 Step 4: Top it off with some lemons & lemon zest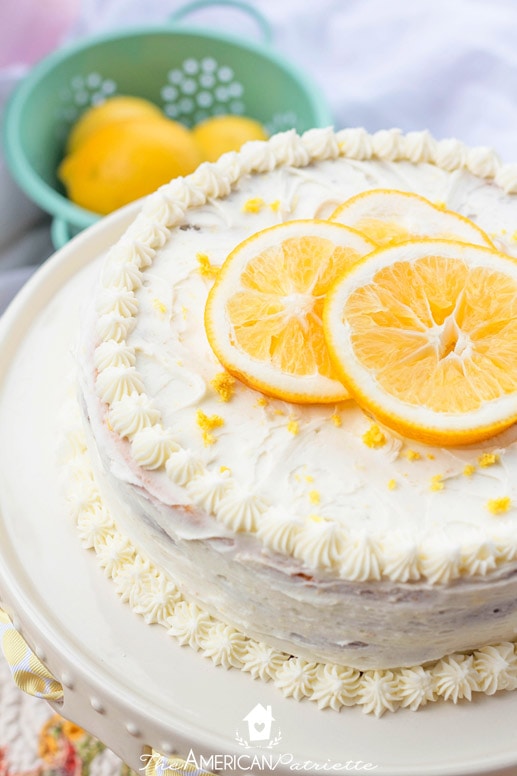 If you're going to do this part, wait until just before you serve it so the lemons don't get all runny on top of the cake!
Step 5: Go enjoy this with people!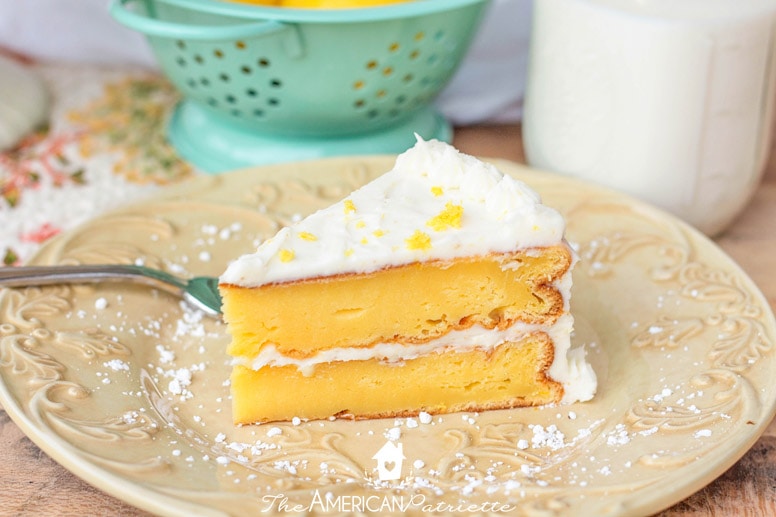 This is a fantastic recipe for spring and summertime, but I've made it in the dead of winter, too! It's just too darn good to relegate it to a season!
When life gives you lemons, REJOICE and go make this cake.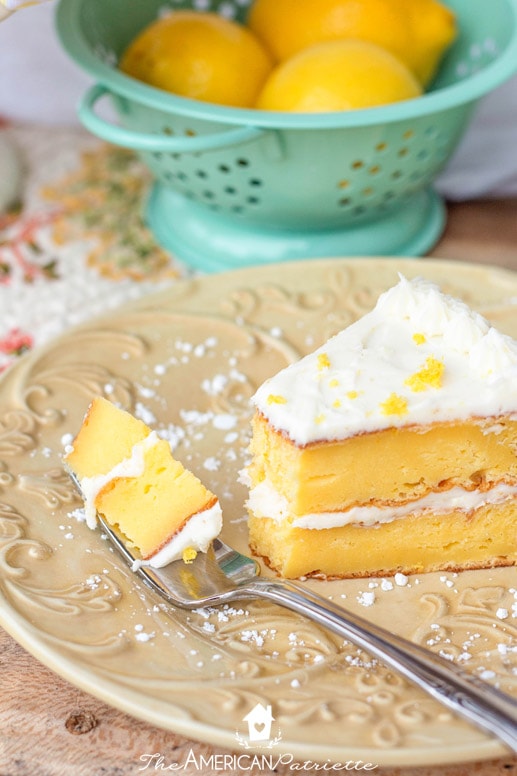 Make this cake to serve to some company coming over or to bring to a fun gathering! Be prepared to get a lot of hugs that day from everyone who takes a bite of this!
If you love lemon desserts and are looking for a few other ideas, check out some of our other favorite easy homemade lemon dessert recipes!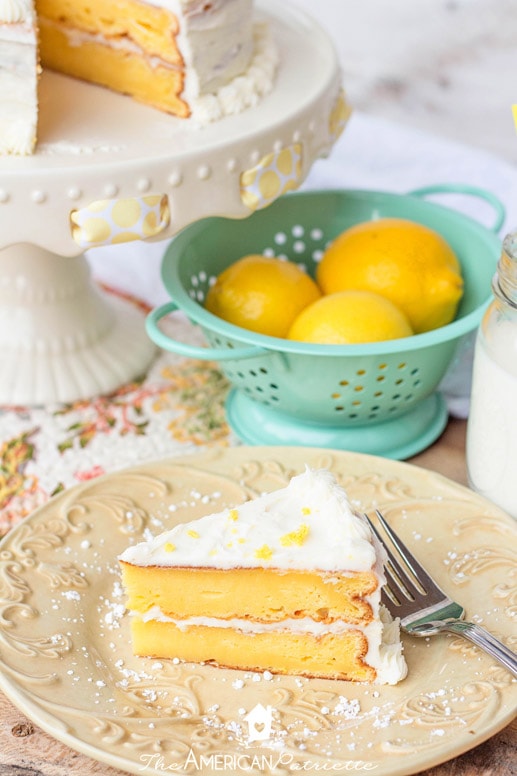 Love this recipe idea and want to make sure to remember it for later? Save it to your favorite Pinterest board!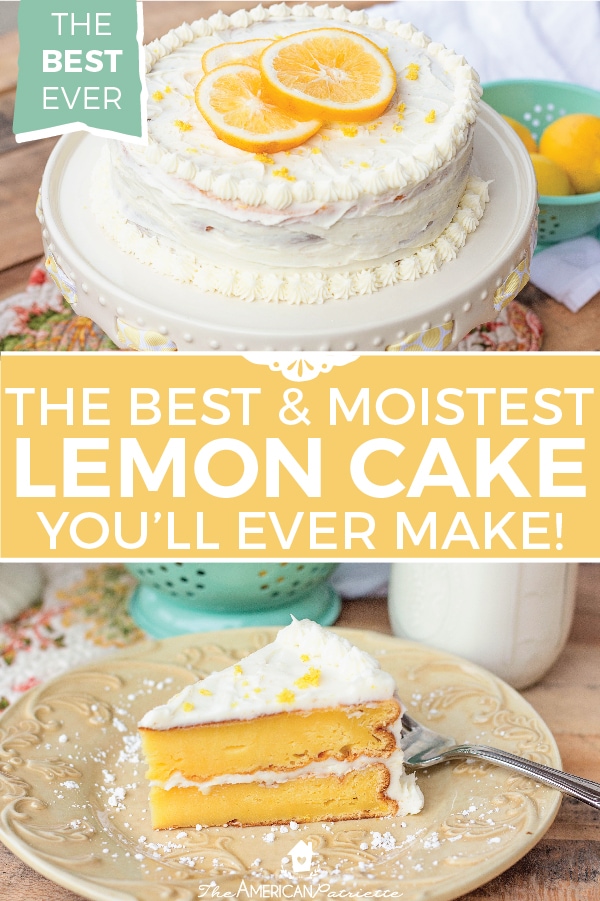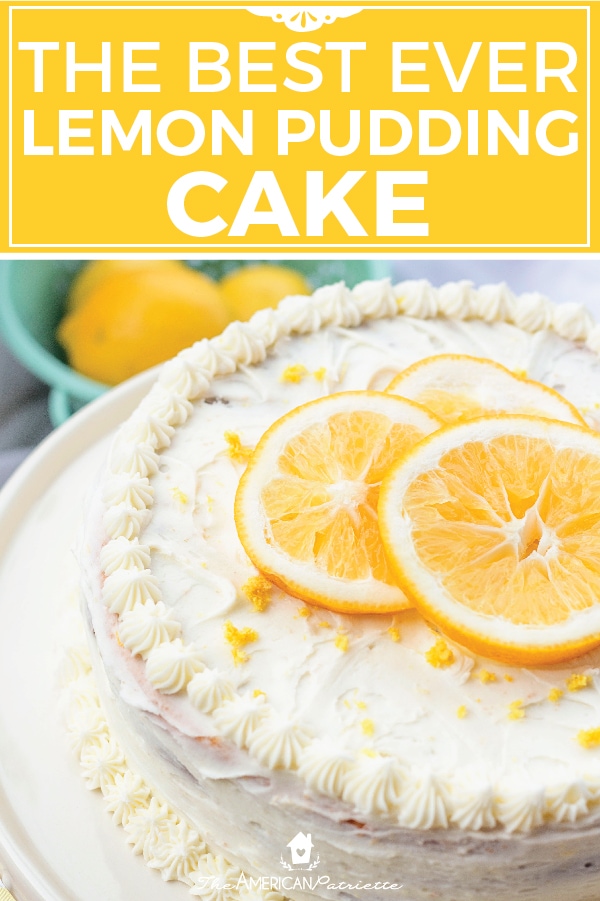 Incredibly Moist and Delicious Lemon Pudding Cake (The Best Lemon Cake EVER)
Ingredients
CAKE:
1 box yellow cake mix
5.1 oz box instant or Cook & Serve vanilla pudding
1/2 c vegetable oil
4 large eggs
1/2 c whole milk
8 oz sour cream
6 tbsp fresh-squeezed lemon juice
Zest from 1 lemon
________________________________________
ICING:*
1 stick unsalted butter, room temperature
3 c powdered sugar
4 tbsp lemon juice
Zest from 1 lemon
Instructions
Preheat oven to 350.
Lightly grease 2 round baking pans.
Using a stand or a hand mixer, blend cake mix, pudding mix, and oil together.
Add eggs one at a time, mixing between additions.
Pour in milk and continue to mix.
Add sour cream, lemon juice, and zest.
Mix until everything is thoroughly blended together, but DO NOT over mix.
Pour cake batter into baking pans and place in oven for 25-30 minutes (check with a toothpick after 25 minutes to see if cakes are done or if they need a little longer in the oven).
Remove cake from oven and set on cooling racks in the baking pans.
Remove cake from baking pans after about 10 minutes and allow to completely cool.
For the icing, cream together the butter and powdered sugar. Add lemon juice and zest.
Frost cake, top with lemon zest if desired, and enjoy!
Notes
*If you want to pipe some of the icing like you see in these photos, you may want to make a little more icing than what this recipe calls for. You'd probably be safe with making an additional half of the recipe in order to pipe enough frosting all around the top and at the base of the cake.