Love making delicious and beautiful desserts, but don't often have the time to do all the intricate details to add that fancy flair? Check out these 9 REALLY easy ways to dress up desserts – baking hacks that'll take you all of a few seconds!

Welcome to Day 7 of the 12 Days of Christmas Baking Tips series! I'm especially excited about this bundle of tips, simply because figuring out all of these have been game-changers for me in my kitchen!
For years, I'd spend hours at my kitchen counter when I'd bake, but after becoming a mama and getting further into adulthood, that free time started to disappear. Funny how that happens!
I still love to occasionally spend time on an intricate dessert (like these fun decorated sugar cookies!), but overall, while my baking hasn't slowed down at all, I've greatly reduced the time it takes me to make pretty desserts, simply because I've discovered ways to make sweet treats that both taste good AND look good, but without all the added hands-on time of assembling and decorating them.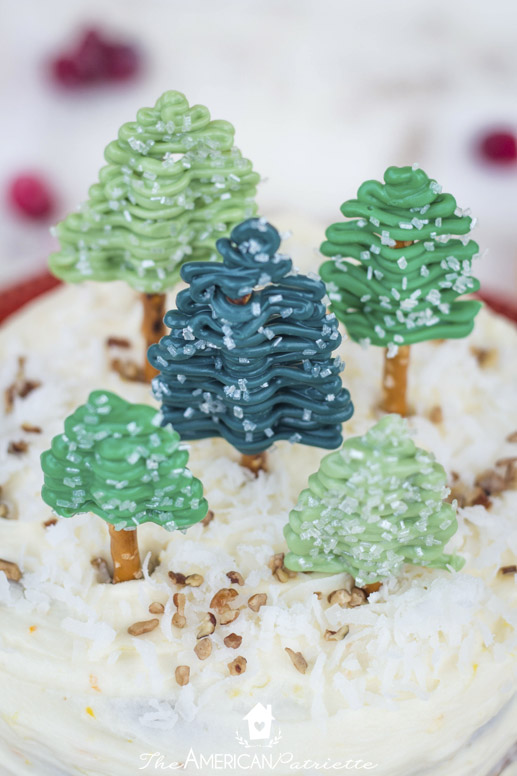 Plus, having these tips as part of my "kitchen hack toolkit," so to speak, has been SO helpful for me when I've needed to whip up a last minute dessert that I don't want to look and feel, well, last minute. A treat to share with a friend or neighbor, something to serve when we're having company on short notice, or, a dessert to make when I've known about an occasion for a while but time just got away from me.
The last one happens a little more often than I'd like to admit. 🙂
I know I'm not the only gal who is looking for ways to save time in her kitchen without compromising the quality of the food she makes, so I'm excited to share these 9 time-saving tips with you on how to REALLY easily dress up desserts & make 'em look fancy with hardly any effort! Let's dive in!
Easy Ways to Make Desserts Look Fancy
1. Add chopped nuts
Chopped nuts are a super simple way to add some color & texture to a dessert!
Take a look at how these gorgeous green pistachios dress up this Christmas-themed toffee:
And how all these chopped nuts make this easy Christmas nutcracker toffee look SO fun and festive!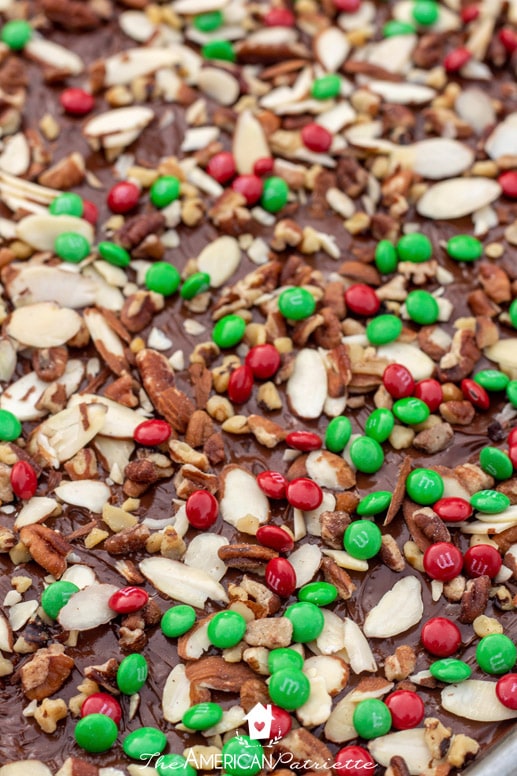 Nuts are one of those things I always try to keep on hand – I almost always have chopped pecans and sliced almonds on hand, particularly for desserts and to throw onto salads.
My husband *loves* pistachios, so I've started to keep those more regularly in stock, too, and I actually use them pretty often, especially for salads. SO GOOD.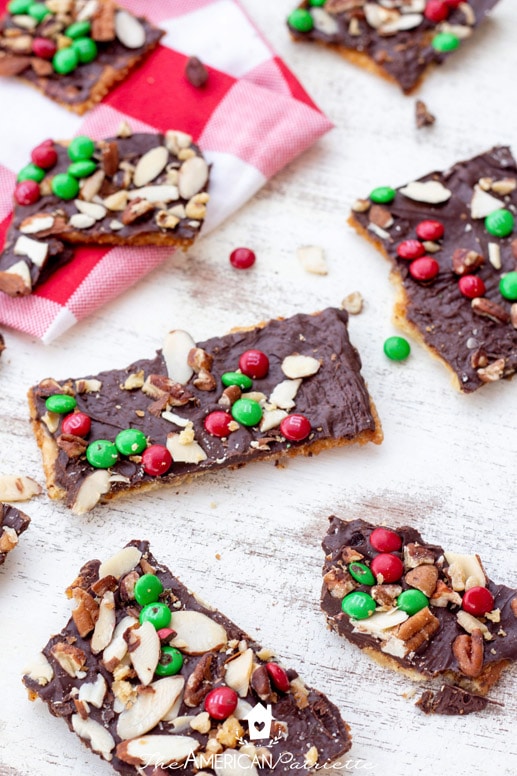 And you can see how this extra bit of chopped pecans adds a little more pizzazz to the glaze on this YUUUUUMMY pumpkin praline cake.
Tip for keeping nuts fresh: store them in your freezer! I keep unopened bags in my pantry, but once I open them, I store them in one of the pockets of my freezer door. This really helps them keep their flavor and not get that musty, old nut flavor they eventually get if they're not properly stored.
2. Add Mini Chocolate Chips
I love using mini chocolate chips to dress up desserts, particularly poke cake!
Since whipped cream frosting isn't too rich & sweet (and I always use homemade whipped topping on poke cakes…you just can't beat that combo!), the mini chocolate chips add some extra sweetness, crunch, and they look so pretty.
And, when it comes to using chocolate chips for topping, I think the mini ones work a lot better than the regular ones. They're not so over-powering. You can see how they add a little somethin' somethin' to this beautiful (and yet soooo simple-to-make) Christmas red velvet and chocolate poke cake.
3. Add Cookie Crumbles
YUM. I don't use cookie crumbles on too many other desserts, but I love using them on white chocolate popcorn!
They add so much flavor and some color, too. While plain white chocolate popcorn is a great snack in and of itself, it's just always better with toppings, and cookie crumbles are a perfect addition, especially to change the recipe up from season to season.
You can just see the festiveness in this white chocolate gingersnap popcorn!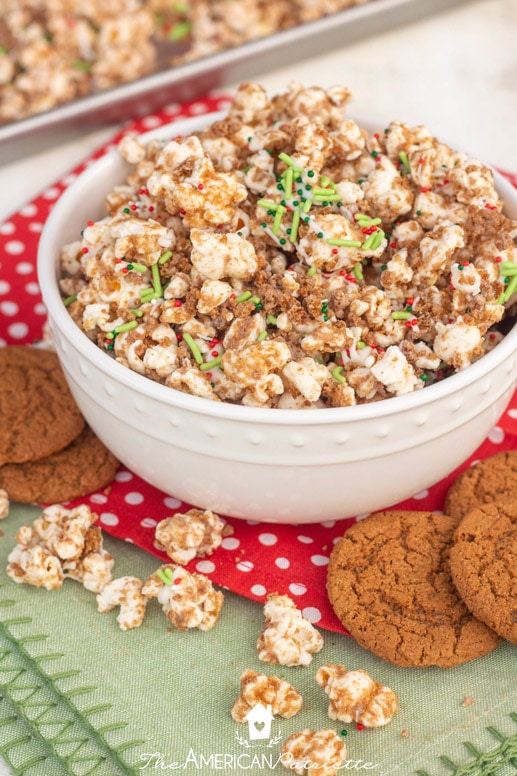 And for a more springtime or summer sweet popcorn treat, this exact same white chocolate popcorn recipe, just with crushed lemon Oreos instead of gingersnaps is a total winner!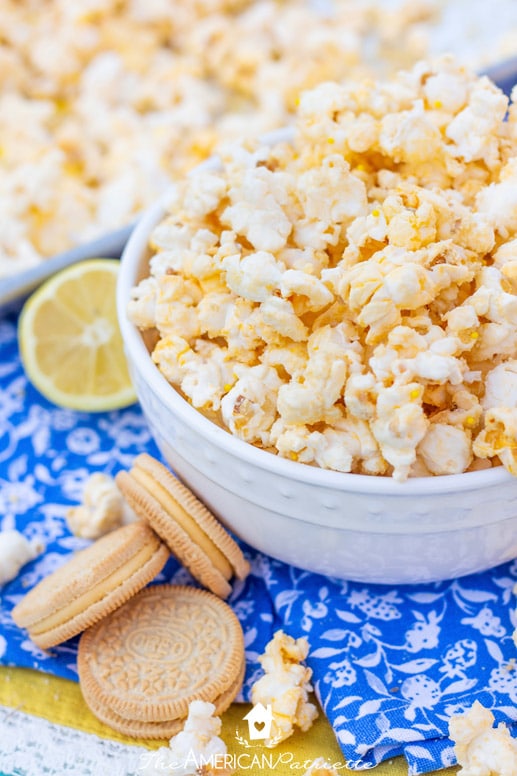 You can pretty easily crush cookies inside a hefty gallon zipper bag with a rolling pin, but to make the process really effortless, I always just put them in my Ninja food prep (that I use as both my blender and my food processor). I LOVE that thing – it's so inexpensive, and yet it works SO well.
I just throw the cookies in whole…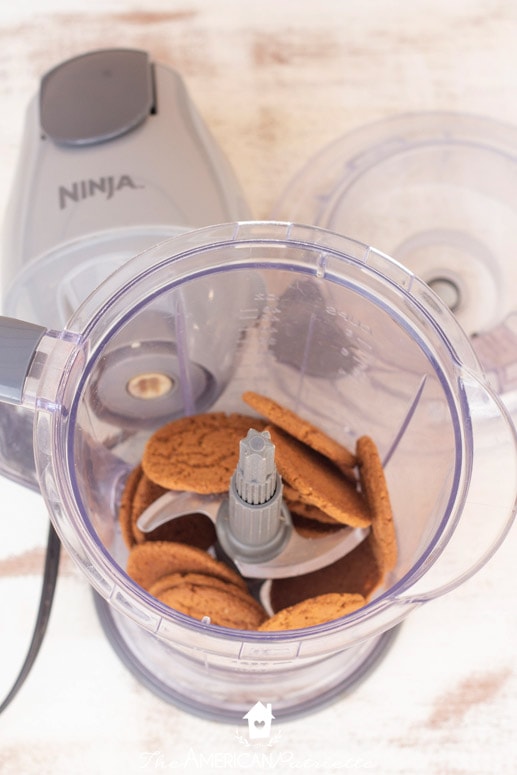 And they crush within just 2-3 seconds of pulsing the machine. EASY. My food processor broke several years ago, and I never replaced it because I realized my Ninja could do all that heavy lifting for me!
4. Add Toffee Bits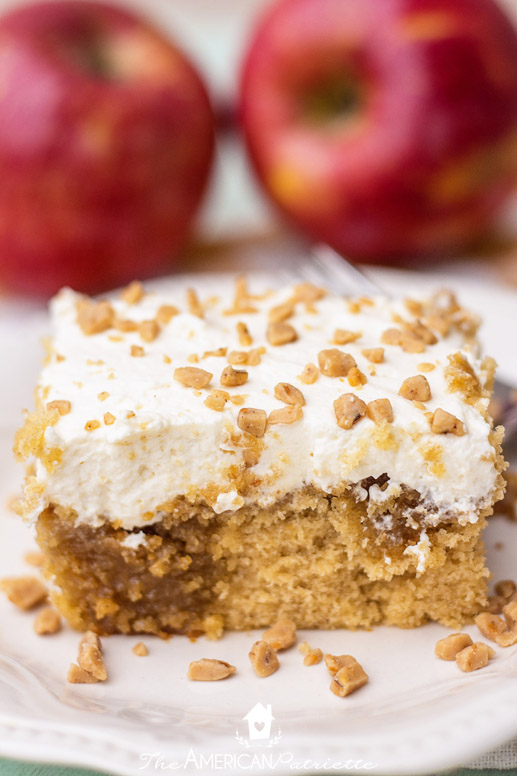 Similar to mini chocolate chips, you can add some toffee crumbles to the top of different cake icings.
Just like with the mini chocolate chips, I sprinkled this toffee over the whipped topping on this DELICIOUS apple butter and caramel poke cake.
And again over this butterscotch mocha bundt cake. I actually wasn't planning to add the toffee to this cake, but after looking at the cake with just the chocolate glaze, I realized it needed something else to look a little less…plain. Those toffee bits did the trick!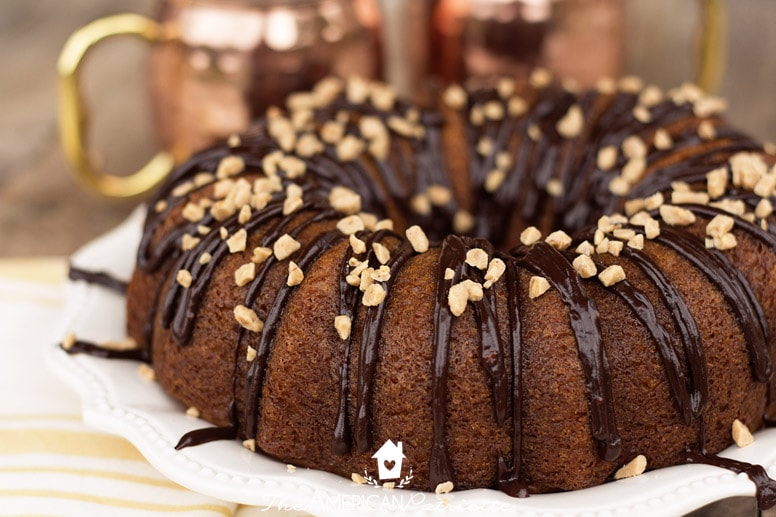 5. Add Sweetened Coconut Flakes
Love how easily sweetened coconut flakes make a cake or dessert look and feel so much fancier! Not to mention, it adds some great flavor and texture!
Just look at how beautiful the shredded coconut makes this plain white cake: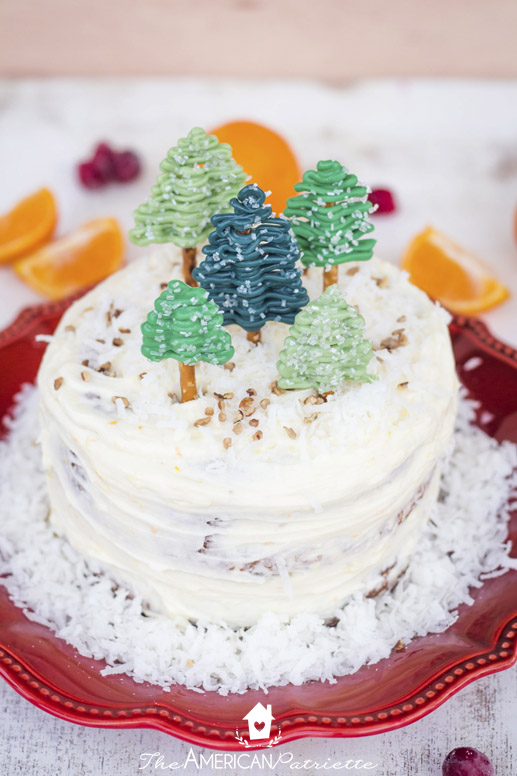 A regular winter wonderland, isn't it?
I even use coconut to dress up my fruit salad when I want something a little fancier for having company, hosting a bridal/baby shower, or another occasion where I want to dress it up a bit: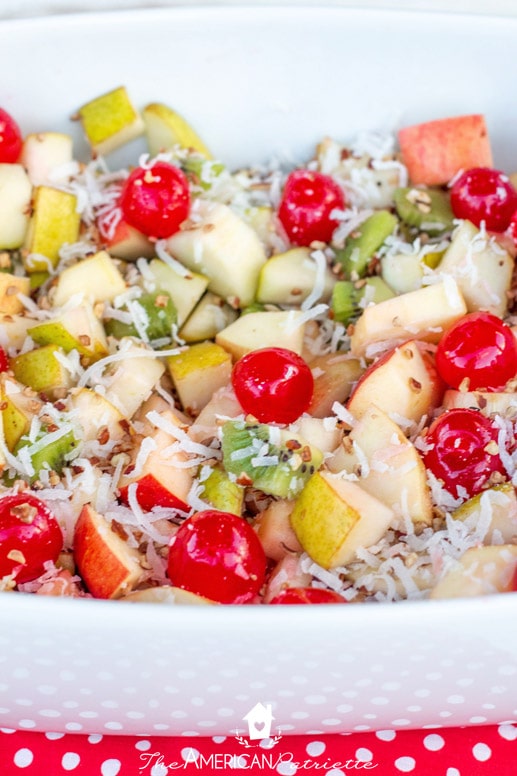 6. Add Sprinkled Spices
Dessert seem a little plain, but you don't want to go overboard with other toppings? A light dusting of sprinkled spices might do just the trick!
Here's some sprinkled cinnamon on top of this pumpkin & chai buttercream cake:
And sprinkled pumpkin spice on top of this pumpkin praline toffee – it adds both texture AND flavor!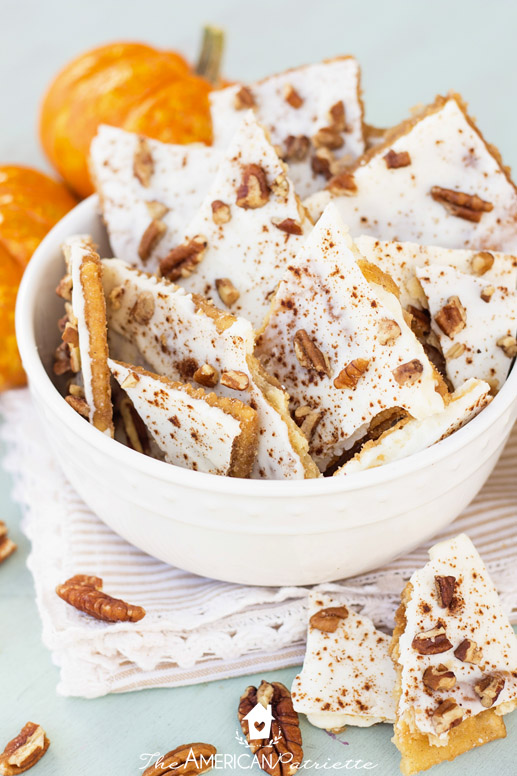 Without the spices, the toffee just looked kinda…bland. That light sprinkling makes it look much more seasonal.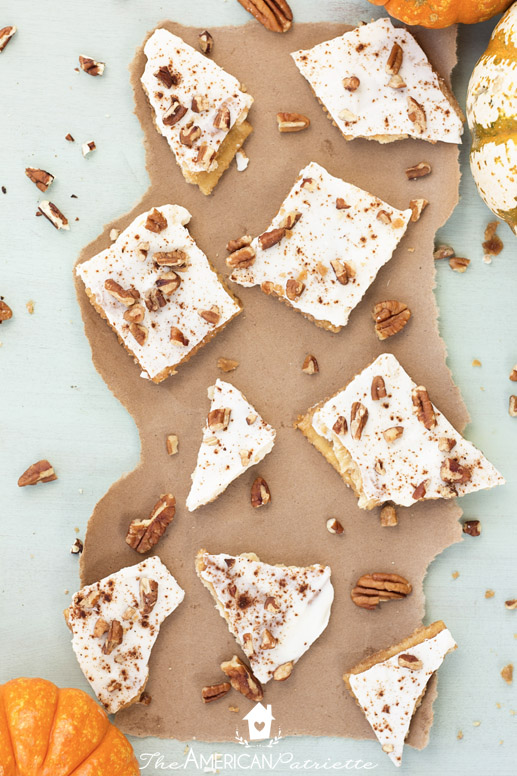 Tip for adding spice to desserts: particularly for iced cakes, don't add the sprinkled spices on there until closer to serving time. The icing absorbs the spices pretty easily, so instead of resting beautifully on the cake, after a while, the spices start to sink and dissolve into the frosting, and that doesn't look quite as pretty.
So, I've just learned to wait to sprinkle those spices on until I'm closer to serving the cake.
7. Add Colorful Sprinkles
Of course, you can't forget just regular 'ole fun and festive colorful sprinkles.
I don't typically use sprinkles for "anytime" desserts, but I very often add them for seasonal desserts or ones I make for particular occasions. Such an EASY way to add color and make a dessert yell from the table, "I am so fun! I bet you just can't wait to eat me!"
You can see how easily these add a holiday flair to this super moist pistachio chocolate chip pudding cake for Christmas!
And how almost necessary they are to make this chocolate peanut butter toffee just CHEER for the 4th of July!
Plus, since sprinkles are so versatile and easy to use, you can make pretty much any dessert fit any occasion, just by changing up the color(s) of sprinkles you use.
You're never too old to appreciate some sprinkles, ya know? 🙂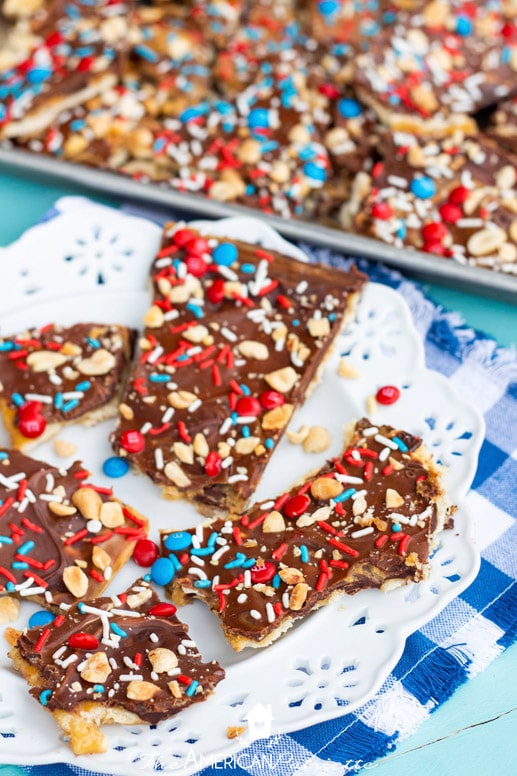 8. Add Citrus Zest
Wow-ee, talk about adding both color AND flavor! You can't beat fresh zest from a lime, lemon, or orange. And, it just looks so gorgeous.
Here's what it looks like on cranberry, orange, pistachio, and clove toffee for Christmas: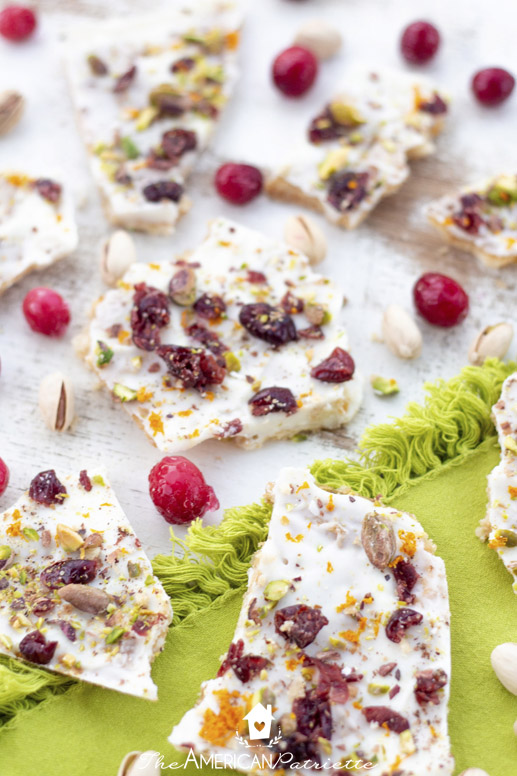 And on lemon toffee for spring and summer:
And as a quick topping on this AMAZING best-ever lemon pudding cake (for ANY time of year, because it's just that good):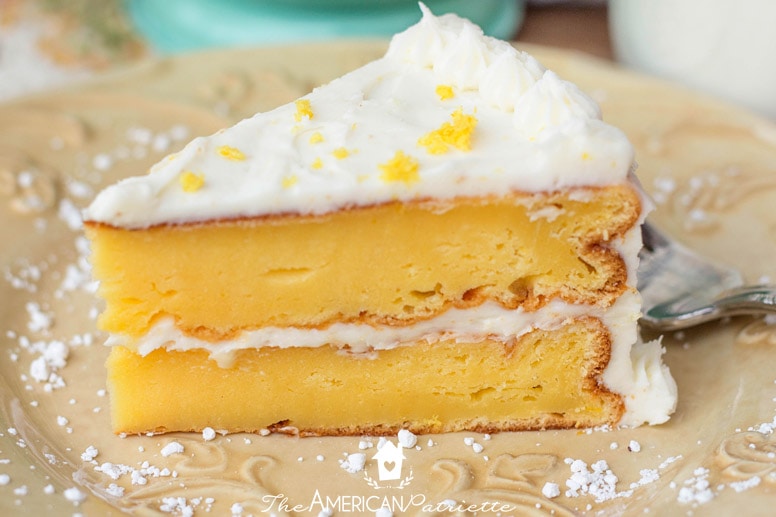 Tip for zesting citrus: Use a GOOD zester like this one. For years, I was using the same 'ole zester and didn't think much of it. But then, I somehow accidentally got another zester in the mail (it was a mysterious package from Amazon, and they had no idea where it came from, so they told me to keep it!), and after I started using it, I realized how much I had been missing in the past: that new zester was WAY better!
Here's the zester I have and use now – it works SO much better than my old one! What a good mysterious gift to get in the mail!
9. Drizzle the Frosting or Glaze
And last but not least, instead of spending time icing a cake, just make a drizzle and let it do its magic. Using a drizzle vs. regular icing enables you to ice that cake of yours in no time!
A simple white drizzle really brings this pumpkin coffee cake to life:
And this caramel drizzle adds more interest to this amaaaazing caramel mocha poke cake (that tastes DELICIOUS but was looking a little…blah without the extra caramel on top):
And this cream cheese drizzle on this pumpkin praline cake. Looks so elegant and delectable, yet takes just minutes to do!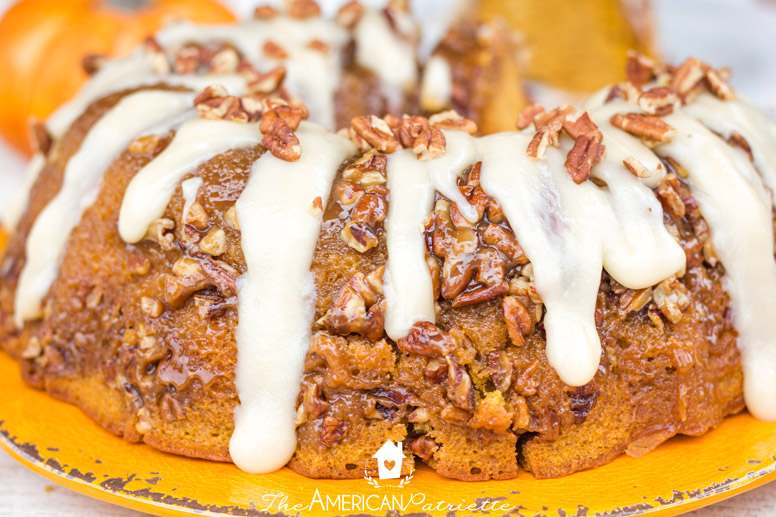 See how simple it can be to make delicious desserts look gorgeous with such little effort?!
If you love tips like this, you'll LOVE these holiday baking cheat sheets! If you haven't already snagged yours, you can get 'em free right here: