Easy Almond and Lemon Saltine Cracker Toffee
This delicious & super easy almond and lemon saltine cracker toffee is so fun to make and fun to eat! A perfect sweet lemon snack recipe for spring or summer!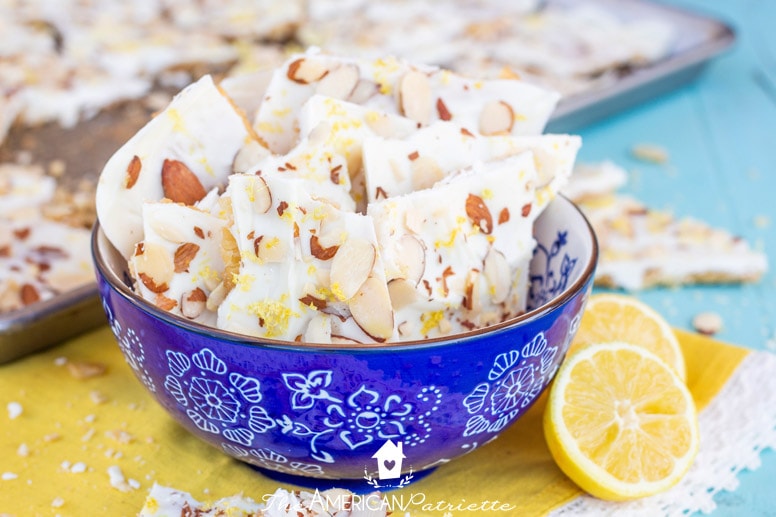 Because saltine cracker toffee is so easy to make, so easy to customize, and so delicious, I can't help but experiment with different flavors and versions, and then when I come up with another good one, I can't help but share it with you!
This easy almond and lemon saltine cracker toffee is a total winner! So tasty with that lemon zest on there, and the almonds add a nice crunch. You and your people are going to love it!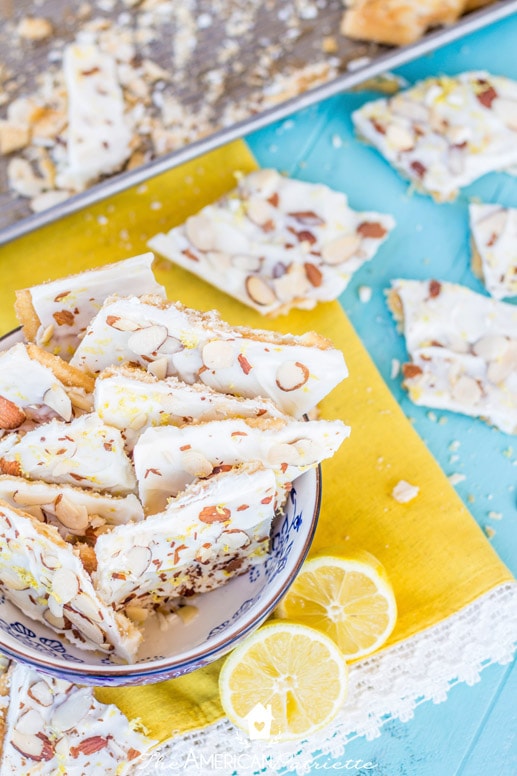 This is a perfect treat for spring or Easter potlucks, summer potlucks and picnics, and everything in between!
It takes about 10 minutes to prep and about 30 seconds to devour. 😉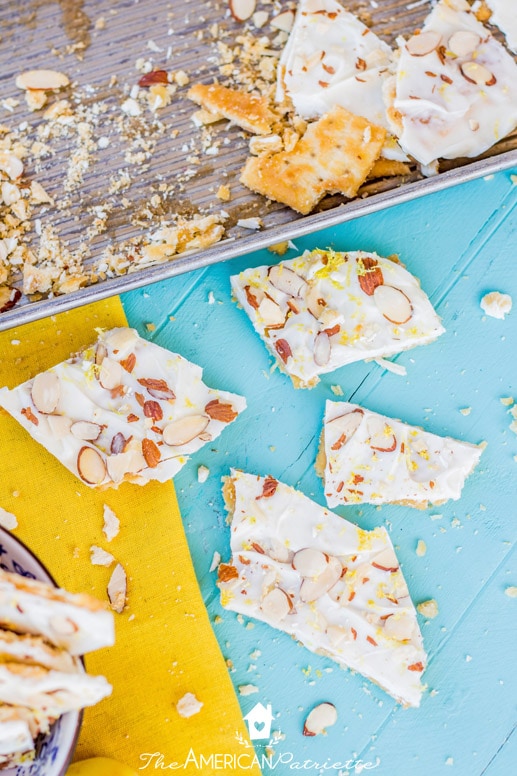 And it's so pretty, too! Want to join me and learn how to make it real quick?!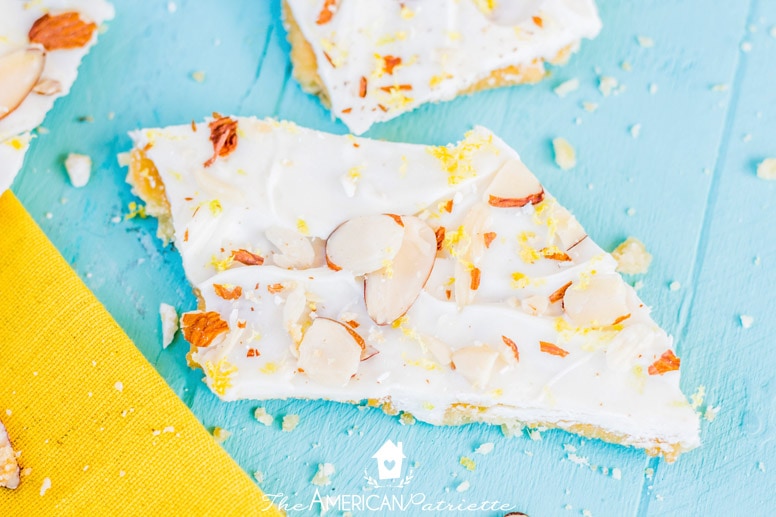 This post contains affiliate links for your convenience. You can read my full disclosure policy here.
How to Make Easy Almond and Lemon Saltine Cracker Toffee
Let's start out with a few things you'll want to set out on your kitchen counter.
Kitchen Utensils You'll Need:
And I'm really, really, really not kidding on that USA Pan recommendation. Absolute, hands down, best baking pans ever for absolutely everything I bake on a pan. I just want to hug them every single time I use them because of how well they bake things and HOW EASY IT IS to clean them!
Ok, friend, let's get bakin'!
Step 1: Lay out saltine crackers on baking sheet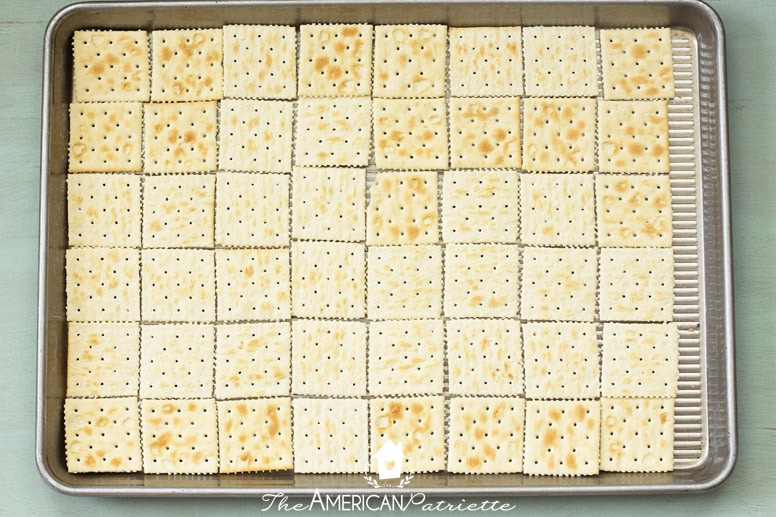 Make a grid on your baking pan with the saltine crackers. It's ok if you have a little gap between the pan & the saltines.
Tip: You might be tempted to do this, but DO NOT line the pan with foil if you're using one of the USA Pans. The super sticky toffee actually comes up far more easily off the pan than it does off of foil! But, if you're not using one of those pans, unless your baking pan is very non-stick, go ahead and line the pan with foil before you lay down the saltines.
Step 2: Make caramel sauce & pour on crackers

The recipe for the caramel sauce is at the bottom of the post, but it's just a simple mixture of butter & brown sugar on the stove top. Pour it evenly all over the crackers, use a spatula to spread it out if necessary, and then you're good to go!
Step 3: Bake crackers in oven for 5 minutes

Place that pan of crackers in the oven for 5 minutes at 350. I know, aren't you loving how easy this is?!
Step 4: Add white chips

Once you remove the saltine crackers from the oven, immediately pour on all of the white chips, and then place the pan back in the oven for 1 more minute to help them quickly melt.
Step 5: Spread chocolate chips

Remove the pan from the oven, and then use a spatula to gently spread the melted chips all over the crackers.
Step 6: Add the sliced almonds & lemon zest
Now for the fun part! Sprinkle on the sliced almonds and lemon zest. I just zest the lemons right over the pan.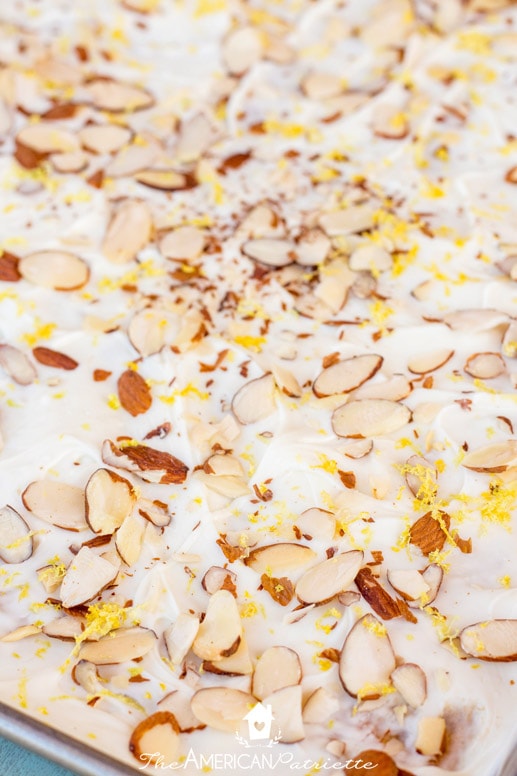 Doesn't this toffee look so happy and cheerful with those bright specs of yellow?!
Step 7: Place pan in refrigerator
Add the pan to the refrigerator to help the toffee set. I usually leave it in for about 20-30 minutes. You just want it to be at least at room temperature, if not cooler, before you start breaking it apart.
The cooler it is, the more cleanly it'll break apart.
Step 8: Break toffee apart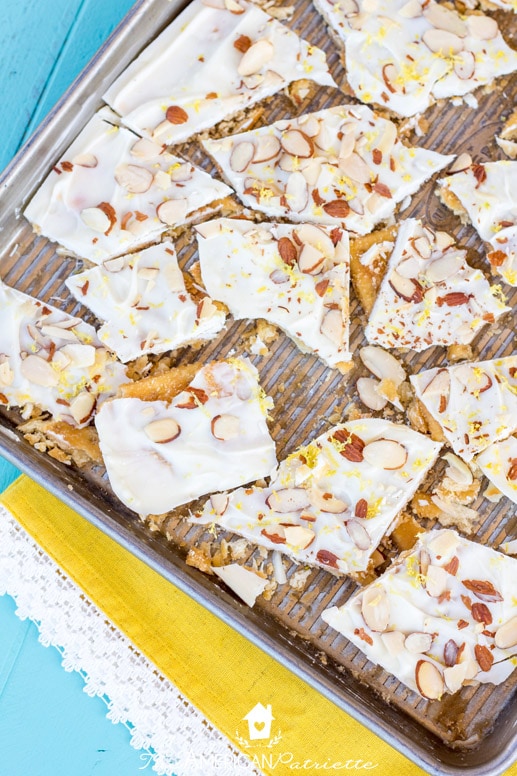 I usually get this process started with a metal spatula or a butter knife. Once you make a couple of cuts, you can then just use your hand and start breaking it apart.
It comes apart really easily, and it pops straight off of my USA Pans!
Step 9: Enjoy!
All done! Just place the toffee in the bowl/container you want to use to serve it, and that's all you need!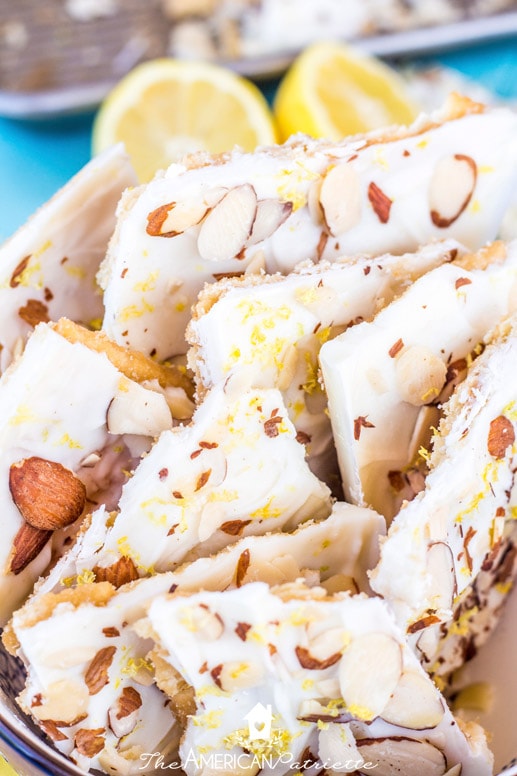 The salty crackers plus the really sweet and creamy melted white chips, topped with the crunchy almonds and the tangy lemon makes for a piece of heaven for your taste buds!
Such a fun & casual dessert, and also a great conversation piece – so easy to talk someone through how to make this recipe!
This lemon saltine cracker toffee is such a great recipe for spring potlucks, summer potlucks, picnics, and birthday parties!
I just love how bright and cheerful this version is – you and your people are going to love it!
If you love this type of easy sweet treat recipe and want more ideas for toffee, I'm working my way through the seasons on different versions – you have to try these other variations!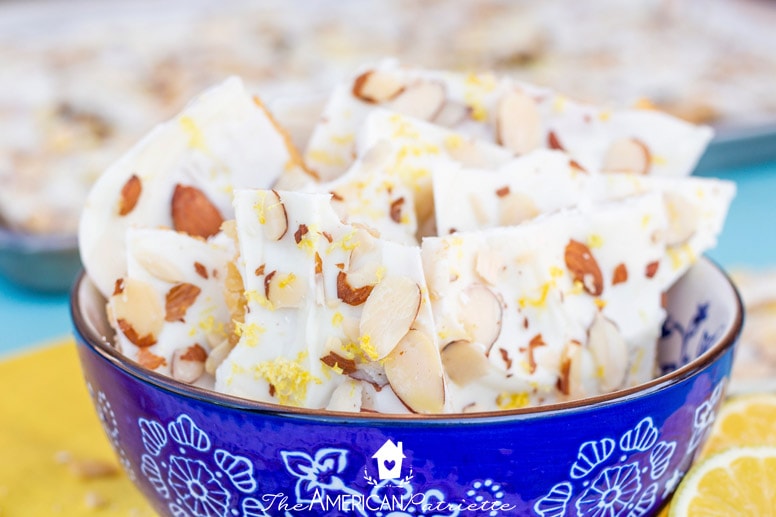 Go have some warm weather fun with this toffee! So excited for you to share this fun little treat with others!
Love this recipe and want to remember it for later? Be sure to save it to your favorite Pinterest board!
Easy Almond and Lemon Saltine Cracker Toffee
This easy almond & lemon saltine cracker toffee is the perfect dessert for spring picnics and summer BBQs! Sweet and salty treat everyone will love!
Print
Pin
Rate
Servings:
10
-15 servings
Ingredients
2

sticks unsalted butter

1

c

brown sugar

1.5

sleeves of saltine crackers

40 crackers

3

c

white chocolate chips

1.5 12oz bags

1/2

c

sliced almonds

Zest from 2 lemons
Instructions
Preheat oven to 400.

Place butter in small saucepan on stove top over medium heat and allow it to melt.

Stir in brown sugar and bring to a low boil for about 3-4 minutes to allow caramel mixture to thicken, stirring regularly.

While the caramel mixture is thickening, line a rimmed cookie sheet with foil (unless you use the awesome non-stick baking pans I use, and in which case, no foil needed!!), and lay out saltine crackers in rows on the cookie sheet.

Pour caramel mixture evenly over the saltines, using a spatula to spread it out to cover the crackers completely.

Place cookie sheet with crackers in oven for 5 minutes.

Remove from oven and set pan on a hot pad. Sprinkle white chocolate chips over top of the hot saltines. Place the pan back in the oven for 1 minute to help the chips to quickly melt.

Pull the pan out of the oven, and use a spatula to gently and evenly spread the chips out across the saltines.

After you've covered the saltines with the melted chips, evenly sprinkle the almonds over the crackers.

Zest two lemons evenly over the top of the crackers.

Allow pan to cool on a hot pad for 10-15 minutes (or until it's cool enough to set in the fridge), and then place in refrigerator for about 20-30 minutes - until the toffee is chilly to the touch and completely set.

Remove from fridge and begin breaking apart. You can use a metal spatula or butter knife to get it started, but once you get it started, you can just use your hands to quickly break the rest of it apart.

Place on platter or in serving bowl and enjoy with others!
Notes
Here are some helpful tips for making the perfect toffee!
Don't line your pan with foil if you're using a USA Pan - the super sticky toffee literally pops right off of the bottom of the pan! If you line the pan with foil, you'll have to spend some time peeling the foil off of the back of the crackers.
Make sure the chips are really soft before you begin to spread them across the crackers. This will help them spread much more smoothly without moving the crackers around too much.
The cooler the toffee, the easier it is to break apart into pieces (and the cleaner it breaks). So, just make sure the coffee is cool before you try to do this!