This easy Christmas Saltine "Nutcracker" Toffee is a super simple-to-make and delicious holiday dessert recipe! Made with saltine crackers & nuts, this sweet toffee is a fun and easy festive sweet treat, perfect for Christmas parties and potlucks.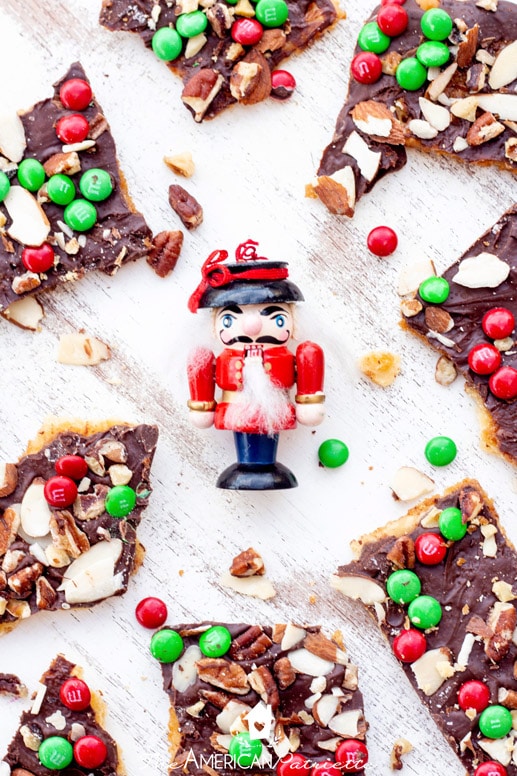 Toffee is one of those super, super simple dessert recipes that takes such little effort, and yet is so delicious! I also love that it's so customizable – you can easily change it up for so many different occasions. After I made this praline toffee version for fall, I knew I wanted to make a version specifically for Christmas!
It makes for a perfect dessert recipe if you're needing to make something quickly, don't want to have to do a lot of measuring, and are wanting a "tried-and-true" option that you know everyone will really enjoy.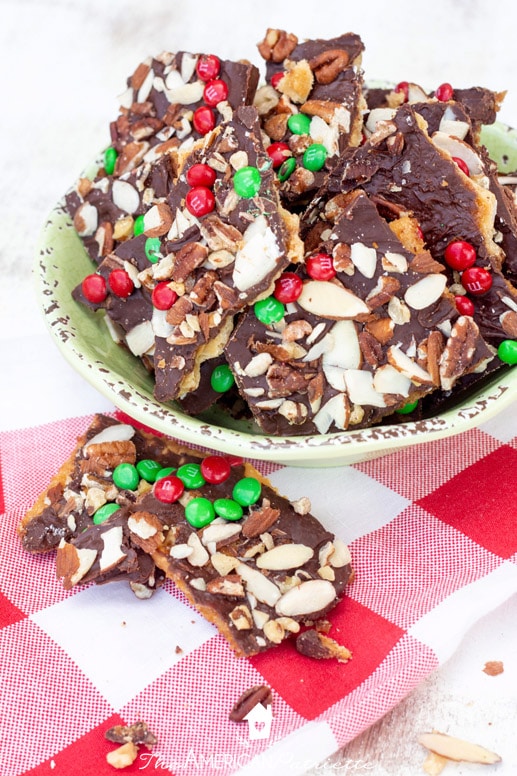 I think this toffee is particularly fun – I'm such a lover of puns, so when I thought of the name for this Christmas version, I was pretty excited about it. It only makes sense! Toffee made on crackers & topped with a big assortment of nuts: "Nutcracker Toffee" it is! 🙂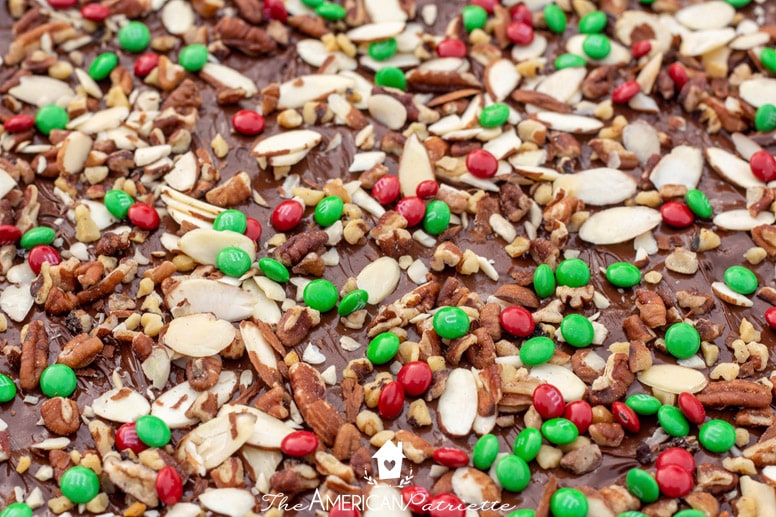 The prep work is minimal but the taste is outrageously good! I can't wait to walk you through how to make it so you can make it yourself and share it with others to enjoy. The details of the Christmas season sure are fun, aren't they? 🙂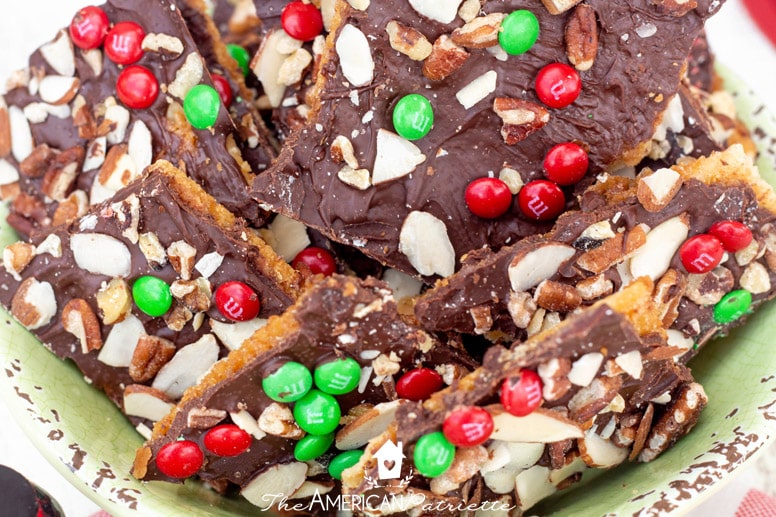 Alright, let me walk you through how to make this fun little sweet treat!
This post contains affiliate links for your convenience. You can read my full disclosure policy here.
Kitchen Utensils You'll Need:
I know. I told you this recipe was easy! 🙂
Yay! Let's get baking!
Step 1: Lay out saltine crackers on baking sheet


First, you'll make a grid on your baking pan with the saltine crackers. If you're not using one of these USA Bakeware pans, unless your cookie sheet is very non-stick, you'll want to line it with foil before you lay down the saltines. (I swear by these baking pans because they are completely non-stick…the super sticky toffee actually comes off of these pans better than it does the foil, so I don't even bother with foil on these pans anymore!)
It's ok if you have a little gap there between the end of the pan and the saltines.
Step 2: Make caramel sauce & pour on crackers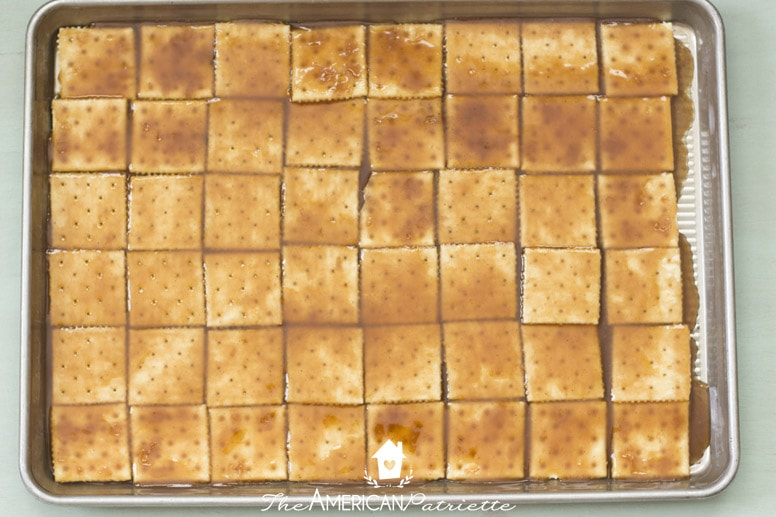 The caramel sauce is very easy to make. You'll get the more detailed recipe at the bottom of this post, but it's just a simple mixture of butter and brown sugar. Easy!
Pour it evenly all over the crackers, use a spatula to spread it out if necessary, and then you're good to go!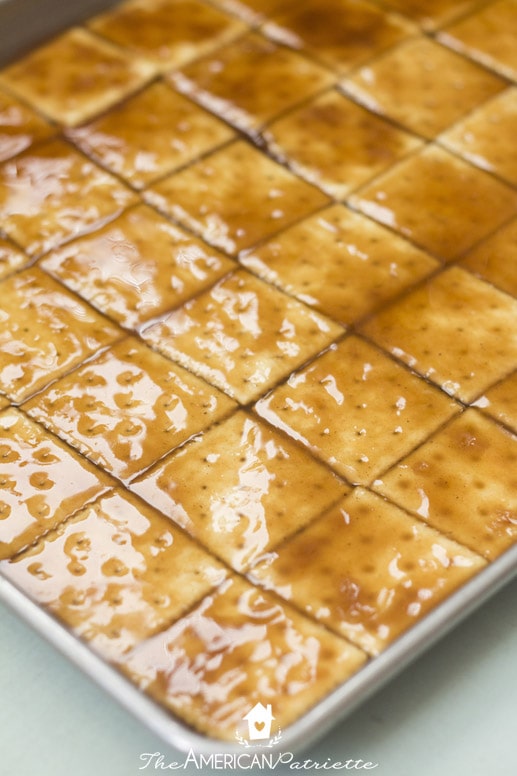 Step 3: Bake crackers in oven for 5 minutes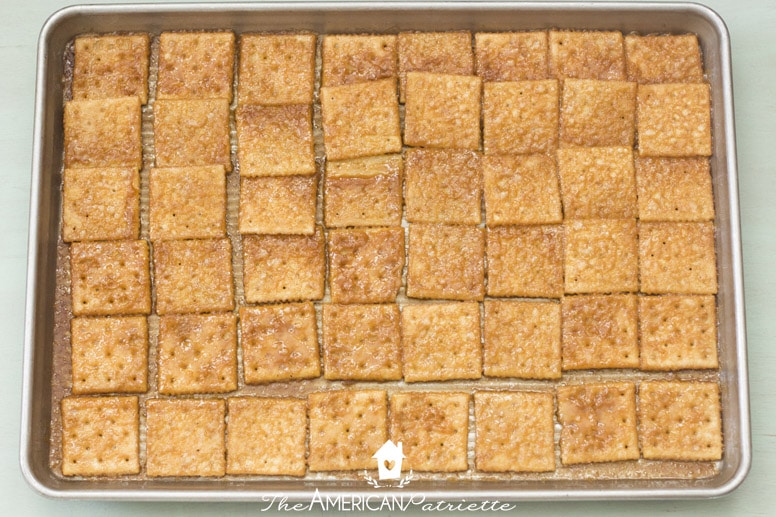 Place that pan of crackers in the oven for 5 minutes at 350. Yep, that's all it takes!
Step 4: Add chocolate chips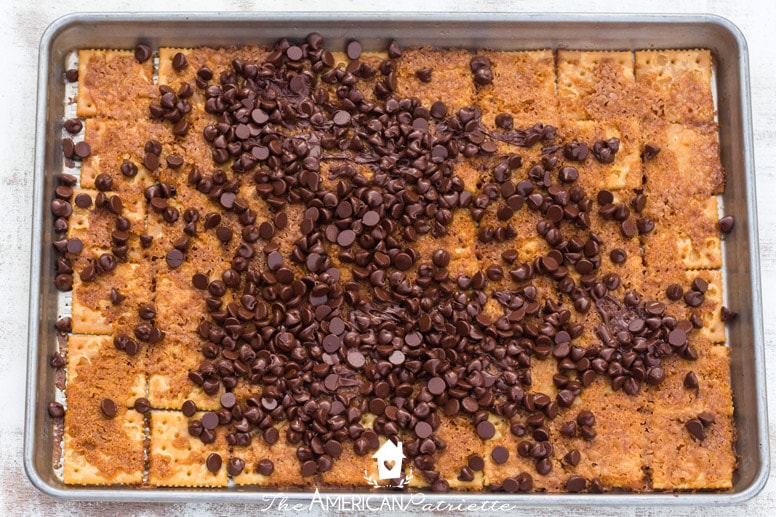 Once you remove the saltine crackers from the oven, immediately pour on all of the chocolate chips. Wait about 5-7 minutes, and the chips will be almost completely melted just by sitting on top of the hot saltines.
If you're in a hurry, you can put the pan back in the oven for another minute with the chips on top so they'll melt faster.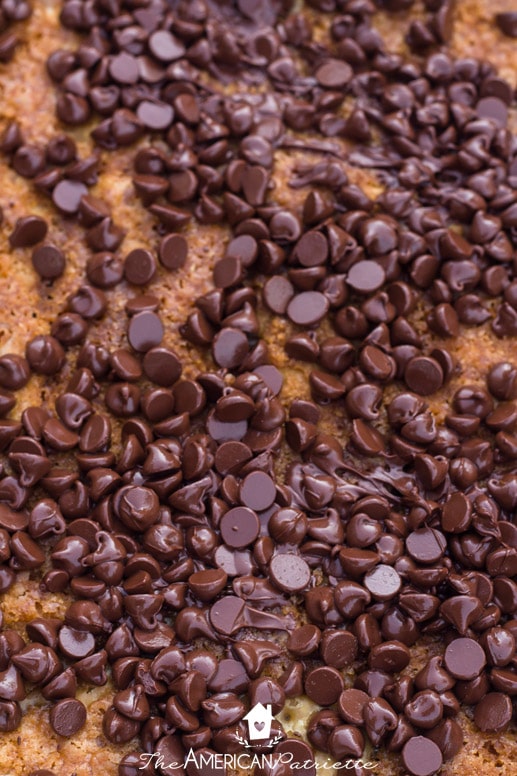 Step 5: Spread chocolate chips
Use a wide spatula to spread out the chocolate chips evenly across the toffee.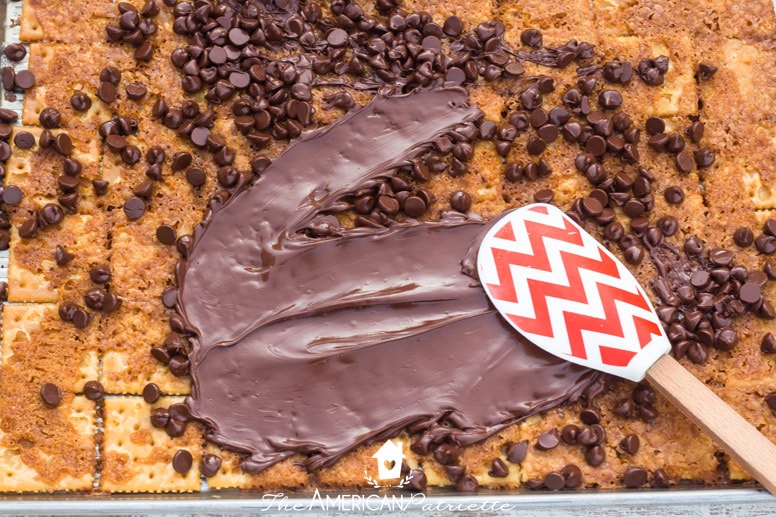 Step 6: Time to add the fun stuff!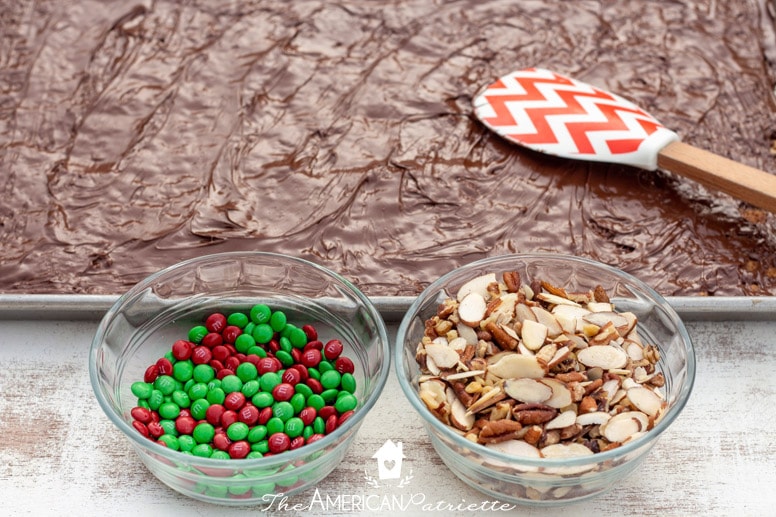 Once you get the crackers evenly coated with the melted chocolate chips, you're ready to sprinkle on the nuts and the red & green M&Ms! (You can also use Christmas sprinkles for this, too.)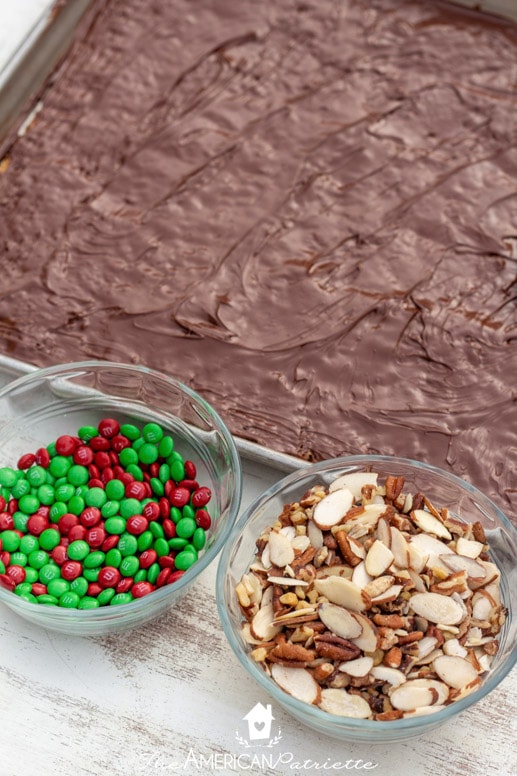 Just sprinkle them all evenly across the top. It's already looking so pretty!
Once you have the toffee covered with the toppings, use a clean spatula to gently press down on the nuts and the M&Ms to help them stick better into the melted chocolate.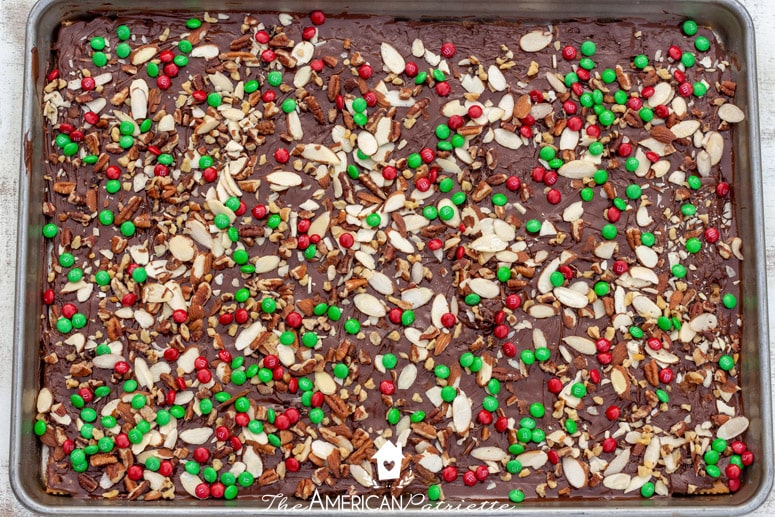 Step 7: Place pan in refrigerator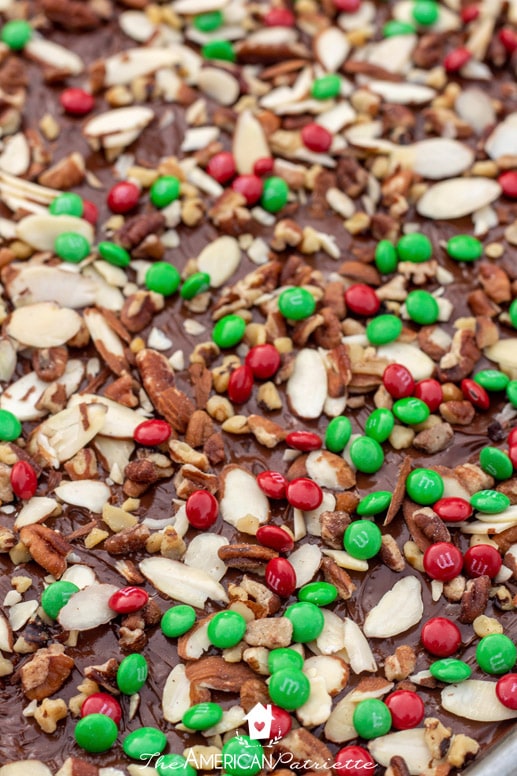 Add the pan to the refrigerator to help the toffee set. I usually leave it in for about 20-30 minutes. You just want it to be at least at room temperature, if not cooler, before you start breaking it apart.
Step 8: Break apart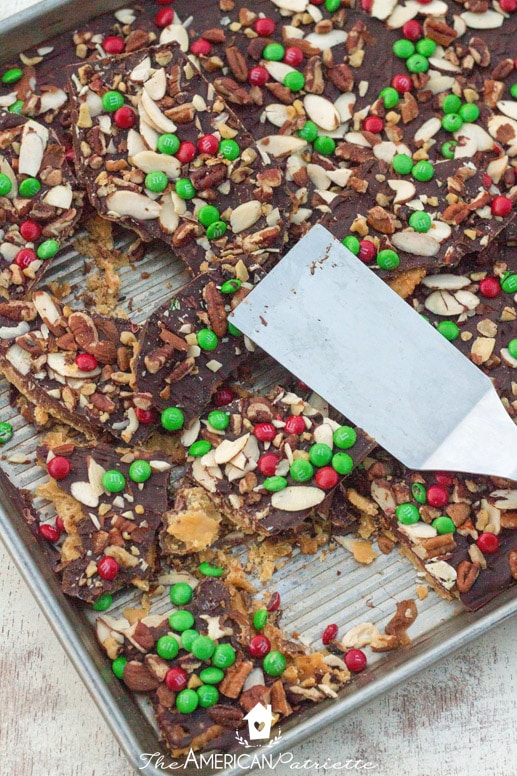 As you can tell, I used a sharper spatula to get me started with cutting into the toffee. Once you get started, it's very easy to just use your hands to continue breaking it apart. I wanted to show you how cleanly this toffee comes off these pans (I'm seriously telling everyone about these pans – I've had them for years, and they're just the best I've ever used!).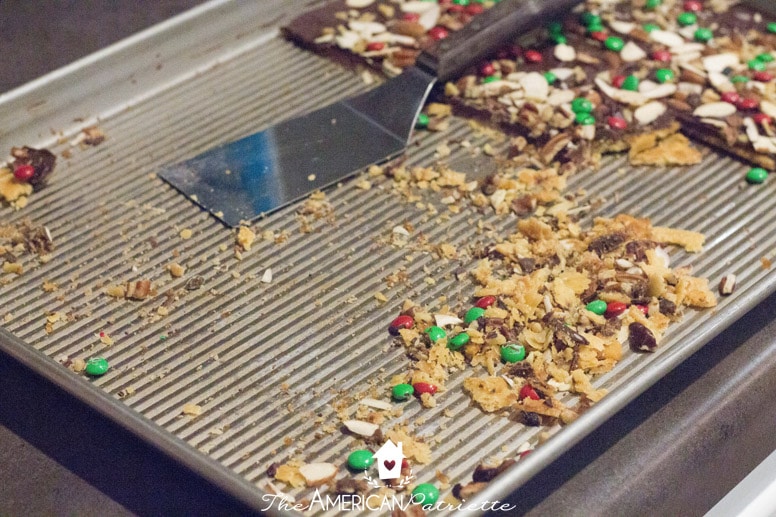 Step 9: Enjoy!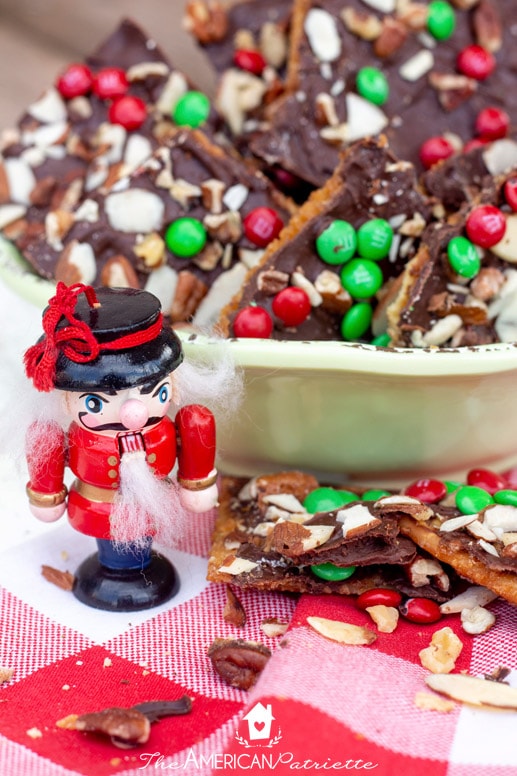 Have fun munching on this with family & friends this holiday season!
Such a fun sweet treat to make for Christmas parties, potlucks, and perhaps even as little treat gifts for neighbors, coworkers, and friends.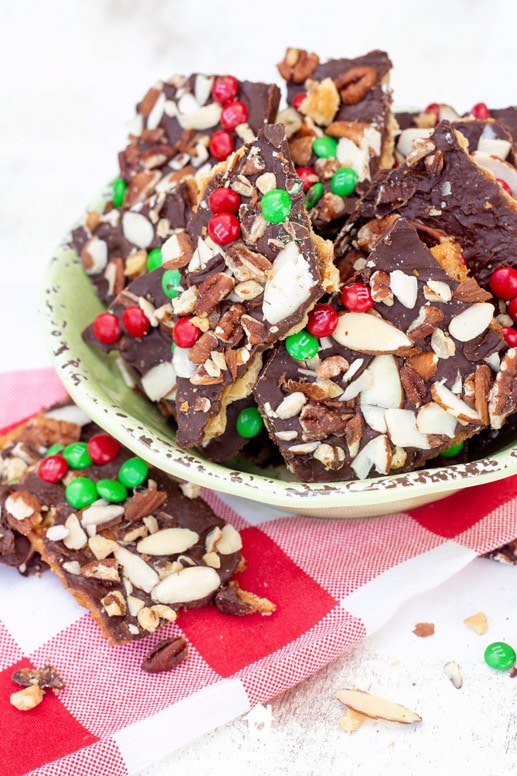 Once you've allowed the toffee to "set" in the fridge before breaking it apart, it hardens pretty well and makes it easy for transporting. You can also make this toffee ahead of time if you need to – it keeps well for a few days.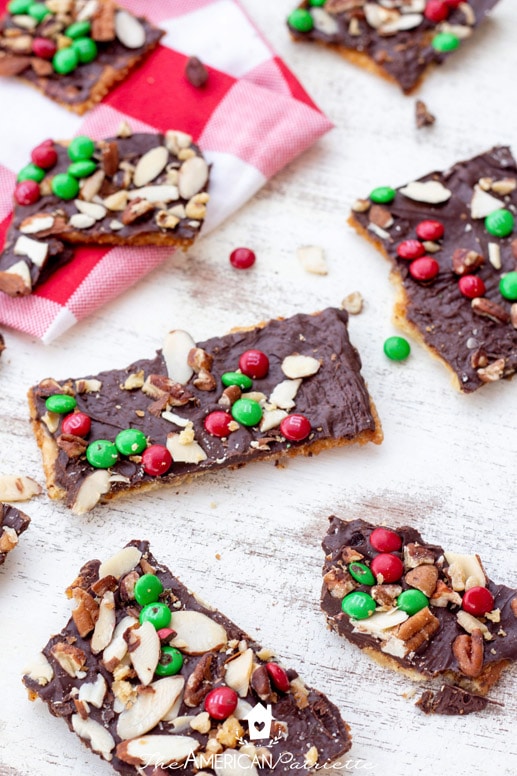 Have fun with this yummy Christmas Saltine Nutcracker Toffee! 🙂 Snag the recipe at the bottom of the post.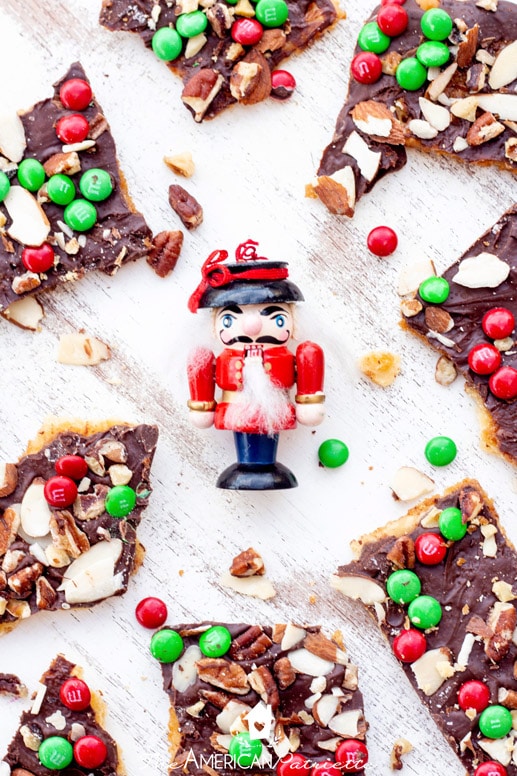 Also, this saltine toffee makes for a great sweet treat gift idea! Head over here to see how easy it is to assemble these into mason jar gifts & snag the free printable labels to make them extra festive and fun! 🙂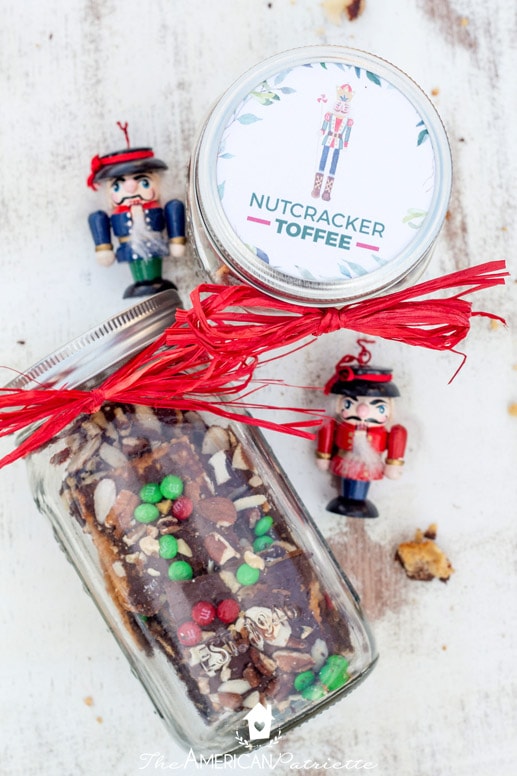 Love this recipe idea and want to remember it later? Be sure to pin it to your favorite Pinterest board!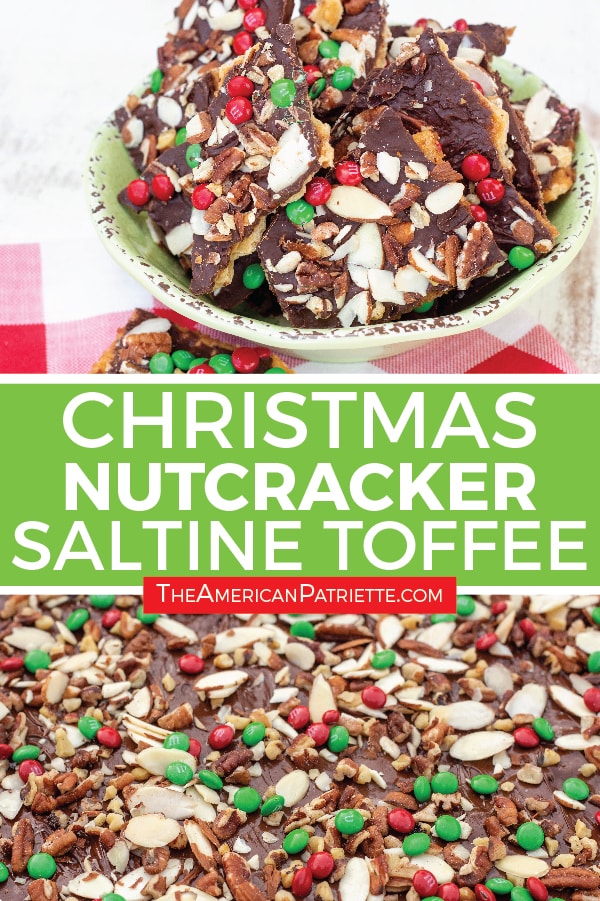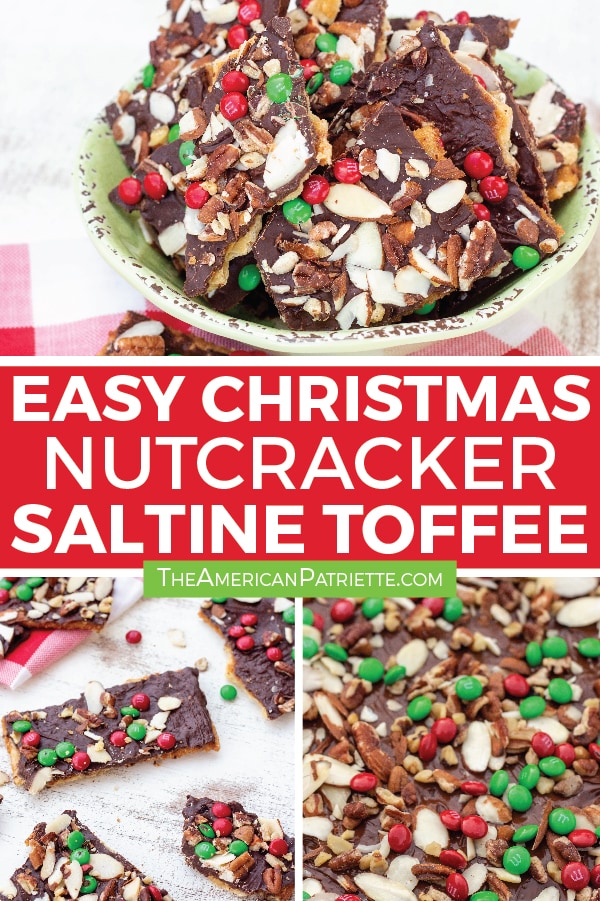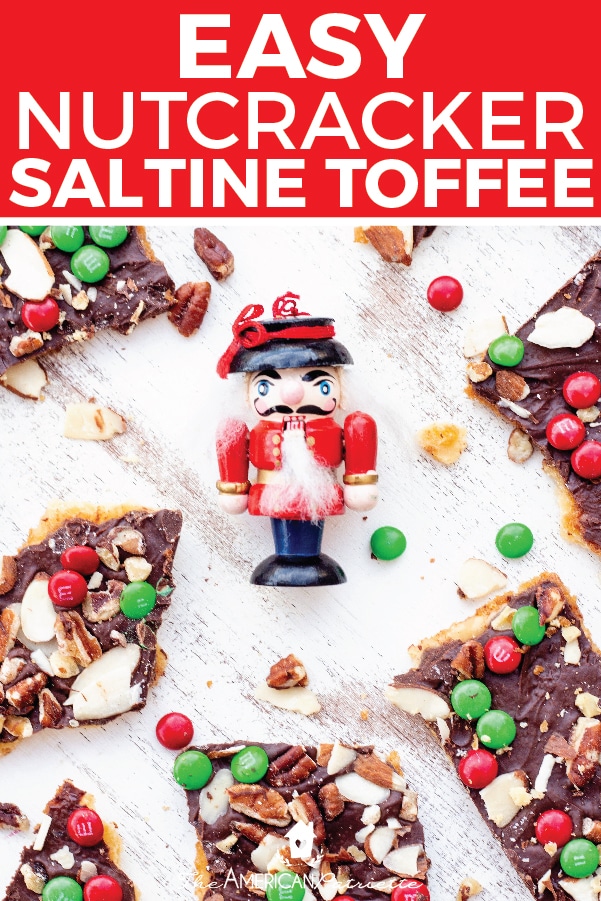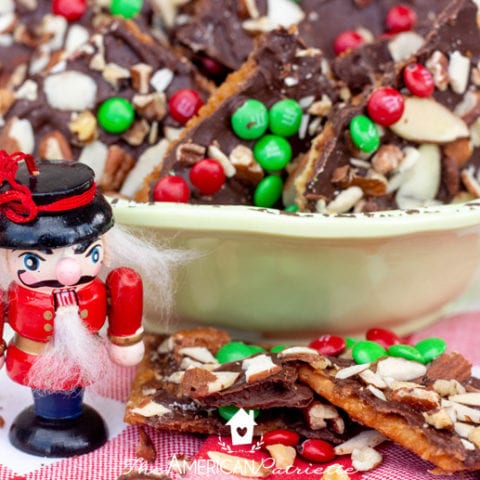 Easy Christmas Saltine "Nutcracker" Toffee (10-min recipe!)
This easy Christmas Saltine "Nutcracker" Toffee is a super simple-to-make and delicious holiday dessert recipe! Made with saltine crackers & nuts, this sweet toffee is a fun and easy festive sweet treat, perfect for Christmas parties and potlucks.
Ingredients
2 sticks unsalted butter
1 c brown sugar
1.5 sleeves of saltine crackers (40 crackers)
2 c semisweet chocolate chips
1.5 c chopped nuts (any nuts you'd like - pecans, walnuts, peanuts, almonds, cashews, etc.)
1.5 c mini Christmas M&Ms
Instructions
Preheat oven to 400.
Place butter in small saucepan on stove top over medium heat and allow it to melt.
Stir in sugar and bring to a low boil for about 3-4 minutes to allow caramel mixture to thicken, stirring regularly.
While the caramel mixture is thickening, line a rimmed cookie sheet with foil (unless you use the awesome non-stick baking pans I use, and in which case, no foil needed!!), and lay out saltine crackers in rows on the cookie sheet.
Pour caramel mixture evenly over the saltines, using a spatula to spread it out to cover the crackers completely.
Place cookie sheet in oven for 5 minutes.
Remove from oven and set pan on a hot pad. Sprinkle chocolate chips over top of the hot saltines. You can either let the pan sit there for 5-10 minutes until the chocolate chips completely soften on the hot saltines, or if you're impatient like I am and are ready to gobble up this toffee, you can place the pan back in the oven for a minute to melt the chocolate.
Once the chips are completely soft, use a spatula to evenly spread them out across the saltines.
After you've covered the saltines with the melted chips, evenly sprinkle the chopped nuts and M&Ms evenly across the top.
Allow pan to cool on a hot pad for 10-15 minutes (or until it's cool enough to set in the fridge), and then place in refrigerator for about 20-30 minutes - until the toffee is chilly to the touch and completely set.
Remove from fridge and begin breaking apart. Place on platter or in serving bowl and enjoy with others!