Christmas Saltine Nutcracker Toffee Mason Jar Gift (with free printable labels!)
This delicious and super easy-to-make Christmas Saltine Nutcracker Toffee is perfect for a mason jar gift! Use the free printable labels to make the jars more festive and give them a personal touch!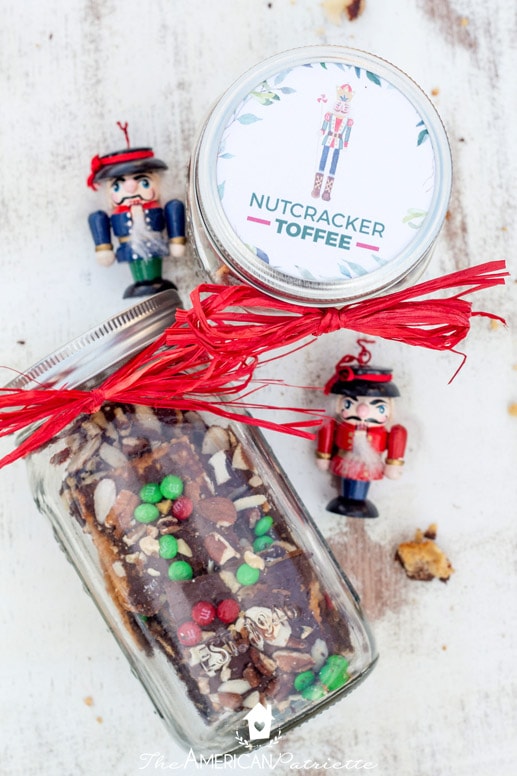 If you're looking for some super easy homemade mason jar gifts to assemble for Christmas, this toffee recipe is PERFECT for you!
It's super fun (I mean, c'mon – the play on words is fun in and of itself…"Nutcracker toffee" – toffee made with nuts & crackers and served at Christmas…it's just too fun!), and the recipe + the jars couldn't be easier to put together!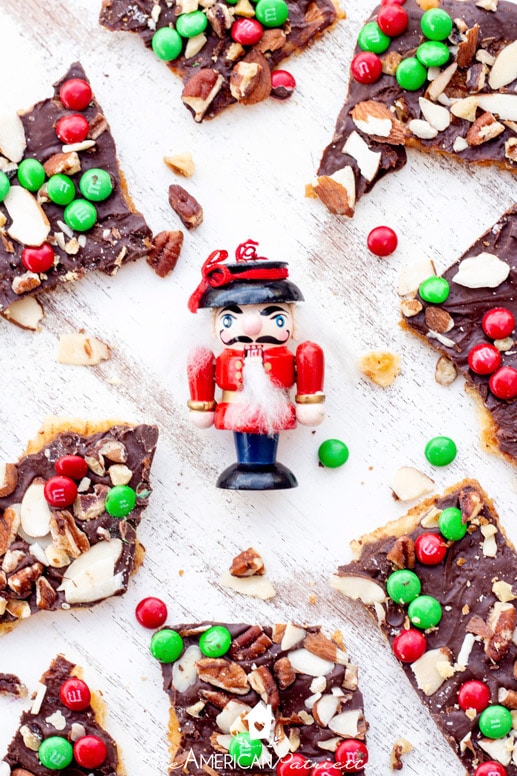 Let me show you how easy it is to put these mason jar gifts together!
This post contains affiliate links for your convenience. You can find my full disclosure policy here.
Materials you'll need:
Ingredients for Nutcracker toffee (the recipe on that post will fill about 8 pint-sized mason jars and about 4 quart-sized mason jars)
White cardstock (there are 6 labels per page, so the number of pages you'll need will be determined by the number of labels you're wanting to print)
Printable labels (grab them for free at the bottom of the post!)
Scissors
Raffia or Christmas ribbon to tie on the jars
After preparing the toffee (however many batches you're going to make to give out), here are the steps you'll follow to assemble the mason jars. Super easy! Also, I made the free printable labels two sizes – one for wide-mouth mason jars and one for smaller-size. So, you can do either the larger or smaller jars for this! 🙂
Step 1: Download & Print the Labels
Print out your labels and cut them out. You'll want to use thick cardstock for this – it'll hold up better on the mason jars!
Step 2: Cut the labels out & put them in the lids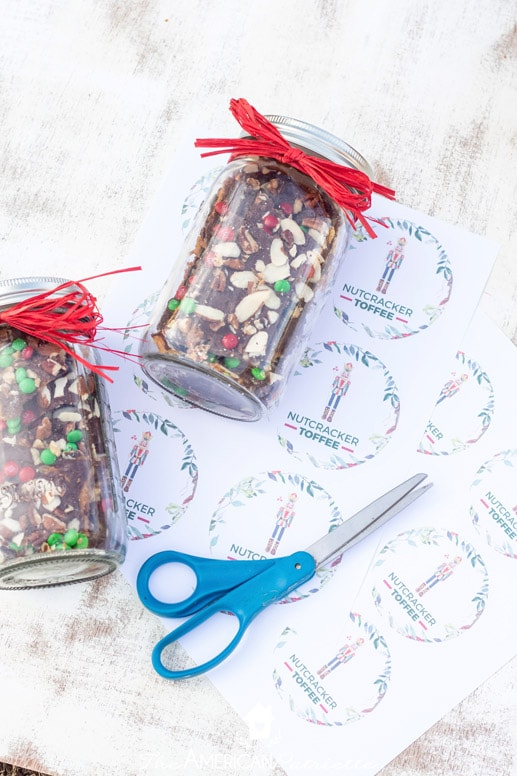 Easy enough! Just cut them out and insert them between the sealer part and the rim of the jar.
Step 3: Screw on the lids & add a ribbon around the jar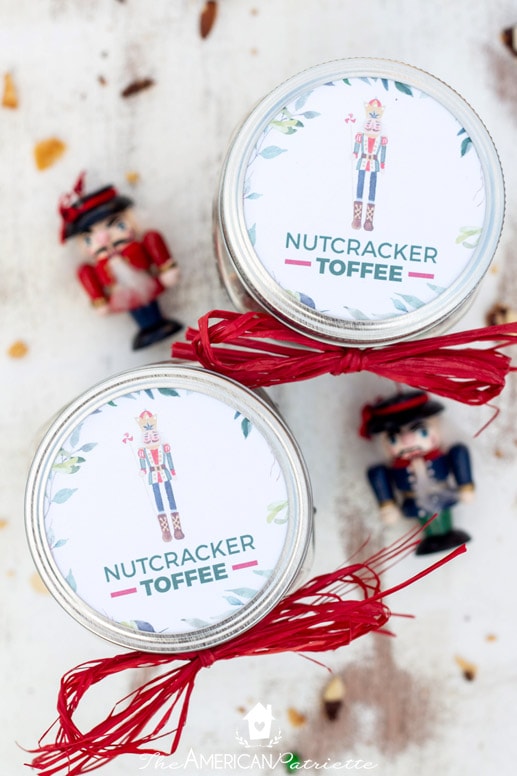 That's about it! I'm telling you – easy as pie! Or, maybe I should say, "easy as toffee," because I'm pretty sure my toffee recipe is way easier than pie! 🙂
Have fun making these for others! Just make sure you reserve some of the toffee to munch on while you assemble these – it's so good!
Fill out the form below to get instant access to these printable mason jar labels!
Love this idea and want to remember it for later? Be sure to save it to your favorite Pinterest board!