Easy and Sweet White Chocolate and Lemon Oreo Popcorn
This super easy and sweet white chocolate and lemon Oreo popcorn is a perfect spring or summertime treat! Make it for an Easter gathering, spring potluck, or summer BBQ – it's so simple to prep and so delicious!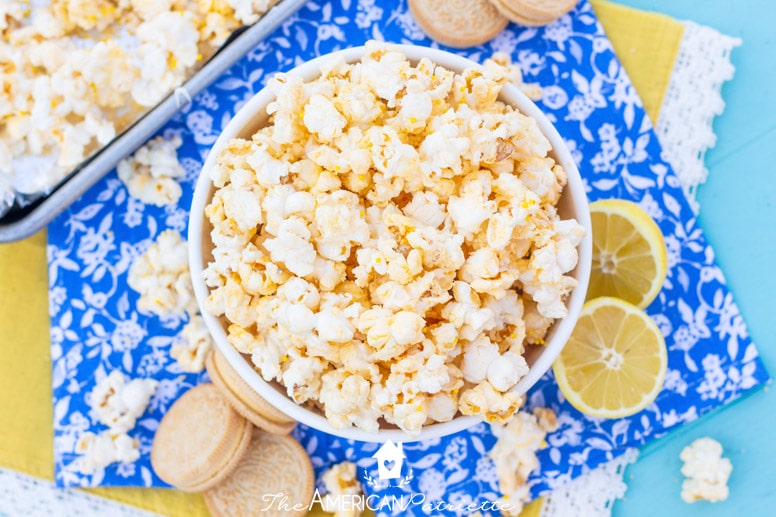 Making white chocolate-covered popcorn is one of my most favorite sweet treats to make…ever. It is so easy to make, so easy to customize, and everyone LOVES it!
I love experimenting with different versions of it – there are just so many options you can make! I realized I needed a spring/summer-ish one to add to my recipe collection. This lemon Oreo one is the perfect solution!
If you're looking for a yummy, casual lemon dessert recipe, you'll love this one! I can't wait to walk ya through how easy it is to make.
This post contains affiliate links for your convenience. You can read my full disclosure policy here.
How to Make White Chocolate Lemon Oreo Popcorn
Let's get going with making this tasty popcorn! We'll start with some of the basic things to have out on your counter.
Kitchen tools you'll need:
Okie dokes! Let's have some fun, shall we?!
Step 1: Crush lemon Oreos in food processor/chopper
Preface to the next two photos: I've looked everywhere on my computer, and I cannot find the photo I took of the lemon Oreos in my Ninja Food Prep! So, until I go get more lemon Oreos to snap another photo, I'm going to ask you to use your imagination and pretend like these gingersnaps from my White Chocolate Gingersnap Popcorn are, in fact, lemon Oreos.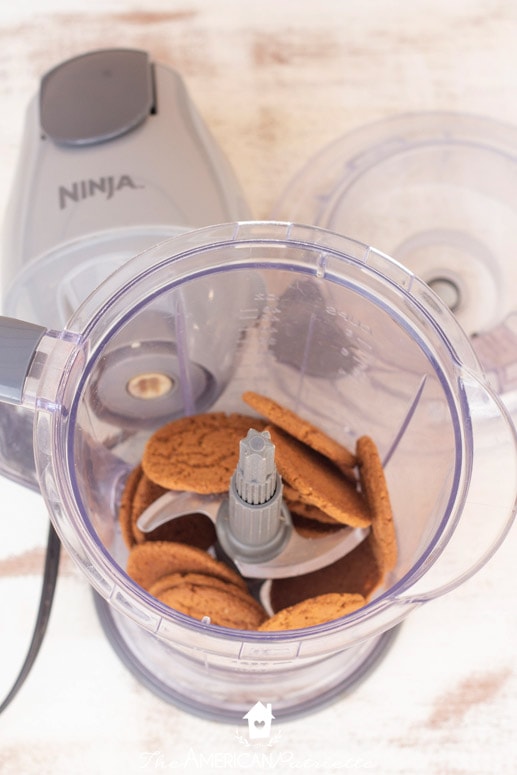 You get the gist, right?
You just give the machine a few pulses and then you get some yummy crushed cookies out of it. 🙂
(Also, I love my Ninja. Cost me about $30 about 6 years ago when I needed to replace my blender, and it ended up replacing my super nice and expensive food processor, too, when it went out! I love this multipurpose thing!)
Step 2: Pop the microwave popcorn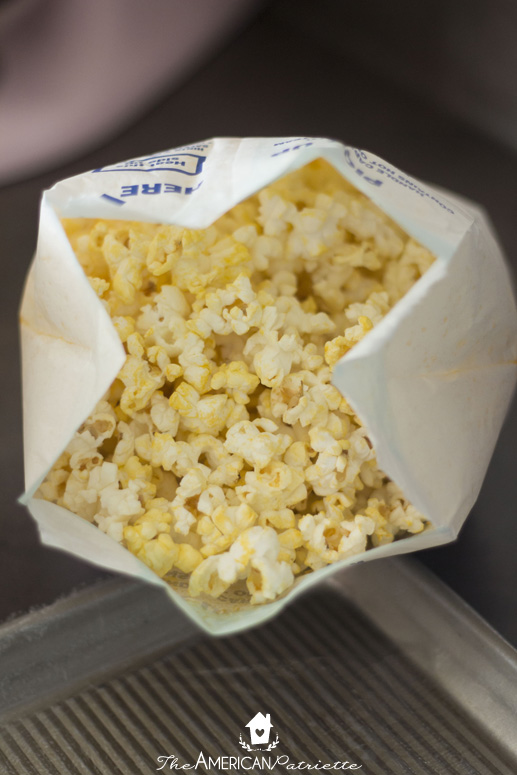 Just do what you normally do when you pop a bag of popcorn! I always use the light butter version when I make my sweet popcorn. Perfect combo! 🙂
Step 3: Add popcorn to large mixing bowl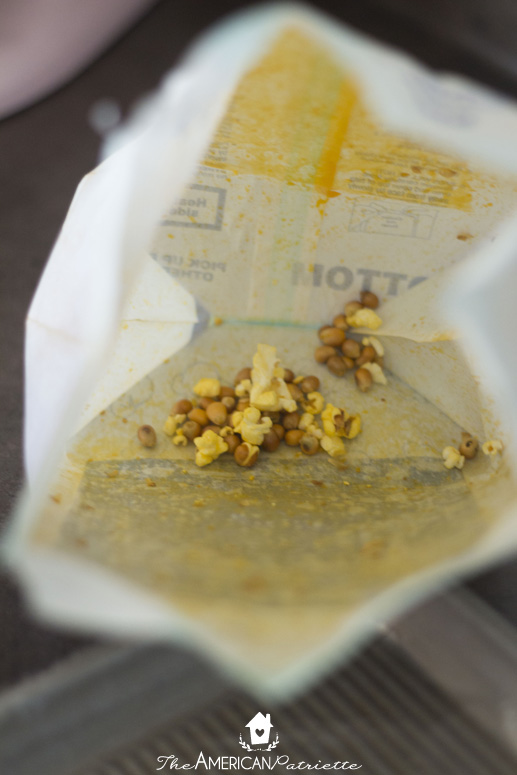 Two super easy & important tips for when you do this:
1) Before opening the popcorn bag and transferring it from the bag to the bowl, give the bag a little shake up and down a few times to get the hard kernels to the bottom of the bag.
2) Once you've shaken the bag up and down a few times, use your hand to scoop out the popcorn and add it to the bowl rather than just pouring the popcorn straight from the bag into the bowl. Does that make sense?
If the hard kernels get mixed in with the popcorn and coated with the white chocolate, they're really hard to avoid when you're eating it. And believe me, they're NOT fun to bite down on.
Thankfully, following these two little steps is an easy way to minimize the ability for those unpopped kernels to escape the bag.
So, scoop out that popcorn and put it in a large bowl!
Step 4: Microwave the white chocolate (baking bark)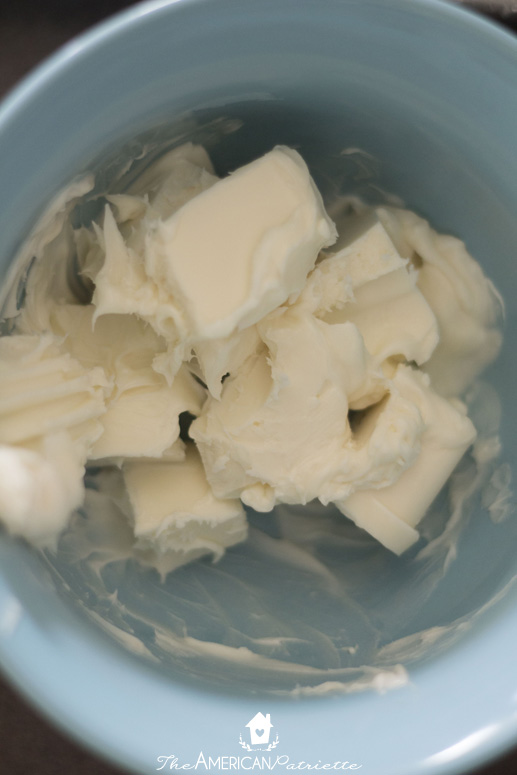 To do this, add the cubes of baking bark (white chocolate) to a microwave-safe bowl, microwave for about 40 seconds, stir, and then microwave again for another 40 seconds.
Stir again, and if you need to go one more round for it to get completely melted, go ahead and do so.
It is super, super important to follow that process for microwaving the chocolate if you want it to be really smooth when you add it to the popcorn. If you don't microwave & stir in increments, it gets really clumpy for some reason!

Step 5: Pour the white chocolate onto the popcorn

Pour the white chocolate onto the popcorn and stir it around quite a bit to evenly coat the popcorn in the melted chocolate.

This recipe is SO easy. Little hands can definitely help make it!

Taking a Break for a Helpful Tip!
If you're making this popcorn to share with more than just a few people, make at least 2-3 bags of popcorn & follow the above steps. If you have a really large mixing bowl, you can do this process all at once, but I usually pop a bag of popcorn, pour on the baking bark, stir it around, pour the covered popcorn onto a foil-lined baking sheet, and then repeat at least once or twice more.
I almost always make 3 bags of popcorn, because I'm usually making it to share with a group of people – either for a birthday party, a big potluck, or some kind of family gathering. This stuff goes fast because it's so easy and fun to snack on! So, unless you're just making it for you and a couple others to enjoy, make more than one bag!
Step 6: Pour white chocolate popcorn onto foil-lined baking sheet & then add crushed Oreos & sprinkles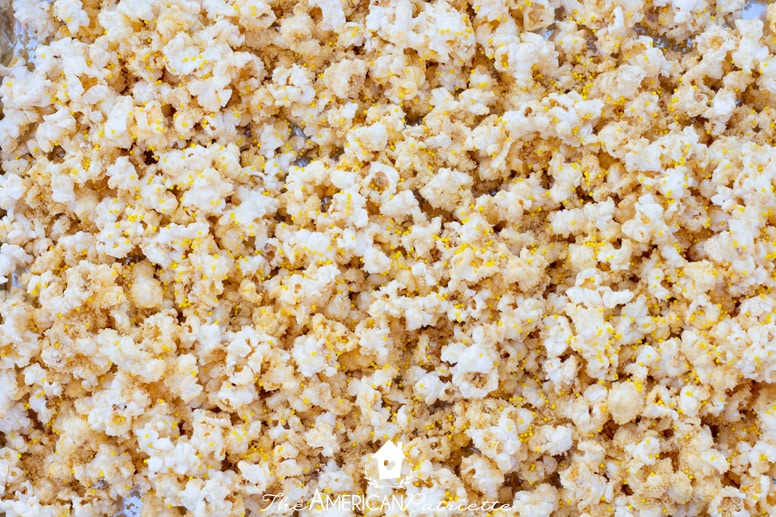 Once you pour the white chocolate popcorn onto the foil-lined baking sheet, sprinkle the crushed Oreos all over, give it a little "stir" with a spatula, and then add more Oreos, stir, etc.
Just follow this until you've got the popcorn coated with the Oreos.
Then, top it off with some yellow sprinkles if you want (this helps make it look more "lemony" since the sprinkles add some color). Or, if you're making this for a particular occasion, add different colored sprinkles to go along with the theme!
You can just see the flavor, can't ya?!
Just a few ingredients, and yet SO. MUCH. FLAVOR.
Step 8: Allow popcorn to set
Now you want your white chocolate to harden, and you can do this one of two ways: the long way or the short way.
The long way is to just keep the pan of popcorn sitting out on your kitchen counter, assuming your house is room temperature (somewhere under 75ish degrees).
The short way is to put the pan in refrigerator.
I always, always, always opt for the shorter option. But, I'm impatient. So, you do what you want to do!
Step 9: Break apart and serve!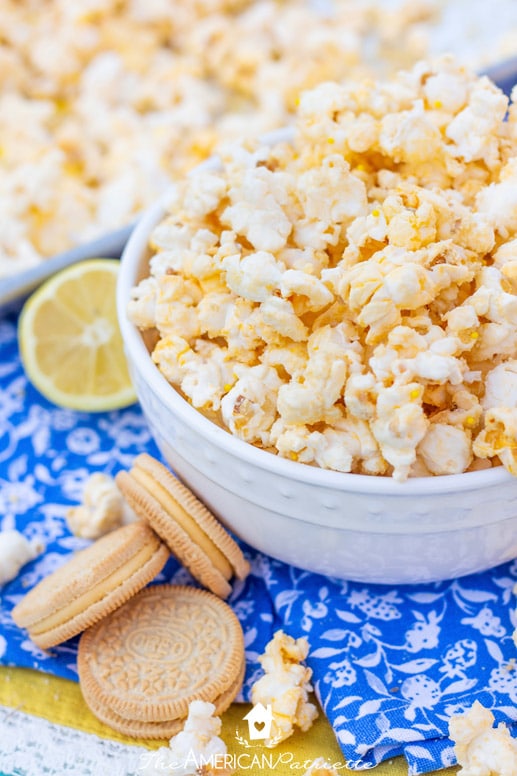 Once the white chocolate is fully set (i.e. hardened), you can easily break the popcorn apart and serve it up!
If you made it to serve later, you can just store it in a couple of gallon-sized Ziplock bags or in a really large plastic container and serve it when you're ready.
This is a great make-ahead treat – you can make it, store it for a day or two, and then just toss it in a bowl whenever you're ready to serve it.
White chocolate-covered popcorn is, hands down, one of the most frequent treats I make…it's just a universally-enjoyed treat by all ages, I almost always have some ingredients on hand (the only essentials are white chocolate/baking bark & microwave popcorn…then you can just put any other add-ins you want to spruce it up a bit!), and you can customize it in just about any way you can think of for any occasion.
It's just really fun.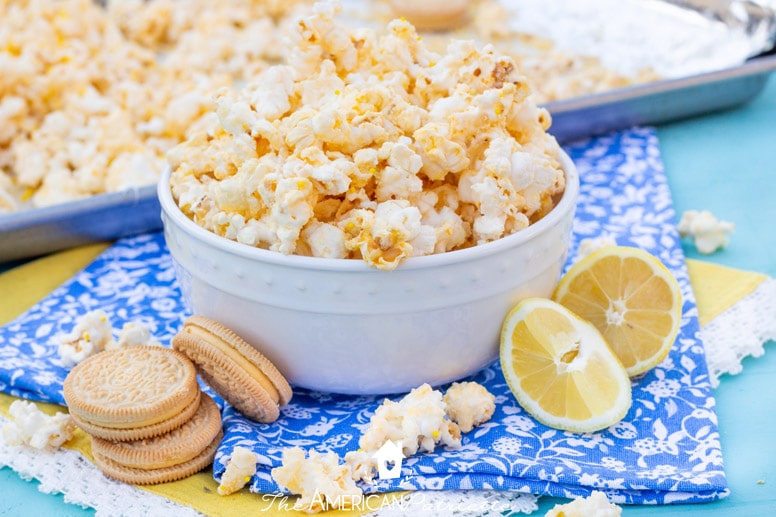 And, since this popcorn is so easy and fun to customize, I've been working my way through the seasons on different variations. If you love this recipe and want to try out some other versions for different seasonal gatherings, you're going to love these, too!
Love this recipe and want to remember it for later?! Be sure to save it to your favorite Pinterest board!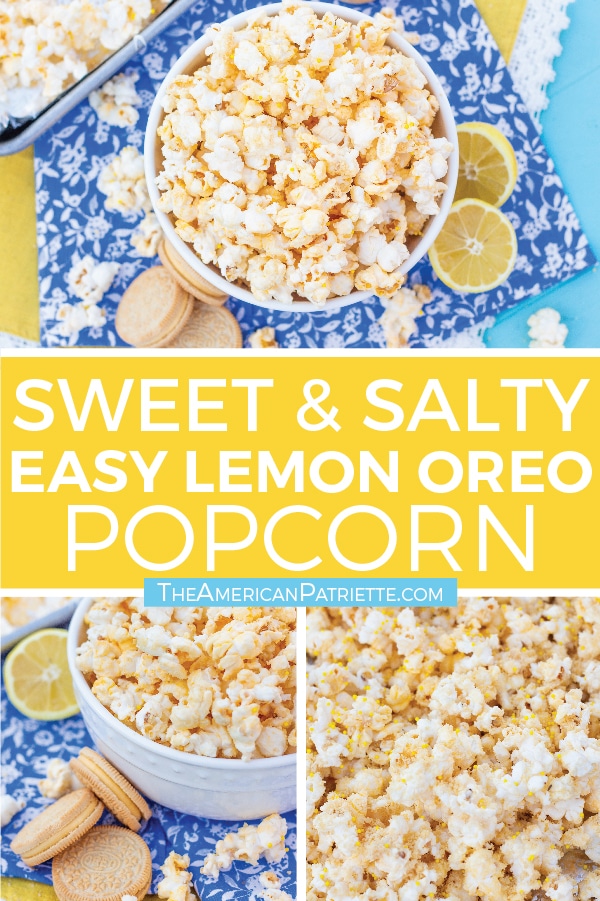 Easy and Sweet White Chocolate and Lemon Oreo Popcorn
This super easy and sweet white chocolate and lemon Oreo popcorn is a perfect spring or summertime treat! Make it for an Easter gathering, spring potluck, or summer BBQ - it's so simple to prep and so delicious! 
Ingredients
5-7 lemon Oreos
1 bag microwave popcorn
6 oz white chocolate (or white baking bark)
Yellow sprinkles (optional)
Instructions
Crush the lemon Oreos in a food processor or food chopper.Pulse a few times to crush them.
Pop the popcorn as you normally would in the microwave.
Transfer the popped popcorn from the bag to a large mixing bowl, doing your best to avoid pouring unpopped kernels into the bowl*(see my notes on this!)
Melt the white candy bark/white chocolate in a microwave-safe bowl. Microwave it for about 45 seconds, stir, and repeat until fully melted.
Drizzle about 1/3 of the melted candy bark onto the popcorn, stir, and continue drizzling and stirring until the popcorn is evenly coated.
Add crushed Oreos to the popcorn in intervals and stir until the popcorn is fully coated.
Line a large cookie sheet with foil and then pour the candied popcorn onto the foil. Spread it out with the spoon/spatula you used to stir it.
If you want to add yellow sprinkles, go ahead and put 'em on now!
Place baking sheet with popcorn in refrigerator for about 10-15 minutes to allow the candy bark to fully harden on the popcorn. It will eventually harden on its own if you leave the pan out on the counter, it'll just take a while!
Remove from fridge, pull up both sides of the foil to make somewhat of a funnel and pour the popcorn into your serving dish(es) or into your storage bags/container if you're eating it later.
Enjoy with family and friends!
Notes
Super helpful tips when making this popcorn:
When you're moving the popcorn from the bag to the bowl, first, lightly shake the bag of popcorn up and down to help any un-popped kernels fall to the bottom of the bag. Then, using your hands, move the popcorn from the bag to the bowl so you can keep those kernels at the bottom of the bag and avoid transferring them to the bowl.
You'll definitely want to melt the chocolate using the process I suggested - microwave for a short time, stir, repeat. If you don't microwave in short increments, and if you don't stir between increments, the white chocolate/baking bark doesn't melt correctly. It just gets clumpy!
This recipe is only for one bag of popcorn, but when I make any version of white chocolate popcorn, I always make at least 2-3 bags of popcorn (so, I would always make at least 2-3x this recipe). Because it's so easy to share and eat, it goes fast!
Recommended Products
As an Amazon Associate and member of other affiliate programs, I earn from qualifying purchases.