Three Ingredient Pumpkin Spice Popcorn
This easy three ingredient pumpkin spice and white chocolate popcorn recipe is a perfect fall recipe for a crowd! Make it for fall parties, potlucks, and casual Thanksgiving gatherings!
HAPPY first day of Fall! I'm celebrating with some YUMMY fall treats this week on the blog! 🙂 Today: three ingredient pumpkin spice popcorn. What's not to love?
It'll take you all of about 5-10 minutes to make. What's not to love?
It is DELICIOUS. Seriously, what's not to love?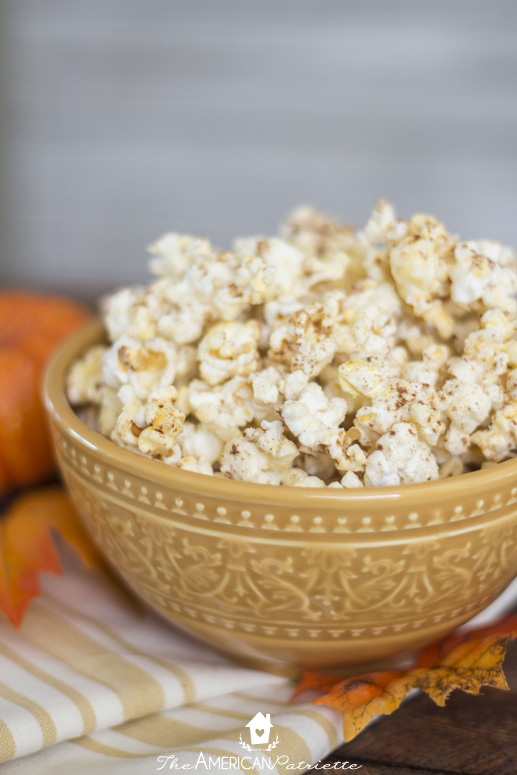 Here's what you need: some white baking bark (or white chocolate chips), a bag of microwave popcorn, and some pumpkin pie spice. I'll walk you through the steps of how to make it!
First, pop a bag of popcorn. Easy enough!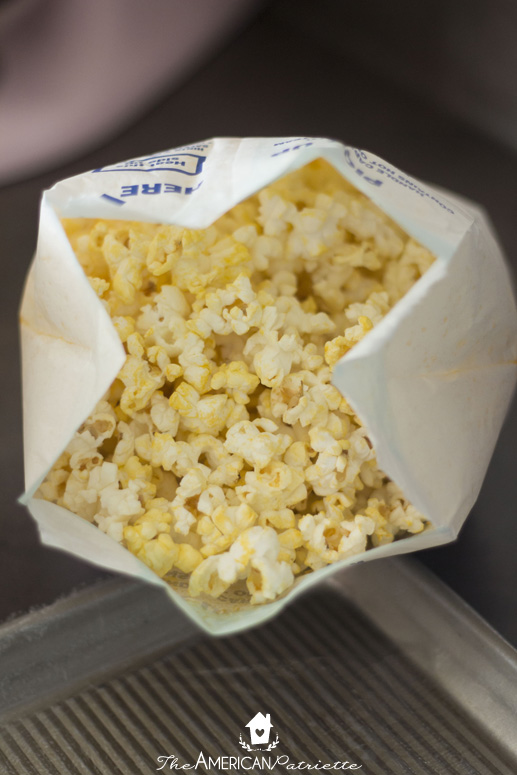 ESSENTIAL tip: before you transfer the popcorn from the bag into a bowl, shake the bag in such a way that the un-popped kernels will fall to the bottom of the bag. Then, use your hands to scoop out the popcorn into a bowl. This will prevent you from transferring kernels with the popcorn – those un-popped kernels get stuck to the popped ones when you drizzle on the baking bark, and they hurt when you bite them!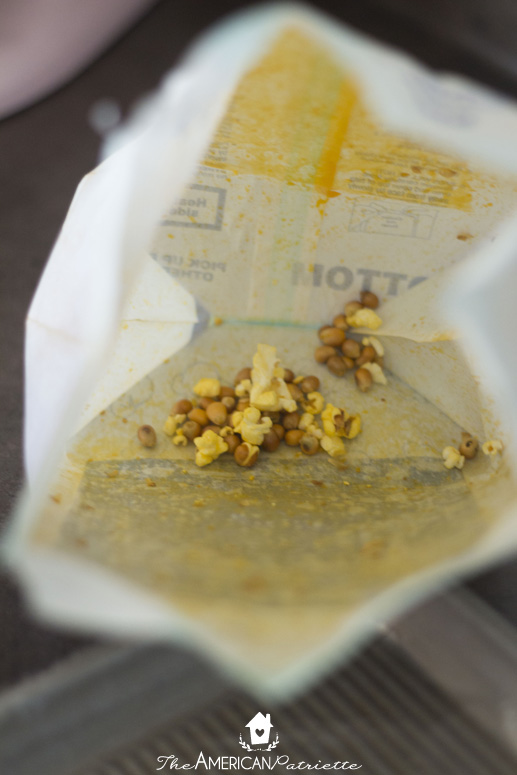 Melt the baking bark by placing 3 cubes into a microwave-safe bowl and heating for 45 seconds…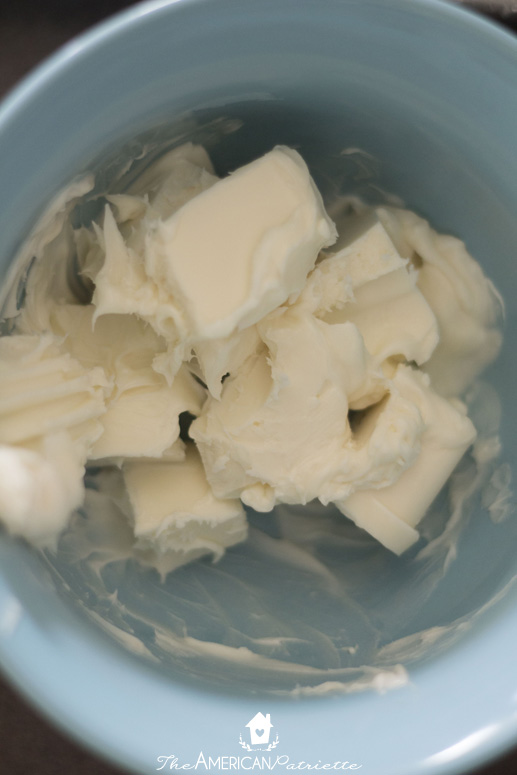 …then stirring and heating up for another 45 seconds. You may have to do this one more time, but you'll likely only need to heat them up twice in the microwave.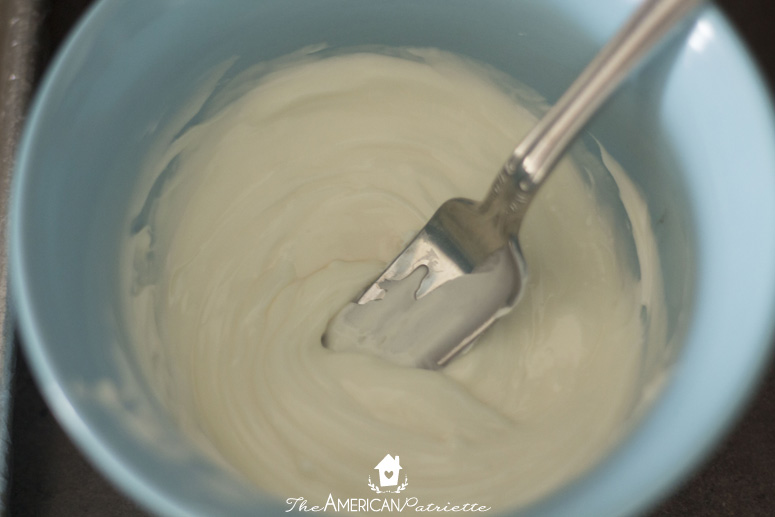 Pour about 1/3 of the baking bark on the popcorn.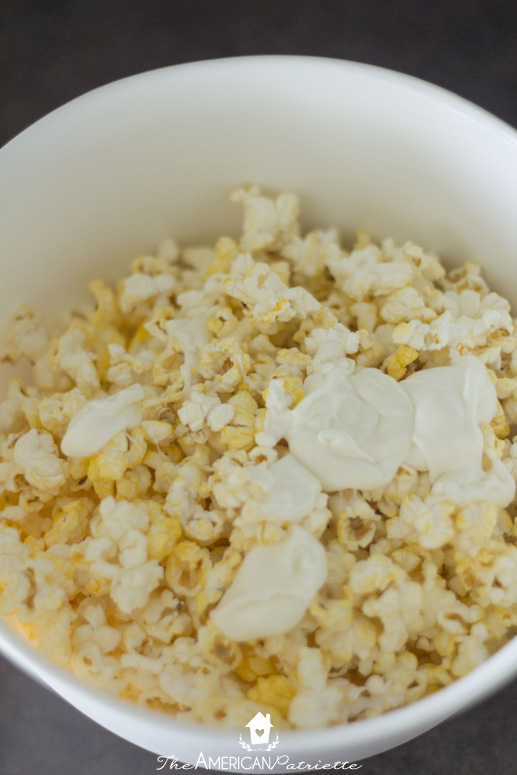 Stir it up. (I let my 2.5-year-old help me with this. Let me just say I probably could've won mom of the century when I told her she could help me a little!)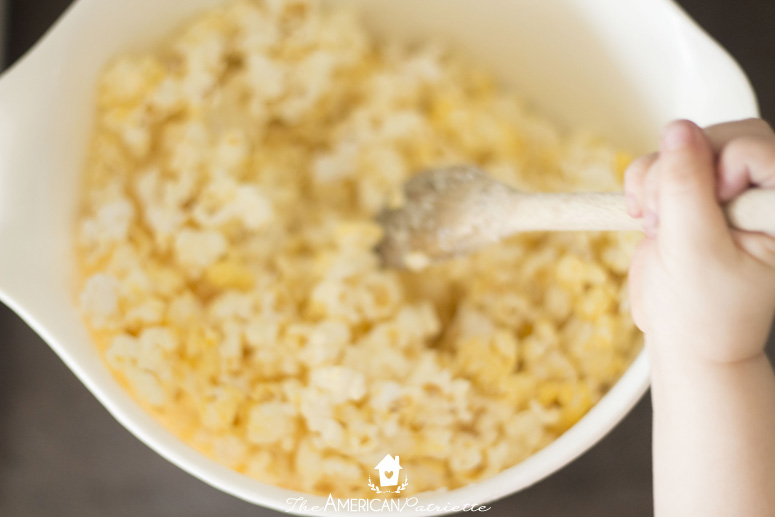 Pour on about 1/3 more and keep stirring.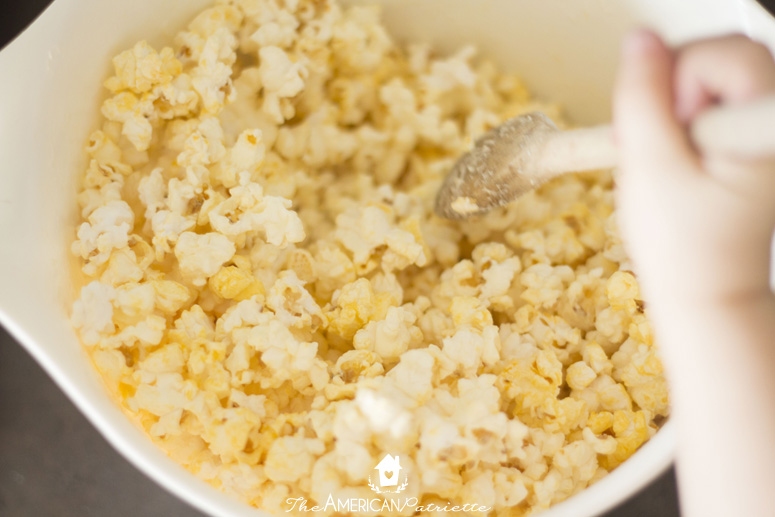 Use up the rest of the baking bark and stir.
Elizabeth kept saying over and over again, "Ess yummy. Dis is so yummy." I mean, truer words were never spoken, folks.
Friends and family who join us for meals, please, don't worry, I don't always let my kid stick her head in the bowls we're using for baking.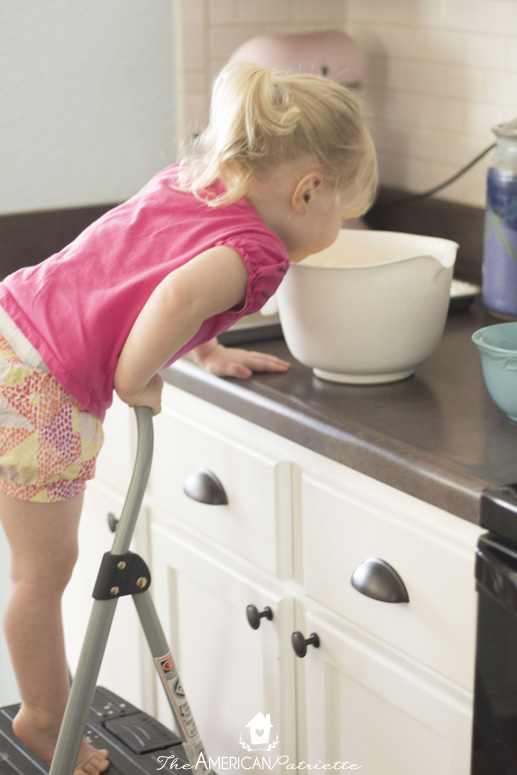 After you stir the popcorn, pour it out onto a foil-lined pan (I didn't have foil – totally forgot to get some earlier this week at the grocery store – so I just used plastic wrap and it was fine) and evenly spread it out with a spoon or a spatula.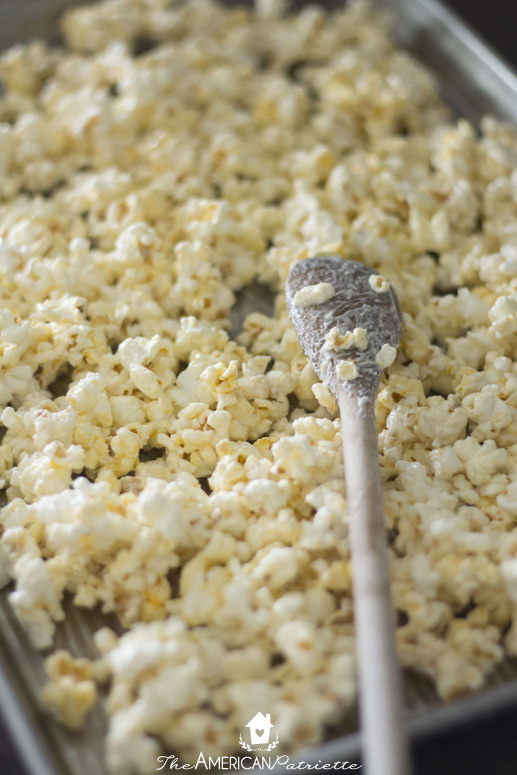 Sprinkle on the pumpkin pie spice, and you're done!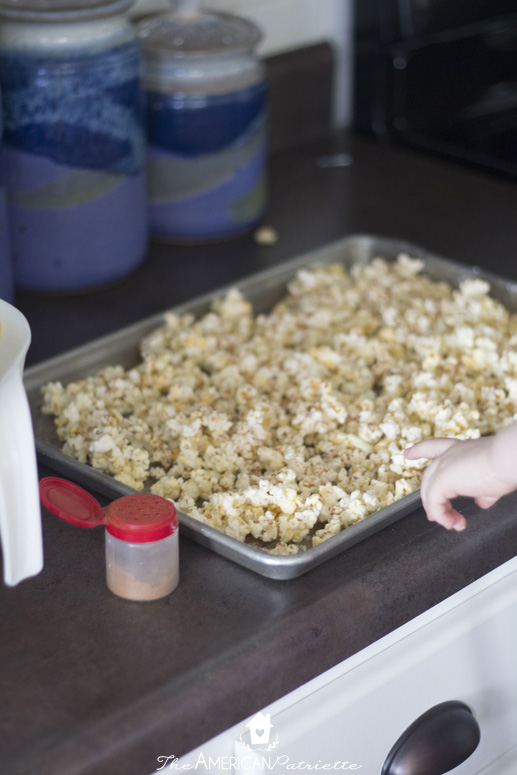 If you don't have pumpkin pie spice in your cabinet, you can easily just sprinkle on a combo of cinnamon, ginger, allspice, cloves, and nutmeg!
Place the pan in the fridge for about 10 minutes to allow the baking bark to harden and set.
Remove it from the fridge and break it apart to share!
Oh my goodness! How easy was that?!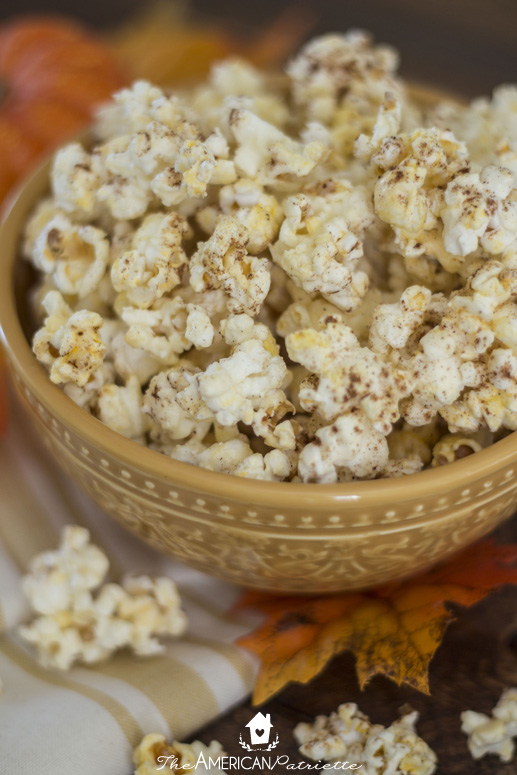 And y'all, it is so tasty.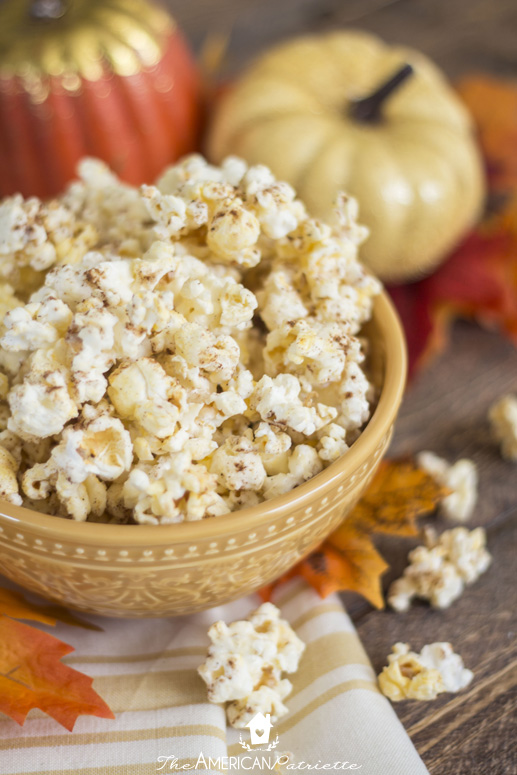 Perfect for fall get-togethers!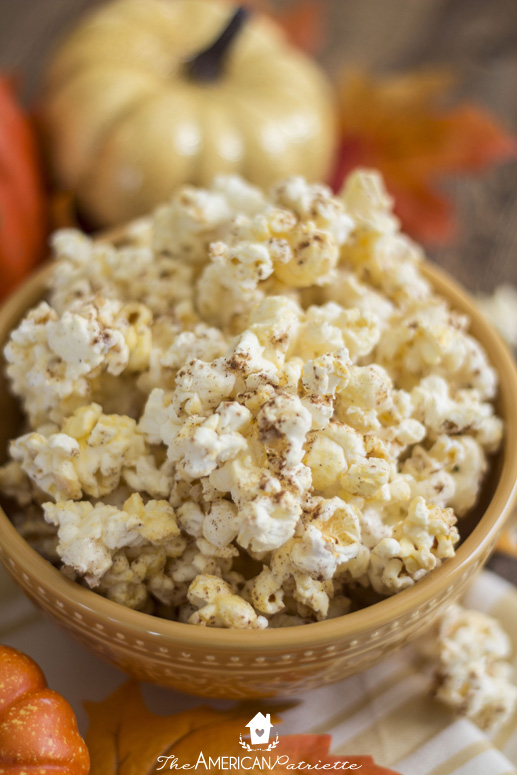 Or to make as a snack to share with others! You'll bring lots of smiles to faces when you make 'em this stuff!
Want to save this delicious popcorn recipe?! Be sure to pin it to your favorite Pinterest board!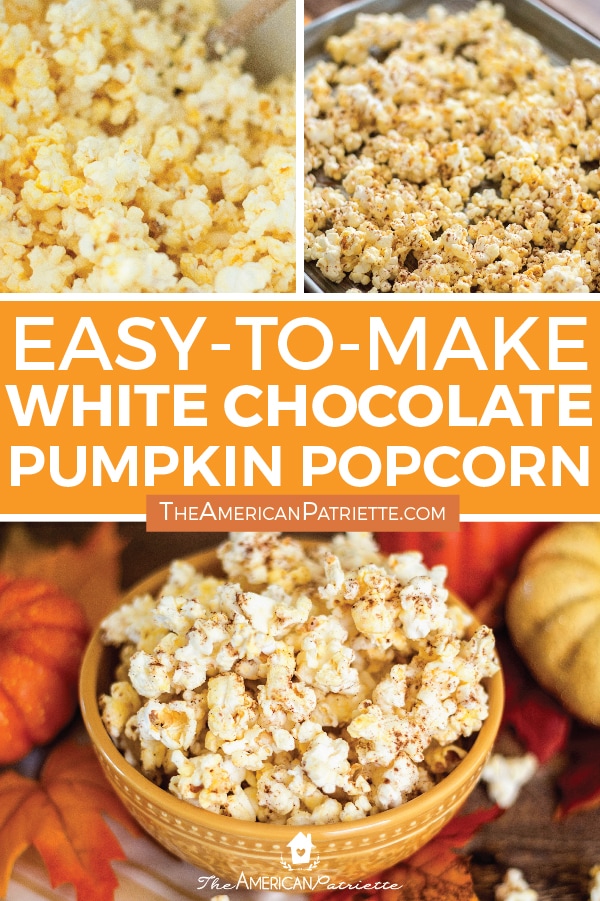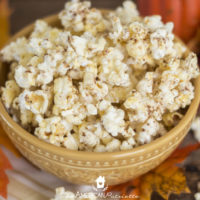 Ingredients
6

ounces

white baking bark

or white chocolate chips

1

bag microwave popcorn

popped

Pumpkin pie spice

or a combo of nutmeg, allspice, cloves, ginger, and cinnamon
Instructions
Melt the white candy bark in a microwave-safe bowl. Microwave it for about 45 seconds, stir, and repeat until fully melted.

Transfer the popped popcorn from the bag to a large mixing bowl, doing your best to avoid pouring unpopped kernels into the bowl*

Drizzle about 1/3 of the melted candy bark onto the popcorn, stir, and continue drizzling and stirring until the popcorn is evenly coated.

Line a large cookie sheet with foil and then pour the candied popcorn onto the foil. Spread it out with the spoon/spatula you used to stir it.

Sprinkle as much or as little pumpkin pie spice on the popcorn as you want!

Place baking sheet in refrigerator for about 10 minutes to allow the candy bark to fully harden.

Remove from fridge, break apart, and enjoy with others!
Notes
*When you're moving the popcorn from the bag to the bowl, first, lightly shake the bag of popcorn up and down to help any un-popped kernels fall to the bottom of the bag. Then, using your hands, move the popcorn from the bag to the bowl so you can keep those kernels at the bottom of the bag and avoid transferring them to the bowl.