Just when you thought a delicious, cozy seasonal drink couldn't get any tastier, you go and turn it into a dessert and find out that, anything really is possible when flour, sugar, and butter are involved. This pumpkin chai latte cake is a DELICIOUS twist on a favorite Fall drink, and it does not disappoint!
If you're needing an idea for a fun treat to make for a Fall gathering and don't want to bring the same 'ole pumpkin pie, spice things up a little bit and make this cake!
I've made it twice in the last week (and I'm about to make it again tonight!) – our small group from church volunteered to be the guinea pigs for this experiment of mine two weeks in a row, just so I could make sure I got the recipe perfect before I shared it with all of you.
They really show the true meaning of self-sacrifice and I love them dearly. (Thank y'all! 🙂 )
This pumpkin chai latte cake is so moist, so tasty, and so very worth every ounce of effort you put in to making it. (But guess what? There's really not much effort involved, so it's just a win across the board!)
The pumpkin cake paired with the chai buttercream frosting is a match made in heaven! I'm pretty sure you'll agree. 🙂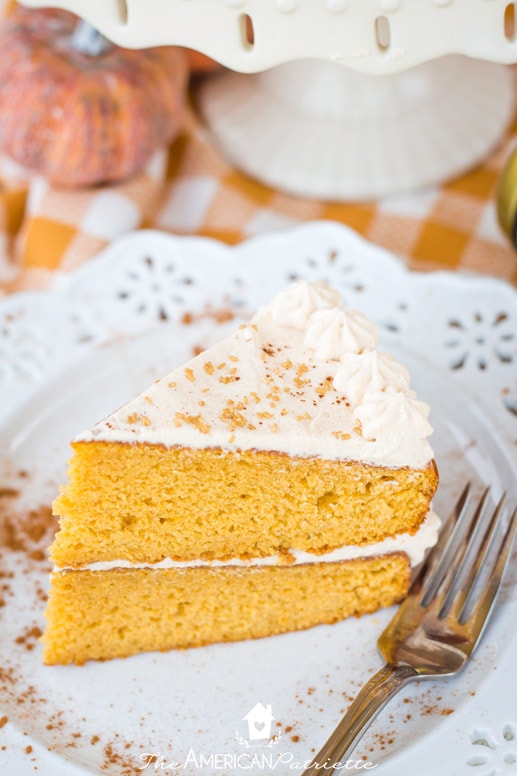 Gather together with some folks and enjoy this thing together!
Hope it brings some joy to every one of your gatherings this season! 🙂
Want to remember this delicious cake recipe?! Be sure to pin it to your favorite Pinterest board!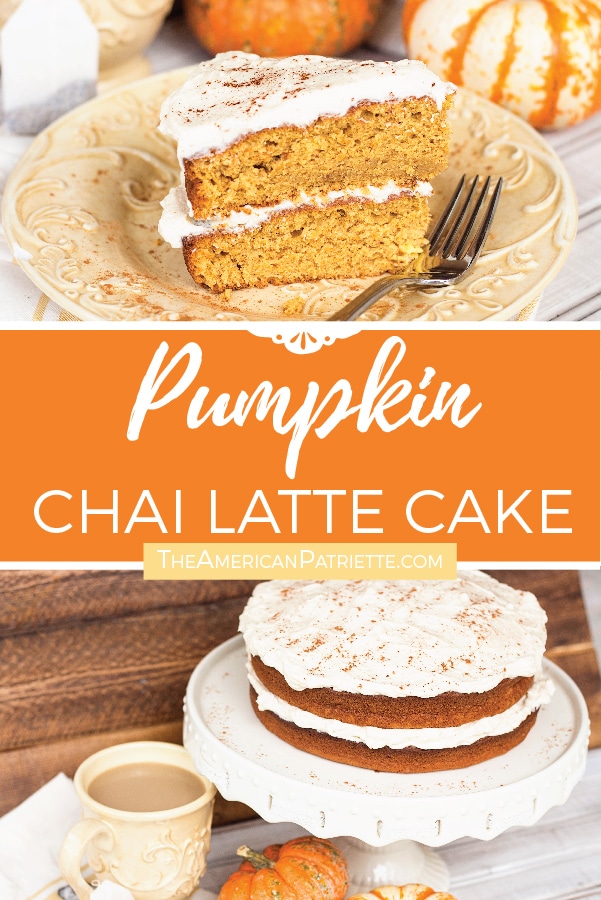 Pumpkin Chai Latte Cake
Ingredients
FOR THE CAKE:
1 box yellow cake mix
2 3.4oz boxes of instant vanilla pudding
1 c water
½ c vegetable oil
½ c pumpkin puree
4 eggs
1 tbsp pumpkin pie spice*
-----------------------------------------------
FOR THE CHAI BUTTERCREAM FROSTING:
2 chai tea bags
1/4 c milk
2 sticks unsalted butter, softened
2 c powdered sugar
1 tsp vanilla extract
Cinnamon for sprinkling on top of the frosting
Instructions
Preheat oven to 350.
Using a stand or hand mixer, mix together cake mix, pudding mix, pumpkin pie spice, water, and oil.
Add in pumpkin and continue to mix.
Add eggs, one at a time, mixing well between additions. Once batter is fully mixed, pour into two greased round cake pans and bake in oven for 30-35 minutes (check cakes with a toothpick at 30 minutes - if it comes out clean, go ahead and remove them from the oven). Once the cakes are finished baking, remove from oven, set aside for a few minutes to cool, and then remove cakes from pans and set on rack to continue to cool until they're at room temperature.
To make the frosting, pour milk into a small saucepan and heat on stove top. Watch the saucepan and, when the milk begins to form steam, remove from heat and steep the two chai tea bags in the milk for 4 minutes.**
While the chai tea bags are steeping, you can use a stand or hand mixer and begin creaming the butter, powdered sugar, and vanilla extract together. Once you've creamed the butter, sugar, and vanilla extract together (until the mixture is creamy and doesn't have any lumps of sugar), set icing aside.
After four minutes of steeping the tea, use a wooden spoon to press the tea bags against the inside of the sauce pan to extract any additional milk/tea from the bags. Discard tea bags. Allow milk/tea mixture to cool for about 10 minutes, and then pour into the frosting bowl and mix together until the milk is fully creamed with the frosting.
Once cakes are fully cool, place one cake on a platter and frost with half of the frosting. Add the other cake on top and spread the remainder of the frosting on top of the cake. Sprinkle with cinnamon.
Cut cake into slices and enjoy with friends and family!
Notes
*If you don't have pumpkin spice in your cabinet, you can do a spice mixture of cloves, cinnamon, nutmeg, allspice, and ginger.

**I learned from experience: don't bring the milk to a simmer! It doesn't take long to heat it up, but you definitely just want to bring it to where you see steam - you don't want to cook it longer than that. When the milk heats up, it begins to foam and thicken quickly. You want it to be hot, but you still want it to be a thin liquid so the tea bags can steep in there.