Chocolate Peanut Butter Patriotic Saltine Cracker Toffee
This easy chocolate peanut butter patriotic saltine cracker toffee is the perfect simple treat for the 4th of July!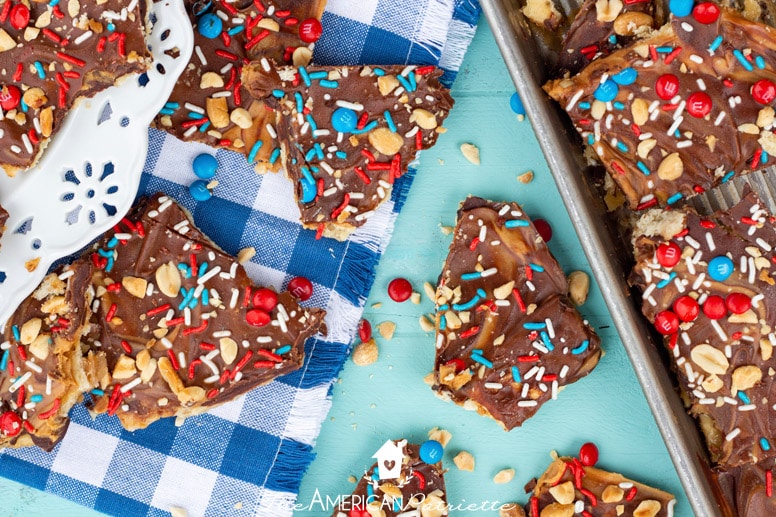 Homemade saltine cracker toffee is just. so. darn. good. And, it takes less than 10 minutes to make.
Total win-win, right?!
I also love that it's so easy to customize for any celebration and occasion, and I love that the recipe is so easy to tweak for different flavors. This patriotic saltine cracker toffee is perfect for your 4th of July parties!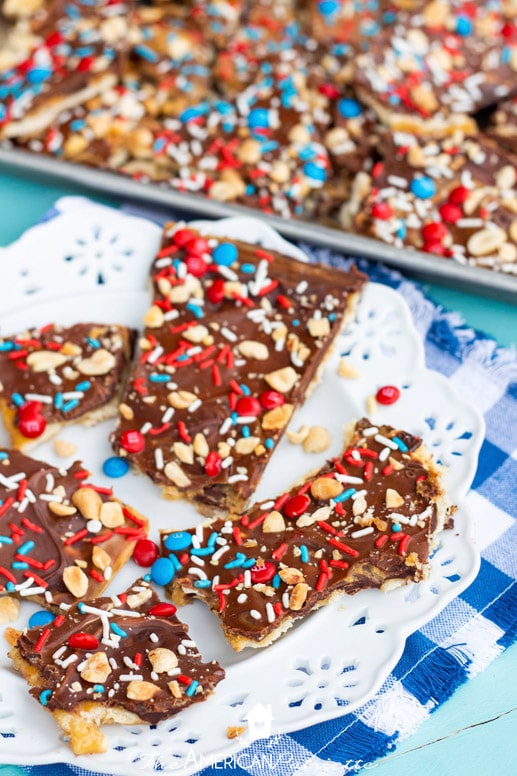 I've shared fun recipes for different celebrations and seasons – "Nutcracker" toffee for Christmas, pumpkin praline toffee for Fall, and lemon toffee for springtime (and summer, of course!).
I figured it was high time to create a patriotic version! Plus, I couldn't believe I didn't already have a chocolate peanut butter one – it's only the best dessert combo, right?
This is a great sweet treat recipe for 4th of July picnics when you need to make something in a pinch. Super simple prep, and everyone will love it!
Ok, let's walk through how to make this fun treat!
This post contains affiliate links for your convenience. You can read my full disclosure policy here.
Kitchen Utensils You'll Need:
I know. I told you this recipe was easy! 🙂
How to Make Chocolate Peanut Butter Saltine Toffee
Yay! Let's get baking!
Step 1: Lay out saltine crackers on baking sheet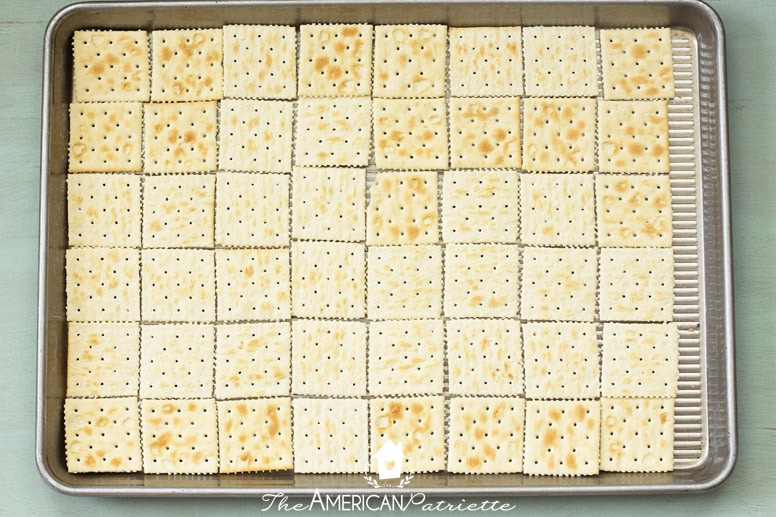 First, you'll make a grid on your baking pan with the saltine crackers. If you're not using one of these USA Bakeware pans, unless your cookie sheet is very non-stick, you'll want to line it with foil before you lay down the saltines. (I swear by these baking pans because they are completely non-stick…the super sticky toffee actually comes off of these pans better than it does the foil, so I don't even bother with foil on these pans anymore!)
It's ok if you have a little gap there between the end of the pan and the saltines.
Step 2: Make caramel sauce & pour on crackers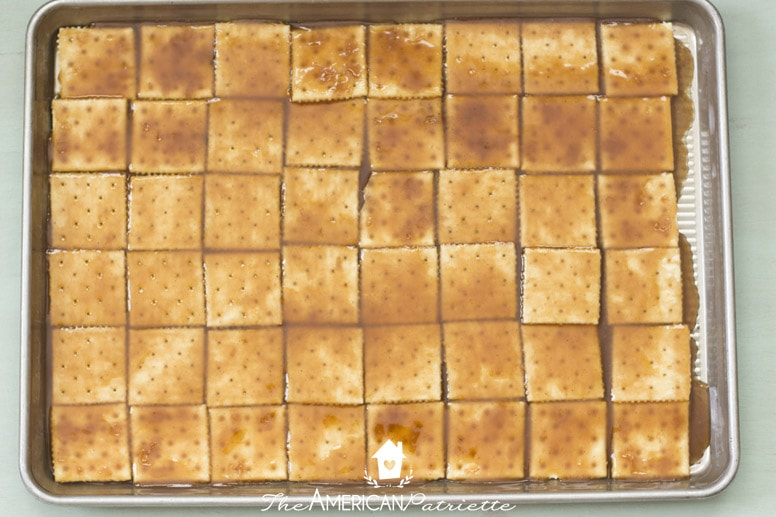 The caramel sauce is very easy to make. You'll get the more detailed recipe at the bottom of this post, but it's just a simple mixture of butter and brown sugar. Easy!
Pour it evenly all over the crackers, use a spatula to spread it out if necessary, and then you're good to go!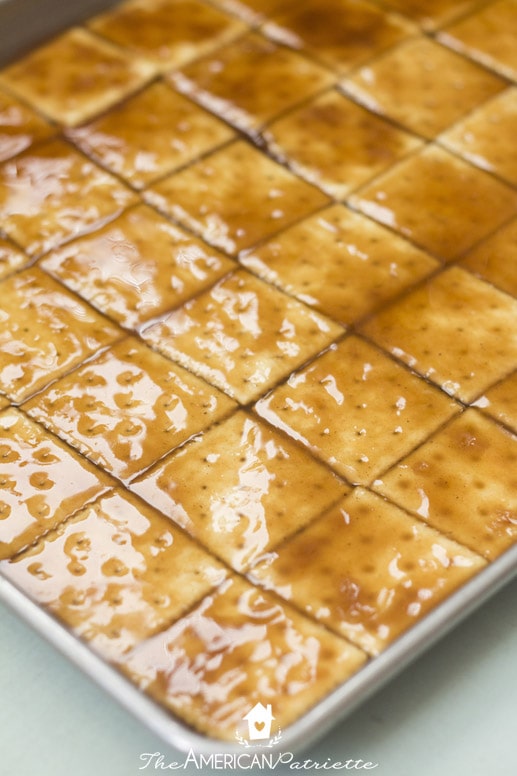 Step 3: Bake crackers in oven for 5 minutes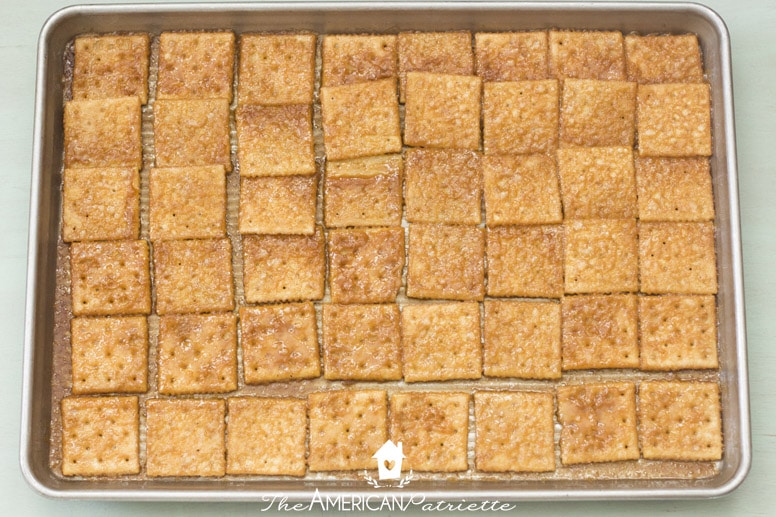 Place that pan of crackers in the oven for 5 minutes at 400. Yep, that's all it takes!
Step 4: Add chocolate chips & peanut butter
Pour the bag of chocolate chips across the saltines, and then add dollops of peanut butter around the pan.
Place the pan back in the oven for 1 minute, just to help quickly soften up the chocolate chips and melt the peanut butter.
Step 5: Spread chocolate chips & peanut butter with spatula
It should spread really easily!
Step 6: Sprinkle chopped peanuts, M&Ms, and sprinkles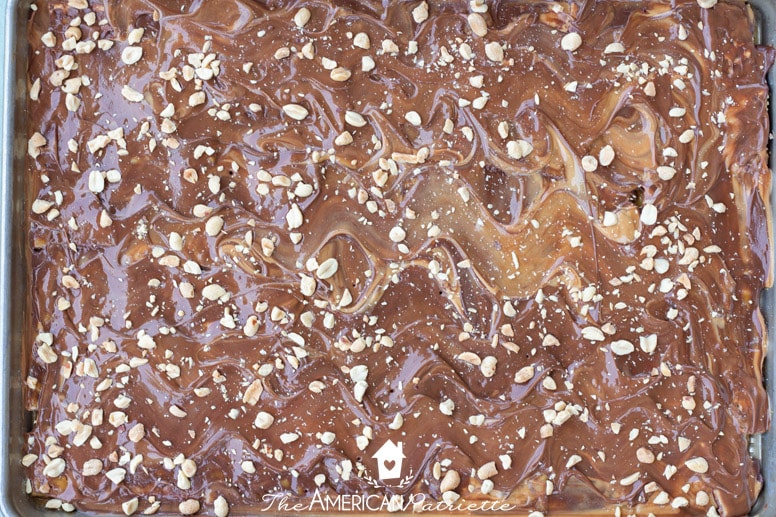 Sprinkle crushed peanuts all across the melted peanut butter and chocolate…
And then add the patriotic flair with the red & blue M&Ms and sprinkles.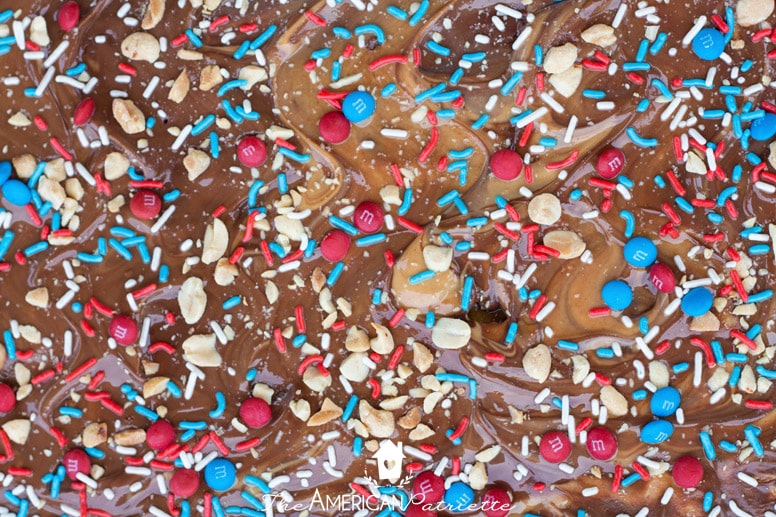 If you can't find red, white, and blue M&Ms, just buy a bag of regular M&Ms and sift out the reds & blues from the pack. I do it all the time – works like a charm. 😉
Step 7: Place toffee in refrigerator to set & harden
Place the pan of toffee in the refrigerator for at least an hour – until the pan feels chilly to the touch – and then remove from fridge and begin breaking toffee apart.
Step 8: Break toffee apart and enjoy!
If you use a USA bakeware pan, breaking apart the toffee is super easy! It always pops right off the pan with little effort.
Because this toffee has those swirls of peanut butter on the top, the top part doesn't ever get completely hard – the peanut butter keeps it kind of soft. Just know that when it comes to storing it – you can definitely still store the pieces on top of each other in a plastic container without ruining it.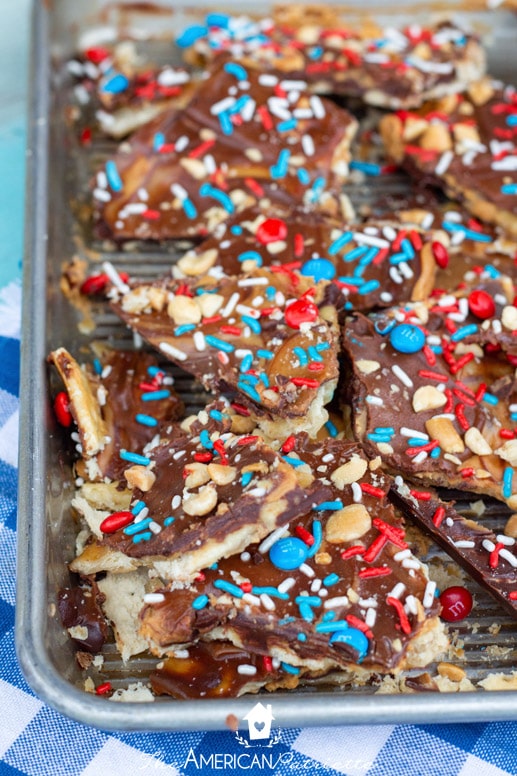 That's it, friend! Now all you have to do is just go enjoy it and have fun with your people!
Happy July 4th!
Check out some other patriotic dessert recipe ideas, and snag the recipe for this patriotic toffee recipe below!
Easy Chocolate Peanut Butter Patriotic Saltine Cracker Toffee
This easy chocolate peanut butter patriotic saltine cracker toffee is the perfect easy dessert recipe for the 4th of July!
Print
Pin
Rate
Servings:
10
-15 servings
Ingredients
2

sticks unsalted butter

1 cup

1

c

brown sugar

1.5

sleeves of saltine crackers

40 crackers

2

c

semisweet chocolate chips

12 oz bag

1/2

c

peanut butter

1/3

c

chopped peanuts

Red

white, and blue M&Ms and sprinkles
Instructions
Preheat oven to 400.

Place butter in small saucepan on stove top over medium heat and allow it to melt.

Stir in brown sugar and bring to a low boil for about 3-4 minutes to allow caramel mixture to thicken, stirring regularly.

While the caramel mixture is thickening, line a rimmed cookie sheet with foil (unless you use the awesome non-stick baking pans I use, and in which case, no foil needed!!), and lay out saltine crackers in rows on the cookie sheet. (If you use the USA Bake pans, do NOT use foil - the toffee pops right off the pan.)

Pour caramel mixture evenly over the saltines, using a spatula to spread it out to cover the crackers completely.

Place cookie sheet with crackers in preheated oven for 5 minutes.

Remove from oven and set pan on a hot pad. Sprinkle chocolate chips over top of the hot saltines. Add dollops of peanut butter evenly across the chips. Place the pan back in the oven for 1 minute to help the chips and peanut butter to quickly melt.

Pull the pan out of the oven, and use a spatula to gently and evenly spread the chips and peanut butter across the saltines.

After you've covered the saltines with the melted chips & peanut butter, evenly sprinkle the chopped nuts, M&Ms, and sprinkles over the crackers.

Allow pan to cool on a hot pad for 10-15 minutes (or until it's cool enough to set in the fridge), and then place in refrigerator for about 45 min to an hour - until the toffee & pan are chilly to the touch.

Remove from fridge and begin breaking apart. You can use a metal spatula or butter knife to get it started, but once you get it started, you can just use your hands to quickly break the rest of it apart.

Place on platter or in serving bowl and enjoy with others!
Notes
Here are some helpful tips for making the perfect toffee!
Don't line your pan with foil if you're using a USA Pan - the super sticky toffee literally pops right off of the bottom of the pan! If you line the pan with foil, you'll have to spend some time peeling the foil off of the back of the crackers.
Make sure the chips are really soft before you begin to spread them across the crackers. This will help them spread much more smoothly without moving the crackers around too much.
The cooler the toffee, the easier it is to break apart into pieces (and the cleaner it breaks). So, just make sure the coffee is cool before you try to do this!
Also: this toffee recipe is a little softer than others because of the peanut butter. That's ok! It'll still hold up just fine!