Fun & Easy Patriotic Dessert Ideas
Get some fun red, white and blue dessert ideas for your Memorial Day parties and 4th of July parties! Several easy recipes, perfect for a crowd!
Friends, it is that time of year!! Summer is just right around the corner, which means all sorts of fun and casual summer gatherings are right around the corner, too. 🙂 In the spirit of the upcoming patriotic holidays – Memorial Day, Flag Day, and July 4th – I thought I'd share some of my patriotic-themed dessert recipes in hopes that they'll bring some fun and festiveness to your picnics, gatherings, and celebrations.
I love how much food brings us together.
Patriotic Peanut Butter & Nutella-Stuffed Ritz Crackers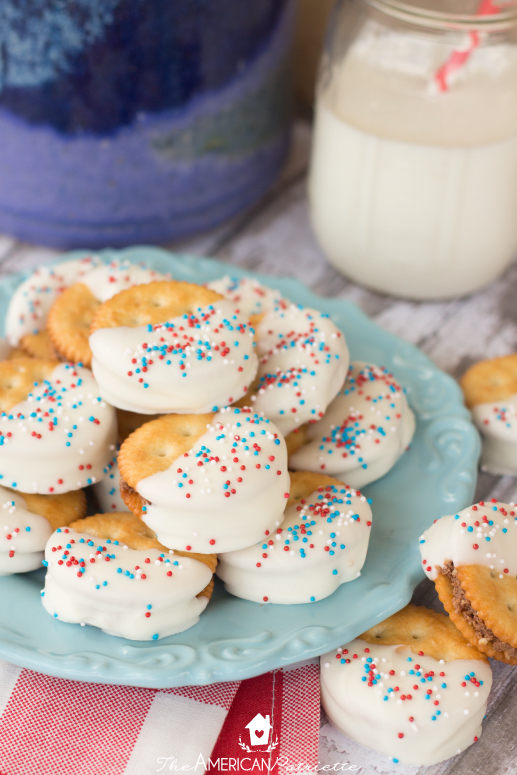 These fun Ritz crackers are SO tasty! They're great for a patriotic potluck or to make for a picnic or casual get-together. If you have kids who like to help, these are great for little hands in the kitchen – they're pretty simple to assemble!
Patriotic Red Velvet Cookie Ice Cream Sandwiches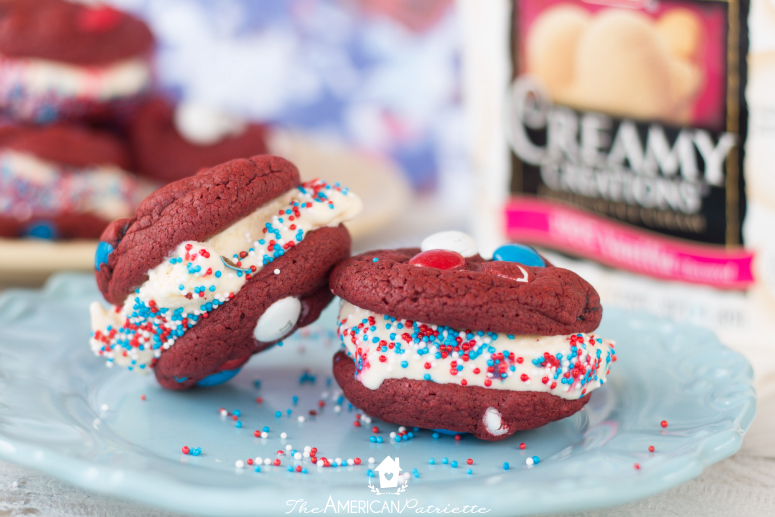 These ice cream sandwiches are so fun!! And look how festive! Red velvet cookie with red, white, and blue M&Ms, plus vanilla ice cream stuffed inside?! Um, YES!
Patriotic Red Velvet Oreo & Nutella Blonde Brownies
These patriotic brownies are just as indulgent as they sound. And they're really, really good.
Patriotic Lemonade Cake Mix Cookies
These patriotic lemonade cookies are like a firecracker in your mouth. A flavor explosion! They pretty much dissolve in your mouth, and they're outrageously simple to make! These just have summer written all over 'em!
Patriotic Chocolate Peanut Butter Toffee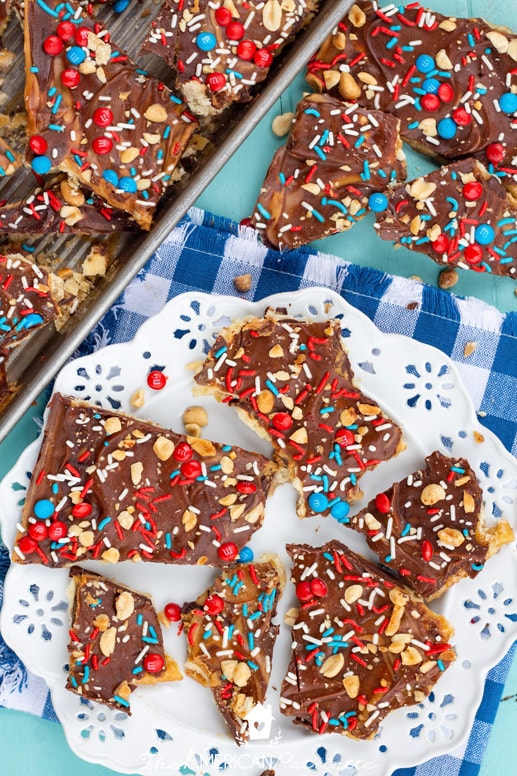 Chocolate + peanut butter is basically the perfect dessert combo on the face of the earth. This toffee is SO EASY to make, and it is SO TASTY! And, the fun patriotic flair just makes it, well, more fun!
I hope and pray these fun patriotic dessert ideas help you gather with others and enjoy our sweet American freedoms together! I am so thankful for our country, and I love doing little things to celebrate the freedom we have to gather with others. 🙂
Love these patriotic recipe ideas? Be sure to Pin this to your favorite Pinterest board to remember them for later!