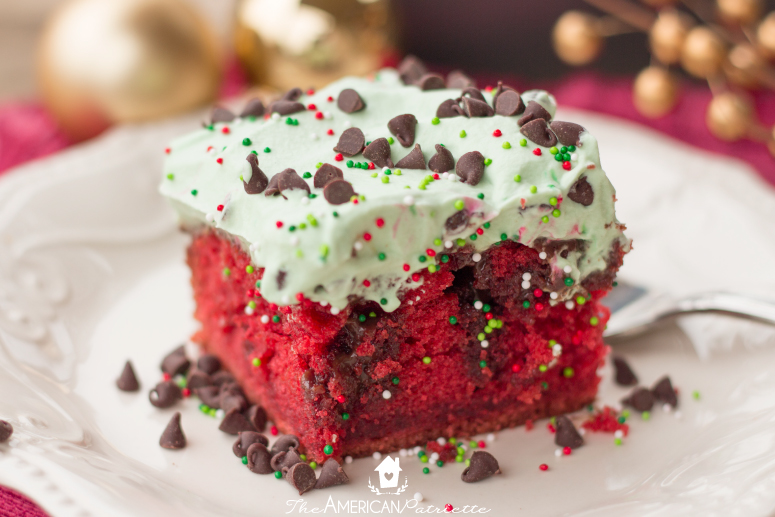 You know what I have to say about Christmas Red Velvet Chocolate Poke Cake? You're welcome.
Oh my heavens, this cake is DE-LI-CIOUS. It's so easy to make, and look how gorgeous it is! You don't even have to try to make this cake look beautiful – just follow a few simple steps and you have a lovely, delicious cake.
This cake is perfect for a crowd – it'll pretty easily serve 16-20 people (with decent helpings – no stingy helpings on this cake!).
I got the red velvet cake recipe from my family cookbook that my Aunt Teresa put together for us (the cookbook on the right of the photo) – the recipe is in my Granny's handwriting (so special!). In the cookbook, it's titled, "Daddy's Birthday Cake" – apparently this was my Papa's favorite! I used that recipe and then turned it into a poke cake and changed up the frosting to go along with it. I hope Granny and Papa would approve of this cake! 🙂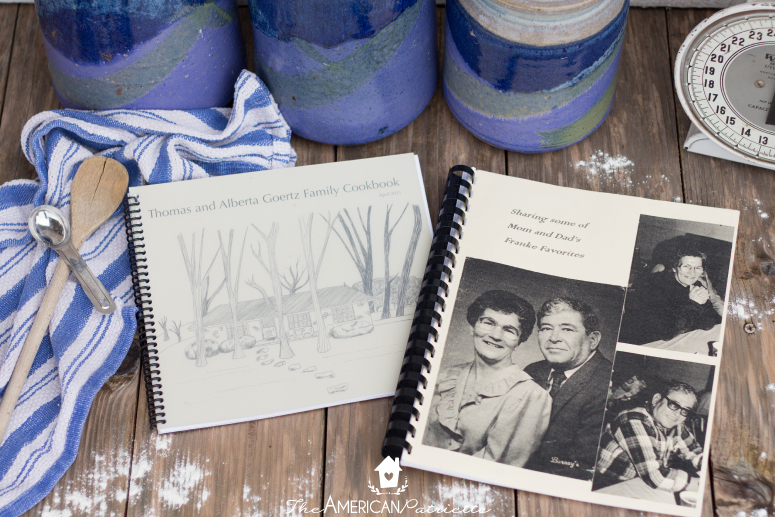 Ready to make it?! Here are the steps of assembly after you make/bake the cake itself:
Take the handle of a wooden spoon (or something of a similar diameter) and poke the cake to create holes from top to bottom. I tried to make mine as evenly spaced as possible, and I also tried to make sure to poke holes all the way up to the edges – you don't want the people who receive an outside edge piece to get gypped on the chocolate that's going to seep down into those holes!
After you melt sweetened condensed milk & chocolate chips together to make a chocolate sauce, let the sauce cool just a bit…
…and then pour that heavenly mess all over the top of the cake. It'll sink into all of those poke holes.
Don't forget to lick the spatula and the chocolate sauce pan.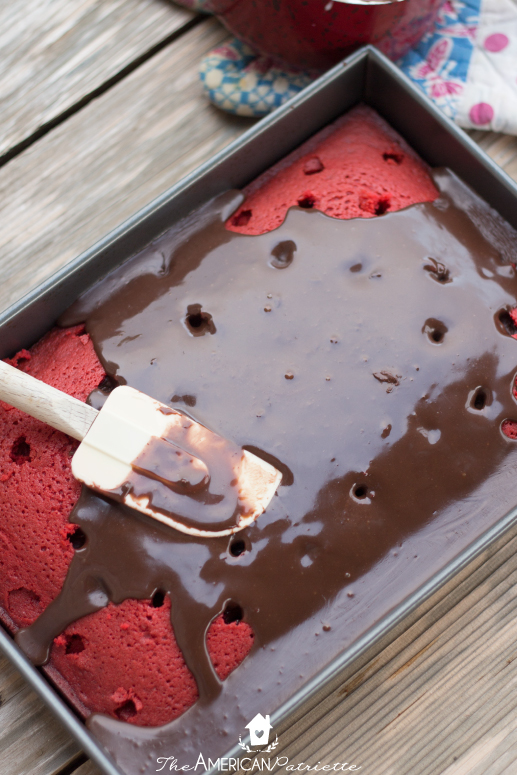 Oh my gosh. Just can't even describe how yummy this is.
Once you've poured all of the chocolate sauce on top, allow the cake to cool completely and then place it in the fridge to allow it to chill. You want it to be fairly chilly to the touch before you add the whipped cream frosting.
By the way, I much prefer buttercream frosting to whipped cream frosting for cakes, but this frosting is absolutely delectable and a match made in heaven for this cake. The paring of the red velvet, chocolate sauce, and whipped cream frosting is so yummy, and as much as I like rich desserts, I think anything more decadent than whipped cream frosting on this cake would be a little much. (And that says a lot coming from me, the Sugar Monster).
Once the cake is chilled, spread that whipped cream frosting all over! Make sure to get it all the way to the edges! It's going to seem like a lot of frosting (and it is), but believe me, the ratio of cake to frosting is perfect. If I'm making a 9″ x 13″ cake, I typically use my glass dish, but I use a different pan for this particular cake since it's a little deeper and gives more room for the frosting to sit on top of the cake.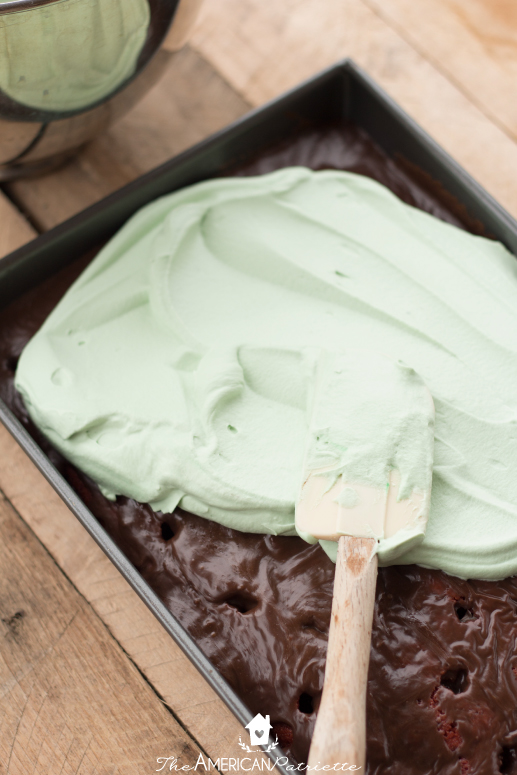 Sprinkle on the mini chocolate chips & Christmas sprinkles – the really fun part!
You can serve it right away, or you can store the cake in the fridge and serve it up later. This Christmas Red Velvet Chocolate Poke Cake is such a great addition to any holiday gathering – kids and adults will LOVE it.
This is also a great recipe for allowing little munchkins to help – unless you mutilate the cake with the wooden spoon, you can't really mess it up when you poke the holes into it, so you can easily have your kiddos help you poke the holes, pour the chocolate sauce, spread the frosting, and sprinkle on the chocolate chips and sprinkles. Now that my daughter is getting a little older and is more able to stand at the kitchen counter with me, I'll be on the lookout for recipes that allow us to spend time cooking and baking together! This one's a winner!
If you're looking for another recipe that's friendly to kids helping in the kitchen, try out these Triple Chocolate Peppermint Christmas Cookies. Also so delicious and simple to make!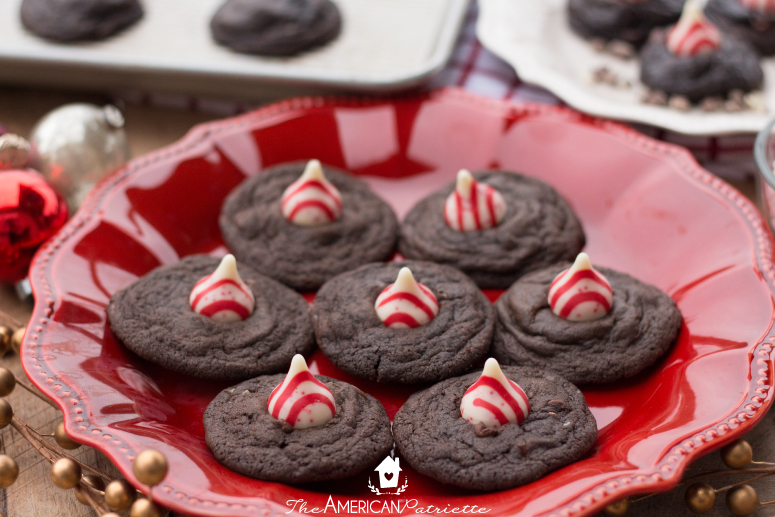 Merry Christmas to you & your family! I hope the season is full of blessings, joy, and gratitude for all of you!
Want to remember this delicious cake recipe?! Be sure to save it to your favorite Pinterest board!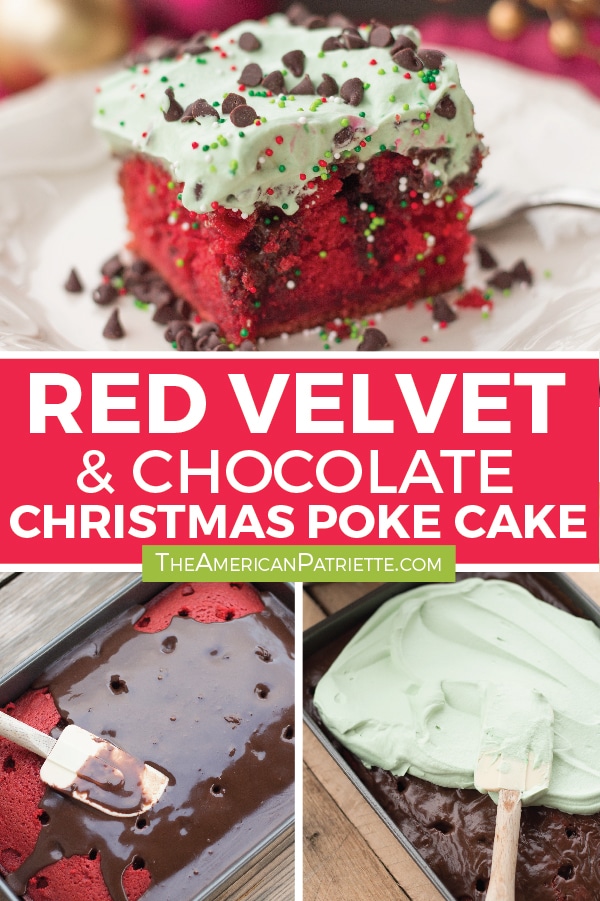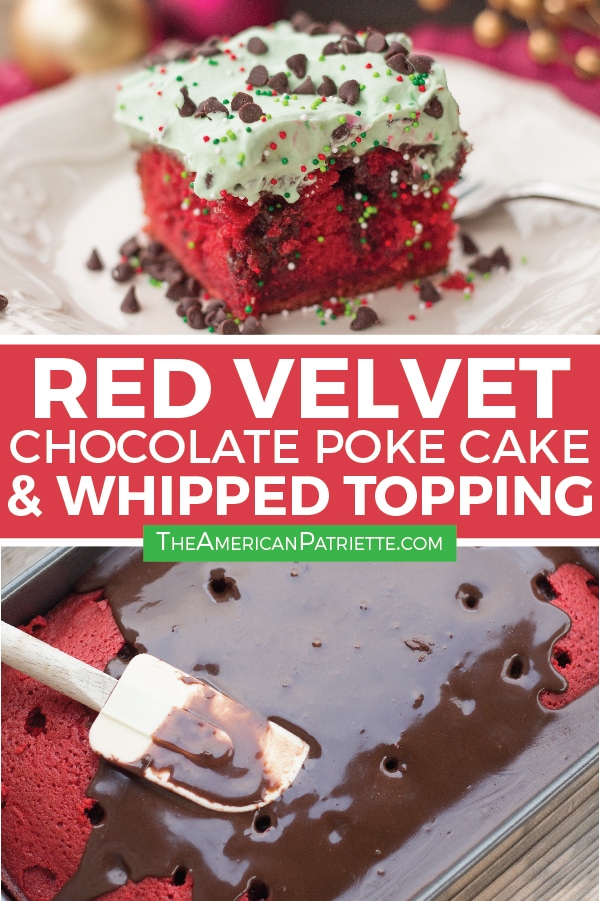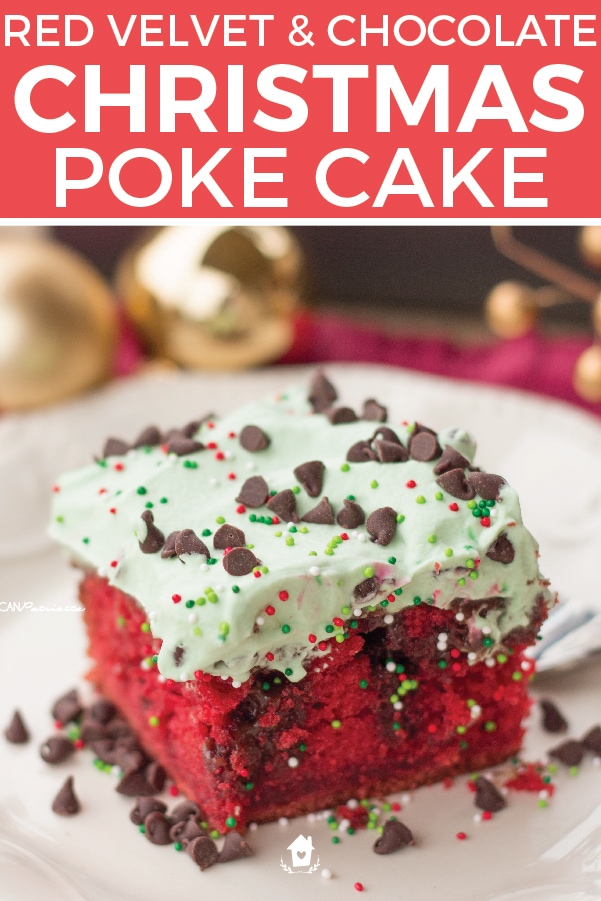 Christmas Red Velvet Chocolate Poke Cake
Inactive Time:
4 hours
57 minutes
Total Time:
5 hours
30 minutes
Ingredients
FOR THE CAKE:
2.5 c all-purpose flour
1.5 c granulated sugar
2 tsp cocoa
1 tsp baking soda
1/2 tsp salt
1 tsp white distilled vinegar
2 c vegetable oil
4 tsp food coloring*
3 eggs
1 c buttermilk**
1 tsp vanilla
---------------------------------
FOR THE CHOCOLATE SAUCE
14oz can sweetened condensed milk
1 c milk chocolate chips
---------------------------------
FOR THE FROSTING:
2 c heavy whipping cream
1/2 c powdered sugar
2 tsp baking cocoa
1 tsp vanilla
green food coloring
1/2 c mini chocolate chips
Christmas sprinkles
Instructions
Preheat the oven to 350.
Mix dry ingredients for cake (flour, granulated sugar, 2 tsp cocoa, soda, salt) together.
In a separate bowl, mix the oil and eggs together, beating the eggs with a fork.
Add eggs and oil to dry mixture and blend together (you can do this by hand, but I always do this with my stand mixer).
Add buttermilk to the batter a little at a time, blending the batter between additions.
Add food coloring, vinegar, and vanilla and mix until batter is well-blended.
Pour into a greased 9x13 pan and bake for 30-35 minutes or until a toothpick comes out clean.
While the cake is baking, pour sweetened condensed milk and 1 c milk chocolate chips into a small sauce pan. Place on stove over medium heat.
Stirring regularly, allow the chocolate chips to melt in the sweetened condensed milk and stir regularly until the two create a chocolate sauce - just a few minutes. Remove from heat and set aside.
Once the cake comes out of the oven, allow it to cool for about 10-15 minutes. Use the handle of a wooden spoon (or something of similar diameter) to poke holes in the cake. Try to evenly space the holes and make sure you poke holes all the way to the edges of the cake.
Pour the chocolate sauce all over the red velvet cake and spread with a spatula.
Set cake aside and allow it to fully cool. Place it in the refrigerator until it chills (at least an hour or two, or even overnight).
To make the frosting, add heavy cream, powdered sugar, 2 tsp cocoa, and vanilla into a bowl. Using a stand or a hand mixer, beat those ingredients until stiff peaks form in the cream - probably at least 5 minutes. Once your frosting has reached your desired consistency, drop in green food coloring and mix until you're pleased with the shade of green.
Spread frosting evenly over top of chilled cake and sprinkle on chocolate chips and Christmas sprinkles. Serve immediately or return cake to the fridge and serve at a later time!
Notes
*My Granny's recipe calls for 1/4 c of red food coloring, but I didn't have that much on hand when I was baking the cake for this post. If you want your cake to have a deeper, richer shade of red, add more food coloring than what I suggest (more than 4 tsp).
**If you don't have 1 c of buttermilk on hand, you can make it by filling a 1-cup measuring cup almost all the way to the top with regular cow's milk (I used whole milk), and then top it off with white distilled vinegar (maybe a teaspoon or two of vinegar). Allow it to sit for a few minutes to curdle. I always make my own buttermilk - I never have regular buttermilk in my fridge!