Super Moist Caramel Mocha Poke Cake
This homemade, super moist caramel mocha poke cake is absolutely delightful and decadent. Such a crowd-pleasing, delicious cake made from scratch!
I'm not even going to waste any time here – we've got to jump right into this recipe so you can make it right away!
This super moist caramel mocha poke cake is OUT OF THIS WORLD delicious, and it's quite easy to make! You are going to love sharing this with people! (And when they beg you for the recipe, send 'em here – so fun to share this with you.)
How to assemble this super moist Caramel Mocha Poke Cake
Once you prepare the chocolate cake (full recipe at the bottom) and then poke holes through the top of it, you're ready to move onto the really fun part, including making the homemade caramel sauce that you'll pour all over it.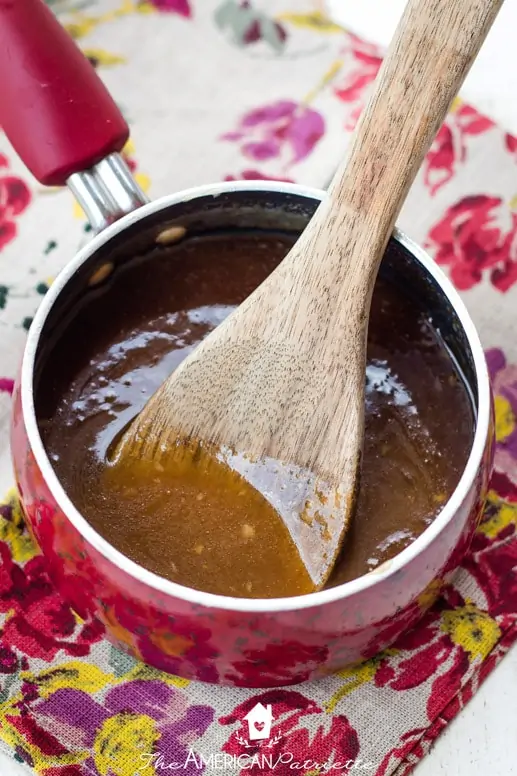 Homemade caramel sauce is so easy to make on the stovetop with some simple household ingredients – whipping cream, brown sugar, butter, salt, and vanilla. And, it doesn't take very long to make – less than 10 minutes!
After reserving a little bit to drizzle over the top of the cake (after it's frosted with the homemade whipped cream), you'll pour the remaining caramel sauce over the top of the cake.
It already looks so delicious, doesn't it?!
Then you'll set your cake aside to completely cool. Believe me, you do not want to spread delicate whipped cream over the top of a warm cake! You can just wait until the cake is at room temperature, but you can also chill it – this cake is very tasty and still has a great texture when cold.
Once the cake is completely cool, you'll make the homemade whipped cream.
And, just like the caramel sauce, homemade whipped cream is also very simple to make, especially if you have a stand mixer. You want to pay attention, though, that you don't whip the heavy whipping cream for too long or else it'll start to get chunky – it's on its way to turning into butter!
(Side note, if you've never made homemade butter, it's a really cool experience. My kiddos and I made a batch when we were reading through the Little House series, just to see what it was like, and it was so fun to watch it happen!)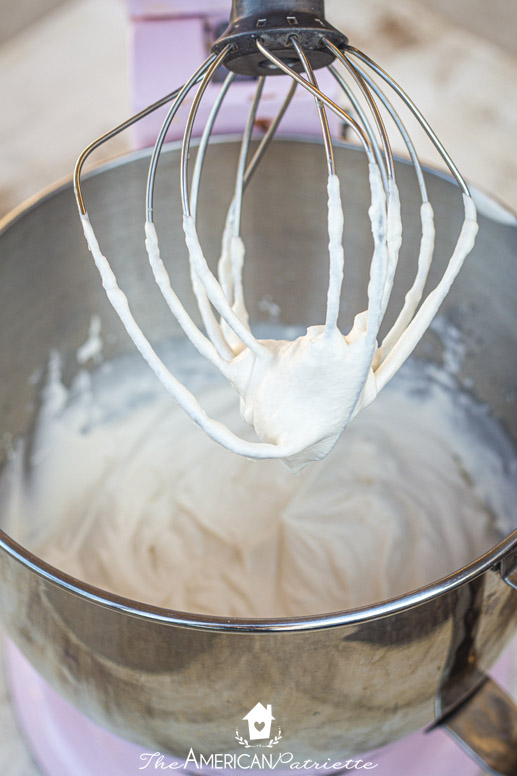 Once your whipped cream is silky smooth and before you whip it for too long, stop the mixer and spread the topping onto the cake.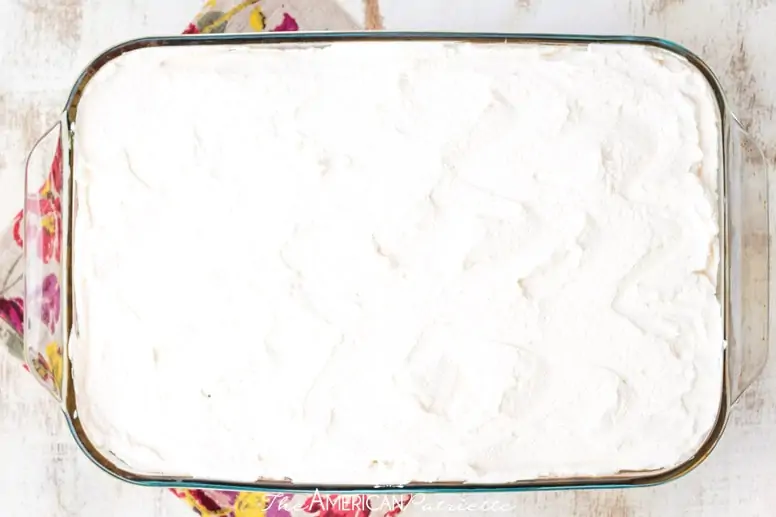 Then lightly dust some coffee grounds over the top, just for a little extra coffee flavor and effect.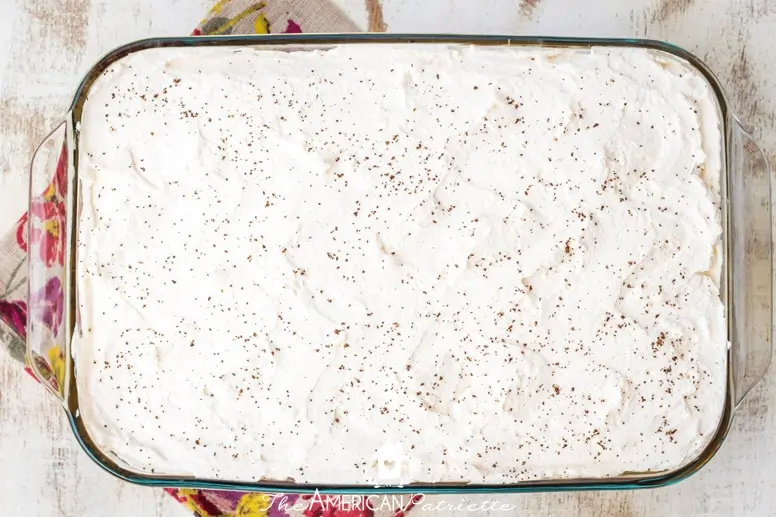 Store it in the fridge, and then serve it up! You CAN serve it right after you frost it, but just know that the whipped cream frosting won't "cut" smoothly, so your pieces may not be quite as pretty, but it'll still taste great.
Once the cake is chilled, you can see how the whipped cream frosting will maintain its shape a bit and stay nice and neat on each piece:
Drizzle some remaining caramel sauce on each piece individually (If you're not serving the whole cake at once) for a fancy, decadent flair!
F.A.Q.s about Caramel Mocha Poke Cake:
How should I store the cake? You'll definitely want to keep it in the refrigerator, especially because of the whipped cream topping. But, this cake tastes REALLY good cold – it has such great flavor and texture right out of the fridge. So, that's a plus!
How long does this cake keep? It'll last in the fridge for several days. After 4-5 days, you might notice the cake start to lose a little bit of its moisture, but you can definitely make the cake ahead of time.
Can I make the whipped cream frosting ahead of time? Yes and no. If you're making the full cake ahead of time, then YES. However, if you're wanting to make the whipped cream and then store it in the fridge for a while before you frost the cake, I would just be aware that, when it comes time to spread it on the cake, the cream won't be as smooth of a spread. It'll firm up in the fridge. So, I'd recommend making the whipped cream soon before you're ready to frost the cake, then spread it on the cake, but then you can store the cake for a couple of days before serving it. Also, I wouldn't drizzle any caramel sauce on top of the whipped cream topping until you're ready to serve it – anything heavy will cut through the whipped cream topping since it's so delicate. It'll still taste good, you just probably won't love the look of the cake once it's drizzled and sits for a bit!
What kind of coffee should I use? I used just regular 'ole store brand coffee grounds in this cake, and I think just about any other kind of coffee will do! Instant coffee would also work just fine, and, though there's not much coffee in here to make that much of a difference, if you want to cut some of the caffeine, you could easily use decaf.
Do I have to use the coffee in order for it to taste good? Nope! If you want to omit the coffee, no problem! The cake will still be very flavorful and delicious. The coffee just gives it a little somethin' extra. 😉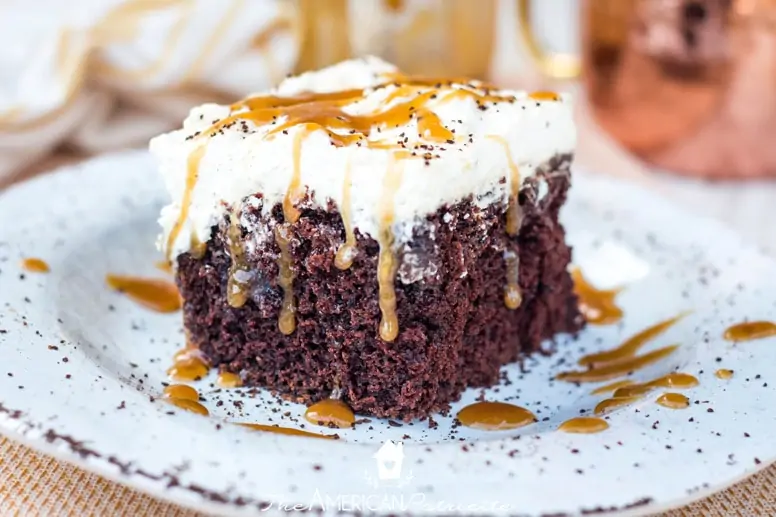 Do you see all that crazy caramel goodness that seeps down into the sides of the cake, too?!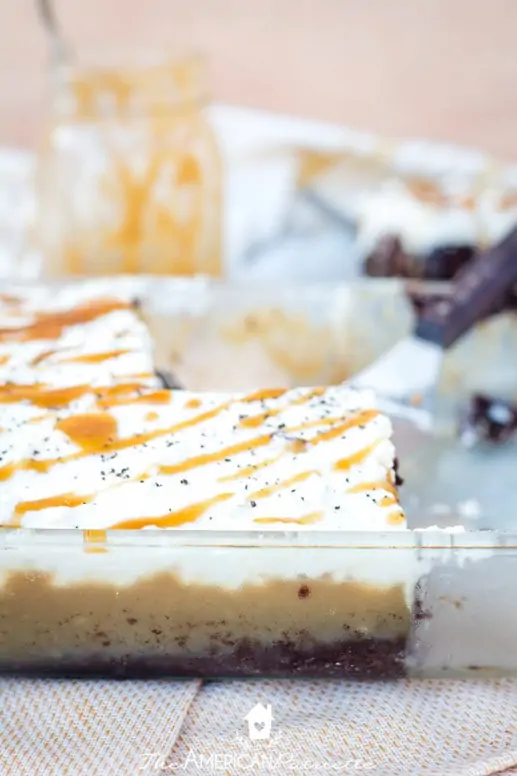 SUCH a crowd-pleasing, fun dessert to make!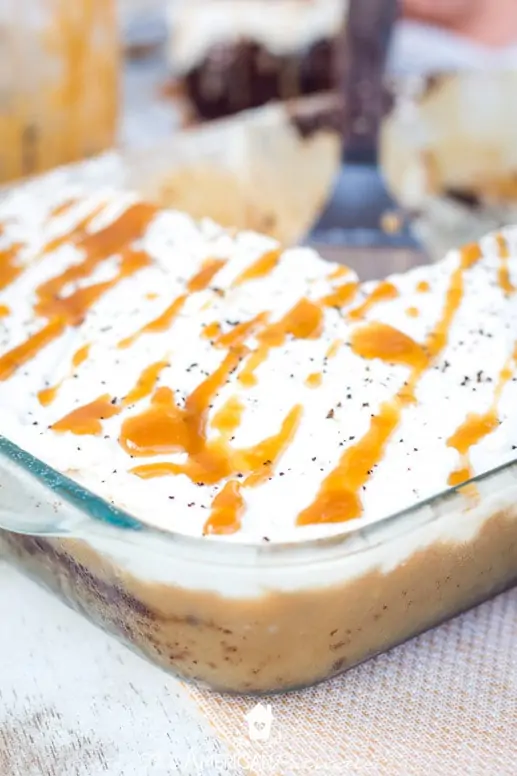 Enjoy! You'll love bringing smiles to people's faces with this caramel mocha poke cake!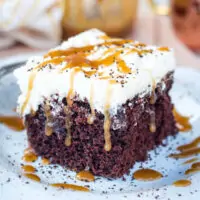 Ingredients
For the chocolate cake
2

cups

all-purpose

unbleached flour

2

cups

granulated sugar

3/4

cup

unsweetened cocoa powder

2

teaspoons

baking powder

1 1/2

teaspoons

baking soda

1

teaspoon

salt

2

tbsp

ground coffee + extra for later

to sprinkle on top of the cake

1

cup

buttermilk

1/2

cup

vegetable oil

2

large eggs

2

teaspoons

vanilla extract

1

cup

boiling water
For the caramel sauce
1

stick unsalted butter

1 ½

c

packed brown sugar

½

c

heavy whipping cream

1

tsp

vanilla extract

¼

tsp

salt
For the whipped cream topping
2

c

heavy whipping cream

1/3

c

powdered sugar

1

tsp

vanilla extract
Instructions
Preheat oven to 350.

Pour dry ingredients for the cake (flour, sugar, cocoa powder, baking powder, baking soda, salt, and coffee) in a large mixing bowl/in your stand mixing bowl and mix together using the whisk attachment.

While mixing, gradually add in buttermilk and oil. Mix in eggs, one at a time.

While continuing to mix, add in vanilla extract and slowly add the hot water. Make sure to scrape the sides of the mixer, and then mix once more until the cake batter is thoroughly blended.

Pour cake batter into 9x13 cake pan. (Because the whipped topping makes this a pretty tall cake, use a deeper cake pan if you're able. If you only have a normal sized 9x13 glass casserole dish, that'll do.)

Bake in oven for 30-35 minutes. My cake needed right at 32 minutes in the oven.

Once you've tested the middle with a toothpick and it comes out clean, remove the cake from the oven and set it aside to begin cooling down. You still want it warm for this next step, but you don't need it piping hot.

To begin making the caramel sauce, melt butter in saucepan over medium heat. Add the 1/2 c of whipping cream and tsp of vanilla. Stir.

Add brown sugar and salt and stir until they begin to dissolve. Turn heat down to low and allow sauce to simmer and thicken for about 5 minutes, stirring intermittently.

Remove from heat. Set a few tbsp of the caramel sauce aside to serve on top of the whipped frosting right before serving.

Using the end of a wooden spoon, gently poke holes across the cake to create cavities for the caramel to seep into.

Pour the remaining caramel sauce evenly all over the top of the chocolate poke cake.

At this point, if you want a more intense coffee flavor (the cake itself is not overpowering with a coffee flavor), sprinkle some extra coffee grounds evenly over the hot caramel sauce/poke cake - maybe a tsp or two. 

Allow cake to cool down completely to room temperature. If you're not in a hurry, allow the cake to cool in the fridge for a few hours or overnight - this cake is yummy chilled!

After the cake is fully chilled, it's time to make the whipped topping! Add the 2 c whipping cream, powdered sugar, and vanilla extract to your stand mixer. Using your whisk attachment, mix the three ingredients on high speed for 6-8 minutes, or until you begin to see stiff peaks form in the cream. Check the progress of the whipped cream after a few minutes, but you'll likely need to whip it for at least 5-6 before you start seeing those peaks. BUT, you don't want to mix it for too long or else it'll get chunky and lose its silky texture! So, once you start seeing those peaks in the cream, go ahead and stop mixing and you're ready to spread it on the cake.

Spread the whipped topping on the cake, sprinkle on extra coffee for garnish, and place the cake back in the fridge until you're ready to serve. 

Drizzle extra caramel sauce on top right before serving if you wish. (Wait to do this until you serve it, or else the caramel sauce will likely cut through the delicate whipped cream topping.)