How to Decorate Sugar Cookies Like a Pro
Learn how easy it is to decorate sugar cookies like a pro without any kind of fancy equipment or fussy frosting! Use this best-tasting buttercream frosting recipe that hardens to make detailed designs or simply decorate beautiful sugar cookies with sprinkles!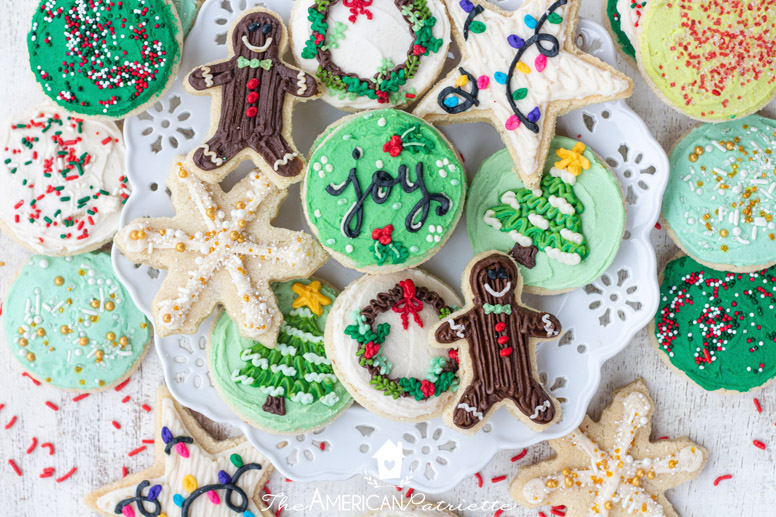 Welcome to Day 4 of the 12 Days of Christmas Baking Tips!
If you want to catch up in this fun series, here are days 1-3:
I am *so excited* for today's tip, simply because I have been itching to show you how EASY it is to decorate gorgeous sugar cookies like a pro without fancy kitchen tools, AND, with easy-to-use & absolutely delicious buttercream frosting that hardens enough where you can more simply store & transport the cookies.
Yep, buttercream! No royal icing here, folks! No offence to royal icing…it's just not buttercream, and my taste buds are kinda biased.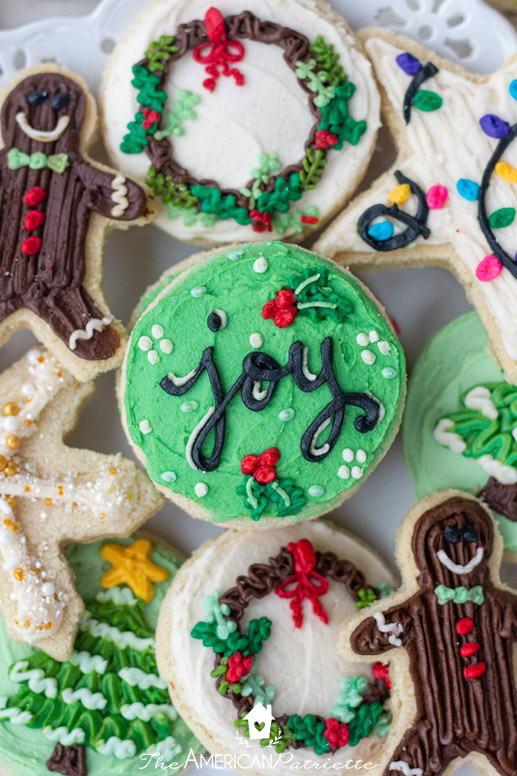 You can use any sugar cookie recipe for decorating (although, if you're looking for recommendations, I'd highly suggest this soft & chewy sugar cookie recipe!), but you'll definitely want to use this buttercream frosting recipe for decorating.
Why? I go into a ton of detail on how to make that buttercream in that post (lots of detail not because it's hard to make, but because I walk you through, step-by-step, exactly how easy it is to get the perfect frosting every time, and then offer up a bunch of tips for prep & use) but here are the main reasons you'll want to be particular by using that recipe:
The consistency of the buttercream is *perfect* – it's not grainy, it's not runny, it's not too dense or too fluffy. It's just right.
It tastes AMAZING. I feel like sugar cookies are sometimes kinda boring to eat. When you pair the soft & chewy sugar cookie recipe + the really creamy & flavorful buttercream, it is ANYTHING but boring: it's a match made in heaven.
It's easy to work with – you're going to see just how unsophisticated my process is for decorating cookies. But, you're going to love it, because it means ANYONE with a little time, patience, and a steady hand can do this, too! This buttercream is really easy to work with – it spreads easily with a butterknife onto the cookies, and it pipes really easily onto the cookies (and keeps its shape – not runny at all!) for the detailed decor.
It hardens up. Yes, there are other buttercream recipes out there that may taste pretty similar to my recipe, but after lots of experimenting in my kitchen, I finally figured out the perfect recipe – ratio of ingredients + process of mixing them together – that produces a frosting that hardens up well enough, particularly for sugar cookies, that enables you to stack them without messing them up, and FAR more easily store them & transport them. It doesn't harden up like a rock, but it does harden up well enough make life with sugar cookies a little easier. 🙂
In this post, I'm going to show ya exactly how to use that buttercream to make gorgeous cookies in a couple of different ways:
A quick (but still beautiful!) method: how to decorate sugar cookies with the buttercream + sprinkles
And a more detailed (but still easy!) method: how to decorate sugar cookies with detailed designs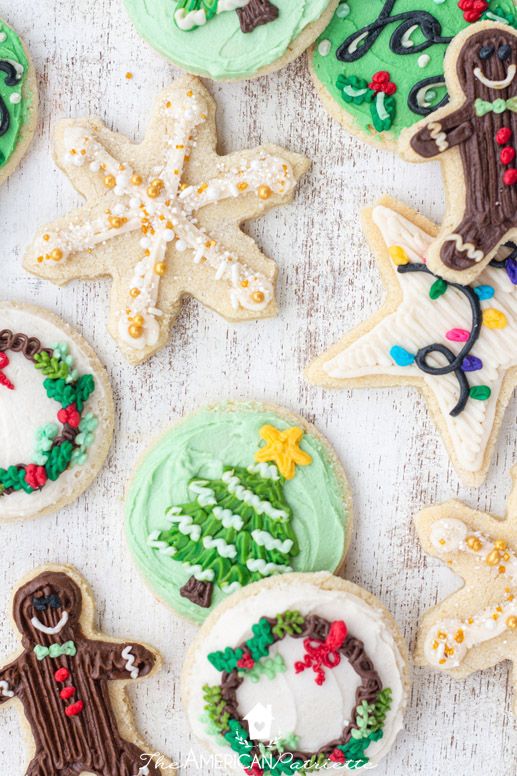 Ok, are you ready to get started?! We need to do a couple of steps first that apply to both ways of decorating (with sprinkles and with piping), and then I'll talk you through more details for each method, as well as throw in some "best practice tips" along the way.
Thorough Video Tutorial for How to Decorate These Gorgeous Cookies
This video is long, but I talk you through (and show you) the process of decorating these cookies – it's worth a watch if you still have some questions after going through the pictures/commentary on this post!
And, this video is definitely evidence that most of the projects on this blog of mine are a family affair…my kids could not keep their hands out of those sugar cookies! ?
How to Decorate (beautiful!!) Sugar Cookies Like a Pro
Hang with me here – I'm going to give you lots of details, just so you can get beautifully decorated cookies the very first time you try this!
Here's what you need other than the frosting (see how simple your supplies are!):
Zipper sandwich bags

Use ones with zippers for two main reasons: 1) You can give the frosting airtight storage if you're not going to do all the decorating in one sitting, and 2) The bags with the zippers tend to be stronger than the ones without – they won't bust their seam anywhere near as easily.
Also, use sandwich zipper bags vs. gallon zipper bags or freezer zipper bags – gallon bags will be too clunky to work with, and freezer bags are typically really thick and might make piping more difficult

Scissors – for cutting the tips of the bags
Paper plates – for easy clean-up after mixing the colors & using the frosting
Gel food coloring – I know I harp on this in my buttercream frosting recipe post, but seriously – the colors will be brilliant WITHOUT messing with the texture and consistency of the frosting!
Butter knife – for mixing & spreading
Paper towels – for easily wiping the knife clean between mixing colors
Step 1: Color the Buttercream with Gel Food Colors
This step does assume you've already made both your sugar cookies & your buttercream, and you're ready to color the buttercream!
Important tip: Color the frosting really soon after you make the buttercream. It'll be far easier to mix colors into the frosting and spread the frosting onto the cookies before that icing begins to stiffen up!
This part is fun & easy! You'll scoop out separate "piles" of frosting onto paper plates, and add a few drops of coloring – maybe start out with 1 or two at a time – to each dollop of frosting and mix with the butter knife. You can play around quite a bit with colors – that's what I do!
Super important tips:
Specifically for spreading the frosting on the cookies: you'll need to use the buttercream frosting for this process fairly soon after you make it – within an hour or so, or else it'll get too stiff to spread easily.In other words: I wouldn't make the frosting ahead of time; I'd make it, color it (like I'm going to show you), and then spread it on the cookies soon after – the cookies you're decorating with sprinkles, as well as the cookies that you're piping but that you want to have a "base" coat.
For the icing you're using to pipe onto the cookies: after you spread the cookies with their base coat of frosting, you CAN store the rest of the icing that you color for all the detail work and use it the following day.So, as much as I think it would be best for you to SPREAD the frosting soon after you make it, as long as you properly store the remainder of the frosting for piping (I'm going to show you), you're fine waiting a day after you make the frosting to do the detail work on the cookies. However, there's a caveat to that: don't wait too long to use it. For best results, I wouldn't wait longer than a day before piping the colored frosting onto the cookies. When you color the frosting, store it in the baggies, and then let it sit for too long in the baggies (basically, longer than a day), that icing stays moist enough that the icing & the food coloring start to separate a bit, and then you have to do quite a bit of "massaging" of the bag
Remember to reserve some white frosting! Unless you know you're not going to use any white for any reason, you'll want to make sure you don't get too carried away with coloring the frosting that you forget to leave some of the white behind.
Other helpful tips about coloring the frosting:
You don't necessarily have to make all of the colors individually. Sometimes I'll make a blue & a green frosting, but then I'll take a little bit of each of those and mix them together to make a turquoise. This is especially helpful when I'm particular on the hue I want (which is often…I'm particular on colors!) – you can have more control over the color when you mix together colored frostings that have already been colored rather than freshly adding food coloring from the bottle to the white icing. Make sense?
To make black: Mix all the colors! Ha! Usually, it's literally a mixture of red, blue, green, and yellow (all the colors you'd find in the primary color box of food coloring), but then I'll keep adding different colors to get the right "shade" of black (i.e. if I want it a bluer black or a yellower black)
To make brown: I mix red & green together, and then will occasionally add a tiny bit of blue and/or yellow to, again, get the shade of brown I'm looking for.
Keep your designs in mind: if you know you're only going to need the slightest bit of some colors (i.e. for me: I didn't need very much purple, pink, or orange, because I was only using those for the Christmas light dots) and you need quite a bit of some of the other colors (i.e. especially the "base" colors you're using to spread onto the cookie before you decorate), just make sure you keep that in mind as you're portioning out the frosting to color.
Just keep mixing all the colors until you're happy with your color collection!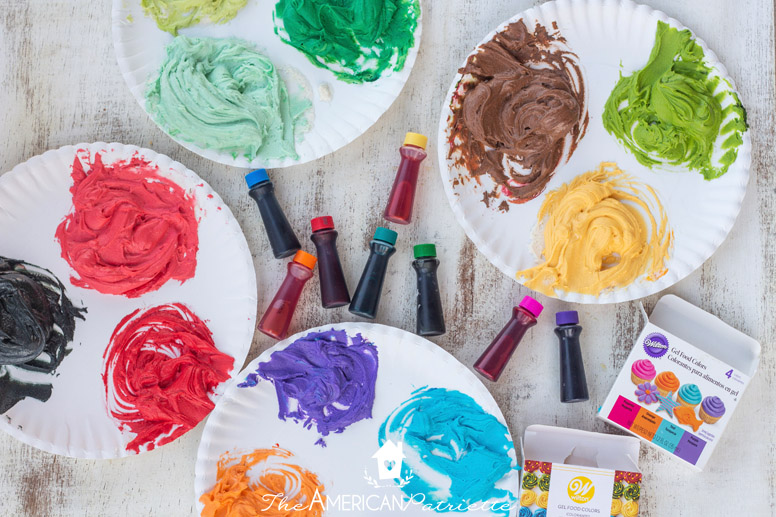 Step 2: Put SOME of the frosting in baggies
You're not going to put your "base" coat of frosting in the zipper baggies, but you will put all the colors you're piping into the zipper baggies. I know, this seems so po-dunk, doesn't it?!
I will often do 2 colors per bag if I'm not using a LOT of both colors – I'll put one color in one corner and one color in another. They stay separated from one another just fine.
Don't cut tips in them quite yet – we'll get there in another step or two.
Step 3 A: Give your cookies the "base" coat of frosting (the ones that need the base coat)
This is where you're going to use your butter knife to spread the frosting onto the round cookies (I don't spread frosting on the cutouts – I pipe it onto them; I show you how to do that in the video on this post!) – the ones you're decorating with sprinkles and the ones you're going to pipe onto later.
I didn't think to take pictures of this step – we were taking a video of almost the entire process, and I forgot to pause sometimes to take photos of the process, too. I'll talk you through some of these, and you can also watch the video to get a more thorough visual tutorial.
Step 3 B: Add the sprinkles to the cookies you're decorating…well, with sprinkles! 🙂
I didn't make this Step 4 because this is kind of a mid-step. Because that frosting does start to stiffen, you're going to want to add the sprinkles soon after you frost them.
Important tips for adding sprinkles:
Make sure you have a rimmed pan below the cookies to catch the sprinkles. Because that icing isn't really…wet? (It's creamy, but it's not wet – you'll know what I mean!), it doesn't catch the sprinkles very well. So, I add the sprinkles really close to the cookie (I don't sprinkle them from up high), and they're still going to inevitably want to kind of roll off the frosting. So…
Gently press the sprinkles into the frosting as you're sprinkling them onto the cookie. This is EASY, you'll just want to make sure to do it as you're adding the sprinkles. They'll stay just fine in the frosting after you gently press them in – you don't have to worry about them rolling off the cookie. And you can tell: you can hardly see that they're even pressed in, so this process doesn't compromise the aesthetic of them at all: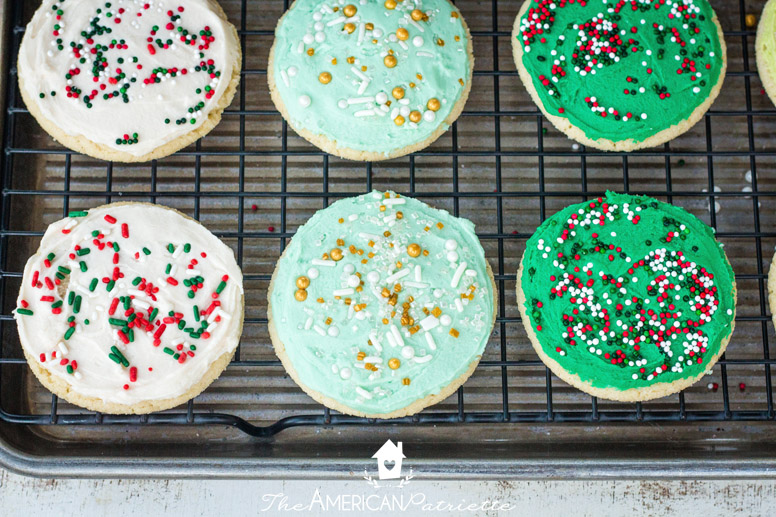 Step 4: Decorate the cookies with the detailed frosting
Again, in that video above, you'll get a much more thorough visual tutorial of this process, but I'm going to walk you through some of the basic steps. This part is VERY doable, you just need: a little time, a little patience, and a steady hand.
Tips for doing the detailed decorating:
Have your designs in mind

Take some screen shots of other Christmas cookies you love, or do a search for "Christmas vector images" or "Christmas clip art" (or you can get more specific with your search depending on what you're wanting like, "Christmas wreath clip art," "Christmas light clip art," "Nativity clip art," etc.).
If you want a calligraphy look, you can do a search for "Christmas word art" or "Christmas calligraphy" and get some inspiration from those images, too!

If you made the frosting and put it in the baggie the day before you're using it to decorate, you'll want to "massage" the bag (I really cannot come up with a better term for this…I know, so weird, right?) with the frosting to make sure the food coloring is all mixed in with the frosting. Sometimes it separates a little from the frosting – this usually isn't that big of a deal if you only made it a day ahead of time.
If you cut a hole that's too big for the design you're wanting to create, this is an easy fix: just squirt some of that icing into a fresh zipper bag and cut a smaller hole. I do this A LOT, especially since a lot of times, when I'm decorating cookies, I'll need the same color with two different "flows" – red that flows quickly/thickly and red that is really thin so I can make small details.
First, go ahead and cut the tips in the corners of the zipper baggies – START SMALLER. You can always cut a bigger tip if you need to. Then, you'll just start piping it onto the cookies.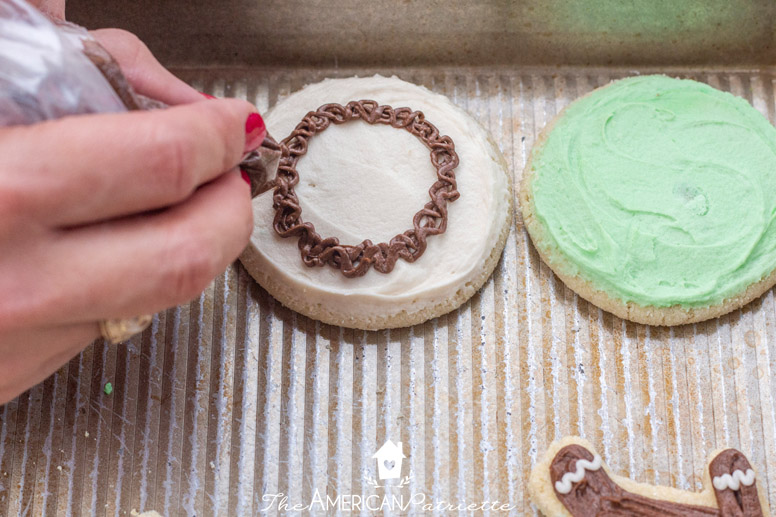 Then, you'll just start gently piping the icing onto the cookies.
When I was decorating these cookies, I had given them their "base coat" the day before, and then I was piping the icing the following day. I only did this because of time – I didn't have time to do both on the same day. You don't have to wait after you've spread the frosting on the cookie to start the piping, I'm just telling you both are possibilities!
And you're just going to keep going with a steady hand!
Have fun with the different designs!
Tip: How to frost the cutout cookies
Let me talk you through how to decorate those cutout cookies since you can't really spread the base coat of icing on there like you can on the regular round cookies.
Again, you can get a much more detailed look at this in that video toward the top of this post, but you can see here that I just piped the main color onto the cookie:
I created an outline with the frosting, and then filled it in going back and forth with the same color. Then, I added the detail work.
Tip: How to frost the cutout cookies with sprinkles
Don't you just love how gorgeous these snowflake cookies are?! Once again, I go over this in the video, but the steps for this are so simple – there are only two of them!
Same thing – you're going to pipe the icing onto the cookie. But then, you add on the sprinkles, give them a gentle pat, and you're done!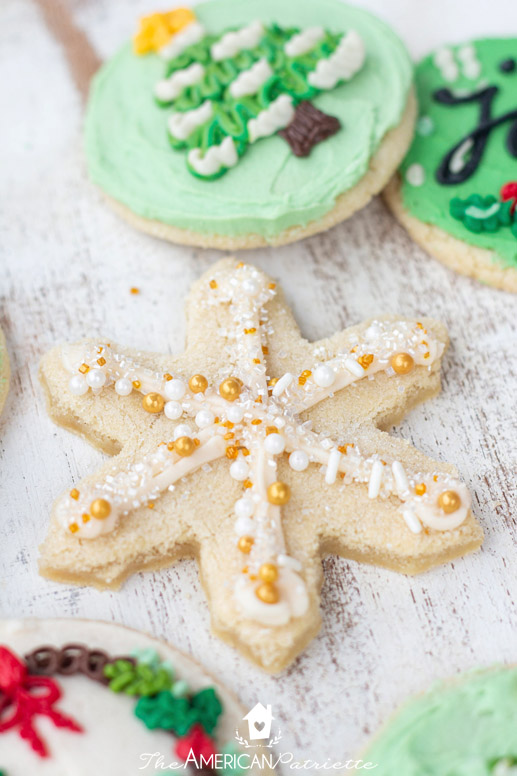 Are you ready to go make some of these?! You're going to have a blast! It's like painting, but in more of a grown-up form! 🙂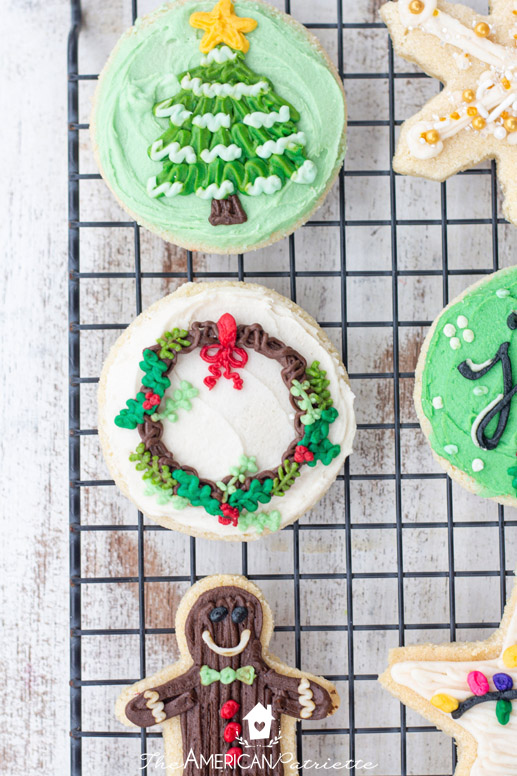 Recap of some of the best practice tips for decorating gorgeous sugar cookies:
Use sandwich bags. For easiest use & best flow of the icing, us the zipper sandwich bags, not freezer or gallon bags.
Don't make the icing for piping too far ahead of time. Remember, you'll want to spread the icing for the base coat soon after you make that buttercream & color it, but you can reserve the rest of the frosting you're using for piping after you've colored it and stored it in the zipper bags. Just don't wait too long to use it – if you wait more than a day or so, the food coloring really starts to separate from the icing. (It does NOT separate once it's on the cookie, so you don't have to worry about the colors running/separating after you decorate the cookies, it just separates in the bag since both stay moist in the airtight bag.)
Keep the icing (the icing for piping that you put in the baggies) on the kitchen counter, NOT in the fridge, if you're going to use it the next day. Cold icing is really hard to work with. Room temp is definitely best for ease of use.
Press in the sprinkles. When you're sprinkling the sprinkles on top, make sure you're doing it over a rimmed pan that can catch the sprinkles. And, make sure you gently press in the sprinkles so they stay on the cookies.
Reserve extra white frosting when you're coloring it. 1) So you make sure you have white for decorating, and 2) In case you need to make another color you forgot to make or you need to make more of a color you ran out of.
If you're having problems with your baggies, try a different brand. I've been decorating sugar cookies for YEARS, and I've pretty much just always used the same baggies – the store brand (Wahoo! Love my H-E-B grocery store!) – and they work just fine. There have been times when I've decorated cookies and the bags I'm using just keep splitting at the seams when I'm squirting out the icing. I can't tell you this won't happen, but, this doesn't happen often to me, especially if the icing is at room temperature and isn't too cold.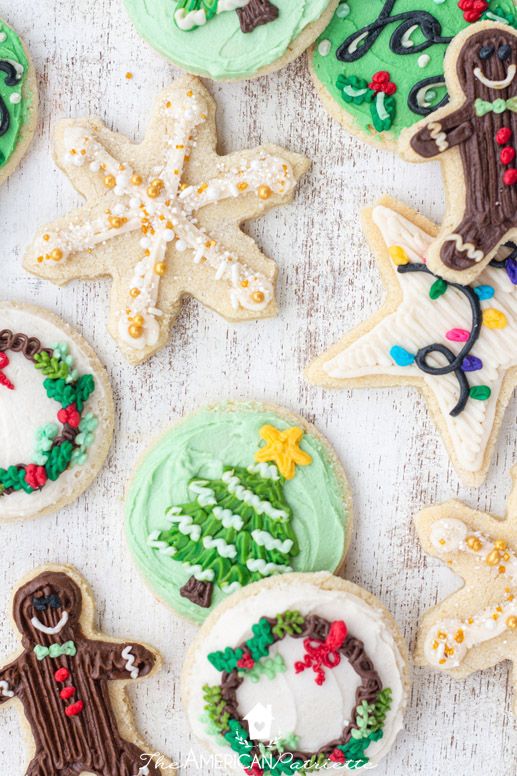 FAQ for Decorating these Sugar Cookies
Lemme answer some additional questions you might have!
Does the icing spoil? Well, I can't say that cookies have stuck around long enough, uneaten, at our house for us to really know if the icing eventually spoils, but I will say, the cookies + the icing taste just fine even a full week after frosting them. And no, you don't need to store them in the fridge!
How long does it take for the icing to harden? Especially for the cookies that you're frosting & then sprinkling (i.e. no detailed piping work), you can stack those pretty soon after you make them. But, just to be on the safe side, I'd wait overnight before stacking cookies on top of each other – particularly the ones with the detail. However, if you're on a time crunch, you can pretty much stack and transport the cookies that you frost & sprinkle within about an hour of making them.
Can I use a different buttercream recipe for decorating? Maybe. I use a different buttercream frosting recipe (just a different ratio of ingredients) for cakes, simply because this particular buttercream for cookies is stiffer and is much better for the detailed decorating (and then the storing/transport of the cookies), but also wouldn't be great for cakes because it wouldn't adhere and spread onto the cake really smoothly like it does on the cookies. But, if you're really loyal to your own buttercream frosting, and if it holds food coloring well, then go for it! I just can't promise you it'll harden up the same way my recipe does.
Can I use cream cheese frosting for decorating? Eee. This is where we might draw the line. I've worked with cream cheese frosting, but VERY rarely for detail work. You're welcome to give it a shot, but the consistency of cream cheese frosting vs. the buttercream is so different.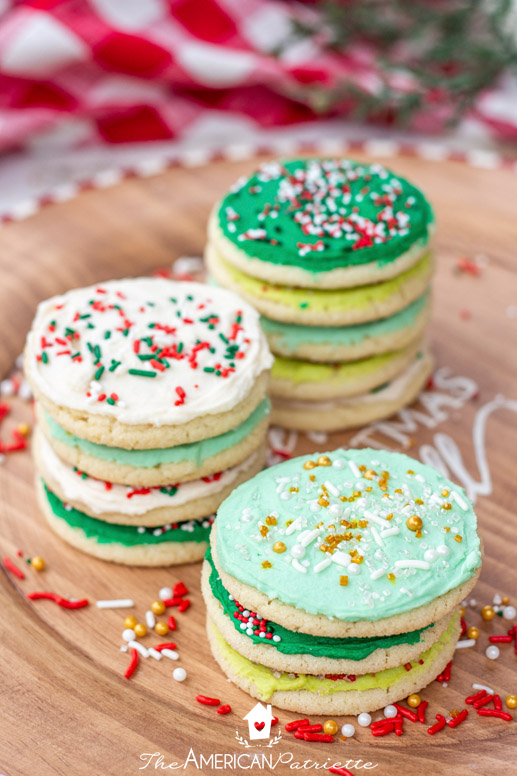 Can I answer any other questions for ya?! If so, leave me a comment and I'll see what other info I have up my sleeve! Have fun decorating!
Related links for you:
And, if you love those recipes and want easy access to them, be sure to snag your FREE holiday baking cheat sheets that you can print out & hang up in your kitchen cabinets with all sorts of tips and tricks for Christmas baking! 🙂