The BEST Easy and Chewy Sugar Cookie Recipe
Looking for the BEST easy and chewy sugar cookie recipe?! These soft sugar cookies are a HUGE hit, and yes, you can absolutely make cutout sugar cookies from this recipe, too!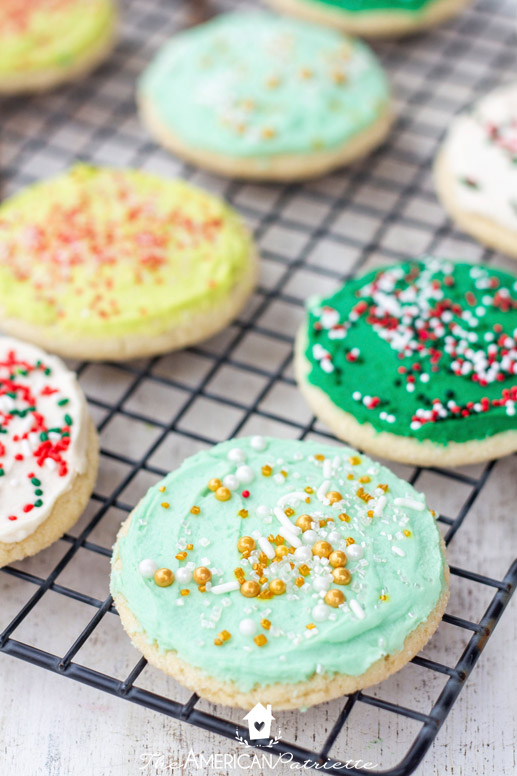 Raise your hand if you're a HUGE fan of SOFT and CHEWY sugar cookies rather than harder ones that have more of a shortbread texture!
Me! Me! Me!
After doing some experimenting in my kitchen, I tweaked a recipe enough to where I think I can officially say these are my favorite: the absolute best chewy sugar cookies. When they came out of the oven and I tried the first one from that batch, I think I literally said, "Holy cow."
Back in my former life (pre-mom life ?), I used to make & decorate sugar cookies several times a year. But waaaay back in the day, back in high school and college, I'd just use store-bought dough and icing; it's what my mom always did, and they always tasted ok, so I never had a reason to change.
But, in my adult life when I do almost 100% of my baking from scratch, I decided it was time to have a perfect from-scratch sugar cookie recipe.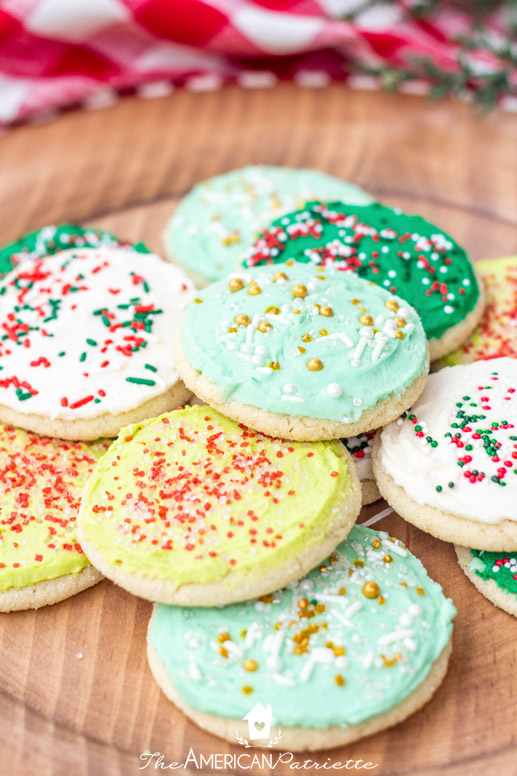 However, as much as I don't want to think of myself as a cookie snob, I will say: chewy cookies are far superior to crunchy ones. I don't love the shortbread-type of sugar cookies. If you're reading through this recipe, I think you probably feel the same way, or, you at least are on a mission to also find a perfect CHEWY sugar cookie to add to your recipe box.
And, in addition to finding the perfect sugar cookie recipe, I was also on a mission to figure out the perfect buttercream frosting recipe – specifically for sugar cookies.
While I love to decorate cookies, I don't want to transition to using fancy equipment (my method has always worked out just fine!), and, royal icing just isn't one of those things that gives your tastebuds a hug and makes them want to hug it back. Ya know?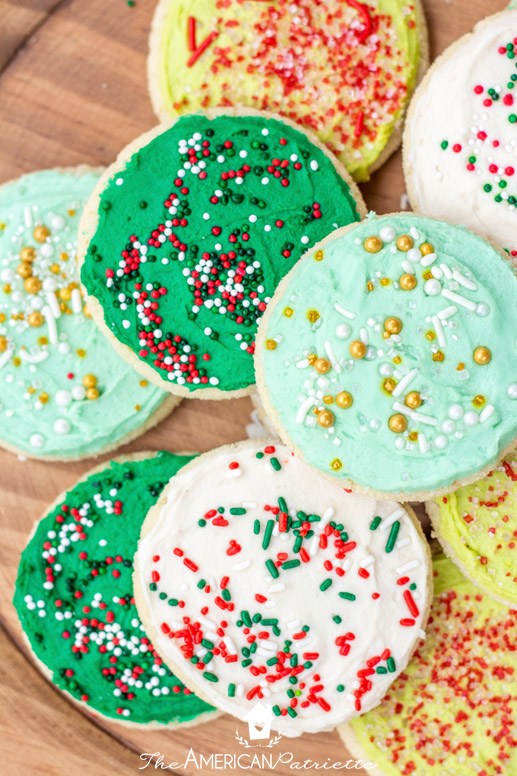 However, the hundreds of times I've made frosted sugar cookies, I've always had to be extremely careful with how I store them and transport them so I didn't mess up the buttercream.
This mama just can't be so fussy! In search of a little more practicality, I experimented with some icing recipes to go along with these perfectly chewy sugar cookies – a buttercream frosting that would taste good (a total must!), be easy to work with, AND harden enough to where I don't have to walk on eggshells to transport the cookies after decorating them.
Ding, ding, ding! We have a winner, friend! And oh my, I just can't wait to share them both with you!
But, before I get too carried away with frosting & decorating them, let's chat about how to make those perfectly soft, chewy, and melt-in-your-mouth sugar cookies, shall we?!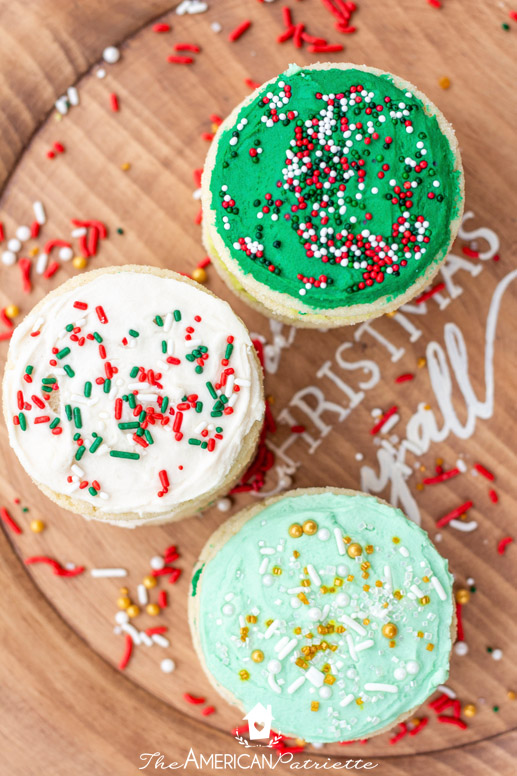 This post contains affiliate links for your convenience. You can read my full disclosure policy here.
Before we get started running through this simple recipe, let me give you a few tips:
Tips for making these amazing sugar cookies in your kitchen:
My absolute #1 tip for making these chewy sugar cookies (and ANY cookies): use these baking pans. THEY ARE THE BEST. No, this isn't hyperbole. This isn't exaggeration. This isn't me being over-bearing and bossy. This is me telling you, as a fellow friend who cares about helping you make great cookies to enjoy with your people: these USA Pans are absolutely amazing. I've had mine (I have 3 – 2 large ones and 1 small one) for over 8 years and they still perform just as well today as they did when I first got them. They're miracle workers. I sound so dramatic, don't I? Just take my word for it.
Do NOT over bake the cookies. I know, this goes without saying. Over-baked cookies don't produce chewy cookies. But still, you'll just want to keep your eye on that oven timer!
Speaking of ovens: use an oven thermometer! I'm blown away by how many people don't use one – I live by mine. I do NOT trust my oven to tell me the truth about the temperature. The oven thermometer is much more honest with me than my oven. A run-of-the-mill basic oven thermometer is all ya need.
These stay chewy for a while! Even on days 5 & 6, they were still fairly chewy. I know, is this even a tip? Well, I'm calling it that, because I want to know these things about recipes when I'm deciding between which ones to choose!
Make sure you don't skip the step of rolling them in the sugar! This helps keep their shape, and also adds to the texture. Hardly takes ya any extra time!
How to make the BEST soft & chewy sugar cookies
Ok, are you ready to cut the chit-chat and get to this recipe! Let me walk you through the steps. I sure wish you could come hang out with me in my kitchen and make 'em with me!
Step 1: Divvy up your ingredients & whisk together the dry ones (except the sugar)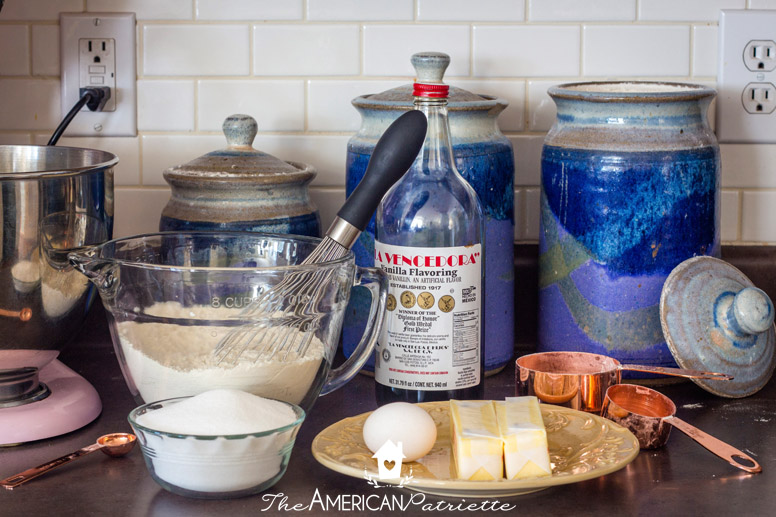 You just need basic ingredients for these sugar cookies! Nothing special – I think it's just how you combine 'em and the way you bake 'em that helps them to come out so soft and chewy.
Here are the ingredients you'll need:
All-purpose flour – yep, just what you probably have in your cabinet! I always use unbleached, all-purpose flour.
Baking soda & baking powder
Salt – I always use sea salt when I'm cooking & baking
Unsalted butter at room temperature – use real butter. It just makes life better. And yes, room temp makes a difference!
1 Egg at room temperature – now I'm really getting particular, aren't I? If you don't like following rules in your kitchen either, I get it. You can roll your eyes at me. But, I promise, just stick with room temp!
Regular granulated white sugar
Vanilla extract – I always use vanilla from our local Mexican grocery store. I go in 2x a year and get a huge bottle of it – it's AMAZING!
So, anyway, onto this step – lightly whisk together the flour, baking soda, baking powder, and salt, and then set that mixture aside. This helps to get those all evenly blended and helps get rid of any unwanted clumps and lumps.
Step 2: Cream together the butter & sugar; add egg & vanilla
I always use my KitchenAid mixer with the paddle attachment when I'm making cookies. (By the way, this thing is like an old friend at this point. My loyal KitchenAid has been with me for over 12 years, and it's still kicking!)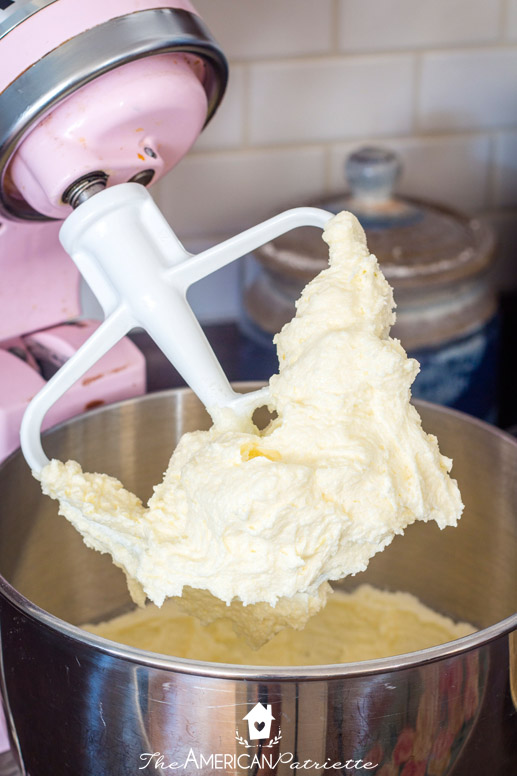 You'll cream together that room temp butter & the white sugar for a few minutes on low speed. (Usually on the notch right above the lowest speed on my mixer.)
Then, you'll mix in the egg & the vanilla, continue to cream them together for another minute or so, and then you're ready to match them up with the dry ingredients.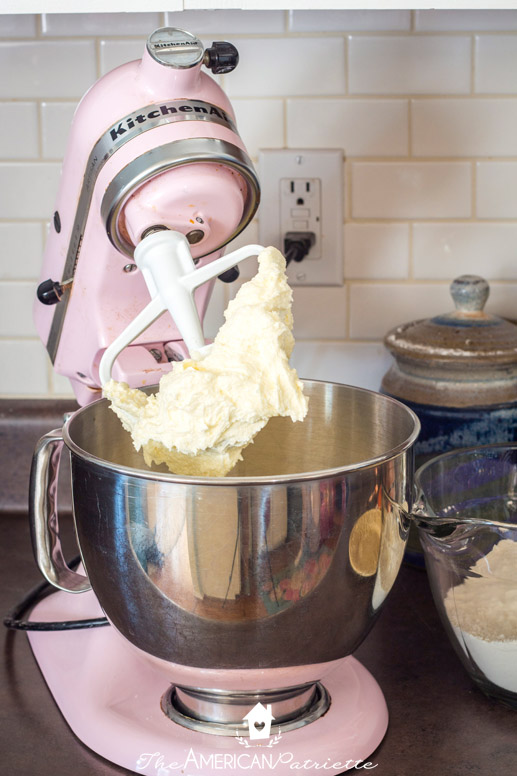 Step 3: Gradually add in the flour mixture
Just pour in a bit at a time – maybe a half of a cup or so – and continue to mix while you add in the dry ingredients.

Once you've mixed in all of the dry ingredients thoroughly with the wet, you're about ready to start rolling these cookies into dough balls.

Step 4: Roll into dough balls & roll in extra sugar
You'll roll the dough into balls about 1-inch in diameter, and then gently roll each ball into a shallow bowl of extra granulated sugar. Don't skip this! I promise, it'll make such a big difference to your cookies!

They'll come out of your oven so soft and chewy with an ever-so-slight crisp coating of sugar. You're going to love them!
Step 5: Bake in preheated oven at 375 for 8 minutes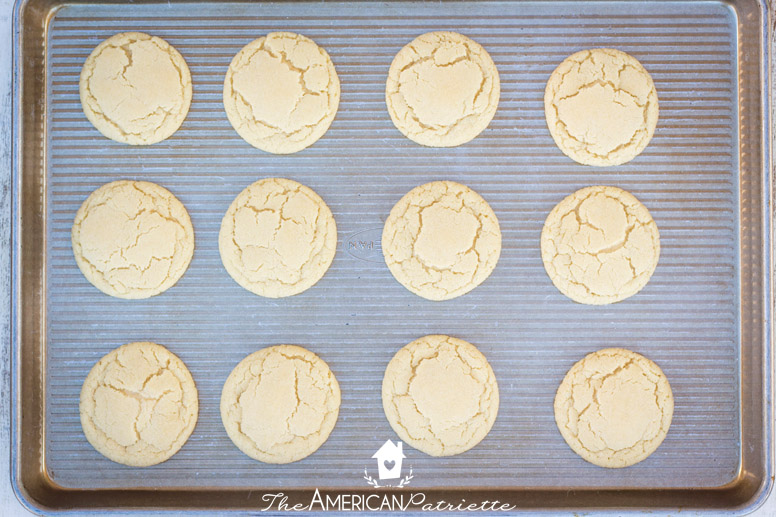 Yep, 8 minutes: no more, no less!
(If you're wanting to make these as cut-out cookies, stay tuned – I'm going to walk you through that a little later on in the series! I have a slight modification on these instructions for those!)
Mmmm. And when you bake 'em on one of those USA pans, I'm telling you, they'll pop right off that pan!
Step 6: Remove from pan & cool on baking sheets
I'll talk you through the recipe & *easy* process of frosting these on Days 3 & 4 of the series! 🙂
That's it, friend! Your turn to go make some delicious sugar cookies!
But before we go, let me answer a few questions about this recipe for you:
Are these cookies good without icing? YOU BETCHA! They taste delicious all on their own. So, if you're wanting just some straight-up, bare sugar cookies, you'll enjoy these!
Can you make cut-outs with this chewy sugar cookie recipe? Yep! You just won't make them the same way that you'd typically do it by rolling out the dough before you bake them. I'll show you later in the 12 Days of Christmas Baking Tips exactly how to do this!
Do I need to chill the cookie dough before baking? Nope! (I know, after all that bossing you around with what pans to use, telling you to use room temp butter & eggs, and telling you not to skip that step of rolling the dough in extra sugar, I'm finally letting you off the hook for something!)
How many cookies does this recipe make? About 36!
The full recipe is below, and if you want to have easy access to this like I do, you can get these free kitchen cheat sheets for your kitchen cabinets! Just fill out the form below!
The BEST Easy and Chewy Sugar Cookie Recipe
Looking for the BEST easy and chewy sugar cookie recipe?! These soft sugar cookies are a HUGE hit, and yes, you can absolutely make cutout sugar cookies from this recipe, too!
Ingredients
2 3/4 cups all-purpose flour
1 teaspoon baking soda
1/2 teaspoon baking powder
½ tsp salt
1 cup unsalted butter, softened
1 1/2 cups white sugar
1 egg, room temp
1 teaspoon vanilla extract
Extra granulated sugar for rolling
Instructions
Preheat oven to 375.
In a separate bowl, lightly whisk the flour, baking soda, baking powder, and salt together. This helps break up the clumps in these dry ingredients and gets them thoroughly blended together before adding them to the rest of the dough.
Using a stand mixer with a paddle attachment, cream butter and sugar together on low speed for about 3 minutes.
Add in egg & vanilla.
Continue mixing and gradually add in the flour mixture.
Roll into dough balls, roll dough balls into sugar, and set them on the pan until you've got your traditional dozen on the pan. Do NOT flatten them onto the pan!
Bake for 8 minutes at 375.
Remove from oven, allow to cool on the pan for a couple of minutes, and then remove from the pan onto a cooling rack.