Want to learn how to make cutout cookies with ANY cookie dough? You don't have to just choose a boring sugar cookie recipe for gorgeous cutouts! With this method, you can get easy cutout cookies that hold their shape with your favorite kind of cookie!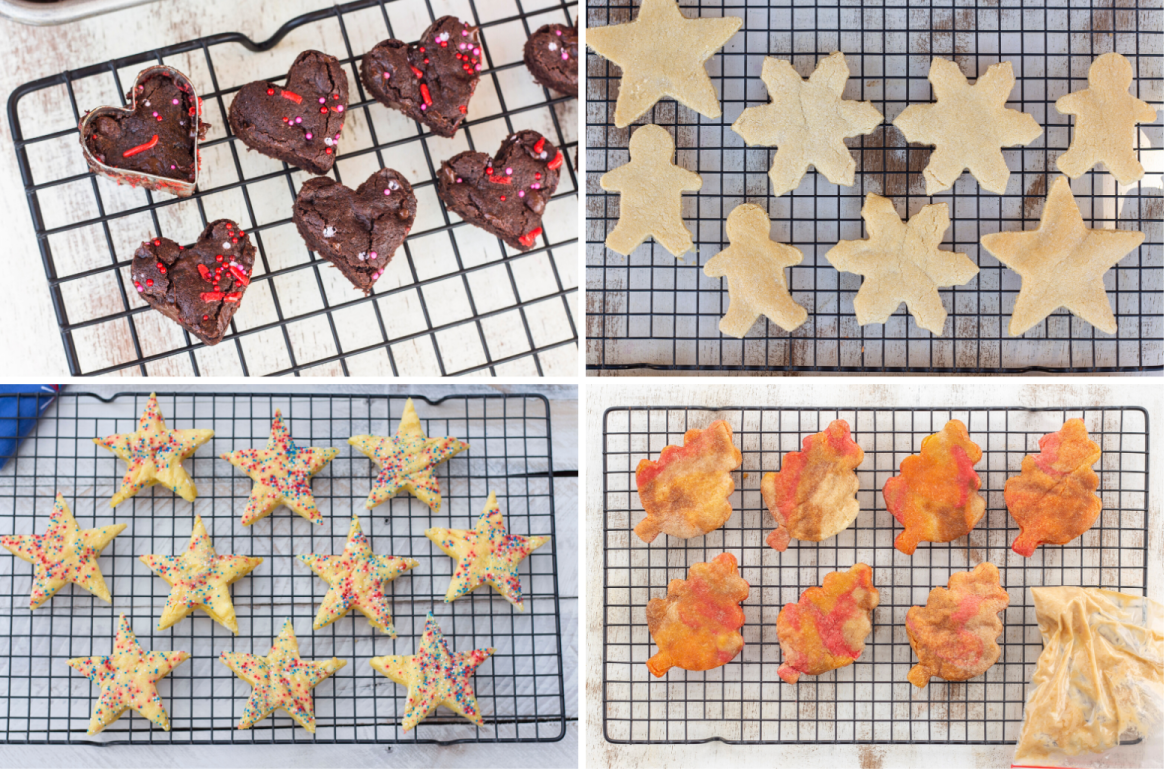 Welcome to Day 5 of the 12 Days of Christmas Baking Tips! This is definitely going to be one of my favorite days of the series, just because this tip for how to make cutout cookies from just about any kind of cookie dough works SO well and you can use it all year long! The options are basically endless! 🙂
I'm a stubborn gal in my kitchen.
Well, I'm sure my stubbornness follows me beyond my kitchen, but I'm pretty insistent on figuring out how to make things work when I'm cooking, and especially when I'm baking.
Several years ago, I wanted to make Texas-shaped cookies (like any Texan would!), but I didn't want to use a traditional roll-out sugar cookie dough recipe.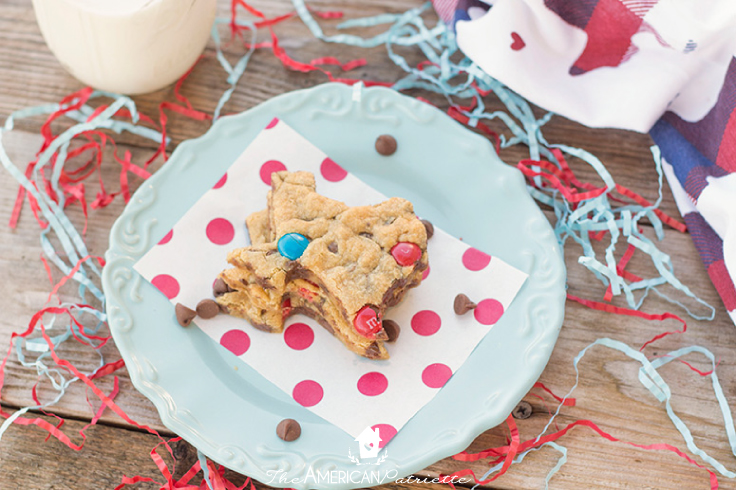 I thought about trying a particular method of cutting out cookies, actually tried it, and it WORKED, so then I was hooked, and I started making cutout cookies like crazy! With all sorts of cookie dough!
Since I've been doing this for so long and have learned a lot of what works (and what doesn't) when it comes to making cutout cookies with just about any kind of cookie dough, I thought I'd give you all the juicy details on how YOU can do this, too, with your favorite cookie dough recipe!
Before we get started, let's chat about some important tips to set you up for success. 🙂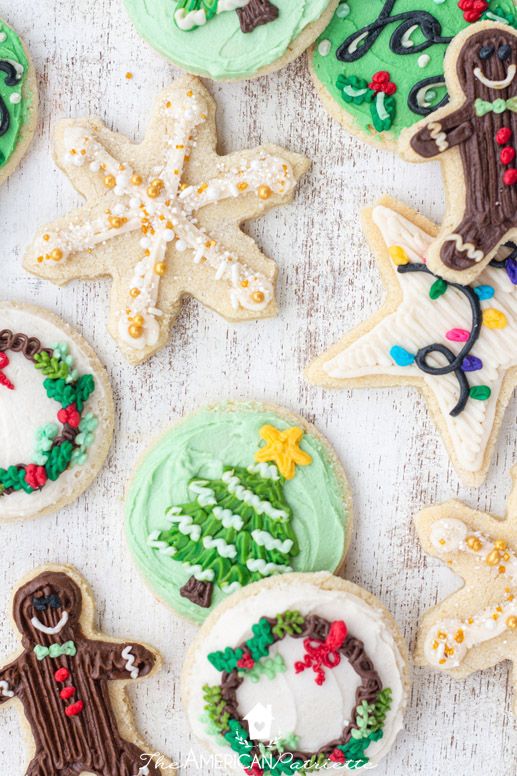 This post contains affiliate links for your convenience. You can read my full disclosure policy here.
Important Tips for Making the Cutout Cookies
The baking pans you use for this make a HUGE difference. I don't want to sound dramatic, but, they could make or break your cookies. (Ha! Literally.) I ONLY use these USA Pans when I bake/make cookies (and I use them for all sorts of other things in my kitchen, too). I'm totally loyal to them because they've been so loyal to me! My cutout cookies never stick to these pans – they come right off. So, I'd absolutely recommend them, not just for this particular baking project, but because they'll just serve you so well for so many different purposes in your kitchen!
Make sure you're using a cookie recipe that produces a chewy cookie vs. a brittle or crisper cookie recipe. Trust me: I have made cutout cookies like this for YEARS with tons of different cookie recipes, and I've really only had it fail on me once or twice, and it would've been when I was using a cookie recipe that was too brittle (which is rare, because I typically only choose chewy/soft cookie recipes). Now, I will say, you CAN use some different recipes that might typically be crispier like sugar cookies or gingersnaps as long as you're using a recipe that produces a chewy version of that cookie. Also, how many times can I say "chewy" in one paragraph?
Use metal cookie cutters – don't use plastic ones. They won't work anywhere near as well, especially since you're going to be using them to cut out cookies that are still really warm.
Don't use cookie cutters with a bunch of skinny parts/edges. Now, if you're stubborn like I am, you might still try this if you're really intent on a particular shape, but, for best practice, I would recommend cookie cutters that don't have a bunch of really skinny points.
Here are the types of shapes that will work well for this: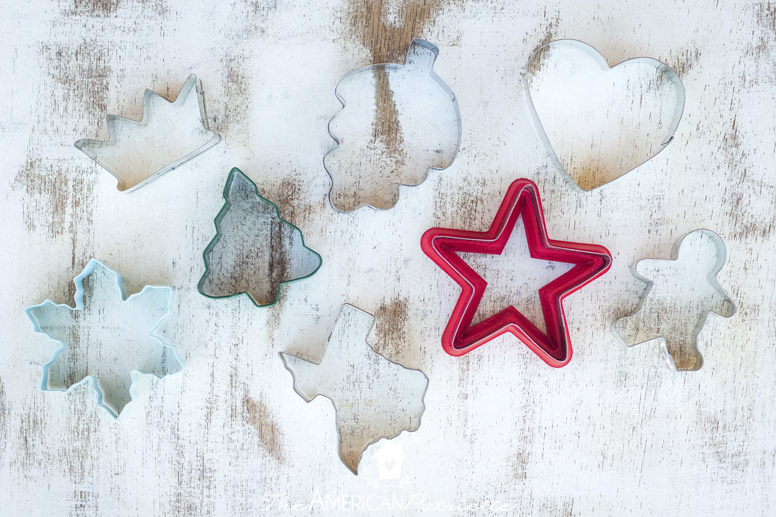 See? Big variety here – you CAN use ones that have points, you just want the majority of the cookie to be broader, and if the cookie cutter does have points, the broader the better.
However, I use that Texas-shaped cookie cutter A LOT, and I never have issues. That snowflake gave me no issues, either. And the star – those are broader points (see how they're kind of rounded rather than really pointy and skinny?), so that one will work just fine, too. So, you're not really too limited in cookie cutter shapes, you just want to be mindful of the shapes you're using.
Make sense?
And here are the types of shapes I wouldn't necessarily recommend:
See how none of those have very broad areas? These cookie cutters are going to give you a little more trouble. I've used that Stegosaurus cutter before and it actually worked, but I didn't think it would – so, by all means, give different cutters a try! I just don't want you to completely plan your cutouts with cookie cutters that won't work and not have a backup shape.
And that candy cane – that wouldn't work because it's so skinny, but a candy cane shape that was thicker all around would be just fine. Again, as long as there's enough of a broad area, I think you'll be fine!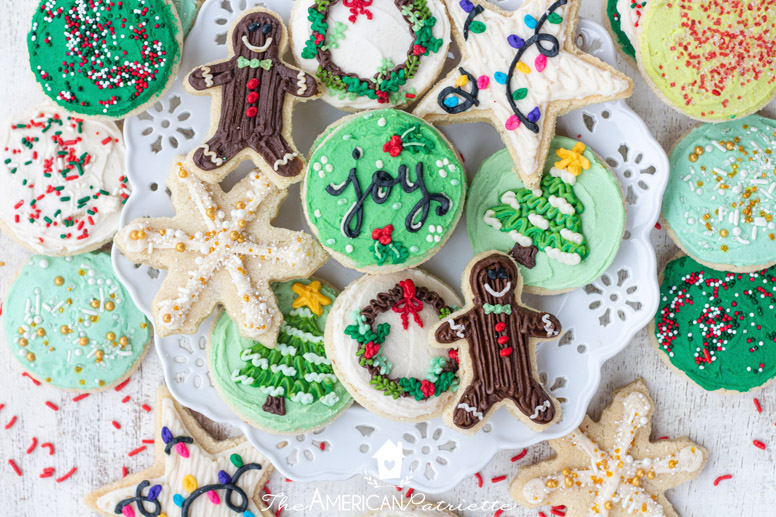 Cookie Dough Recommendations for Cutouts
Like I mentioned above, this process is quite versatile as long as the recipe produces a chewier cookie. But, just to talk you through some thoughts, here's what's worked for me and what I don't think will work very well for this cutout method.
Cookie dough I've tried this with:
Several different variations of chocolate chip cookies

Including recipes with M&Ms, but see my notes in the next section about dough where this probably won't work: stick with mini or regular M&Ms – I think anything larger than a regular M&M (i.e. like peanut or peanut butter M&Ms, the larger mint ones, etc.) will be a little trickier

Cookie recipes that use pudding mix in the recipe (like some chocolate chip cookie recipes & this pistachio chocolate chip cookie recipe)
Oatmeal cookies
Chewy peanut butter cookies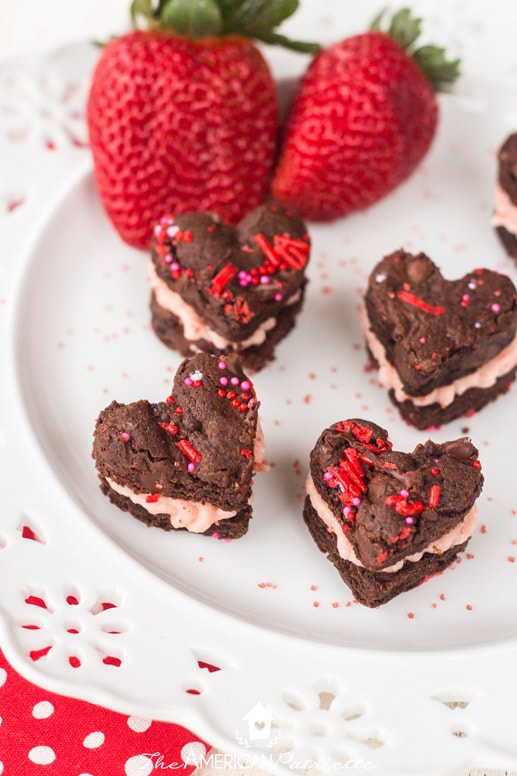 Cookie dough where this probably won't work:
Dough that has larger chunks and/or that has a lot of extra add-ins such as:

Nuts that aren't finely chopped
A BUNCH of chopped nuts in the dough
Marshmallows (unless you don't have very many marshmallows in the dough; I tried this with a chocolate peppermint cookie dough that had quite a few mini marshmallows in it, but the dough was almost impossible to cut)
Large pieces of candy (i.e. large M&Ms like the peanut ones, the peanut butter ones, or the large mint ones)

Cookies that are stiffer/more brittle (i.e. like shortbread, certain sugar cookie recipes)
Crispier cookies
Hopefully that helps you think through exactly what recipes you can use (and which ones you should maybe stay away from for this), but you can see: this really does accommodate so many different types of cookie dough!
Let's talk through how to actually make these things!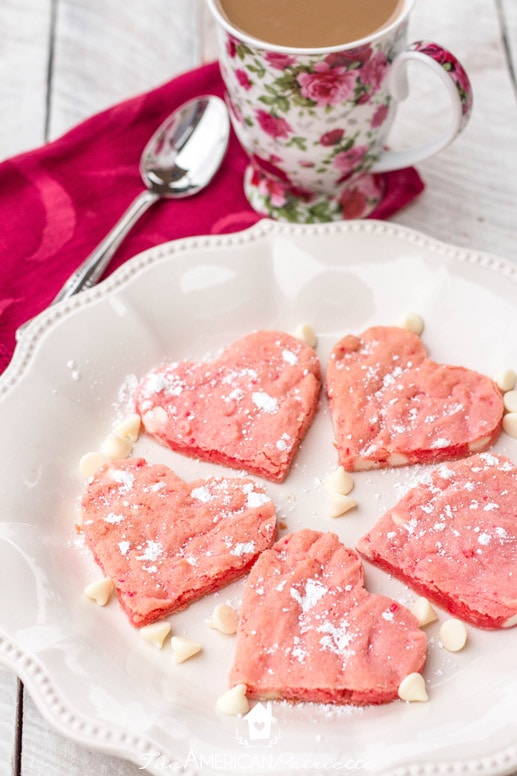 How to Easily Make Perfect Cutout Cookies
Ok, you ready to get going and see how easy this is? What cookie dough are you going to use?! I'll show you that you really can do this with several different kinds. 🙂
Step 1: Make your cookie dough & spread it on a non-stick, rimmed baking pan
Make your cookie dough just as you normally would – no need to change the recipe.
Step 2: Add the cookie dough to the pan and lightly spread it out with a spatula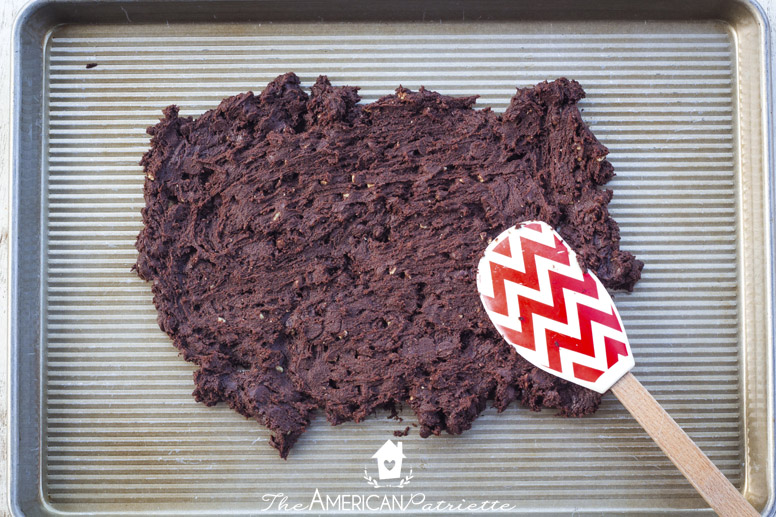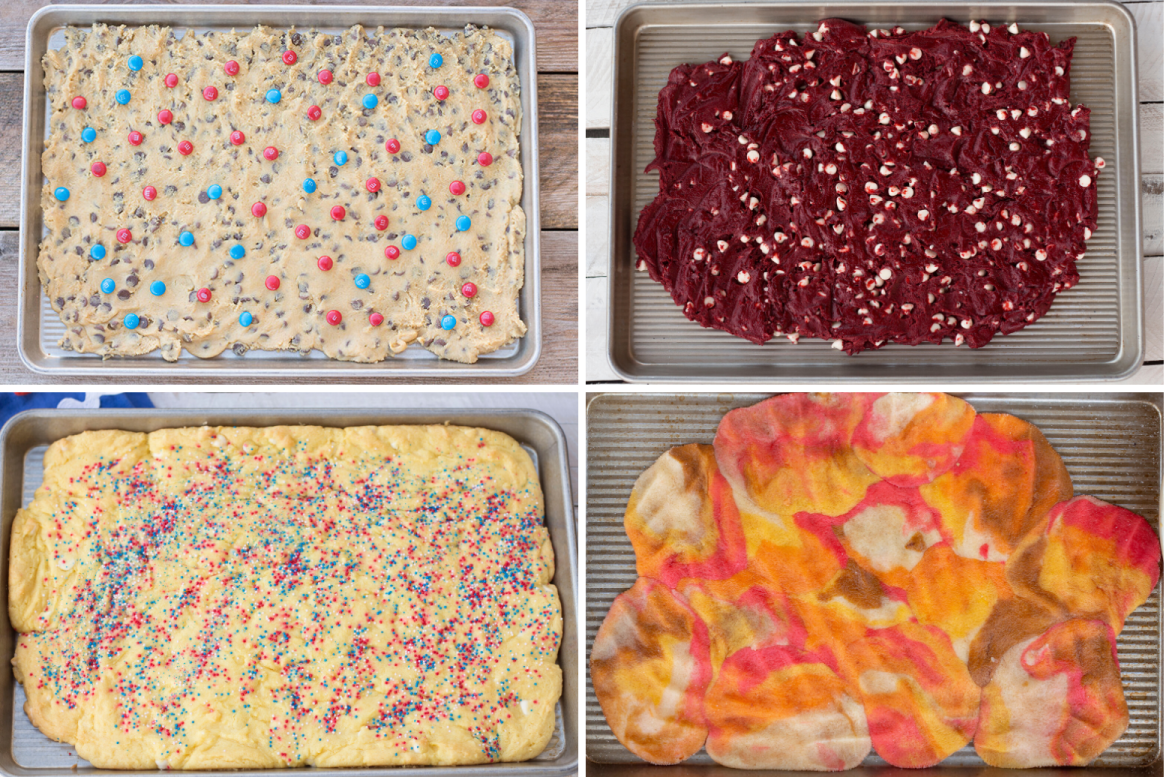 A few tips for this:
Again, I really only recommend these pans for this. Unless you have a TOTALLY non-stick baking pan that also doesn't warp, these USA Pans are the way to go!
You don't need to spread the dough completely out so it touches the edges of the pan – not a big deal at all.
Spread the dough out evenly, but don't get too concerned about small little gaps in the dough – the dough will fill in as it bakes.
Don't spread it TOO thin. This is hard to do with chocolate chip cookie dough (or similar), but with snickerdoodle or sugar cookie dough, you'll just want to make sure you don't spread it too thin.
Step 3: Bake in the oven – use the same temp as your original recipe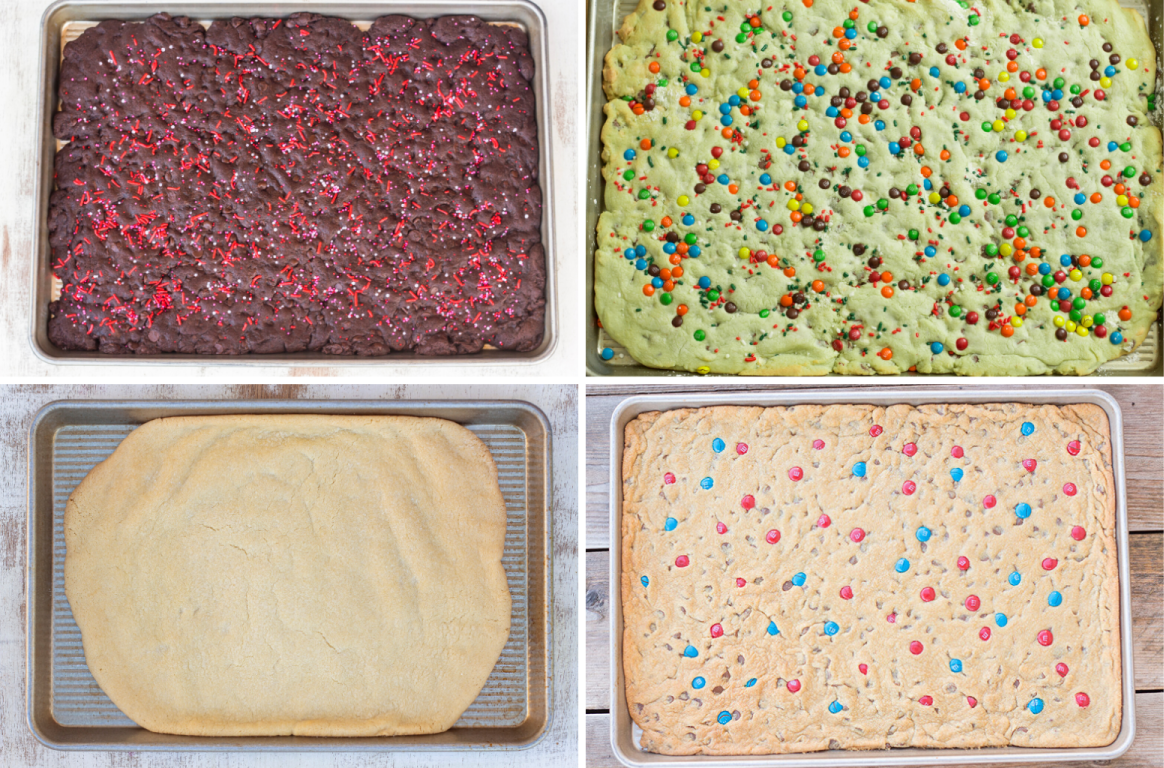 This is where the only thing you're going to change is the bake time.
If you don't fill up the entire cookie sheet, start out by only adding 2-3 minutes onto the original recipe (so, if your original recipe tells you to bake a dozen cookies for 8 minutes at 350, bake your pan at 350 for 10 minutes, and then check them to see if they need another minute or two).
See how this recipe below didn't fill up the whole pan? (I only made half of the cookie recipe.) I tacked on about 3 minutes to the original recipe, so I baked it for 11 minutes in the oven (original recipe calls for 8 minutes in the oven).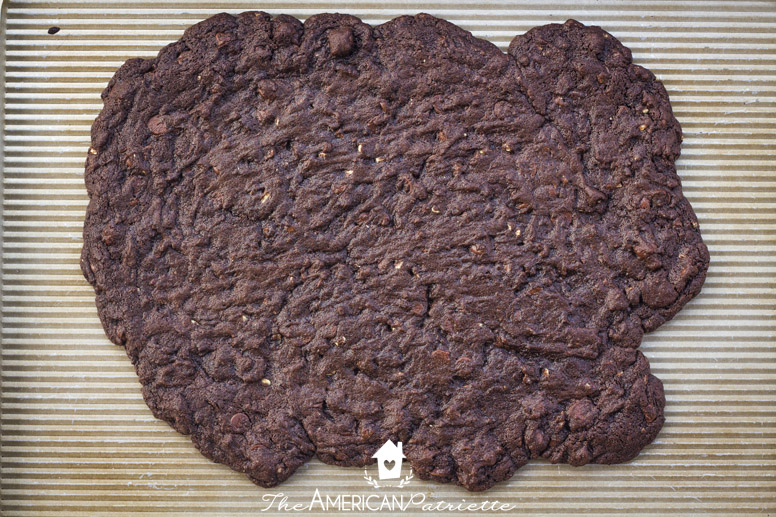 If you DO fill up almost the entire cookie sheet, then go ahead and add 4-5 minutes to the original bake time. For the cookies below – you can see the dough went almost all the way to the edges, so I baked this one longer just since there was more area to cover. My original recipe for these cookies calls for about 8 minutes in the oven, but I baked this pan for 12-13 minutes.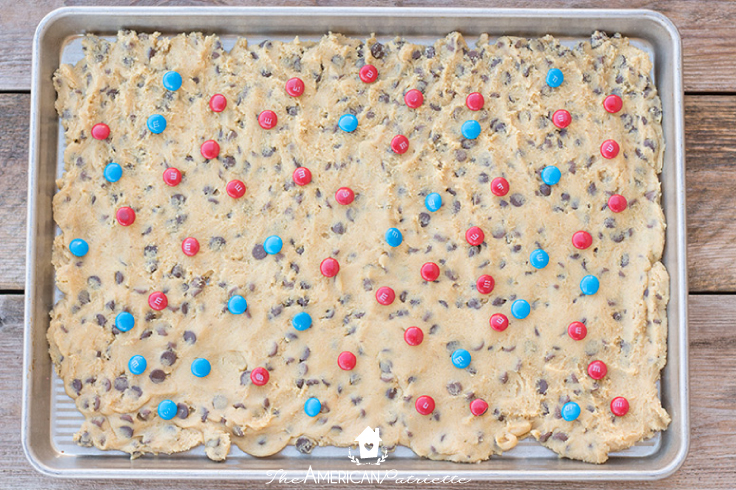 Step 4: Remove from oven & allow to sit for at least 10 minutes (but not much longer than 20)
You don't want to cut these FRESH out of the oven – the dough will be way too soft. But, you also don't want to wait too long to cut them, because then the cookie is more prone to breaking/cracking when you press the cookie cutter into it. You really need the dough to still be pretty warm.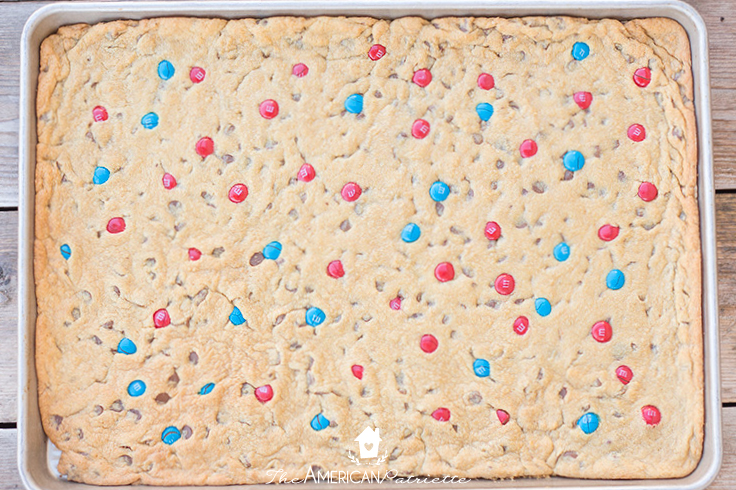 I think the magic number is waiting about 15-20 minutes. I wouldn't wait more than 20 minutes, but you're probably good to go at 10-15!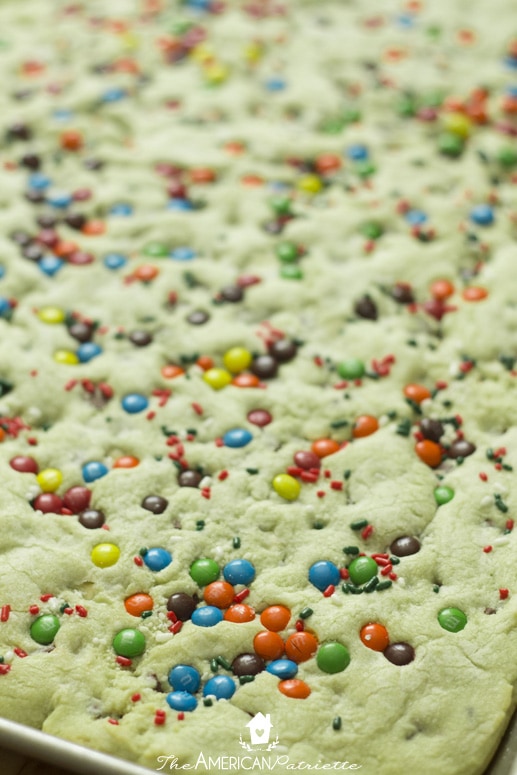 Step 5: Use a metal cookie cutter and start cutting out the cookies, starting at the edges and working your way in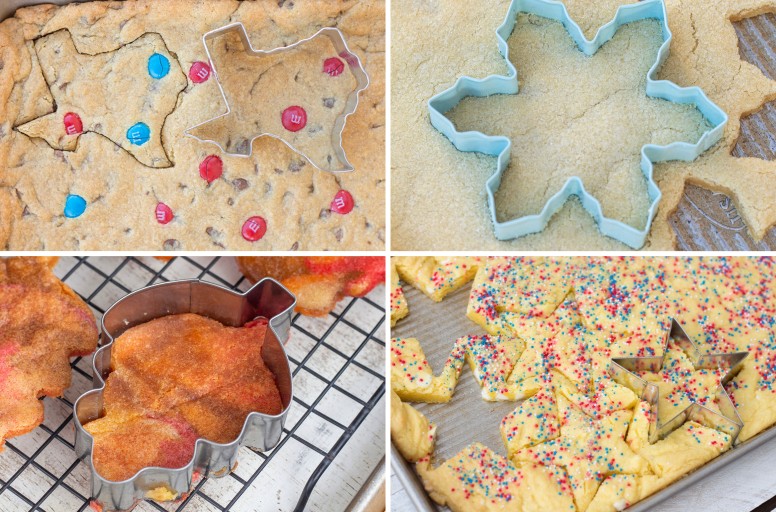 Obviously to maximize the cookie, you'll want to try to cut your cookies as close together as possible. Just do whatcha can!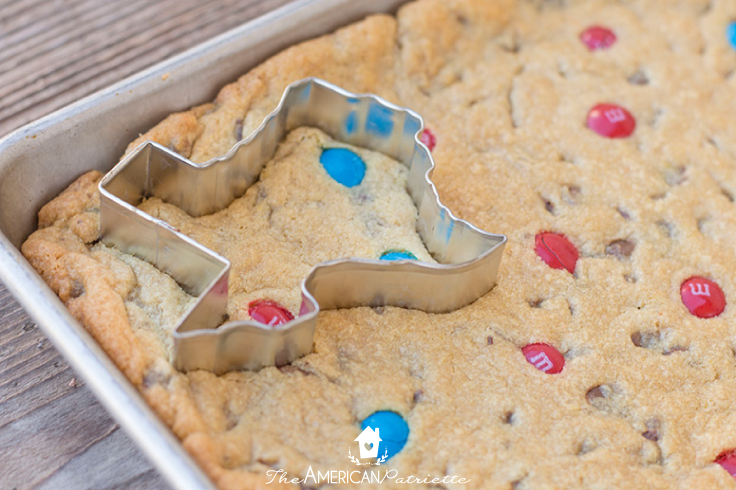 Once you cut into the cookie with the cookie cutter, I always just transfer the cookie WITH the cookie cutter to the cooling rack (as you'll see in several of these photos on the post), then gently press the cookie out of the cookie cutter and repeat.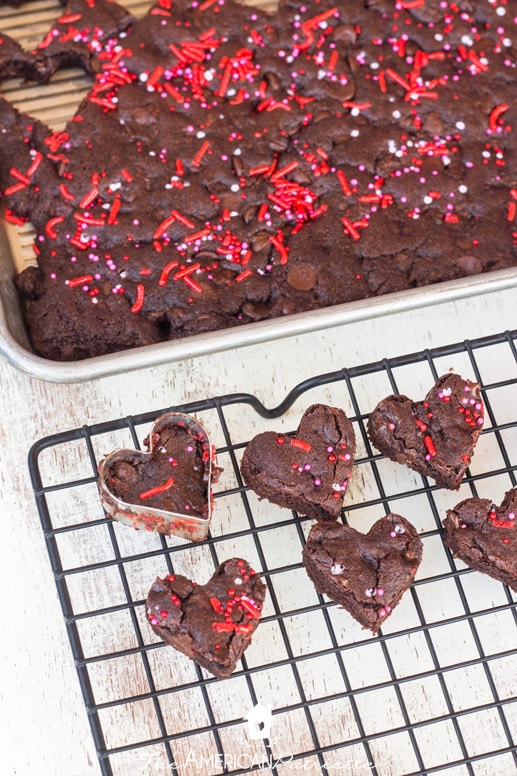 Troubleshooting tips for this:
Sometimes I'll find that, even after the cookies have been out of the oven for 15-20 minutes, the center is still a bit…gooey. Which probably means I should've baked them another minute or two, BUT, I would much rather have chewy/moist cookies than crunchy, overbaked ones, so it's always worth the risk.
If you come across this issue too, there are a couple things you can do to salvage those and not let that gooey part go to waste:
Either: Go ahead and make the cut with the cookie cutter, give the cutter a few little twists to separate the shape from the rest of the cookie, and then just let the cutout sit on the pan until the pan/cookie completely cools and move it from the pan with a spatula.
Or: Cut the cookie, leave the cookie cutter there to support it, and then use a really thin, sturdy spatula (like a metal one), get under the cookie and then move it, along with the cookie cutter, to the cooling rack, and then remove the cookie cutter. Sometimes that's all it takes!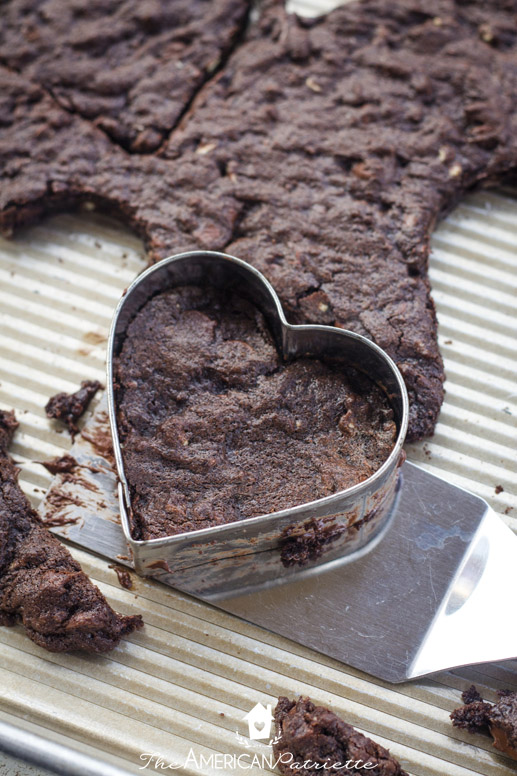 You'll have lots of what we call "in-betweens" once you finish this. We are ALWAYS excited about in-betweens. They're definitely a thing around here!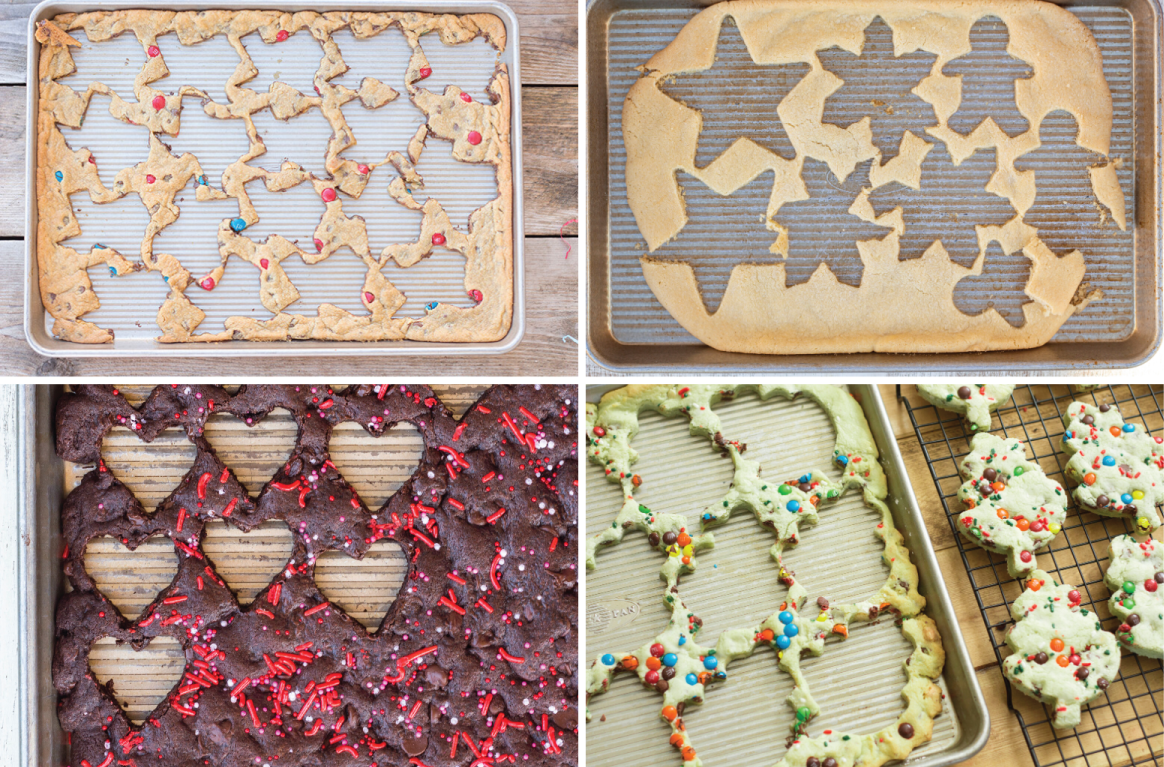 Step 6: Allow to fully cool on cookie rack, and then you're ready to decorate (if you're going to!)
You might be done at this point if you're not decorating them! I don't always decorate mine – sometimes they don't really need it.
Serve them up and watch the smiles & hugs come in to say, 'THANK YOU! These cookies are AWESOME!"
Before we wrap this up, let me answer a couple of questions for ya:
Cutout Cookie Q&A:
What do you usually do with all the in-between pieces?
In-Betweens are prized treats around here! Honestly, we usually just eat them like they are – I'll send some with my husband to work in his lunch for a few days (in lieu of giving him a couple of cookies, he just gets in-betweens), and we'll even share them with the same group who is also getting the pretty cutout cookies! Even though they're not pretty, people think the in-betweens are so fun! But, I also understand if you want to do something a little more useful with them.Here are a couple ideas: you can make cookie truffles with them, make a cookie pie crust with them, or you can put the in-betweens in the freezer and save them to crumble up further and use as toppings/add-ins for sundaes, milkshakes, or banana splits.
How will I know the exact bake time for my cookies?
If you (at least almost) fill up an entire rimmed baking pan, then your bake time in the oven WILL be longer, but if your dough only covers about half or slightly more than half of the surface area of the pan, start with only adding 2-3 minutes of bake time to the original recipe.Take a look at the large cookie in the oven when the timer goes off – if the middle clearly looks undone, then give it another couple of minutes before checking again. Just pay attention to the look of the dough – if it looks done, and if it has that "golden glow" pretty much over the entire surface, they're likely ready!If your cookie dough DOES cover almost the entire pan, then you're probably safe to start out by adding a full 4-5 minutes of bake time to the original recipe.
Love to bake and want some holiday kitchen cheat sheets?! You can snag these for free – they'll help you get SO much more organized while you're baking! Just fill out the form below and they'll get sent right to ya!