Want to make some delicious desserts to share with others this Christmas, but need some quick and easy ideas? These six tried-and-true time-saving holiday baking tips will give you some inspiration on how to prep some homemade yummy sweet treats, even if you're short on time!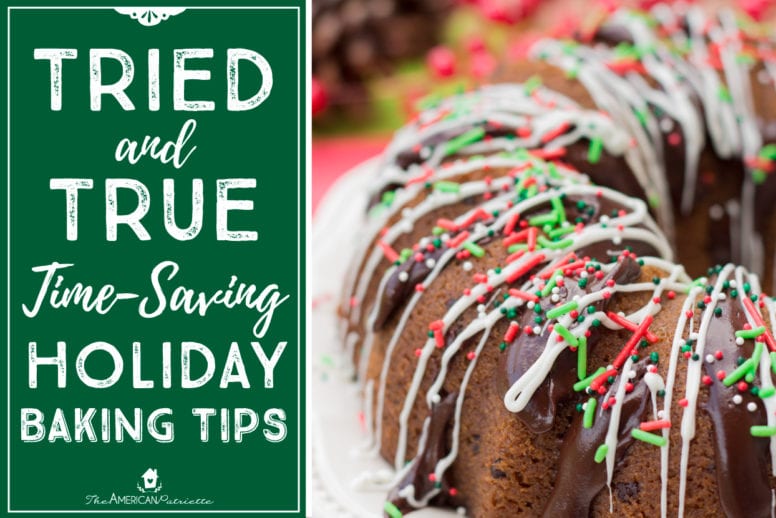 Desserts, especially festive ones, are so fun to make and share with others during the holiday season! We love to make things for Christmas parties and potlucks, family gatherings, and to bring with us to work or school, but sometimes we're running short on time and need some baking hacks to help us prep recipes that are still yummy but don't take much effort.
I never like to compromise quality, but sometimes I have to compromise on bake and prep time. I've discovered some tips and tricks that help me save time while still satisfying my creative spirit in the kitchen, and I want to share them with you in hopes they'll help you do the same thing!
Here are six of my best time-saving holiday baking tips!
1. Bake a bundt cake instead of a layer cake
While layer cakes are gorgeous and soooo delicious with that icing nestled there in the middle (are you an icing lover too?), sometimes they take quite a bit more time – you have to let the cakes cool before you can frost them, you have to make the frosting to go around and on top of the whole thing, and then you might want to decorate it to make it pretty.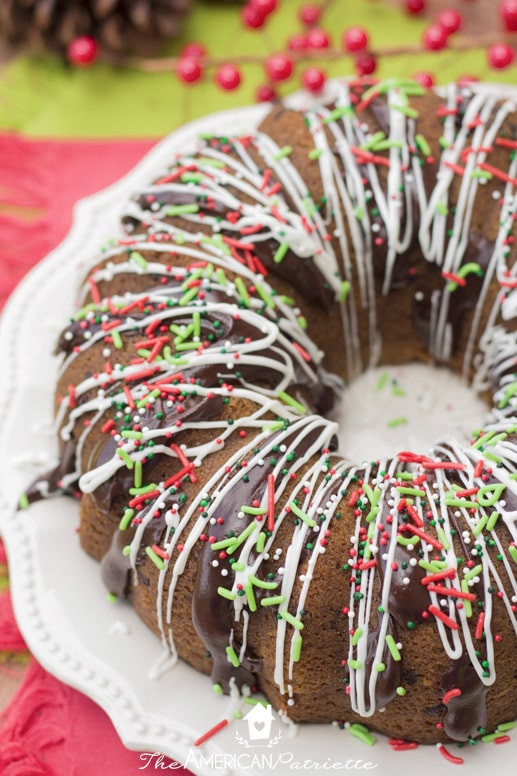 And then there's the transport issue if you're bringing it somewhere – sometimes layer cakes are difficult to take places because of how tall they are and being concerned with layers slipping during the drive.
If you're short on time and wanting to make a DELICIOUS cake that's still beautiful but takes a fraction of the time, bundt cakes are such a great way to go. Here's what I love about 'em:
They're super moist (I have a base recipe I use for all of my bundt cakes and then I tweak that recipe in order to get different flavors for different seasons and occasions)
They're really pretty – the shape of them just lends itself to being a little fancier without the extra work
They're super easy to frost (and look lovely with the frosting) when you drizzle the frosting on. Make 'em even fancier by sprinkling some nuts, toffee, sprinkles, or mini chocolate chips on top of the frosting.
Plus, when you do the drizzle frosting, that kind of frosting takes a fraction of the time to make compared to other frostings I make for layer cakes
Tried & True Delicious Recipes: Want some delicious bundt cake recipes perfect for Christmas?! This chocolate chip pistachio bundt cake and this mocha butterscotch bundt cake are both out of this world!
2. Make a layer cake but don't frost the sides
This is a trick I figured out a while back when I was making some layered cakes during the spring and summer. Even though I frequently bake, somehow I'm always a little short on frosting when I whip up a batch of buttercream to frost a cake!
While I absolutely love layer cakes (have I mentioned that before?!), they do take more TLC to prepare – layering them so they're even, prepping the frosting (and making a big enough batch the first time that you don't have to make a 2nd batch of frosting to cover up that lonely little spot that didn't quite get covered by the first one), frosting them so that you evenly cover the whole thing and don't pick up stray pieces of cake crumbs as you ice it, etc.
They're just…well, higher maintenance. 🙂
However, I've learned that I can kind of do my own version of a "naked cake" and just do icing on the top and in the middle of the layered cakes. This really, really helps cut down on the time it takes to prepare them. Add some nuts, Christmas sprinkles, or crushed candy/cookies to the top of the cake to dress it up a little, and you've got yourself a pretty, yummy layer cake with less effort.
Tried & True Delicious Recipe: If you're looking for a yummy seasonal layer cake, this pumpkin chai latte cake is sooooooo good!
3. Make a no-bake or quick-bake dessert
I know this one seems like a no-brainer, but sometimes it's a challenge to think of options that are no-bake (or quick-bake) and that are actually still good! Sometimes it seems like these just don't quite have that same delicious homemade taste.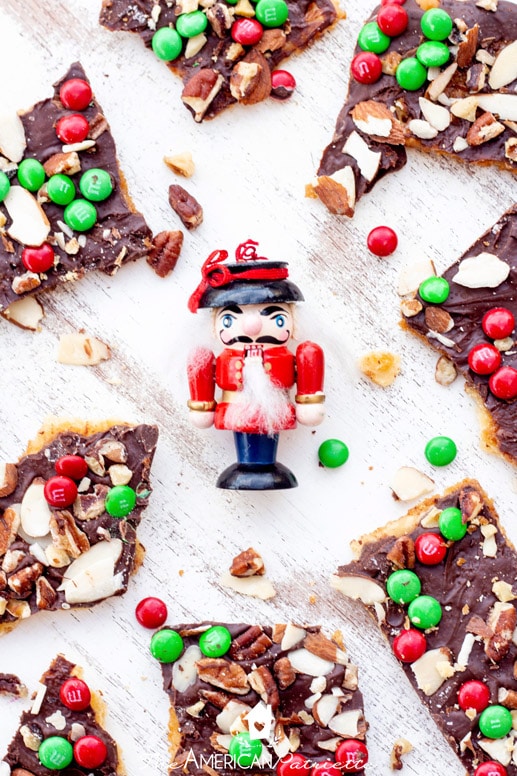 I've found the best desserts that fit into this category are toffee (and there are sooo many ways you can customize this!) and candied popcorn. Both take 10 minutes or less of prep time.
Here's what I love about candied popcorn:
Everyone ALWAYS loves it (it's always one of my most requested desserts…I don't even really consider it a dessert just because it's so darn easy!)
You don't have to bake it
It's so, so easy to make (10 minutes of prep time, tops)
You can easily customize it in so many different ways – for different party themes or for different seasons
I almost always have the ingredients on hand – you really only need 2 ingredients (microwave popcorn & white baking bark), and then I can just throw in other things I already have – nuts, sprinkles, crushed cookies, etc.
It's perfect for snacking
It's really easy to transport if you're bringing it somewhere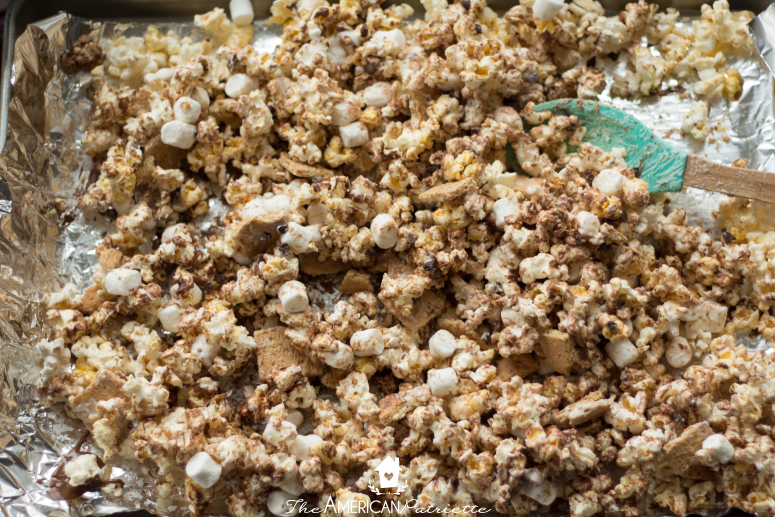 Here's what I love about toffee:
I love it for most of the same reasons I love the candied popcorn!
Everyone ALWAYS loves it
Bake time is minimal (5 minutes)
It's super easy to make
It's very easy to customize
It only takes a small handful of ingredients
It's perfect for snacking
It's very easy to transport
There are other no-bake & quick-bake desserts, but I've found these to be two of my most trusted go-tos when I'm wanting an easy option. Especially if I need to make something last-minute, these are such great options. I still want to make something that tastes (and looks!) good even if I don't have a bunch of time to work in the kitchen.
Tried & True Delicious Recipes: Want some yummy toffee and popcorn recipes? For toffee, this fun & easy Christmas Saltine Nutcracker Toffee & this Pumpkin Praline Toffee are sooooo good. For popcorn, try this S'mores Popcorn & add some Christmas sprinkles to it!
4. Cut cookies AFTER you bake them instead of before
Did you know that you can cut cookies out of just about any kind of cookie dough (say goodbye to the days when you thought you could only do this with sugar cookies!), and that you don't have to spend a lot of time rolling out the dough and cutting out cookies before?
Yep, totally doable (head over here and I'll show you how you can cut just about any cookie shape using just about any cookie recipe that you want). I swear by this method – I do it ALL the time and I've taught so many others how to do this. It's just so fun – I love not being bound by shape or by cookie recipe for doing this!
Now, I'll admit, the downside to this is that with my method is that you don't get as many cookie shapes doing this, BUT, the fun part is that you get a bunch of what we've now coined as "in-betweens" – all the in-between pieces that result from cutting cookies this way.
However, because I make cookies like this so often, so many of our people have just come to know what in-betweens are, and they're almost as anticipated as the shaped cookies themselves! So, bring the in-betweens along, put 'em on a pretty platter, and serve those up alongside the pretty shaped cookies. I promise you, people won't complain – they'll think this is so fun!
Tried & True Delicious Recipe: Want to make those cute green Christmas tree cookies? You can find the recipe over here. And if you're loving that adorable farmhouse-style Christmas cookie platter, you can find the easy tutorial for that over here! (And you don't have to just make Texas cookies with that one – I have links to cookie cutters for all 50 states in that tutorial!)
5. Make cookie dough ahead of time and freeze it
I know, this one also seems like a no-brainer, but gosh, it is SUCH a life-saver. I still haven't learned to do this more regularly, but one thing that saves a ton of time is if I make a double batch of cookie dough when I'm already needing to make cookies for something anyway, and then freezing half of the dough to use later.
I always forget how much time this does end up saving me:
I don't have to go searching for the recipe
I don't have to get out all of the ingredients to make cookies
I don't have all the clean-up after prepping the cookies
Don't get me wrong, I love baking – I love the whole process (I mean, I suppose the clean-up isn't my favorite, but that's what husbands are for, right?), but again, sometimes I just need to cut some corners with time, and making dough ahead of time to then freeze is just such an easy way to do this!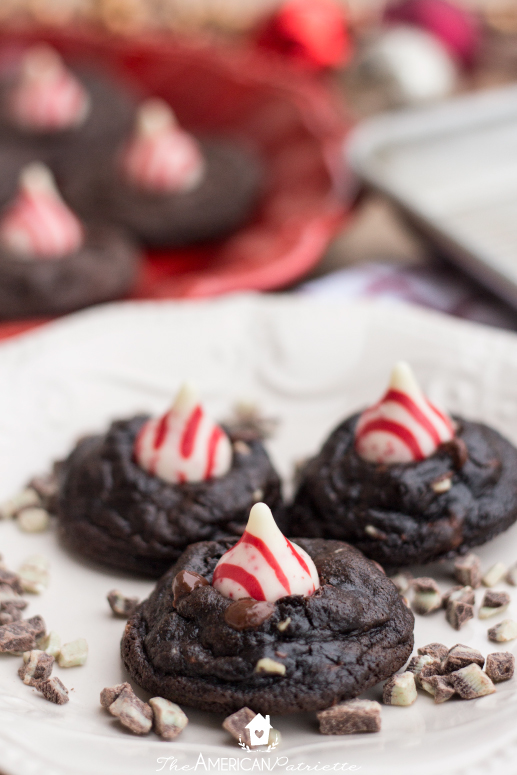 If you're wanting to do this for something more customizable for Christmas, make some sugar cookie dough, chocolate chip cookie dough, or chocolate cookie dough, and just throw in some red & green M&Ms or Christmas sprinkles before you bake them.
Tried-and-True Recipe: If you're looking for a new Christmas cookie recipe, these triple chocolate peppermint cookies are SO GOOD and SO MOIST.
6. Decorate with sprinkles, nuts, toffee, or chocolate chips
As I've paid mention to before, sometimes we just don't have the time to nicely decorate a cake, but we still want it to look pretty! I've found that just by doing a quick dusting of nuts, toffee, sprinkles, and/or mini chocolate chips makes a HUGE difference to make a cake look beautiful, and it takes almost no time to do it!
It's amazing how much you can transform a regular 'ole cake into a gorgeous piece of work, just by doing a quick sprinkle of some treats on top. You can even try some crushed cookies like gingersnaps or peppermint oreos – those will offer the same effect.
Tried-and-True Recipes: These two holiday poke cake recipes are absolutely beautiful, especially when you cut and serve them: chocolate red velvet poke cake & caramel apple butter poke cake. Add a little extra sprinkling of the topping onto each plate to really make 'em fancy!
Well, I'm already thinking of more tips I can add to this list! I'll be sure to add to it as I continue to think up more ways to help you save time but still make wonderful recipes in your kitchen! Hope you have so much fun baking to enjoy treats with others this blessed! Christmas season!
Love these ideas and want to remember them for later? Be sure to pin this to your favorite Pinterest board!